Jon Bon Jovi is slippery when wet
March 30th, 2012 under Bon Jovi. [ Comments:

none

]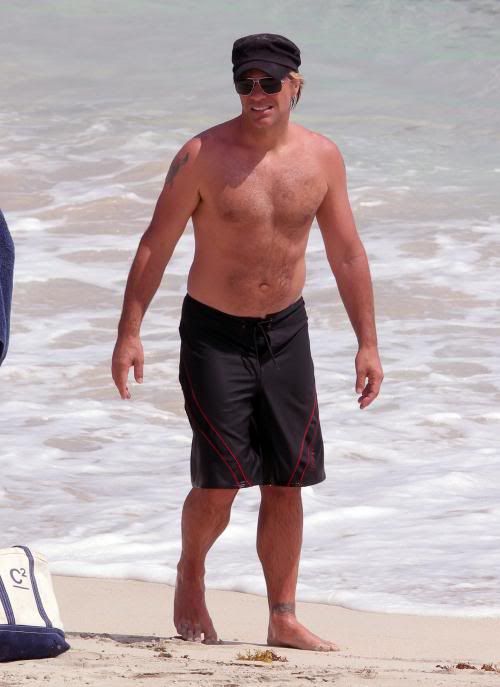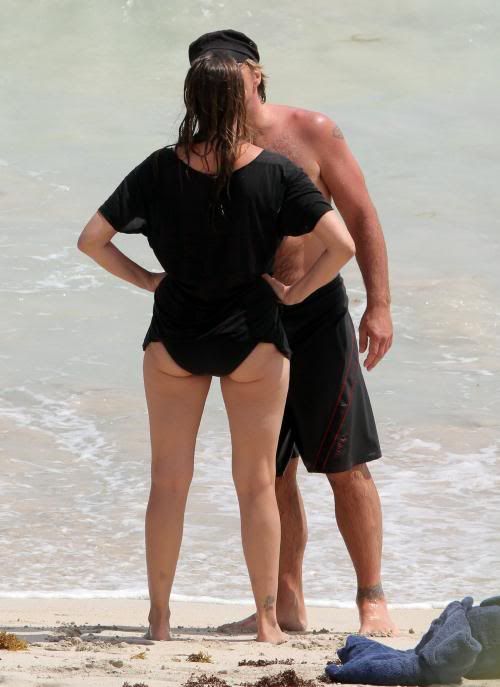 Fame Flynet Pictures
Jon Bon Jovi is in St Barths on vacation and the rocker has a rockin' body. Seriously doesn't he shoot your body temp up to 7800° Fahrenheit in those trunks? I just want to lay down in a Bed of Roses with him. Especially because he butt looks so good in that bathing suit.
---
One of CSI: NY's own is killed in a copycat murder tonight
March 30th, 2012 under CBS. [ Comments:

none

]

Mac (Gary Sinese) is texted a picture of a dead woman on tonight's CSI: NY at 9p on CBS, and when he goes to investigate the body he realizes she is someone that works with him. The lab tech appears to have been murdered exactly the same way as a woman who was killed 55 years earlier at the same location. This case has just became personal and they are going to do everything they can to find her murderer, even if it is one their own. There will be twist and turns in trying to solve her death like was she killed by the person who killed the other woman half a century earlier. The CSI will get some help from the cop who worked the first case and that officer is played by Lee Majors. He will give a clue that will solve her murder and who did it will shock you.
Tune in for another suspenseful episode of CSI: NY.
---
Charlie Sheen meets Charlie Sheen
March 30th, 2012 under Charlie Sheen, Jimmy Fallon. [ Comments:

none

]

Back during the Sheenanigans last year, Jimmy Fallon would imitate Charlie Sheen on Late Night and yesterday on NBC the two finally met. Fallon dressed up again as the man that was fired from Two and a Half Men to sell the new cologne Clone. If you are going to have a fake commercial for something called Clone, that means you to have something cloned in the video. Well that cloned object was Charlie Sheen himself.
Even though Winning is so last year, that bit was Winning, duh. I think Fallon is more like Sheen, than the man himself.
---
Jesse Tyler Ferguson finally dumps the beard
March 30th, 2012 under Modern Family. [ Comments:

none

]

WENN.com
Before Jesse Tyler Ferguson was on Modern Family, he didn't have a beard. Well now that the show has finished taping its second second, I guess the actor decided to go back to the beardless look. Personally I think he looks so much better with a clean shaven face, and I hope that when the show comes back for a third season he doesn't have to grow the facial hair back.
---
Madonna's perfume ad smells of desperation
March 30th, 2012 under Madonna. [ Comments:

1

]

Madonna's movie W.E. bombed at the box office, she is doing everything she can to sell her new album MDNA that came out last week and now she is marketing her own scent. After watching the commercial or Truth or Dare, I think the ads smells more like desperation than the floral scent it is supposed to.
I think her problem is still living her heyday, instead of accepting those days are behind her and she needs to grow into the woman she is now. You know a 53 year old mother of three.
---
This has to be an April Fool's Day joke, right? Please?
March 30th, 2012 under Movies. [ Comments:

none

]

We are a few days away from April Fool's Day, and I think The Hollywood Reporter is playing an early joke on us. The trade said that they are making a sequel to Twins called Triplets. You might remember, if you haven't blocked the memory out, that the film starred Danny DeVito and Arnold Schwarzenegger as twin brothers that were manufactured in a lab. Well the sequel will have them reprise their roles along with a brother they never knew they had…Eddie Murphy.
Seriously this has to be a joke? If not, I think we know what movie is going to win all the Razzies when it comes out.
---
Hot Links!
March 29th, 2012 under Hot Links!. [ Comments:

none

]
---
Bam! Pow! Batman pulled over in his Batmobile!
March 29th, 2012 under Batman. [ Comments:

none

]

A Montgomery County Police Department officer was in for quite a ride last week when he pulled over a man who was dressed as Batman driving a Lamborghini. The Caped Crusader was stopped by cops because instead of displaying a license plate on his Batmobile, he had Batman's emblem showing. Lucky for The Dark Knight the cops were fans so they let him go. Well that is once they realized he had the proper tag in the car.
So why was Lenny dressed up as a Bruce Wayne? He was on his way to entertain sick kids at a Maryland Hospital. See Batman is a true Superhero!
---
BTWF ads: Adam Carolla for The Big Sneeze
March 29th, 2012 under Before They Were Famous, Jimmy Kimmel. [ Comments:

none

]

via Jimmy Kimmel Live
Before Adam Carolla was trying to advertise cars on The Celebrity Apprentice, he was in an advertisement for the game The Big Sneeze. He looks exactly the same now as he did when he was 10 in that 1974 ad. I mean he seriously hasn't aged at all. It is scary how there is no difference in his appearance from then to now.
---
Jennifer Love Hewitt is complicated
March 29th, 2012 under Lifetime. [ Comments:

none

]

The new promo for The Client List is out and they have upped the sex factor. It is nice to see Jennifer Love Hewitt finally play up her sexuality. It seems that shows have tried to keep it under wraps, and looks like the wraps will be coming off on the Lifetime show that debuts April 8th at 10p.
---