Marky Mark getting back with the Funky Bunch?
September 29th, 2011 under Jimmy Kimmel, Marky Mark. [ Comments: none ]

(starts at 3:18 in)


Last night Mark Wahlberg was on Jimmy Kimmel Live and he was talking about his new family restaurant Wahlburgers that is coming to Boston. So Kimmel suggested that they have a brunch on Sundays and call it "Funky Brunch"? Well here is what Marky Mark said to that, "Now that I have worked with Seth MacFarlane, one of the most talented and sweetest guys ever. He's doing an album after having all of his success on television and movies. I'm coming back with the Funky Bunch. I probably will perform at the brunch…and I'll come back and perform here." I got a good vibration about that! C'mon who else besides me would like to see Marky Mark and the Funky Bunch together again?
BTW when Marky Mark says he is going to bring something from home on the show with him, he isn't kidding. Back in December when he was on JKL, he told the ABC host about his friend Nacho who is an extreme eater. So Kimmel told the man with the abs to bring him on the show and he did! Can I tell you I think Nacho is the cutest thing ever, even as he downed two huge Wasabi balls and three glasses of Tabasco sauce. You know, I really wish Mark would give him a show because I know I would watch. And hopefully the Fighter will be part of it because don't you just love how sweet he was with his really good friend and how proud he was of him. It is a side of the actor/producer we have never seen.

(December)

(Yesterday)


---
Beyonce thinks that Jay-z stinks!
September 29th, 2011 under Beyonce. [ Comments: none ]

(photo from WireImage)


Beyonce is pregnant with her first child and that means that some of her sense are enhanced and not that is not a good thing for the man she is married to. She told
, "I smell everything. If it smells bad, I smell it. My husband's fragrance, his one that I always love, I hate right now. So thank God I have this one!" I have never smelled Jay-Z cologne, so tell me when was her nose correct before or after her pregnancy nose kicked in?
---
Whose pants are showing off his checkered past?
September 29th, 2011 under Guess who?. [ Comments: none ]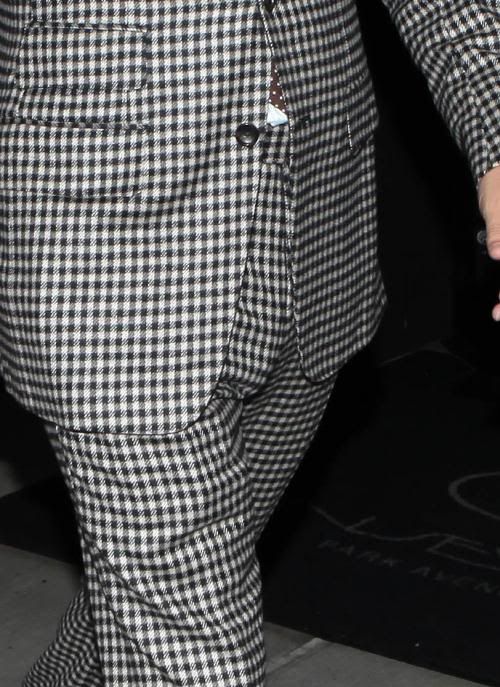 Want to see whose king is making me want to jump him then click here!
---
Halloween comes early!
September 29th, 2011 under Aaron/Candy/Tori Spelling. [ Comments: 2 ]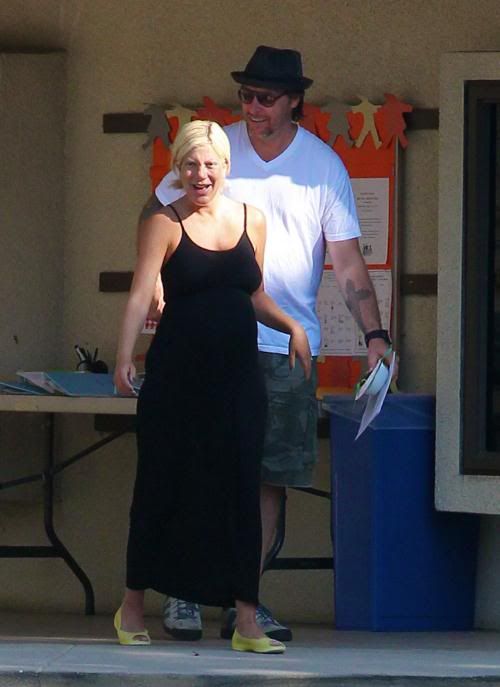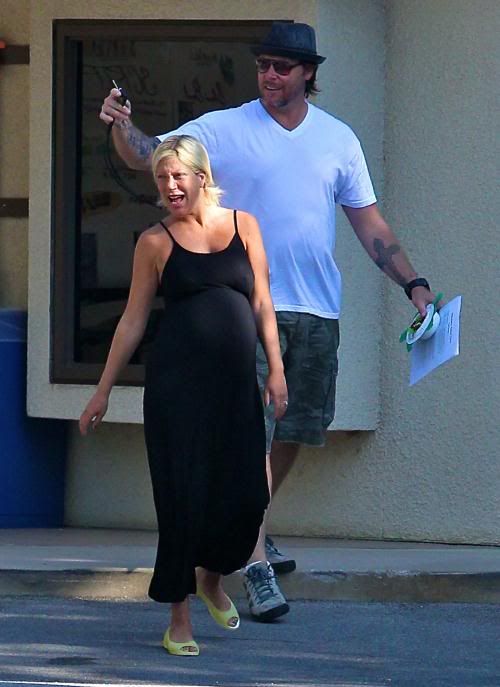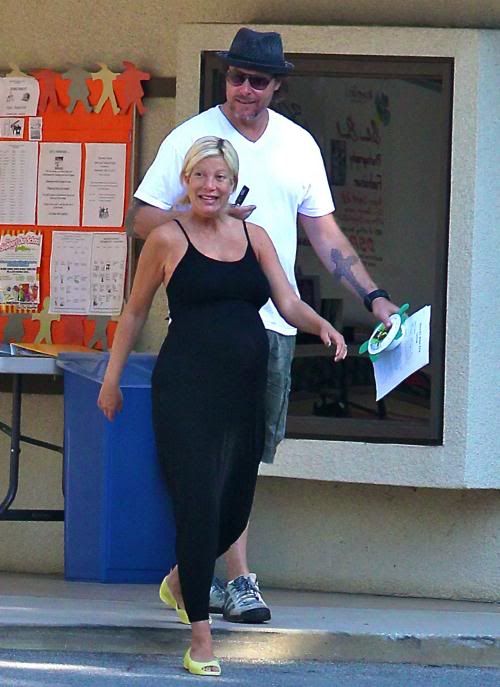 Fame Pictures
Halloween is still a month away, but we are seeing the scariest mask for the season of the Witch. It is Tori Spelling without makeup. Where is Michael Myers when you need him? It is a different type fright and he gives me less nightmares.
---
Anne Hathaway and Paul Rudd joining Jersey Shore?
September 29th, 2011 under Anne Hathaway, Conan O'Brien. [ Comments: none ]

It's rumored that Jersey Shore is going to replace some of the people that we love to hate, and it looks like from this video released to Conan, MTV is ready to add some people that are really from Jersey to the cast. Case in point Anne Hathaway from Millburn, NJ and Passiack born Paul Rudd. I think it can actually work, I mean it can't be any worse for Anne than hosting the Oscars?
---
Hot Links!
September 28th, 2011 under Hot Links!. [ Comments: 1 ]
Whose pants are showing more than he would like? –
Dlisted
Anderson Cooper's cum face? –
Rickey
Whose fiancee was arrested? –
Yeeeah!
Whose getting their butt touched in public? –
INF Daily
---
The first new show to be picked up for the full season is…
September 28th, 2011 under Fox. [ Comments: none ]

The fall season is barely a week old and the first new show to get a full season pick up is New Girl. Fox made the decision today to ask for 11 more episodes after the adorkable comedy was #1 in the ratings with 18-49ers last night. The news is great for the sitcom world that was told two years ago it was dead!
What do you think of the Zooey Deschanel laugher?
---
BTWF roles: Jeremy Sisto in Hideaway
September 28th, 2011 under Before They Were Famous. [ Comments: none ]

Before Jeremy Sisto was hiding away in Suburgatory, he was in a movie called Hideaway. You can barely recognize the 20 year old in that 1995 movie.
---
Suburgatory gets some Happy Endings with Revenge!!!
September 28th, 2011 under ABC. [ Comments: none ]

Tonight at 8:30p on ABC when single dad George discovers a box of condoms in his teenage daughter Tessa's room, he does something drastic. He packs up their lives and moves them from NYC to Suburgatory. Tessa is your typical NYC outcast who now has to try to fit in to a place where everyone is like perfect. It is kind of like big city people moving into Stepford, but unlike that Utopian TV fantasy world not everyone is perfect. Tessa is trying her hardest not to fit in, but by the end of the episode they might have infiltrated her tough exterior!
Suburgatory is a creative look at the perfect suburbs through the eyes of a city slicker and you know it works! It is the perfect show for The Middle of your work week whether if you live downtown or the outskirts of it!
Jeremy Sisto is perfect as the dad trying to adjust to being the good looking single man on the block.Jane Levy is likable as Tessa, something that is not easily accomplished for the role that she portrays. And Cheryl Hines is believable as the Stepford like mom who really isn't that bad.


At 9:30p on ABC after Modern Family Happy Endings is back for it second season and it will make you even happier than it did last season. The episode starts off showing us why going on your honeymoon with your ex and your best friends after run out of your wedding might not be a good idea. I won't say what happens but there will be blood and laughs before the opening credits. Then when we come back Penny buys a condo and finds out that it might be cursed, the curse of becoming a lonely old spinster. She will slowly become one, that is unless her friends can break the curse? And by the end of the episode two of the friends you wouldn't expect to become roommates will move in together…


Happy Endings might be the ending of the ABC comedy night, but it is not the end of ABC's enjoyable programming for the night because Revenge closes out the night. Emily will get Revenge on someone else tonight and she proves that she is even more vengeful than we thought she was. Seriously this show is teaching more ways to get back people and I already thought I had it down. Let's be honest who doesn't like to get Revenge? And who else besides me isn't addicted this ABC drama?
---
What happens to those Lil' Misses from Toddlers & Tiaras?
September 28th, 2011 under TLC. [ Comments: none ]




Ever wonder what happens to this obnoxious little brats on Toddlers & Tiaras like do they grow up to be the prostitutes that their mothers dress them up to be when they compete in the pageants? Well Funny or Die got the story of one those Little Misses and turns out that they still compete even when they are old enough to rent a car without their stage moms. Sad, but true.
BTW I think it was perfect casting for Leah Remini to play Ashley Tisdale's mom because not does she look like her, but she is old enough for the role!!!
---