Hot Links!
June 29th, 2011 under Hot Links!. [ Comments:

none

]
Who did Tracy Morgan piss off now? –
Popbytes
Who claims they used steroids for a movie? –
The Blemish
Whose foot fetish was documented by the one night stand?
Dlisted
---
Enter to win a Mega Python vs Gatoroid DVD!
June 29th, 2011 under Contests. [ Comments:

none

]

Mega Python vs Gatoroid is coming out on DVD and Blu-ray June 21st and Image Entertainment has teamed up with me to give away five copies of the extremely fun creature feature starring Tiffany and Debbie Gibson. All you have to do is Email me if you are Team Tiffany, Team Debbie Gibson or Team Both! and if you want it on DVD or Blu-ray at SeriouslyOMGWTF@yahoo.com by June 30th with your name and address! Five winners will be chosen at random.
It's the return of the classic '80s pop rivalry! Tiffany and Debbie Gibson are back together again for the 6/21 DVD/Blu-ray release of Mega Python vs. Gatoroid, which originally aired on the Syfy Network in January to 2.5 million viewers.
When animal activist Dr. Nikki Riley (Debbie Gibson) accidently unleashes a python into the Everglades, her rival Chief Ranger Dr. Terry O'Hara (Tiffany) must find an expert reptile hunter to capture the twisting menace. After her boyfriend dies in the process, she resorts to extreme measures and creates genetically enlarged alligators to challenge the slithering serpent. With a reptilian rivalry as well as a confrontation of pop icons, Mega Python vs. Gatoroid provides a double dose of duels and disputatious doctors!
When science defies evolution – humanity has to pay! There are behemoths waiting to do battle in the swamp…with nothing to stop the destruction but two doctors: each blaming the other for the impending disaster. Can they lay aside their differences to prevent the ultimate confrontation…can they stop Mega Python vs. Gatoroid?
If that description isn't enough for you to say that Mega Python vs Gatoroid is must-own, hopefully this trailer will convince you!
---
BTWF roles: Callie Thorne on Homicide
June 29th, 2011 under Before They Were Famous. [ Comments:

none

]

Before Callie Thorne was a paid therapist on Necessary Roughness, she was good listener to a co-worker on Homicide. She looks the same now as she did when she was 29 in that 1999 episode.
---
Royal Pains before Necessary Roughness
June 29th, 2011 under USA Network. [ Comments:

none

]

Royal Pains is back for its third season on USA at 9p and it picks up months after the last one ended. Hank and Evan have found a new place to live and it really isn't ideal for the two of them. Will they be able to find a new place fast?
Divya is still single and working for them, and her parents haven't forgiven her for calling off the wedding. What repercussions will there be for her and there will be some?
There is a lot of love in question for all of them on tonight's season premiere, but things will be heating up just like The Hamptons in the summer.
Besides dealing with their personal lives, they are still saving people and will do so in a grand way to start off the season with a bang!
I am so glad this show is back because it makes summer TV less dull.
And then at 10p the less dullness continues with the brand new show Necessary Roughness. When I saw it for the first time, I half-a$$ed watched it and wasn't wowed by it. Then last night I watched it again and I was blown away by how this show scored a touchdown with me.
Callie Thorne plays a happily married Long Island mother of two teenagers, who also works as a therapist from her house. Everything is perfect until she checks her husband's cell phone and finds pictures of several woman scantily dressed. So she kicks him out of the house and asks for divorce and her life is changed forever.
A few weeks after her split she goes out to a bar with her best friend and meets a guy that will turn her life upside down. Mark Blucas works as a physical therapist for the local professional football team. One of the player's problems is not physical, but mental and his boss hires her to fix him. It won't be easy but she is going to try her hardest with a no holds barred type of therapy. If she succeeds it will help change her barely making money business into a money making one.
Besides work she has to deal with a husband (Craig Bierko) who doesn't want to give her divorce and two kids who struggling with it and acting out.
How will she balance it all? We will have to watch each week to find in this show that is different than the other shows on USA, but just as great.
And finally Callie Thorne is so perfect for this role that I could not picture anyone else playing it. Even though I am sad that Rescue Me is ending, knowing I can watch her on this Necessary Roughness is therapy enough for me.
---
Melissa and Joey are back tonight
June 29th, 2011 under Freeform. [ Comments:

none

]

Melissa Joan Hart and Joey Lawrence are back on ABC Family tonight at 8 in Melissa and Joey and the two child stars are still making us laugh now that they are adults.
Joey is still Melissa's manny, but he might find himself taking care of a baby along with her teenage niece and nephew. Find out who is possibly going to be parent tonight in this funny episode.
Besides Joey Lawrence being back on TV, he also has first single out in 11 years and you can download Rolled for free on ABC Family's Melissa and Joey site for the next week.
---
Alicia Silverstone's baby boy doesn't look like Bear
June 29th, 2011 under Babies. [ Comments:

none

]

Alicia Silverstone had a baby boy on May 5th and she named him Bear Blu. Well looking at the first picture that she shared with him on Us Weekly of him, I don't think the cutie was given the right name. I mean if Teddy was first name followed by the other two I would approve. But that precious face is anything but a Bear!
Alicia also told the magazine that came out today that she didn't leave her house for 6 weeks after he was born because she wanted to bathe in his scrumptiousness. And that is not the only bathing she has been doing since he was born, she also said her husband of six years Christopher Jarecki "all take baths together sometimes."
---
Anna Faris' scary movie haircut
June 29th, 2011 under Bad Hair. [ Comments:

1

]

WireImage
Ever since we go to know Anna Faris in Scary Movie, she has had the same blonde shoulder length do with bangs. Well now The House Bunny cutie has a new look and it is much different. She is filming The Dictator and it looks like she had to get a short dark brown spiky haircut for the movie. Whether it is for the movie or she did it just cause, I think she looks cute with the new look.
---
Rosie Huntington-Whiteley tranforms into Jessica Rabbit
June 29th, 2011 under Movie Star Gossip. [ Comments:

none

]

WireImage
Rosie Huntington-Whiteley walked the Tranformers: Dark Side of the Moon red carpet and she looked like another movie star that graced the big screen a year after she was born. When I look at the Victoria's Secret beauty, I think she totally copied the look that was made famous by Jessica Rabbit from Roger Rabbit but didn't succeed at it. Yes she is very pretty, but she isn't sexy like that cartoon icon.
Oh and she needs to quit whatever face she was making in that first picture because it is not attractive at all.
---
If Heroes cast this cheerleader, it might've saved the show!
June 29th, 2011 under Heroes. [ Comments:

none

]

(photo from WireImage)


Emma Stone is a big movie star thanks to movies like Easy A and Zombieland, but losing out on a TV role caused her to lose it. She told Vanity Fair what happened when she auditioned for Heroes, "I could hear that, in the other room, a girl had just gone in and they were saying, 'You are our pick … On a scale of 1 to 10 you're an 11,' I went home and just had this meltdown." Stone then added that she hit "rock bottom." I really have to wonder if the NBC show had cast her instead, if it would still be on the air. A big reason why the show bothered me (and others) was because of how annoying Hayden was as the cheerleader who couldn't die.
Even though Emma lost out on the role she went on to bigger and better things and Hayden has gone from bigger to bigger men…
---
David Duchovny and Tea Leoni eX-Files…again
June 29th, 2011 under X-Files. [ Comments:

none

]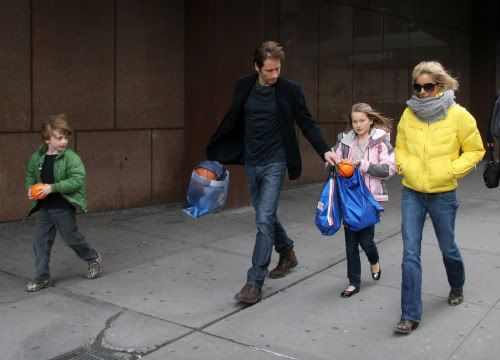 (photo from Splash)


Two and a half years after David Duchovny and Tea Leoni split and then got back together after he went to sex rehab, they have split again. According to TMZ the two separated again yesterday after 14 years of marriage, but have no plans to file for divorce just yet.
Hopefully the two of them will get back together again because they really seemed to make it work after the last time.
---