Hot Links!
May 31st, 2010 under Hot Links!. [ Comments:

none

]
Tara Reid got her abs fixed –
Dlisted
Kylie Minogue has a lot lovers –
Popbytes
How much did Michael Jackson's kids get? –
B&S
Is Miley Cyrus old enough to wear that? –
CelebJihad
---
Jaden Smith makes Justin Bieber look really white!
May 31st, 2010 under Justin Bieber. [ Comments:

1

]

BET award nominee Justin Bieber recorded a song from the upcoming piece of sh!t remake Karate Kid and because of that he had to shoot a video with the star of the movie, Will Smith's son. Watching Jaden Smith dance with the hottest teen alive, made him look even whiter than we already know he is. Bieber might have good hair, but his dance moves are bad.
I wonder how much Will Smith had to pay the Biebster to do the song and how much of a bonus he got for shooting the video with Jaden?
BTW you know what the saddest part about that video? Justin Bieber is just 16 and Jaden is only 11 and both of them have already made more money than you and I will make in all of our lifetimes. OK I am off to cry.
---
BTWF game shows: David Letterman on The Riddlers
May 31st, 2010 under Before They Were Famous, David Letterman. [ Comments:

1

]





via Craig Bierko's Twitter
Before David Letterman had his own talk show, he unsuccessfully tried to have a game show called The Riddlers. He looks the same now as he did when he was 30 in that 1977 pilot except he had more hair and less weight back then.
Side note: OMG Michael McKean and Robert Urich look so young in that pilot.
---
Miley Cyrus is not on Team Twilight, but guess who is on Team Miley?
May 31st, 2010 under Twilight. [ Comments:

1

]

(starts at 3:30 in)


via ONTD
Taylor Lautner and Kristen Stewart were doing an interview with 7PM Project in Australia about Eclipse and during the interview one of the Twilight stars made a shocking reveal. Bella told the interviewer that she likes to rock out to Miley Cyrus' Climb in her car. Whoever thought that she out of all people would be singing along with Hannah Montana? I sure as heck didn't, especially since Miley told Q92, "I've never seen it and nor will I ever…I don't believe in it. I don't like vampires. I don't like the wolf that pops out of the screen when I'm watching my TV at night. I don't like it. I don't want anything to do with it. I don't like the shirts. I don't like any of it." While Miley might not be a fan of Twilight, the female lead of the movie is. Maybe someday they will do a movie together and Kristen and her can sing a duet, and in exchange she will get Miley to see the whole Twilight Saga on DVD!
BTW Kristen Stewart admitting she is a Miley Cyrus fan tops Eli Roth saying he got into The Bear Jew character in Inglourious Basterds by listening to her music. Who knew had a such a diverse fan base?
---
Remember The Pointer Sisters!
May 31st, 2010 under Remember?. [ Comments:

1

]

WireImage
The Pointer Sister got together at 94th Running Of The Indianapolis 500 Festival Parade and you know what they look as good now as they did when they were hitmakers back in late '70s and early '80s! Can you believe that Anita and Ruth are in their 60's because they certainly don't look it?
BTW who wouldn't be So Excited to see them Jump to the Neutron Dance again!!!
---
Lady Gaga almost dresses normal
May 31st, 2010 under Katy Perry / Lady Gaga/ Ke$ha. [ Comments:

1

]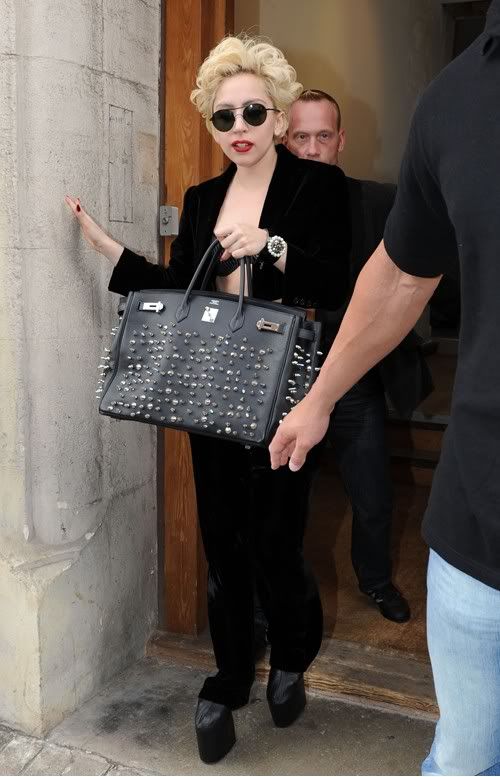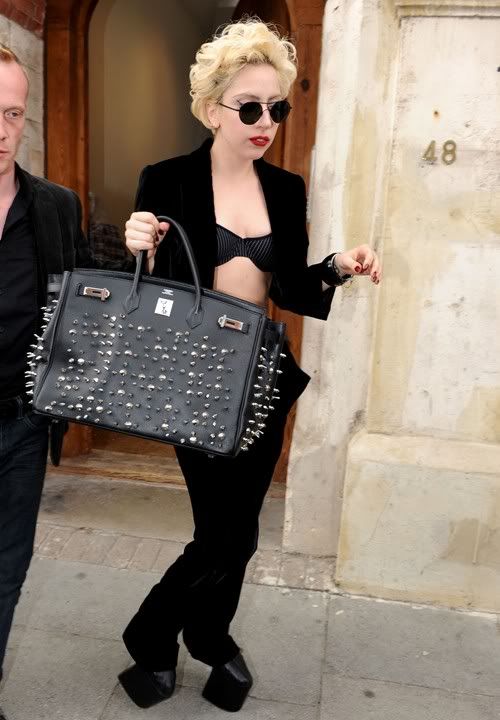 Bauer-Griffin Online
Lady Gaga shocked me when she went out in a classy black pants suit, only problem was she forgot wear a shirt and she wore those type shoes only she would wear. I wonder what she was dressing up for because I have never seen her cover up so much of her body like that before. She actually almost looks normal to me. Granted she looks like she is channeling Madonna in Vogue and for the Poker Face singer that is normal. What do you of her new look? Should she keep it for more than one day?
---
Megan Fox needs to button up
May 31st, 2010 under Megan Fox. [ Comments:

1

]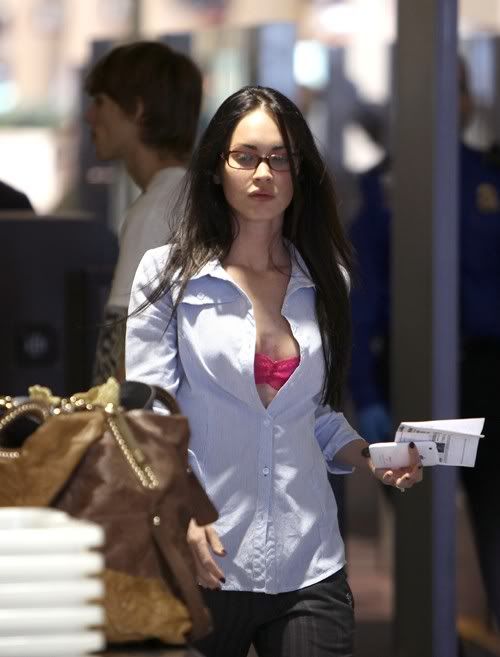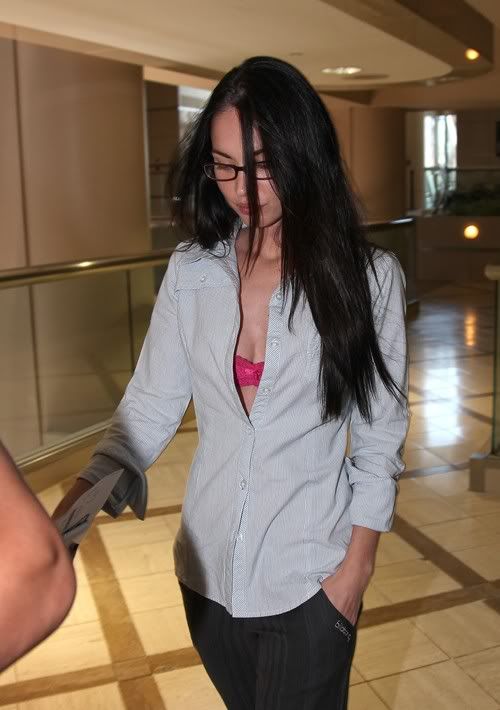 Bauer-Griffin Online
Megan Fox took off from LAX and looks like her shirt is about to take flight. The Jennifer's Body star left one too many buttons open as she walked through the airport revealing her hot pink bra. Everyone knows she has a great body, but showing it off at an airport is a desperate cry for attention. Seriously who shows off their underwear at an airport…red carpet yes, airport runway no.
---
Mayim Bialik and her boys!
May 31st, 2010 under 80s, Mayim Bialik. [ Comments:

none

]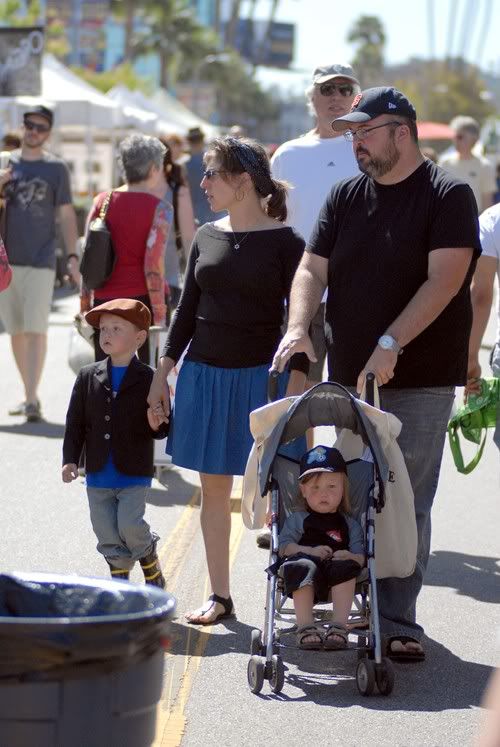 Pacific Coast News Online
Mayim Bialik's acting career is having a huge resurgence with guest star roles this season on The Secret Life of an American Teenager, Til Death and The Big Bang Theory. But that doesn't mean she is too busy to spend a lazy Sunday with the men in her life at the Farmer's Market. She enjoyed some time with her husband Michael Stone and their two boys Miles, 4 and Frederick, 21 months. How awwdorable are her little boys? Especially Miles in that get up! Talking about get ups, looks like she is channeling her Blossom days in that outfit!
---
Ben Kingsley wants to be Heidi Montag who wants to be Megan Fox
May 31st, 2010 under George Lopez, Talk Shows, VH1/MTV. [ Comments:

none

]

So you know how Heidi Montag made an audition tape for Michael Bay to replace Megan Fox in Transformers 3? Well Sir Ben Kingsley made one of his own like Heidi's and shared it with George Lopez on Lopez Tonight. After watching his audition tape, I think he proves why he has an Oscar and she has…what does she have? Oh she has silicone boobs and that will get her parts in movies. You know the ones that go straight to DVD…if she is lucky.
BTW I love that she says she left her husband Spencer Pratt to further her acting career. Guess she waited to long because Rosie Huntington-Whiteley was cast in Transformers 3 instead of The Hills star that increased her hills.
---
Greg Laswell Just Wants to Have Fun!
May 31st, 2010 under Music. [ Comments:

none

]

So I was watching My Sister's Keeper today and in it I heard Greg Laswell's version of Girls Just Want to Have Fun. The song left so much of an impression on me that I had to share it with you. You know on American Idol when the judges tell the contestants that they want them to change up the songs? I think this is exactly what they had in mind.
Seriously didn't he do an amazing job of making the song his own. I have heard Cyndi Lauper's Time After Time and True Colors reinterpreted, but I never heard any of her songs redone as well as this one. Hopefully this song will touch you as much as it touched me. This song sincerely blew me away and that is very rare these days.
---