BTWF roles: Lizzie Caplan in Freaks & Geeks
April 30th, 2010 under Before They Were Famous. [ Comments:

1

]

(starts at 4:40 in)


Before Lizzie Caplan was a wannabe actress working as a waitress for Party Down, she was a high school student trying to make sure the party got the keg in Freaks & Geeks. She looks exactly the same now as she did when she was 17 in that 1999 episode but her hair is longer.
UPDATE: LaQuonda pointed out to me that Lizzy Caplan went to high school with one of her co-workers on Party Down, Martin Starr was also 17 when he played the tallest Geek on the show in 1999.
xoxo LaQuonda for your good eye on that! I was actually wondering what happened to that actor because he had such a nerdy look and you saved me from the IMDB search!
---
A Bret Michaels update from his doctor
April 30th, 2010 under Bret Michaels. [ Comments:

1

]

(photo from WireImage)


A week after Bret Michaels was hospitalized for a subarachnoid hemorrhage, a doctor at the Arizona hospital where he is being treated at is talking about his condition. The below update was posted on Bret Michaels' Facebook.
In the days following Mr. Michaels' hospitalization, due to a subarachnoid hemorrhage, there was a lot of speculation as to where Mr. Michaels was being treated. Due to the severity of his life threatening condition, the instantaneous way in which the hemorrhage presented itself and respect for his family his location was not confirmed to the media. There is a seven to ten day period that is extremely critical in which multiple tests are conducted to detect the source of the bleeding.
"There is no doubt that Mr. Michaels' condition is serious. We are treating the subarachnoid hemorrhage, which caused his severe cranial pain." states Dr. Zabramski who has been a top neurosurgeon at Barrow Neurological Institute since 1986 and serves as the Chief of Cerebrovascular Surgery and Director of Clinical Neurosurgical Research at the center and is leading Michaels' team. Zabramski continues "Mr. Michaels will continue to undergo testing considering we have hit a few roadblocks including hyponatremia, severe cranial and back pain suffered from blood drainage, an emergency appendectomy performed a week earlier and a lifelong history of Type 1 Diabetes. However, "Bret's sheer will to live and fully recover is undeniable." He has an unbelievable fight in him and told me what kept him alive at the moment of the hemorrhage was that he 'did not want his family to wake up and see him lying unconscious in the middle of the floor." It was a combination of Bret's fight to stay conscious during the hemorrhage and get to the emergency room, and the immediate medical attention provided by our staff at Barrow that enabled us to stabilize his condition."
Let's keep praying it is that fight he has in him that will help with speedy and full recovery.
There will be a press conference on Tuesday at the hospital updating his condition. That is the 11th day of his hospitalization which will get him past that 7-10 day critical period.
---
I can't wait to swim with Piranha 3D in August!
April 30th, 2010 under Movies. [ Comments:

none

]

The second trailer for Piranha 3D was released and I am even more excited to see this movie when it comes out on August 27th! Seriously how bloody awesome does this film look! I just love horror movies with Piranhas and these guys look like evil little f*ckers and those are best kind!
BTW hopefully the Piranha will eat up and spit out Jessica Szohr in that one scene we saw in that trailer.
---
Silly Putty the Movie will scare you silly!
April 30th, 2010 under Jimmy Kimmel. [ Comments:

none

]

Yesterday on Jimmy Kimmel Live they debuted the trailer for Silly Putty the Movie and I can't wait to see it. It looks the blob but even better because I have owned Silly Putty ansee it doing that! What toy will they turn into a movie next? Slinky? Hula Hoop? Jacks?
BTW I really wish the staff of Jimmy Kimmel Live could turn their trailers into to movies because I sincerely loved what they did to Peeps and Operation!
---
Milo Ventimiglia got the Heroes haircut
April 30th, 2010 under Heroes. [ Comments:

none

]

WireImage
I don't know what it is, but when the actors from Heroes are on hiatus from the show they get the same nerdy haircut. First it was Adrian Pasdar then Zachary Quinto then Hayden Panettiere got the female version of it and now Milo Ventimiglia debuted that same ugly hairdo. Not only is it not an attractive cut, but it also makes them looks less attractive. Luckily hair grows back and hopefully it will come in quickly.
Below is Adrian Pasdar (WireImage), Zachary Quinto (PCN) and Hayden Panettiere (WireImage) with that same short do.
---
Jerry O'Connell has his hands full
April 30th, 2010 under Jerry O'Connell/Rebecca Romijn. [ Comments:

none

]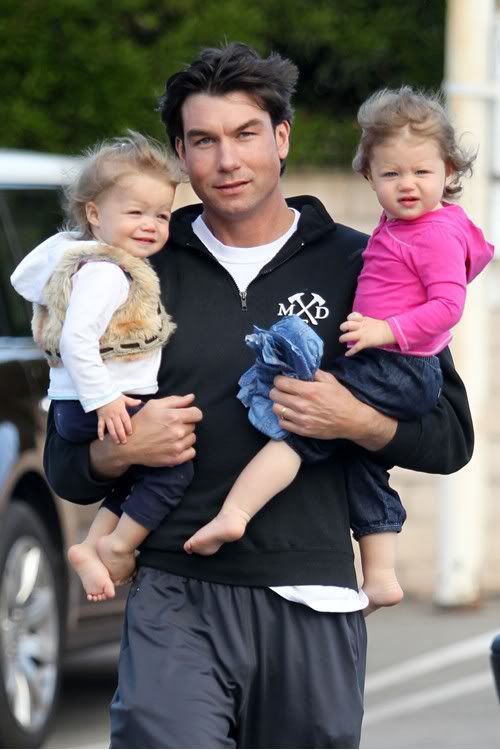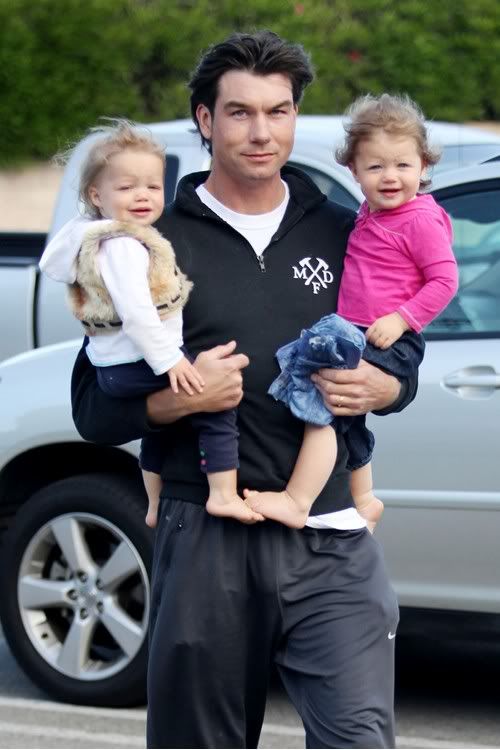 Pacific Coast News Online
Jerry O'Connell took his awwwdorable 16 month twin girls to an indoor playground yesterday and Dolly Rebecca Rose and Charlie Tamara Tulip look so happy to be spending some time with their dad. It is amazing how much both girls look like him with a touch of their mother Rebecca Romijn. They are just so precious!
BTW I tried not to look because he holding his little girls in his arms, but he should've worn better fitting pants that didn't show where the twins came from.
---
Halle Berry has split from her baby's daddy
April 30th, 2010 under Halle Berry. [ Comments:

none

]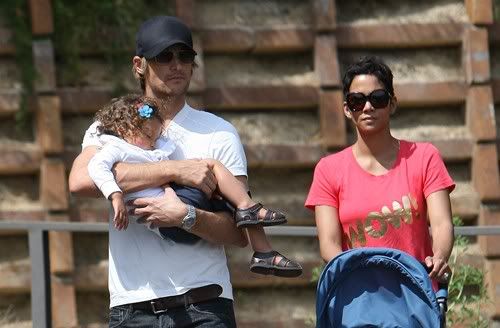 (photo from Fame Pictures)


Halle Berry and her gorgeous boyfriend Gabriel Aubry have split according to TMZ. The two had been dating for 4 years and have an awwwdorable 2 year old daughter Nahla together. No reason was given for the split, but the two are amicably working on a longer term custody agreement for their daughter according to TMZ.
OK, let's start taking bets on who she will be linked to first?
---
Courtney Love auditioned for The Mickey Mouse Club
April 30th, 2010 under Courtney Love, Jimmy Kimmel. [ Comments:

none

]

Courtney Love was on Jimmy Kimmel Live yesterday and she told him that when she was 9 or 10 years old she auditioned for The Mickey Mouse Club. The reason why we didn't know that until now is not only because she didn't talk about it before now but because she auditioned under the name Coco Rodriguez. Coco was what she called herself back then and Rodriguez was her stepfather's (at the time) last name. Could you imagine if she got on the show? Maybe she never would've married Kurt Cobain and we would have never had heard of her because no way would she have joined a band like Hole with the TMMC influence.
BTW she would not have been on the same Mickey Mouse Club as Britney Spears, Christina Aguilera, Justin Timberlake and Keri Russell because they weren't born when she auditioned for the show.
---
The female version of Hung…Tight!
April 30th, 2010 under Awesome Videos. [ Comments:

none

]

via Adam Mckay's Twitter
Diablo Cody's United States of Tara is an Emmy winning show for Showtime and now she is going to try to do the same at HBO with Tight. Tight is a spinoff of the critically acclaimed HBO show Hung about a man with an almost perfect penis who starts using his best asset to make extra money by selling its use to women. Instead of focusing on the man's greatest f*ck strength, it is focusing on women's. Michaela Watkins has an extremely tight vajayjay and she doesn't have to vajazzle it to make the men want to pay for it. Tight looks like an instant classic and I can't wait to see it. Looks like Diablo Cody will be adding an Emmy to her shelf to go along with her Oscar and soon-to-be-born baby!
Seriously Tight is so wrong, it is right!
---
Hot Links!
April 29th, 2010 under Hot Links!. [ Comments:

none

]
Britney Spears finally found a bra –
Popbytes
Paris Hilton in a see-thru shirt with no bra –
ICYDK
April has not been a good month for Kate Gosselin –
GB
Which couple has nude pix all over their bedroom? –
AG
Who has a sex tape you don't want to see? –
Celebitchy
Which Disney darling would do a nude scene? –
CelebJihad
---