Hot Links!
January 31st, 2010 under Hot Links!. [ Comments:

none

]
The 100 Cheesiest Movie Quotes –
Pajiba
Who called off their engagement? –
ICYDK
Who was arrested with a gun at a bank while drunk? –
Dlisted
What happens when you Google "Where's Chuck Norris? –
Heeb
---
Chris Daughtry with hair
January 31st, 2010 under Daughtry. [ Comments:

10

]

Chris Daughtry tweeted this picture and said, "By the way…I'm growin my hair out. Like it or not:)." I don't know about you, but I like him with some hair on his head and I hope he let's hair get a little longer. Normally I don't like bald men, but Chris is one of the few guys that I think that can actually pull off the look. But seeing him with hair, I think he pulls off that look off even better! How do you like Chris Daughtry better?
---
Lost gets the Italian family treatment
January 31st, 2010 under Lost. [ Comments:

2

]

Co-Executive Producer Carlton Cuse of Lost Tweeted this video of an Italian family re-enacting Lost! I hope for his sake that they are happy with the ending of the show because if not they might re-enact another show for him…
But back the "The Family" seriously didn't they do an awesome job re-enacting Lost?
BTW who else is excited that we are 2 days away from the season premiere of Lost on ABC at 9p???
---
Something fishy about Kelis' camel toe
January 31st, 2010 under Celeb Oops. [ Comments:

3

]

WireImage
Kelis wore an outfit that no one knows what the hell is going on with it, but the one thing we do know for sure is that is the biggest camel toe we have ever seen on the red carpet. It is not like you want to look, but you can help but stare at. Kelis you are a mother now, please put that thing away. Positive note at least she isn't showing her milk shake…I don't know what that means either.
---
Enter to win a White Collar Prize Pack!
January 31st, 2010 under Contests. [ Comments:

none

]
FINAL DAY!



White Collar is back on Tuesdays at 10p and USA Network and Seriously? OMG! WTF? have teamed up for contest where you can win a prize pack valued at $300 from the hit show in honor the spring season premiere. All you have to do is E-Mail me the answer at SeriouslyOMGWTF@yahoo.com to "Which federal agency does Neal have a deal with?" by January 31st with your name and address! 2 winners will be selected at random!
USA Network's new hit series is back with all new episodes on an all new night. Don't miss the return on Tuesday, January 19 at 10pm/9c! The season premiere picks up after December's cliffhanger as Neal must infiltrate a company of corrupt Wall Street brokers to preserve his deal with the FBI. When Peter is forced to go undercover alongside him, a discovery is made that could change their partnership forever. Become a fan on Facebook, Follow on Twitter, Visit The Official Website for your chance to WIN a new Taurus (beginning 1/19).

Enter to win a White Collar Canvas Gift Bag containing:
– Cashmere Scarf
– 4 Full Sized Bliss Products
– Pond's Clean Sweep Travel Pack
---
Jessica Simpson fakes her orgasims
January 30th, 2010 under Jessica Simpson. [ Comments:

none

]

Jessica Simpson's nana is in the hospital and in between visiting her she tweeted, "'You can fake an orgasim but you can't fake laughter' Bob Dylan" and there was a typo her Tweet. I only realized it because she later tweeted, "I meant "orgasm" not orgasim…one of the cute doctors here at the hospital informed me of my misspelled tweet. Hmm…was he hitting on me?" Yes Jessica he was hitting on you, but I would be more worried that he is reading your tweets instead of taking care of your nana.
You know maybe she should date that doctor because she might have better luck with him then the past men in her life that she had to fake orgasims for? Although John Mayer is rumored to be really good in bed…
---
BTWF ads: William H Macy for Cling Free
January 29th, 2010 under Before They Were Famous. [ Comments:

none

]

Before William H Macy was married to Felicity Huffman, he was married to a woman whose fabric softner got stuck in his shirt before they discovered Cling Free. Almost hard to believe the 33 year old actor in that 1984 commercial is the same guy we know now.
---
Spoiler: The first 4 minutes of the final season Lost!!!!
January 29th, 2010 under Lost. [ Comments:

1

]

If you are like me and can't wait until Wednesday to find our what happened when Juliette hit the bomb, well DocArzt and Friends' Lost Blog just posted the first four minutes. Is it Tuesday at 9p yet because I can't wait to tune into ABC to watch the season premiere of Lost already!!!
---
Kitchen Nightmares gets cooking again on Fox!
January 29th, 2010 under Fox. [ Comments:

none

]

Kitchen Nightmares is back for a third season tonight on Fox at 9p and I can't wait to dine at this season's restaurants via the boob tube. I have to admit I never got in to Hell's Kitchen, but I love what Gordon Ramsey does with Kitchen Nightmares. He goes into these restaurants that desperately need his help and he saves them from the brink of closure. He is tough as nails when he first gets there, but you understand he is only doing it to help them out. Once he sees they really care about their businesses he becomes their teacher and savior.
On tonight's episode he goes to Philly and helps two sisters. a sister-in-law and niece try to save their place The Hot Potato, but when none of them seem to care if the business stays opens or closes he walks out. When the women beg him to come back, he decides to give them a second chance. Were they sincere when they told him they want to keep restaurant or were they just saying it to get him back? Tune into to Fox at 9p to find out.
---
Matthew McConaughey in a penguin suit on the beach!
January 29th, 2010 under Matthew McConaughey. [ Comments:

none

]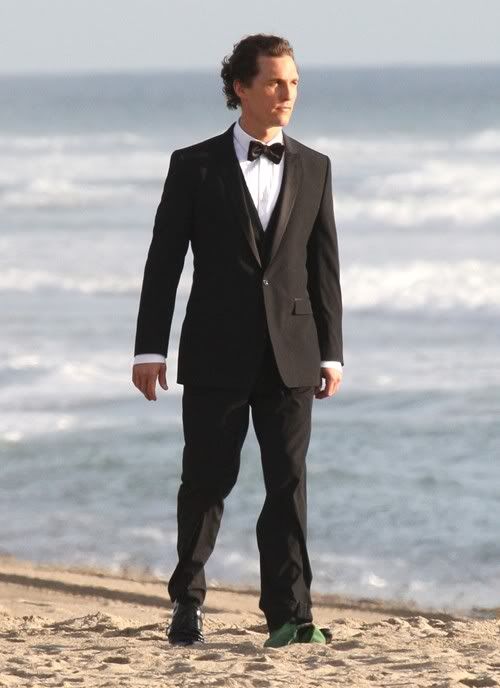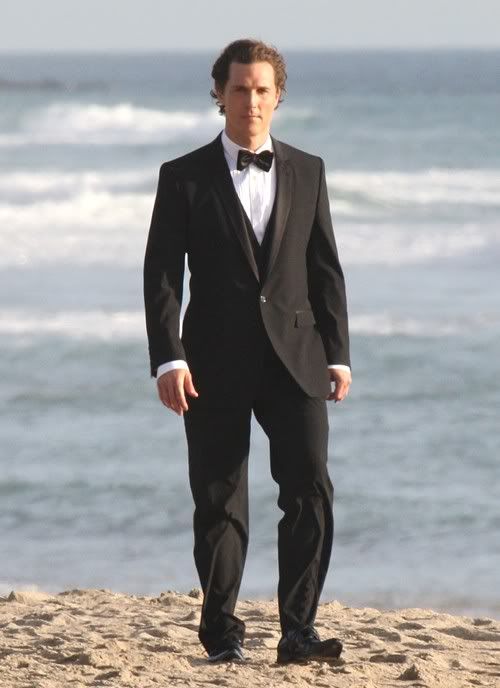 Fame Pictures
Matthew McConaughey was seen in the most clothes we have ever seen him in on a beach and he looked really good dressed up as a penguin in Malibu! As you can tell in that last picture he would rather be topless and not that I don't like him without a shirt but I think he looks a lot better with a tuxedo on!
---