The Road is a movie well traveled
November 29th, 2009 under Reviews. [ Comments:

none

]

The Road is an extraordinary movie with brilliant acting. The movie stars Viggo Mortensen who is trying to get him and his son (Kodi Smit-McPhee) as far south as they can go after the world is mysteriously destroyed. About 7 years earlier, Viggo and his pregnant wife (Charlize Theron) were home when a warning told something was going to happen. What happened we don't know, but flashing forward seven years most of the world is dead and the few survivors are doing whatever they can do to live another day. When I say the word is dead, the temperature is freezing everywhere, there are no animals left and trees are falling down because they is nothing keeping them alive. Viggo and his family have run out of supplies and they need to move on to survive, so Charlize tells them to go as far south as they can and they venture out into a world that their son has never seen. They walk aimlessly hiding from the unknown survivors who are doing whatever it takes to live and eat what they can. As they walk we see what is left of cities, homes and malls that have been ravaged by what happened and those who were already there trying to find what they can. There is a really cute scene when they go into a mall and Viggo finds a lone coke in a soda machine and he gives it to his son. His son has never had one before and to watch him experience it for the first time (with burps and all) was just amazing to watch. In a time when the world has gone mad, Viggo tries to teach his son right and does whatever he can to protect him. They encounter many people on their path and some evil beats out good, and sometimes it is the other way around. The innocence of a child in a time where no innocence is left. Will they be able to make it all the way to end? You will have to see the movie to find out, but it is much more than trying to make it to a location…it is about making it in a time when barely anyone has.
The Road is an amazing movie that makes you wonder what you would do if you survived the unsurvivable. Would you be good or give in to our animalistic needs? And how would your perception change if you a had young one to protect?
I can see Viggo Mortensen and Kodi Smit-McPhee traveling down another road…the road to the Oscars because both of them were just marvelous in this movie and you feel like you are an observer feeling everything they went through. The Road is also a beautiful movie even though everything is destroyed, they way they built what the apocalyptic world would look like is something you can't take your eyes off of.
If you are looking for a movie that will really make you think, The Road that is out now is a must see.
---
Tiger Woods breaks his silence
November 29th, 2009 under Sports figures. [ Comments:

1

]

(photo from WireImage)


After 2 days of speculation about his car accident, Tiger Woods has gone to his website to break his silence.
As you all know, I had a single-car accident earlier this week, and sustained some injuries. I have some cuts, bruising and right now I'm pretty sore.
This situation is my fault, and it's obviously embarrassing to my family and me. I'm human and I'm not perfect. I will certainly make sure this doesn't happen again.
This is a private matter and I want to keep it that way. Although I understand there is curiosity, the many false, unfounded and malicious rumors that are currently circulating about my family and me are irresponsible.
The only person responsible for the accident is me. My wife, Elin, acted courageously when she saw I was hurt and in trouble. She was the first person to help me. Any other assertion is absolutely false.
According to TMZ Tiger Woods cancelled another meeting with the Florida Highway Patrol to talk about the accident, which kind of makes you wonder what he has to hide???
---
Reese Witherspoon and Jake Gyllenhall are no more?
November 29th, 2009 under Reese Witherspoon/Ryan Phillippe. [ Comments:

none

]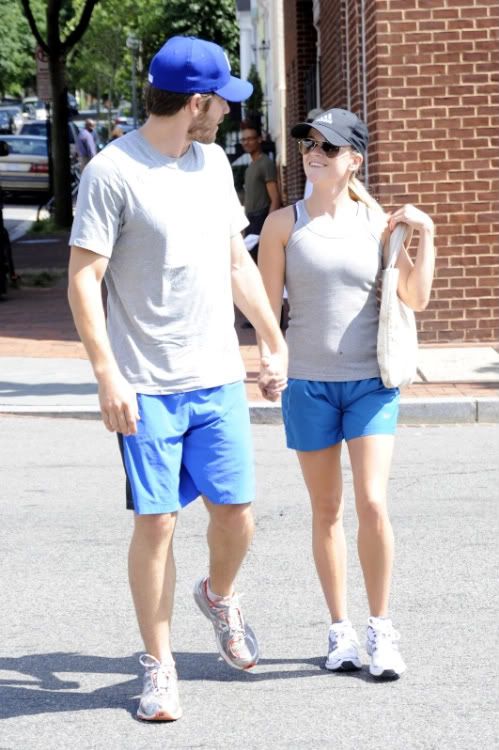 (photo from Splash News Online)


People is reporting that Reese Witherspoon and Jake Gyllenhaal have broken up. No reason was given why they are no longer dating. The 2 actors met while filming Rendition in 2007. Reese is 5 years older than Jake who is only 28. Seriously he is only 28? I really thought he was so much older than that. I am not sure if that is because he has been working for so long in the biz or he is ageing poorly.
---
Dahmer vs Gacy needs to be sent to the electric chair
November 28th, 2009 under Movies. [ Comments:

1

]

via ONTD
It is rare that you see a trailer for a movie that looks like it is beyond sh!t, but that is exactly what Dahmer vs Gacy looks like. Now after saying that, why do I want to see that movie? There is just something about horrible horror movies with beyond fake deaths that get me so excited. Maybe I have a problem! But I love laughing at the cheesy way people die in crappy movies like that!
---
Smell like Michael Jackson's hair follicle DNA
November 28th, 2009 under Michael Jackson. [ Comments:

1

]

Michael Jackson might not be with us anymore, but you can still smell like him according to The Sun. John Reznikoff has a collection of celebrity hair and now he is turning the DNA from the follicles into a perfume that you can wear with his company My DNA Fragrance.
"We use the genetic code to formulate the fragrance. If you are putting on MJ's perfume it's a unique fragrance to him.
"The biggest seller is Elvis, but MJ is selling very well too. It's a powerful fragrance and there is no alcohol in it.
"We use aloe vera so it doesn't evaporate into the air. It lasts the entire day and it's good for the skin.
"We had the actor SAMUEL L JACKSON call up to get his own perfume made – it's so unique and special that he wanted it."
If you want to smell like Michael Jackson, it only costs $59.99 a bottle.
I have to say out of all the things that people have tried to make a buck off of from dead celebrities, this one weirds me out the most.
---
Hugh Laurie has a huge black eye
November 28th, 2009 under Lisa Edelstein/Hugh Laurie/House. [ Comments:

none

]

Hugh Laurie has a black eye, but how he got it is a mystery. Daily Mail says, "His injury is thought to have been caused by a right hook from a gym sparring partner back in LA." But House has says, "I walked into a door', adding: 'No, I mean I got hit by an owl." Oh who to believe? I think I am going with the first one.
---
Tiger Woods was seriously hurt in a car accident
November 27th, 2009 under Sports figures. [ Comments:

5

]

(photo from WireImage)


Tiger Woods is in serious condition after getting into a car accident at around 2:30a this morning near Orlando, Fl. WFTV is reporting that the Golf star pulled out of his driveway, struck a fire hydrant and then slammed into a tree with his Cadillac SUV. Florida Highway Patrol is unsure what caused the crash, but they said alcohol was not involved and that the accident is under investigation and charges are pending.
I really hope that the accident had nothing to do with rumor that the National Enquirer (via Celebitchy) is saying that he is having an affair.
Hopefully he will be better soon!

UPDATE: Tiger Woods is home and only suffered facial lacerations. There are plenty of rumor how he got them some say it is from the accident while others are saying his wife might have caused them. 'Til he talks, it will all be one big mystery!
---
Monk begins to say goodbye tonight
November 27th, 2009 under USA Network. [ Comments:

1

]

Tonight at 9p on USA the first part of the series finale Monk airs. After 8 years Tony Shaloub and the cast of Monk begin to say goodbye in a two part finale that starts tonight. I am so upset to see this show end because it never lost its freshness and it always made me laugh. The cast always seemed like they were one strong unit and it is that chemistry that made this show so much more enjoyable.
If you love Monk as much as I do, you can text a message to USATXT (872898) or go online to monk.usanetwork.com to let them know you will miss them and on Sunday during at 5p starting on USA you can watch three fan favorite episodes with those messages appearing during the three hour block.
---
Blame Peter Facinelli for why Robert Pattinson smells so bad
November 27th, 2009 under Twilight. [ Comments:

1

]

(Photo from WireImage)


There have been rumors that Robert Pattinson smells because he wears the same clothes day after day after day. Well now we know the reason why behind his stench…Peter Facinelli tells New York Magazine it is all his fault.
"He's smart, because if he doesn't changes his clothes and the paparazzi get pictures of him in the same outfit all the time, then they can't sell the pictures. That's what I said he should do; I said, 'You should not change your clothes, this way, how are they going to sell the picture of you in the same outfit all the time, because it will look like it was from the same batch.'"
Ummmm….I don't think it worked because I still see the paps posting pictures of him all the time. Maybe Robert needs to find a new person to give him better advice how to avoid having his pictures taken. Although I have to admit Facinelli does know about stinking…afterall minus Twilight look at his career.
While I disagree with his sage words, New Moon's director Chris Weitz doesn't feel the same way "I can smell him coming, that's the nice thing."
---
Blake Lively had to beg Ben Affleck to work with him
November 27th, 2009 under Ben Affleck/Jennifer Garner, Gossip Girl. [ Comments:

none

]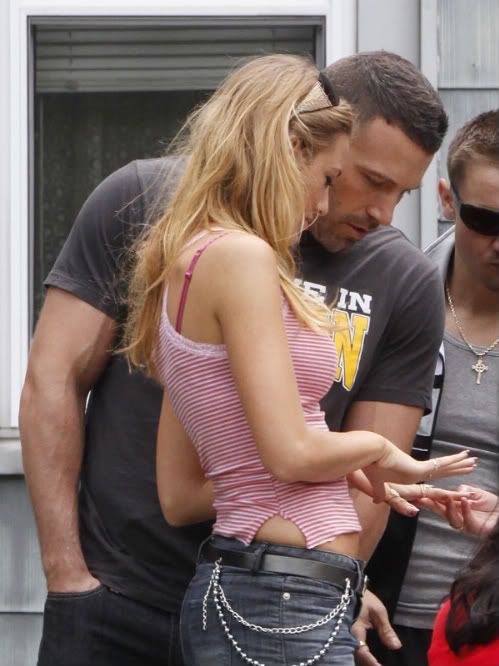 (photo from Fame Pictures)


Blake Lively wanted to be in The Town that is directed by and stars Ben Affleck, so much she had to beg for her role according to WENN.
"My part was supposed to be a 37 year old. I was like, 'I have to play this.' And they're like, 'No, you're not 37.'
"I took a train to Boston and auditioned for Ben and fought for the role, and he gave me the job on the spot. They rewrote it so I'm 29."
Looking at that picture she doesn't even come close to passing for 29. Personally I think Ben made a mistake casting her because her voice irritates me when she on Gossip Girl, and unlike when I watch her on the little screen I can't turn the volume down when she's on the big screen.
---