Hot Links!
May 31st, 2009 under Hot Links!. [ Comments:

none

]
The top Pansy While Boy Bands! –
Pajiba
Jon & Kate in trouble with Child Labor? –
ICYDK
Susan Boyle taken to mental hospital? –
Holy Moly!
What are The Hogans fighting about now? –
WIMB
What is that guy with Christina Aguilera looking at? –
GB
---
The Twilight Saga: New Moon trailer
May 31st, 2009 under Twilight. [ Comments:

none

]

I love Vampires and maybe because I hit puberty, I have not been tempted to see Twilight. That was until I just the trailer for the sequel The Twilight Saga: New Moon because that movie actually looks really good. Seriously how good does that look especially when Taylor Lautner turns into a Werewolf?
---
I so love Bruno, and Eminem so hates him!!!
May 31st, 2009 under Sacha Baron Cohen. [ Comments:

none

]

via Dlisted
I opted to skip the MTV Movies Awards because for the last few years they have been extremely unfunny and the only funny part winds up on the net and this year once again did(n't) disappoint!!! Sacha Baron Cohen aka Bruno came out just like Howard Stern did in 1992 bare butt and all and instead of landing on the stage like him, he landed with his face in Enimen's crotch and Bruno's burnt bleached butt in his face. While some are saying that Em's reaction is fake, that is the Real Slim Shady's ire over the situation. I think that MTV and Bruno planned the landing perfectly and I don't think Em knew it was going to happen because if he did know no way in 8 Mile shot in hell would he have agreed to it. I guess we know one person who won't be seeing Bruno this summer, not that it seems like he even knew who he was before he got to know him so intimately well.
BTW here is the infamous Howard Stern clip from 1992…
---
Kate Gosselin would rather kiss a fish than Jon?
May 31st, 2009 under DIscovery/TLC. [ Comments:

none

]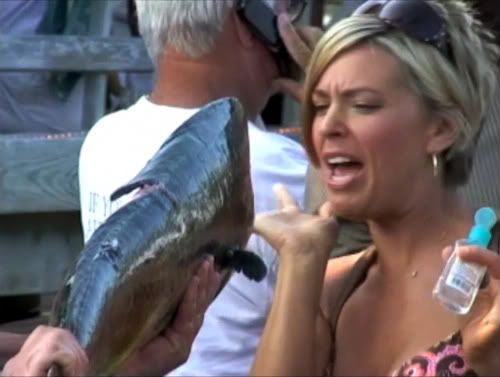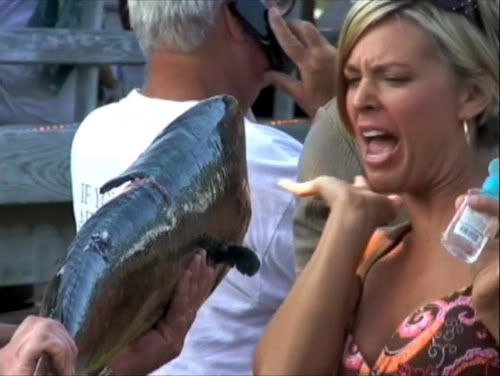 Splash News Online
I wonder if Kate Gosselin makes that same face when she kisses Jon???
Lucky for Jon, Kate and their 8 kids are on vacation in NC without him. I guess Jon is really the one on vacation.
BTW I just got into TLC's Jon & Kate Plus 8 and I have to admit I totally love the show and it has nothing to do with the recent stories about them. It really is a good show.
---
Mel B's body is scary
May 31st, 2009 under Spice Girls. [ Comments:

2

]

WireImage
While Mel B's body is amazing, to me I think it looks more like a man's than a woman's and that is Scary to me. Do you guys like her 6 pack abs?
---
A mini-Spin City reunion
May 31st, 2009 under Reunions. [ Comments:

none

]

WireImage
Alan Ruck and Heather Locklear came out to support their Spin City co-star Michael J Fox who held a Summer Lawn Party for his Foundation For Parkinson's Research. It has been 8 years since he left the show, and all 3 of them look great! I will always think Alan Ruck is cute ever since I saw him in Ferris Bueller's Day Off!
---
Scott Baio talks about the Bailey Baio Angel Foundation
May 31st, 2009 under Interviews, Scott Baio. [ Comments:

none

]

Today in LA, Scott Baio and his wife Renee' held a Celebrity Baby Yard Sale for the charity that they started in honor of their awwwwdorable daughter Bailey. Their first event was a huge success and Scott Baio took the time to tell me about the Bailey Baio Angel Foundation! How amazing is it what Renee' and him are doing because of what they went through and survived? And their little Angel is doing great!
The work that they are doing for getting the word out there about organic acidemia metabolic disorders like GA-1 and the importance of expanded newborn screening and its availability and necessity for every newborn is just so admirable.
At the Yard Sale they had lots of great items for babies and their mothers! There were tons of clothes donated from different stores, The Baios and Larry Birkhead all at reasonable prices. There were also lots of toys, picture frames, a hand-carved highchair and baby must haves that were also donated. In fact I got an awesome purse for cheap! There was also a table of lots of great items that were donated and signed by celebrities like Dennis Quaid's twins's toys and more, signed photos from the Gilles Marini, a guitar signed by Toby Keith and his band, an egg that Bailey found at the Easter Playboy Mansion egg hunt that was signed by Hugh Hefner, a signed script from The Closer and so much more that will be going up on eBay. Renee' will keep me updated when that will happen and I will let you know when you can bid on those items and so much more to help out BBAF!!!
The event was such a blast and so much fun! Here are some photos from the Celebrity Baby Yard Sale.
---
Behind-the-Scenes from the Heroes's season finale
May 31st, 2009 under Heroes. [ Comments:

none

]




Adrian Pasdar aka Buckshotwon has been posting behind-the-scenes video from the season finale and it is so cool what he is sharing! We all know that Zachary Quinto's career is hot now, so it was nice to see him on fire…literally. I love how he kept opening eyes even though he was suppose to be "dead". Plus how cute is Masi Oka in that second video!!!
These videos are a nice fix until the show comes back in September!!!
---
Game Show Awards: Cloris Leachman
May 31st, 2009 under Cloris Leachman, Game Show Network. [ Comments:

none

]

On June 6th at the Game Show Awards on GSN Cloris Leachman will team up again with Corky Ballas to do a dance number for the show and before she went in to cut a rug she talked to me. Can I tell you I interviewed Cloris just before she did Dancing with the Stars and almost a year later I think she looks even younger than she did then! She is so awesome for being 83 years young!!!
The legendary actress talked to me about her upcoming role in Quentin Tarantino's WWII epic Inglourious Basterds. She told me that the movie changes history. At the time I didn't know what she was talking about, but then a few days later some dumb reporter spoiled what she was talking about, and let's just say I can't wait to see it happen on the big screen. She also told me what it was like working with the talented Eli Roth in the movie.
Besides Inglourious Basterds that is coming out on August 21st, she has an new autobiography and clothing line. Her new book Cloris is an amazing and interesting read, and what a life she had! Seriously you should pick it up, you won't be disappointed! She also has a Cloris Line, which is a clothing line that is so her. Plus it is reasonably priced!
And don't forget to check Corky and her out next Saturday on GSN dancing up a storm at the Game Show Awards!!!
---
Kimora Lee Simmons Tweets she is in labor
May 31st, 2009 under Babies. [ Comments:

none

]
You know the phenomenon of Twitter has gone too far when a celebrity like
Kimora Lee Simmons Tweets
that she is in labor with her baby and posts a picture from her hospital bed. Not that I am complaining because it gave me something to post!
Hope the labor went smoothly for her third child her first with Djimon Hounsou.
---