Rosie O'Donnell's America premieres tonight
February 28th, 2009 under Lifetime. [ Comments:

7

]
Dr. Maureen Brennan (Rosie O'Donnell), a psychiatrist at a youth treatment center, encounters her newest patient, a 16-year-old biracial boy named America. Through their sessions, Dr. Brennan helps America come to terms with his roller-coaster life, which began when he was taken by authorities from his crack-addicted mother and placed into foster care as an infant. In this emotional story, Dr. Brennan works to help him open up about his painful past and discover the support and courage he needs to get his life back on track.
America premieres on Lifetime tonight at 9p and it is a great movie for everyone to watch.
I have to admit I delayed watching this movie because I am not a big fan of Rosie O'Donnell. Maybe because helping Foster children is so important to her, but she did a great job with this movie and I forgot it was the Rosie we got to know starring in it. The movie is so well done and you really get the feel what foster children go through in the system. It is a movie that everyone should watch because sometimes we forget the forgotten and this reminds us not to forget about the children in foster care!
---
Michael Jackson maskless
February 28th, 2009 under Michael Jackson. [ Comments:

11

]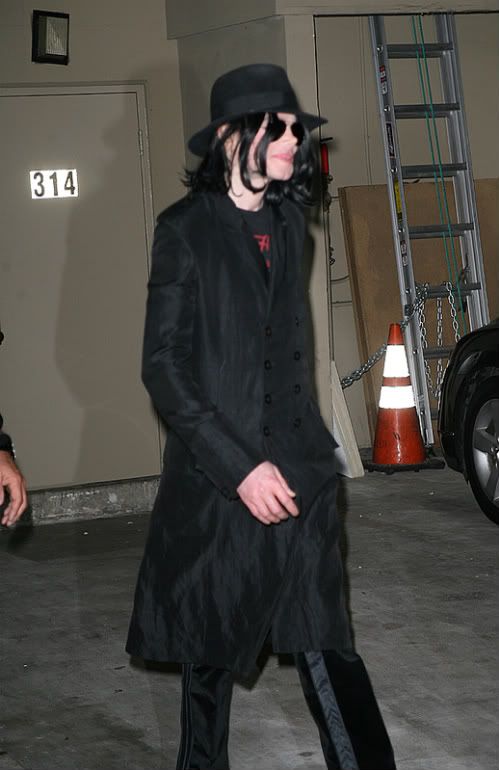 I think we can put those rumors to rest that Michael Jackson is dying after seeing these pictures. He looks pretty healthy to me now that we can see his face.
---
Diddy Twitters about Tantric Sex
February 27th, 2009 under P Diddy. [ Comments:

3

]
File this under TMI!!!
Diddy
is taking breaks from his tantric sex to Twitter that he is having it. Seriously if he was having awesome mind-blowing tantric sex, do you think he would stop to update us about it. Heck to the no! I know I wouldn't stop for anything. I feel bad for the girl that is going through this 36 romp with him…assuming there is another person involved…
---
Ed McMahon has bone cancer
February 27th, 2009 under Sick Bay. [ Comments:

1

]
(photo © ABC)
Ed McMahon is hosipitalized in the ICU for Pnuemonia and he also was recently diagnosed with bone cancer according to
ETOnline
. The 85 former-Talk Show sidekick has family by his side and his wife says, "deep faith is helping her through this difficult time." So help her out and say a little prayer for Ed McMahon.
---
Marc Cherry Desperate for sweeps stunts…
February 27th, 2009 under Desperate Housewives, Grey's Anatomy. [ Comments:

1

]
I guess Desperate Housewives is desperate for ratings because for March Sweeps Marc Cherry is writing in a predictable cheap stunt…a same-sex kiss.
Extra
says that ABC has confirmed that Teri Hatcher and Eva Longoria will share a kiss in an upcoming episode. And they added that Susan Mayer will be kissing another woman on Wisteria Lane which should be Swoozie Kurtz who will be guesting on the show. I guess after kissing Gale Harold, you are ruined for men forever. I know I would like to find out.
Desperate Housewives isn't the only show doing the girl-on-girl kiss, after three tries, it looks like Grey's Anatomy has finally found a woman for Callie.
Michael Ausiello
is reporting that Jessica Capshaw will be sticking around for the rest of the season, if not more.
I guess same-sex kisses are the new losing your virginity when it comes to sweeps stunts. Sad.
---
BTWF roles: Teri Hatcher on The Love Boat
February 27th, 2009 under Before They Were Famous, Desperate Housewives. [ Comments:

none

]

Before Teri Hatcher was a Desperate Housewife or the Lois to Superman, she was singing and dancing as one of The Love Boat's Mermaid. How different was the then 21 year old's hair back in 1985. That was some big '80s hair!
---
This is your brain on Inglourious Basterds
February 27th, 2009 under Brangelina, Cool Technology, Eli Roth, Inglourious Basterds. [ Comments:

1

]

MindSign Neuromarketing is a company that measures people's brain activity to see the effectiveness of consumer marketing. "At MindSign Neuromarketing they use our brain response technology to provide our clients in the advertising, entertainment, political, and software industries with data revealing what their target consumer is thinking while using their product, and seeing their ads."
The company posted someone's reaction to the much anticipated Inglourious Basterds' trailer and as you can see by their reaction of the axial, sagittal, and coronal planes that person is as excited as I am for Quentin Tarantino's WWII epic movie starring Brad Pitt and Eli Roth. Seriously how f*cking cool is that technology!
On the Final Destination 2 DVD, one of the special features is they measured a person's brain activity as they watched the death scenes in the movie to see if they really scared the crap out of people and it did! I thought that feature was one of the coolest things I ever saw on DVD, so I think it is really neat that MindSign Neuromarketing is using that technology to measure consumers' reactions to trailers and TV shows.
If you check out MindSign Neuromarketing's YouTube Channel you can so other people's reaction to other trailers and TV spots and none them were as excited at the different videos as they were for Inglourious Basterds!
BTW both Inglourious Basterds and Final Destination: Death Trip 3D are coming out on August 21st and that is too much excitement for my brain!!! My brain map would be full of color if they measured it about August 21st!!!
---
Jennifer Carpenter needs to investigate some anti-perspirant
February 27th, 2009 under Showtime. [ Comments:

7

]
Dexter's newlywed brother and sister Michael C Hall and Jennifer Carpenter were in Madrid promoting their show and by the looks of it Jennifer forgot to put something on. Like some anti-perspirant. Dang girl can sweat.
BTW what is up with that sour puss face in a few of those pictures, maybe she was getting a whiff of herself?
---
Eddie Murphy playing Richard Pryor?
February 27th, 2009 under Eddie Murphy. [ Comments:

1

]

Is Eddie Murphy going for the Oscar, because he is re-teaming with Dreamgirls Bill Condon to play his idol Richard Pryor according to Hollywood Insider. But don't get too upset just yet because as of now no studio has picked up the movie and Condon is shopping it around.
But I am sure it will get the green light. So if it does can you see Eddie doing the role after watching his impression of him in the movie Raw? I didn't really see Richard Pryor when he did that funny bit, but then again that was 20 years ago maybe he has perfected it by now?
---
Where was Jimmy Kimmel's mind when he said this?
February 27th, 2009 under Jimmy Kimmel. [ Comments:

none

]

Last night on Jimmy Kimmel Live! he was interviewing Calista Flockhart and when he went introduce a clip from Brothers & Sister's the word didn't cum out as it should have. OMG! His reaction to doing a Shepherd Smith was just so adorable! I wanted to pinch his cheeks (on his face)!
Maybe Jimmy Kimmel made the slip up because he was picturing her fiance' Harrison Ford blowing a kiss at him when they shot the I'm F*cking Ben Affleck video. Or he was picturing the bumper sticker that Indy has on the car that says "Honk if you're f*cking Ben Affleck." and he knew if that said that word he would get beeped. Or maybe he was in such shock that she has never seen Star Wars. Or maybe…
So tune in to Kimmel tonight at 12:06a on ABC for a repeat of Sunday's Oscar special. On Monday he will have on New Kids on the Block and Evangeline Lilly and see what word he will mess up when he is interviewing her!
---