Hot Links!
November 30th, 2008 under Hot Links!. [ Comments:

none

]
Who didn't want their picture taken? –
Splash
What is Kristin Stewart smoking? –
Yeeeah!
Spencer Pratt and Heidi Montag faked it –
Dlisted
If only we could train dogs to do this… –
Popbytes
A-Rod has the look of love for Madonna –
Scandalist
Who spent $750,000 on James Bond audition tape? –
Candy Kirby
How much did Ashlee & Pete Wentz get for pix of Bronx? –
Farandulista
---
Angelina Jolie not looking pregnant
November 30th, 2008 under Brangelina. [ Comments:

1

]
I think we can put those rumors that Angelina Jolie is expecting her 7th child, fourth natural to rest. She didn't look pregnant as she took her first kid Maddox toy shopping in New Orleans.
---
The Brits tuned into see Britney live on X Factor
November 30th, 2008 under Britney Spears. [ Comments:

2

]

12.8 million TVs or 53% of the entire viewing audience in The UK tuned into watch Britney Spears live on X Factor yesterday. With those numbers I wonder how long until she appears on Simon Cowell's show American Idol? I smell a Britney Spears' theme night coming to American Idol 8.
---
Guy Ritchie's Sherlock Holmes cursed?
November 30th, 2008 under Robert Downey Jr.. [ Comments:

2

]
Guy Ritchie's Sherlock Holmes with Robert Downey Jr has had its share of accidents and it is not even done filming. Leading The Sun to think this movie might be cursed…
The cast and crew first wondered if they had a mystery fit for legendary detective Holmes on their hands when ROBERT DOWNEY JR was knocked out by a 7ft wrestler.

Then yesterday, he and JUDE LAW, 35 — who plays his sidekick Dr Watson — had to flee the set with Ritchie when a petrol tanker exploded in a fireball.

The Iron Man actor, 43, was knocked unconscious by 25-stone co-star ROBERT MAILLET during a fight scene.

Downey Jr — who plays the famous detective — was "out cold" for six seconds and "drooling blood" before medics could bring him round.

A nurse on set at Chatham dockyard in Kent gave him six stitches in his mouth.
I wonder if Madonna put a curse on his film? Joking!
---
Britney: For The Record premieres tonight
November 30th, 2008 under Britney Spears. [ Comments:

none

]

The documentary we have been all waiting for Britney: For The Record premieres on MTV tonight at 10p. We finally get to hear Britney Spears in her own words and talk about the craziness we all watched. I don't know about you, but I can't wait to hear what she has to say!!! I am sure we will all be talking about it tomorrow and then some.

---
Miley and Mandy are so annoying
November 29th, 2008 under Miley Cyrus/Metro Station. [ Comments:

2

]

How annoying are Miley Cyrus and her friend Mandy in this video? Well I had to shut it off because it was bothering my cat and there are very few videos that annoy her.
As annoying as Miley and Mandy are, they are still less annoying than Selena Gomez and Demi Lovato.
---
Moonlight and Mistletoe premieres on Hallmark tonight
November 29th, 2008 under Hallmark. [ Comments:

8

]
It's always Christmas in Santaville! But now, tiny Chester, Vermont's year-round yuletide attraction is losing its widespread appeal. On the verge of bankruptcy, the resident St. Nick is hoping for a Christmas miracle to keep his dream from being bulldozed into another mini mall. Nick Crosby (Tom Arnold) is the owner of Santaville and head Santa. One day he is smiling with visitors, the next, he is juggling a cascading stack of bills, unable to pay the rent and blissfully thinking a solution will magically appear. When his daughter – and onetime Number One elf, Holly (Candace Cameron Bure), returns home, she is shocked to learn of her father's situation. Holly recruits Peter, Nick's employee and master wood craftsman, to devise a solution to the money woes.
Moonlight and Mistletoe is your typical holiday movie that never gets old! There is just something about trying to save Christmas that always makes you feel good and this movie is no different. It is nice to see Candace Cameron Bure back on TV with Tom Arnold!
So for all of who need something to relax with this Thanksgiving Weekend, Moonlight and Mistletoe is just what you need. So check it out tonight on Hallmark at 9p.
---
Guess who still rocks a bathing suit at 62?
November 29th, 2008 under Guess who?. [ Comments:

1

]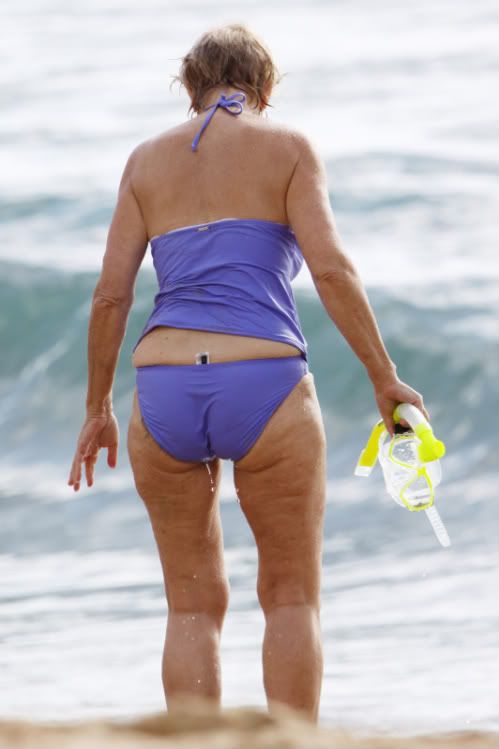 Want to see who is pretty in purple then click here!
---
Jason Preistley loses the beard!
November 29th, 2008 under Beverly Hills 90210 / Melrose Place. [ Comments:

none

]
The Canadian 90210ers from the new and old one were reunited at the Gemini Awards in Canada. It is nice to see Jason Preistley clean shaven! Hopefully he will keep this new look!!!
---
Rosie O'Donnell confirms she is out of the Variety Show biz
November 28th, 2008 under Rosie O'Donnell. [ Comments:

3

]

Rosie O'Donnell's NBC variety show Rosie Live! was trashed by the critics with some of the harshest critiques I have read and was tied for least watched show on Wednesday, so it should come as no surprise that any hope of the show being picked up for more episodes ain't going to happen. Rosie addressed the show's future on her site, and you have to respect her for being honest about her show's failure.
I was planning on watching the show because there were some good names attached, but after seeing the below clip I glad I missed it.
---