Jennifer Garner and Violet Affleck are dogs!
October 31st, 2008 under Ben Affleck/Jennifer Garner. [ Comments:

1

]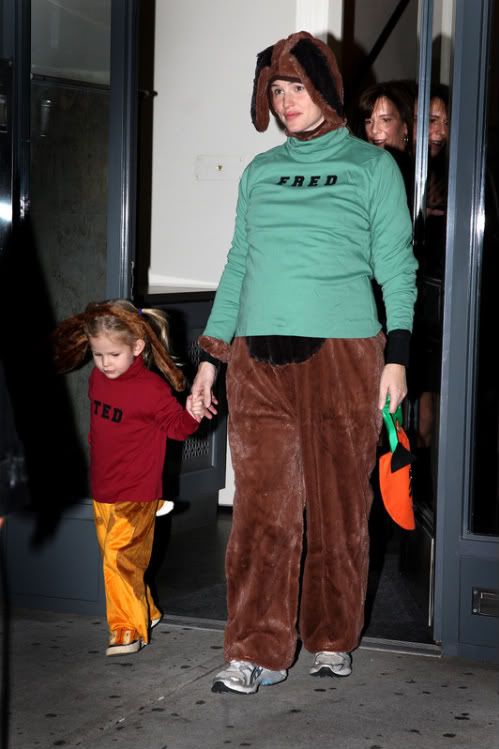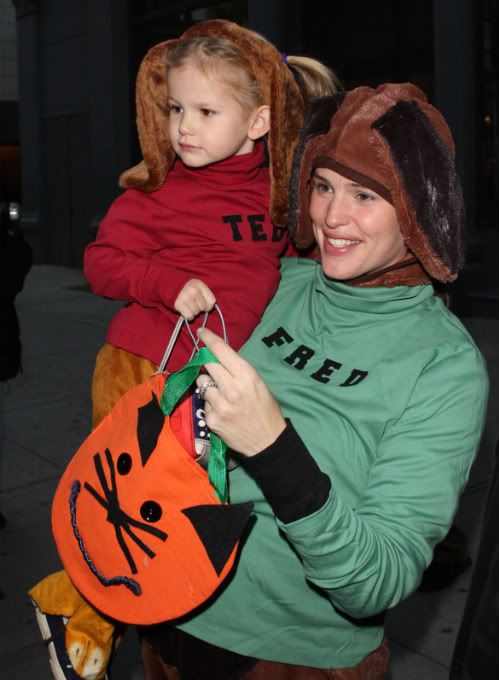 Jennifer Garner is like the cutest Hollywood mom! I love that she dressed up like Violet Affleck for Halloween! If she is Fred and Violet it s Ted, I wonder what Ben Affleck is?
---
Britney Spears or Jessica Simpson?
October 31st, 2008 under Britney Spears. [ Comments:

none

]
Jive
just released the cover for Britney Spears' new CD Circus and I think she looks more Jessica Simpson than she does Britney Spears.
They also released the tracklisting for the CD that is out on her 27th birthday, December 2nd!
1. Womanizer
2. Circus
3. Out From Under
4. Kill The Lights
5. Shattered Glass
6. If U Seek Amy
7. Unusual You
8. Blur
9. Mmm Papi
10. Mannequin
11. Lace and Leather
12. My Baby
Bonus Track:
13. Radar
---
Halloween goes to the dogs!
October 31st, 2008 under Animals, Halloween. [ Comments:

16

]
Why should Halloween only be for humans? These dogs at
---
Caption Al Roker and Meredith Vieira!
October 31st, 2008 under Caption the Celeb. [ Comments:

none

]

WireImage
That picture of Meredith Vieira's WOOD nose so close to Al Roker's HOLE reminds me of something, but just quite think of it. So fill in the hole and caption that picture of the two of them dressed up for Halloween on The Today Show!
---
Jimmy Kimmel pops the question…
October 31st, 2008 under Jimmy Kimmel. [ Comments:

2

]




Last night for the first time since they split and got back together, Sarah Silverman appeared on Jimmy Kimmey Live! and Jimmy Kimmel took the opportunity to pop the question. Thankfully it was not to her, but to TI…at least for now…
BTW how funny is that video of her as a kid singing.
Tonight on Jimmy Kimmel the staff and him dress up for Halloween and Nicollette Sheridan stops by.
---
Spend Halloween with Ghost Whisperer
October 31st, 2008 under Jennifer Love Hewitt. [ Comments:

none

]

What better night than Halloween for Ghost Whisperer to air, so tune into to CBS at 8p to watch a show that is perfect for Halloween or any night!
BTW here is a hysterical video with Jamie Kennedy going Trick or Treating early in my hood because he is working on Ghost Whisperer tonight.



One final GW note start stocking up on tissues for next week's episode when someone will turn in to a ghost only Melinda can hear and see…
---
All the Presidents' View women
October 31st, 2008 under The View. [ Comments:

1

]
Today the women of
The View
dressed up their favorite President and all I can think is the ones that they are dressed up as are all turning over in the graves. BTW I wonder if Barbara Walters dressed up like George Washington because it was the first President she interviewed?
---
Nick Cannon and Mariah Carey's first Halloween
October 31st, 2008 under Halloween, Mariah Carey. [ Comments:

4

]
I take back what I said about Mariah Carey and Nick Cannon's marriage not working out, I think these two are going to last. But please I beg of them never to go as Milk and Cookies again, I don't know when I will be able to eat cookies and drink milk together again after seeing them kissing in those Halloween costumes.
---
Hot Links!
October 30th, 2008 under Hot Links!. [ Comments:

none

]
---
Contest Time!
October 30th, 2008 under Contests. [ Comments:

none

]

Contest 1: Enter to a win a The Starter Wife Weekend Gift Bag!!! The Starter Wife Weekend Gift Bag includes a Custom Sujean Rim Shoe Bags (Set of 2), Sujean Rim Signature Starter Wife T-shirt, Boy Shorts (2 pairs), Six (6) Makeup Brushes with Branded Case and Three (3) Piece Revlon Makeup Set. All you have to do is E-Mail me the answer at SeriouslyOMGWTF@yahoo.com to "Who plays The Starter Wife Molly Kagan?" by October 31st with your name and address! A winner will be selected at random!
THE STARTER WIFE will premiere as a two-hour episode on Friday, October 10 at 9/8c on USA Network.
The Emmy Award-winning hit original, THE STARTER WIFE, starring Debra Messing returns this Fall focusing on the post-divorce adventures of Molly Kagan (Messing) as she begins a new chapter in her life. On the heels of its stellar ratings and awards success, USA has brought back the hit miniseries of 2007 as a series with ten exciting episodes, with Emmy Award-winner Messing returning to star and now serving as executive producer. Reprising their roles are three-time Emmy Award-winner Judy Davis ("Life with Judy Garland: Me and My Shadow") as Joan McAllister and Chris Diamantopoulos ("Behind the Camera: Mork & Mindy") as Rodney Evans – Molly's two best friends. Also returning this season as a special guest star is Joe Mantegna ("Criminal Minds") as Lou Manahan, former studio head and former boyfriend of Molly. This season, the series is being filmed entirely in Los Angeles. Visit the official website and join other fans on the official Starter Wife Fan Page on Facebook

Contest 2: Enter to a win Natalie Cole's new CD Still Unforgettable!!! All you have to do is E-Mail me the answer at SeriouslyOMGWTF@yahoo.com to "Who is Natalie Cole's dad?" by October 31st with your name and address! A winner will be selected at random!
Eight-time Grammy(r) Award winner Natalie Cole returned on September 9, 2008 with the much-anticipated follow-up to the multi-platinum Unforgettable With Love, with the release of Still Unforgettable, a 14-song collection that features her timeless voice and impeccable phrasing as she continues her exploration of American pop standards. The CD will be released by DMI Records and distributed by Rhino/WEA. Natalie Cole took a bold leap in 1991 that would change her life and career forever. Already a highly successful R&B artist, she amazed everyone when she recorded Unforgettable With Love, an album of standards from the American Songbook that included a duet with her late father, Nat King Cole, on the title track. The album spent five weeks at 1 on the pop charts, earned six Grammy(r) awards (including Song, Record and Album of the Year) and sold more than 14 million copies worldwide.

---