John Cleese's diss towards Piers Morgan is worthy of the Holy Grail!
June 5th, 2015 under Movie Star Gossip. [ Comments:

1

]

John Cleese and Piers Morgan ate at the same restaurant in NYC and the two men didn't speak even though there tables were next to each other. Piers being the baby that he is, wrote an article in Daily Mail about how Cleese ignored him. Word got back to the star of Monty Python and he Tweeted his explanation of the situation. He said, "Piers Morgan writes that I didn't recognise him in a restaurant in New York.I did.I just didn't want to speak to someone I truly detest." He isn't the only one, so that is why we all loved what he Tweeted.
The feud continued on, but Piers' responses are lamer than he is; so they are not worth posting. What is worth posting is Cleese's final Tweet about it, "I see my tweet about Piers M is 'favourited' by 15,000 JC twits.Clearly I must insult the slimy,attention-seeking little prole more often." All I have to say to that, is please do.
---
Who knew that Jessica Chastain was Little Orphan Annie all grown up?
September 10th, 2014 under Movie Star Gossip. [ Comments:

none

]

Jessica Chastain was on Today today and she wore a little red dress. Between her red hair with that dress holding those purrfect little kittens, I couldn't help but notice how much she looks like the adult version of Little Orphan Annie. Seriously, I bet your bottom dollar you wouldn't be surprised if she broke out into Tomorrow right then and there? Maybe far away or maybe real bear by, she really is Daddy Warbucks little girl? The one thing we do know for sure is that she is fully dressed with that big bright smile!
---
What is Luke Wilson doing behind Helen Hunt?
August 16th, 2013 under Movie Star Gossip. [ Comments:

none

]

Fame Flynet
Luke Wilson and Helen Hunt were filming a scene of their upcoming movie Ride yesterday and all I want to know is what he doing behind the Oscar winner. But then again looking at her behind, can you blame him for doing whatever he might be doing?
---
Catherine Zeta Jones is a lucky woman
June 2nd, 2013 under Movie Star Gossip. [ Comments:

none

]

(photo from Fame Flynet)


Michael Douglas was asked by The Guardian about his past throat cancer and they wanted to know if he regretted the bad life choices he made that might have caused it like drinking and smoking. He responded by saying "No. Because without wanting to get too specific, this particular cancer is caused by HPV [human papillomavirus], which actually comes about from cunnilingus." Then he added, "But yeah, it's a sexually transmitted disease that causes cancer. And if you have it, cunnilingus is also the best cure for it."
So now we all know that the man, who just brilliantly played Liberace, actually likes to go down on a woman. And because of that we also know that Catherine Zeta Jones is a very lucky woman to find a man that actually likes to do that.
---
What is Ed Harris reaching for?
May 31st, 2012 under Movie Star Gossip. [ Comments:

none

]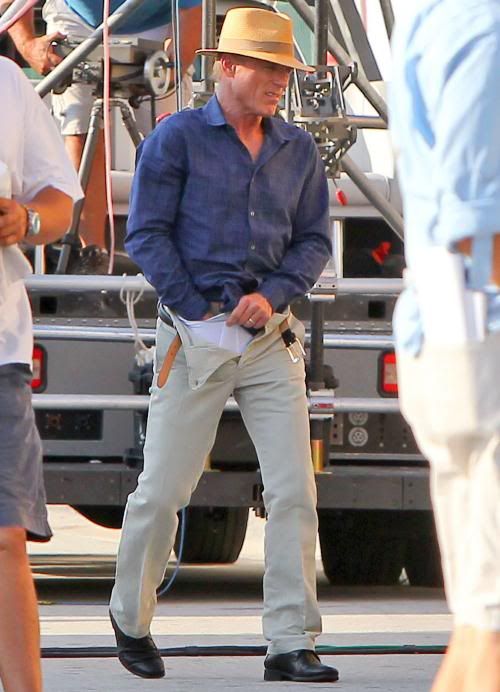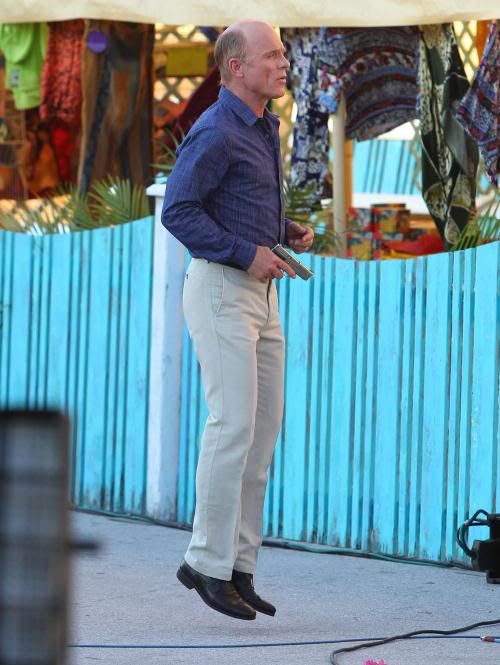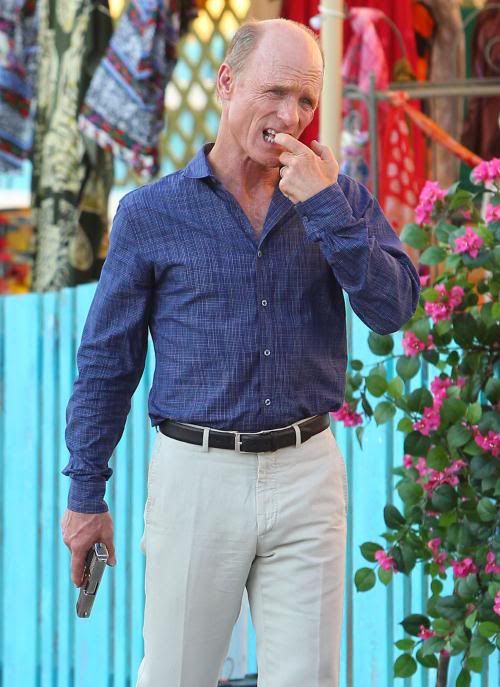 Fame Flynet Online
Ed Harris is filming Pain and Gain in Miami, and I want to know what the hell he is reaching for? First he unbuttoned his pants and stuck his hand down his underwear to find who knows what? Maybe he is looking for the same thing I was looking for on him? Then he jumped up like he was reaching for the sky for something who knows what. And finally he was pictured he was picking at his teeth because maybe the mystery thingy was in there.
So I really want to know what is looking for and if he found it? I hope he did because I don't know what body part he will search through next because there aren't that many orifices left for him to search.
---
Meryl Streep gets better with age!
January 5th, 2012 under Movie Star Gossip. [ Comments:

4

]

WENN.com
Meryl Streep attended the premiere of The Iron Lady in London, and the 62 year old Oscar winner gets more and more beautiful the older she gets. They say women in Hollywood don't age gracefully, but Mamma Mia I think she proves that sentiment wrong. She was always gorgeous, but with each year that passes she gets more stunning. Although when it comes to her acting, it remains just as incredible as when she first started out.
---
Charlize Theron miraculously stays in her dress
November 29th, 2011 under Movie Star Gossip. [ Comments:

none

]

Fame Pictures
Charlize Theron wore a dress that was so low cut, she should win a second Oscar for staying in it. I don't know what tape she was using, but it is like the crazy glue for avoiding nip slips. I know the boys are upset because I am sure they wanted a glance, but no matter how many pictures I looked at those girls were no where to be seen. Better luck next revealing dress.
---
Rosie Huntington-Whiteley tranforms into Jessica Rabbit
June 29th, 2011 under Movie Star Gossip. [ Comments:

none

]

WireImage
Rosie Huntington-Whiteley walked the Tranformers: Dark Side of the Moon red carpet and she looked like another movie star that graced the big screen a year after she was born. When I look at the Victoria's Secret beauty, I think she totally copied the look that was made famous by Jessica Rabbit from Roger Rabbit but didn't succeed at it. Yes she is very pretty, but she isn't sexy like that cartoon icon.
Oh and she needs to quit whatever face she was making in that first picture because it is not attractive at all.
---
Kate Winslet shows off her new body!
March 22nd, 2011 under Movie Star Gossip. [ Comments:

none

]

WireImage
Kate Winslet has lost some weight and yesterday she was once again showing it off at the Mildred Pierce premiere. The Oscar winner wore a dress that was sheer on the side leaving very little to the imagination. But then again in a few of her movies we have already seen that…
---
Jackie Chan and his month old twins!!!
August 17th, 2010 under Movie Star Gossip. [ Comments:

none

]

Jackie Chan Tweeted this awwwwdorable picture and said, "Happy 1 month birthday to my babies, LA & ZY Chan!" I didn't think that Jackie Chan could get any cuter but seeing him with those stuffed panda bears, I just want to squeeze his cheeks! LA and ZY are lucky to have him as a daddy! I wonder if they will be in his next movie?
---