Fargo is really good, don't you know!
April 15th, 2014 under FX. [ Comments:

none

]

Tonight at 10p, Fargo debuts on FX and you don't want to miss this suspenseful drama.
Bemidji, Minnesota is a sleepy town where nothing happens, that is until Lorne Malvo (Billy Bob Thornton) arrives. Once he does, the towns comes alive when several of their residents start to die.
One of the people that Malvo has influenced is insurance salesman, Lester Nygaard (Martin Freeman). People around him are starting to die in violent ways.
So now it is up to the inexperienced local police to find out who is making their population numbers dwindle. But with Malvo being smarter than them, how will they catch him? You just have to tune in for the Thorton's best role since Bad Santa to find out.
The only negative thing I have to say about this show is that I spent most of the first episode wondering where I knew Lester aka Martin Freeman from. Once I went to IMDB, I was shocked to find out it was Watson from Sherlock. He looks the same, but acts and sounds so different that you won't be able to recognize him.
---
The Millers take a vacation, Reign has a wedding and Saint George debuts!
March 6th, 2014 under CBS, FX, The CW. [ Comments:

none

]

Tonight at 8:30p on CBS The Millers go to the Bahamas. Nathan (Will Arnett) and Ray (J.B. Smoove) decide to take a much needed vacation, but when Ray hurts himself Nathan has no choice but to go by himself. Or so he thought because his good friend, Ray, gave his ticket to Nathan's mother, Carol (Margo Martindale) and she shows up to surprise her son. So all that rest and relaxation he was hoping to get is being washed away like a message in a bottle. That is until Carol meets a guy played by Tommy Chong and then the two of them are both really relaxed. How relaxed? So much so they don't want to leave, so will they?
Meanwhile back at home, Debbie (Jayma Mays) finds out that her husband wrote loves songs for his ex when he was teen (played by the hot singer Austin Mahone) and she wants to know why Adam (Nelson Franklin) has never written one for her. So he tries to write one for her, but it just doesn't come to him. Will he be able to prove how much he loves her, or will he be getting divorce like his in-laws? Tune into this high-larious episode to find out what happens.


Then at 9p on The CW it is time for a white wedding on Reign. Mary's (Adelaide Kane) mom (Amy Brenneman) comes for a visit and she has some big news. She says that the Queen of England has died and Mary is set to succeed her. That means the Queen of Scots needs to get married now. Who will she marry, Sebastian (Torrance Coombs) or Francis (Toby Regbo) who is back at the castle? You just have to tune in to see who she walks down the aisle with because you know you are dying to know who it will be.


Also at 9p, but over at FX, George Lopez's new sitcom Saint George makes it heavenly debut.
Lopez plays a successful entrepreneur, who gives back to the community by working as a teacher in a multicultural school. Besides doing all of that the recently divorced man lives with his mom, Alma (Olga Merediz), and she is on his case about everything. Besides dealing with her, he also deals with his uncle, Tio (Danny Trejo), and his cousin, Junior (David Zayas). If that is not enough family for him to put up with, his wife, Mackenzie (Jenn Lyon) is still very much in his life.
On tonight's series premiere George tries dating again and it is even harder than the first time. In the upcoming weeks, the sitcom will tackle issues in a very funny way that you can only do on basic cable.
Saint George proves that George Lopez has stuck gold twice in the TV world!
---
Kenny Loggins flies into the Danger Zone known as Archer tonight!
March 3rd, 2014 under FX. [ Comments:

none

]

Tonight at 10p on Archer, Kenny Loggins guest stars as himself on the FX animated comedy. This appearance is something that has been 5 seasons in the making and the singer can thank is son for making it happen. You see, he told us on a conference call last week that his oldest son, Crosby, "has been writing letters to the Archer team at FX now for a couple years saying, 'When are you going to put my dad on the show?'" Then he added, "I'm sure they've been blowing it off, but he kept telling me, 'Dad, you should get somebody on this. You should be on that show.'" Well tonight it finally happens, so I guess they finally read Crosby's letters.
So why was his son so insistent that his dad be on the show? Because Loggins' song Danger Zone from Top Gun has been a long running joke on the show. So tonight you will hear him sing that song once again, but it is not going to sound like how you remember it. What that means, you will just have to tune in to hear it. But what I will tell you, out of all of his songs this is the last one he thought could be done the way they are doing it…
We know what his voice sounds like, but since this is an animated show you know, he won't look like himself. Well he will, but it will be his '80s self back when he sang the chart topping hit. So what was it like for him to see the animated version of himself? He said, "Well, I thought I looked a little bit like a terrorist." You will have to watch the show to see if he really looks like one and why they made him look like that.
Now even though Loggins has had 3 of the biggest soundtrack hits of all time (I'm Alright, Footloose and Danger Zone), he hasn't done much acting in his career. What he learned from doing Archer is he really liked doing voice over work and hopes to do more of it in the future. And yes, he wouldn't mind doing a few more episodes of the FX show. So his son better start writing them a few more letters now.
Just an FYI to producers, he is busy this summer touring with his band Blue Sky Riders who are opening up for some singer named, Kenny Loggins. If you have never seen him in concert, I highly recommend it because he puts on a good show.
---
Law & Order: SVU proves rape isn't funny while Legit proves sex addicts are!
February 26th, 2014 under FX, NBC. [ Comments:

none

]

Tonight at 9p, Law & Order: SVU takes on Daniel Tosh's unfunny joke about rape and made a whole episode about it. Jonathan Silverman plays a comic, who tours a colleges, and tells the audiences that rape isn't funny but gang rape is. When a female student speaks up against his jokes, he says wouldn't it be funny if she got gang raped. So after she leaves the show, two of the male students try to rape her. Luckily she gets away, and she runs to the Special Victims Unit to bring down the comedian for inciting the crime. When the team goes to his comedy show at the same college on the second night, another female in the audience claims that the comedian raped her after the night beforehand's show. Now they have to prove if he is living his act or her claim is a bad joke as bad as his.
What will they find out about him as they look into his past? You will just have to tune in and see if they get their guy.


Tonight at 10p Legit makes its debut on FXX and you don't want to miss the show's second season premiere. Jim Jefferies tries to cut down on his porn habit, but he can't. Then while he is on Dr Drew's radio a show, a caller talks about a bad lover she had, and it turns out to be one of Jim's exes. Confronted with his problems, he decides to go to Sex Addicts Anonymous and guess who is there? Her! Is this enough to cure him? All I will say is that someone does get lucky by the end of the sick and twisted yet very funny episode.
And the episodes only get better as the season go one, let's just say in one of them they go their high school reunion. And at that reunion one of them will be declared dead…
---
It's Always Sunny on FXX with The League!
September 4th, 2013 under FX. [ Comments:

none

]

The comedies on FX were doing so well that they got their own network called FXX. Tonight at 10p It's Always Sunny in Philadelphia and The League make their debuts on the new network and you don't want to miss them.
First up the gang broke Sweet Dee and she doesn't care enough anymore to fight back against them for all the crap they have said about her. She is so broken that she starts doing stand up. Well people love her act so much that she is offered the job of a lifetime. So will this be the end of gang as we know it or will they find a way to f*ck it up like they always do?
Then at 10:30p it is time for Andre's Bachelor party. Now you know our favorite fantasy footballers and you know how much they love Andre, so imagine what the party is going to be like for him. Well it is exactly that and so much more!
Oh can you guess who is off the league? Will he be able to get back on or will he find to new league to play with?
You will have to tune in for two shows that found to way to be even funnier on the new network they helped to create!
---
Thanks to cloning Wilfred is twice as good tonight!
June 20th, 2013 under FX. [ Comments:

none

]

Wilfred is back on FX tonight at 10p and 10:30p and it is just as adult arfdorable as ever. In the first episode Wilfred (Jason Gann) remembers where he grew up and he makes Ryan (Elijah Wood) take him there. When they get to his old dog house, the two of them get a big surprise. Wilfred's old owner loved him so much, she made a clone of him after he ran away. How will Wilfed deal with his cloned self, like I am going to tell you that and not tell you to watch the show.
Once you are done with that episode, it is a time for another one and it will have you dying of laughter. That's because Wilfred is finally told what death means. Now that he is aware about it, when he comes close to dying he claims he found Gd. Now the raunchiest dog we have ever known, has becomes to most righteous one since Davey and Goliath. How long will Wilfred be Goliath, you will just have to go to the Church of FX to find out. Can I hear a Arfmen?
---
I'm too Legit, to quit this show
January 17th, 2013 under FX. [ Comments:

none

]

Everything about FX's Legit, say you should not be watching this show. But yet once you do, you can't help but fall in love with the show that debuts tonight at 10:30p.
Jim (Jim Jefferies) is one of those guys in his mid-30′s who still hasn't grown up. He lives with the recently divorced friend Steve (Dan Bakkedahl), who tries to keep his buddy in line unsuccessfully. Steve's brother Billy (DJ Qualls) has late stage Muscular Dystrophy and he lives in a nursing home. Billy he has one final wish and the one thing he wants to do is lose his virginity. So Jim and Steve take him to a Vegas brothel to get laid. Since Billy can't undress himself Jim has to do it for him and then Billy gets his dream come true. When Steve and Jim dress Billy back up, all the hookers take a liking to the guys. So they learn that they can use Billy to get laid themselves.
Next week Jim and Steve rescue from him nursing home and now Billy will spend his final days enjoying life as he never has before. Which means lots of sex, drugs and rock'n'roll.
As you watch the FX comedy, you know you should feel guilty watching it but Qualls is just lovable in it you can't. So check out the wrongest show you will ever find endearing.
---
Tonight's American Horror Story is the scariest one yet!
October 31st, 2012 under American Horror Story, FX. [ Comments:

none

]

Today is Halloween and I guess that is why tonight's American Horror Story: Asylum on FX at 10p is the scariest one yet. There is a storm coming towards Briarcliff Mental Institution and it is as crazy outside as it is inside. While the Nor'easter is coming their way, the patients will be watching a movie. A few of them will have their brilliant idea of escaping, but things don't always go as planned… In fact something so shocking will come at the end of the episode that you won't want to eat of Halloween candy after you see it.
Now I know I am not saying too much about tonight's episode and that is for two reasons. The first is I don't want to spoil it for you. The second is I don't want to relive it because it really scared the sh!t out of me! And there are very TV shows or movies that I can say that have ever done that to me.
---
FX gives birth to a new season tonight!
October 11th, 2012 under FX. [ Comments:

none

]

Tonight at 10:30p The League is back for a new season on FX and it scores another touchdown. Jenny is so ready to have her baby and Kevin is not ready to have sex have her even though she is begging for it. Dallas Cowboy's Jerry Jones is begging Taco for something and all the guys are summoned to their training camp. And it wouldn't be a season premiere without the guys picking their Fantasy Football League and there is only one thing that would make Ruxin give up his first round draft pick. Think you know what it is? You have tune into this very funny episode to find out. And if that is not enough, how about the fact that Jon Lajoie runs around butt naked in the episode and he has really cute a$$!
Now with every birth there comes a death and at 10p Dennis and Dee have to pull the plug on someone on the season premiere of It's Always Sunny in Philadelphia. Seems like an easy task for these two, but not everything is as it seems.
---
Selma Blair's son really is her mini-me
July 26th, 2012 under FX. [ Comments:

none

]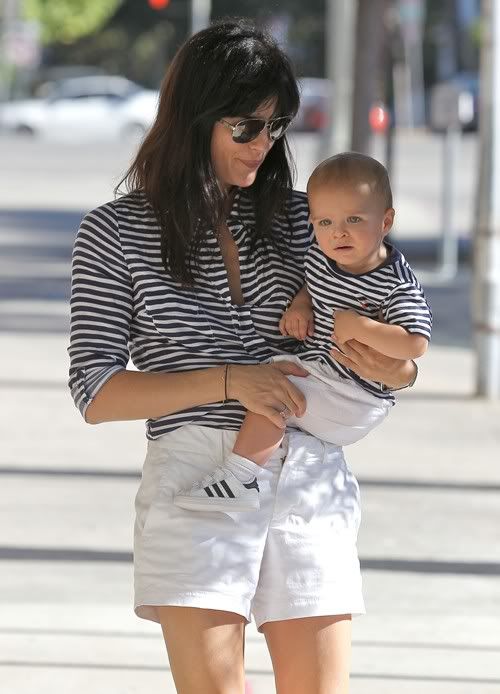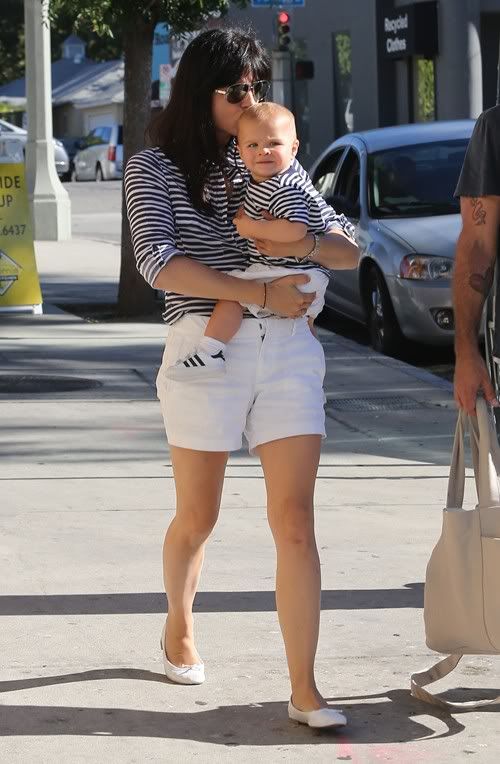 Fame Flynet
Salma Blair and her son Arthur Saint spent the day together in LA and the one year old looks just like his mom…from the neck down. Seriously how cute is it to see the mother and son dressed alike. Granted it is sweet when he is one, but if she is still doing that when he is 14 she is going to have to enroll him in some Anger Management classes.
On that note, you can watch her on FX tonight starting 9p in Anger Management.
---