Does Vanessa Williams ever age?
March 18th, 2016 under Ugly Betty. [ Comments:

none

]

Today is Vanessa Williams 53rd birthday and she looks even better now than she did when she won Miss America back in 1984. Case in point, today the Desperate Housewife shared a photo of herself in bed with glasses and no makeup on, and she's still flawless.
If this is what 53 looks like, I am not as scared about reaching that number anymore. Granted, first I need to know her secret because it needs to be bottled up.
---
BTWF roles: America Ferrera in Gotta Kick It Up!
November 30th, 2015 under Before They Were Famous, Ugly Betty. [ Comments:

none

]

Before America Ferrera was part of The Sisterhood of the Traveling Pants, she was in a dance troupe in Gotta Kick It Up! She looks the same now as she did when she was 17 in that 2002 movie.
---
An Ugly Betty reunion!
April 2nd, 2014 under Ugly Betty. [ Comments:

none

]

Getty Images
Vanessa Williams joined the cast of After Midnight on Broadway and some of her old castmates came out to see her make her debut. Her Ugly Betty co-stars America Ferrera, Tony Plana and Michael Urie were there to cheer her on, something they would not have done on that nighttime telenovela.
So while they weren't good friends on the show, it is nice to see them be that way 4 years after it ended off of it.
BTW seeing Ugly Betty, her TV dad Ignacio Suarez. her boss Wilhelmina Slater and arch-nemesis Marc St James together like that makes me wish they would do a reunion show. It's doable, right?
---
Do America Ferrera and Amber Tamblyn have something to tell us?
January 21st, 2013 under Ugly Betty. [ Comments:

none

]

WENN.com
Amber Tamblyn was seen giving America Ferrera a big kiss on the cheek and I have to wonder if they have something to tell us? Nope it is just two former Sisterhood of the Traveling Pants co-stars getting together at the premiere for Ugly Betty's new show Bethany, but for a second it was fun to picture them sharing pants!
---
Jerry O'Connell Tweets an au naturale pic of Rebecca Romijn
June 20th, 2012 under Jerry O'Connell/Rebecca Romijn, Ugly Betty. [ Comments:

2

]

Jerry O'Connell Tweeted a picture of his wife Rebecca Romijn and said, "Wife's new stole" but all I could notice is that she was makeup free. The thing that really pisses me off is that the former model doesn't look like a munster without her mask. In fact she looks exactly the same without it. Lucky freaking B, she was once married to John Stamos and looks freaking gorgeous with a plain face. Why can't I have that on my resume?
---
Did America Ferrera eat one too many donuts?
August 4th, 2011 under Ugly Betty. [ Comments:

3

]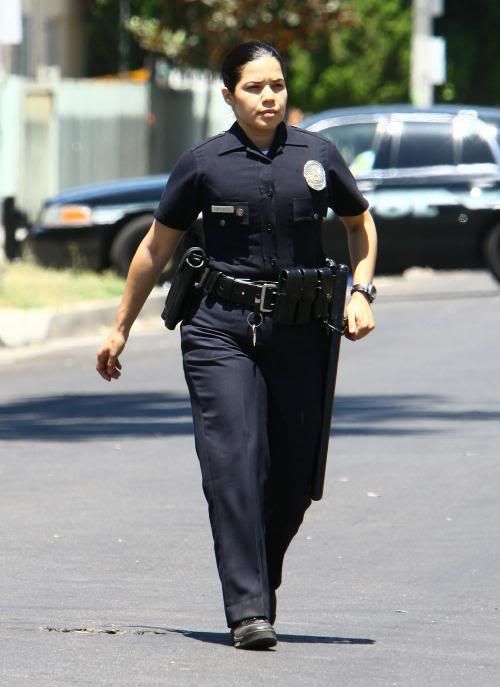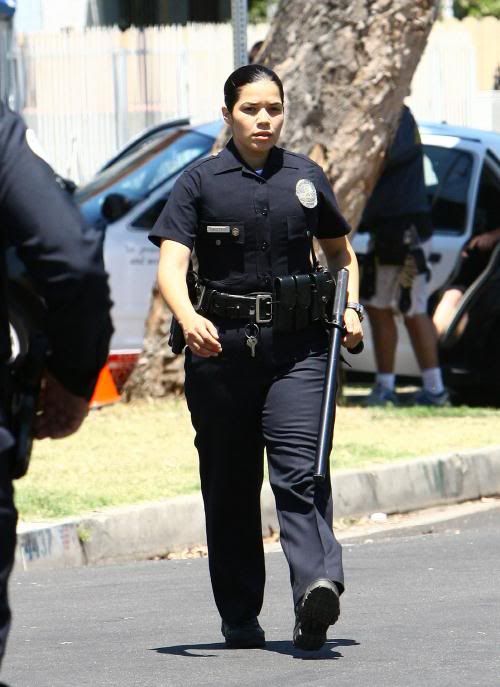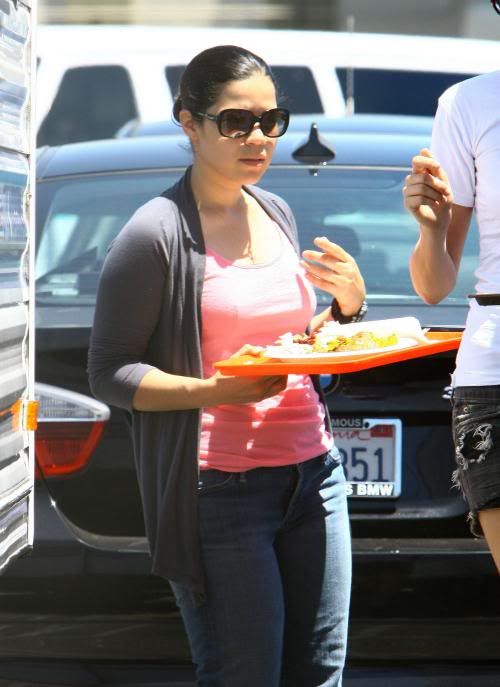 Fame Pictures
America Ferrera suited up as a cop for her upcoming film End of Watch, and I can't tell if she put on some padding under her uniform or that is all her. When Ugly Betty is in civilian clothes she doesn't look as big as she does as when she dressed as a police officer. So tell me do you think the recently married actress let herself go or it is all a Hollywood illusion?
---
Have hard times hit Michael Urie?
August 27th, 2010 under Hard times, Ugly Betty. [ Comments:

none

]

Ugly Betty was cancelled last season and that left Michael Urie without a television show to do. So I was wondering what would he do next? Well looking at this picture he Tweeted yesterday, I have to wonder if he has hit some hard times and had to take a job as a limo driver. Since all he Tweeted with the picture is "Where to? ", we have to assume the answer is yes. But I am sure that look is just for a role in a movie and he is still a working actor and not a driver!
---
Ugly Betty bloopers!
May 11th, 2010 under Ugly Betty. [ Comments:

none

]

via ONTD
Here are some secret bloopers that were only shown at the Ugly Betty wrap party. Michael Urie shared them with BroadwayWorld and someone from that gathering shared it with the whole word. So now you get to sit back and enjoy moments from the show where the cast got, well, Ugly!
BTW Vanessa Williams was not only the best one on the show, she was the best one in that gag reel!!! Hopefully she is back on TV in the fall!!!
---
Say goodbye to Ugly Betty tonight!
April 14th, 2010 under Ugly Betty. [ Comments:

none

]





Say goodbye to Ugly Betty tonight on ABC at 10p. After four years of working for Mode, Betty says goodbye to everything and everyone she show knows and hello London. In tonight's episode a lot of the show's big questions are answered and everyone pretty much has a happy ending. You will have to tune in for the surprise ending of the series finale because it is not something you will see coming until it happens.
Tonight's series finale is an appropriate end and for the first time since season 1 I am actually sad to see this show go. So tune in to ABC tonight at 10p for one last Ugly Betty.
---
Ugly Betty no longer fashionable for ABC!
January 27th, 2010 under Ugly Betty. [ Comments:

1

]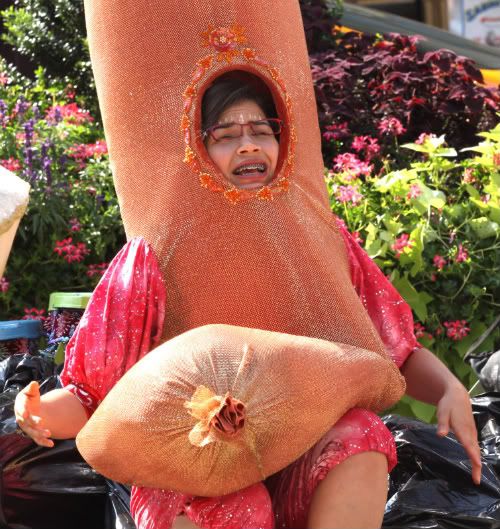 (photo from Splash News Online)


ABC announced today that Ugly Betty will not be back next season on the network according to Variety. The show's last episode for the season will be the series finale. ABC let them know in advance so they can wrap up the series in a ways that fans will be somewhat satisfied.
The news really isn't a surprise because even though ABC has done everything to keep it on the air, it was getting beat by The Jay Leno Show in the ratings and not many shows on ABC can say that.
Personally I am happy the show has been cancelled because I have been watching the show since day one, but I haven't liked since season two and I am loyal viewer. Which means even though I don't like the show, I still keep watching it.
So how do you think they will the end the show in April? And do you think we will ever see American Ferrera in anything else or are her 15 minutes up?
---