James Wolk goes from being a Mad Man to a married man!
June 22nd, 2015 under Weddings. [ Comments:

none

]

This Saturday, James Wolk and his longtime fiancee, Jae Lynch, said I do in Santa Monica in front of their family and friends.
A few weeks ago at the CBS Studios Summer Press Day, the star of CBS' upcoming suspenseful drama, Zoo, talked about his then upcoming nuptials. He said that planning it up until that point had "been busy but good." There was no fighting between the two of them over the planning because he let her do whatever she wanted. Looking at the brand new Mr & Mrs dancing during their big day, it is obvious he made the right choice by letting her Wolk, I mean work, her magic.
To see him in the much anticipated James Paterson's Zoo, mark your calendars for June 30th at 9p because that is when it will come roaring on to our televisions.
BTW if you are looking for a truly excellent movie to watch on a lazy Saturday day, you must check out Front of the Class. The amazing heartfelt movie is about a teacher with Tourette's Syndrome that no wants to hire. He is so brilliant in it, I can't believe he didn't at least get an Emmy nomination for it, even though he deserved the win.
---
Ian Somerhalder and Nikki Reed til stake do they part
April 27th, 2015 under Weddings. [ Comments:

none

]

Vampires Ian Somerhalder and Nikki Reed tied the knot yesterday after dating for less than a year. According to People, the happy couple said I Do in a Malibu.
Even though they had a whirlwind romance, I think that the two animal lovers will be one of the rare Hollywood couples that actually lasts until death they do part. Although they are both immortal, so that will be for a really long time.
---
What was on this groom's mind when he said I do?
April 6th, 2015 under Weddings. [ Comments:

3

]

via KABC
Andrew and Melissa's wedding was going off as planned, until he was asked to say he was going to take her as his lawfully wedded wife. That's because he said, waffle instead of lawfully.
So future Grooms of the World here's the moral of the story, make sure to eat before you walk down the aisle or she won't be making you breakfast anytime soon.
BTW better she laugh when you are saying I do in front of Gd and not just before she is supposed to say, "Oh Gd" repeatedly.
---
Zachary Levi is Tangeled up with a Rookie Blue bride!
June 17th, 2014 under Weddings. [ Comments:

2

]

Shhhhh, Zachary Levi and Missy Peregrym went undercover this weekend and secretly got married in Maui; and now the two of them are getting to understand life as we know it as a Mr & Mrs! Who even knew the Chuck and Reaper stars were dating? I guess working at fake stores that were an undercover front for something else on TV brought them together?
Either way, congrats to the awwwdorable couple who will equally as awwwdorable kids!
---
Kaley Cuoco is a blushing pink bride!
January 1st, 2014 under Kaley Cuoco, Weddings. [ Comments:

none

]

Kaley Cuoco and Ryan Sweeting have had an amazing whirlwind relationship for the latter part of 2013 and celebrated their love by getting married on New Year's Eve. The Big Bang Theory actress confirmed the news on Instagram with the top photo and a hashtag, "Yep 🙂 #thesweetings"
Their last name is perfect for them because they look like the sweetest newlyweds!
---
Melissa Gilbert bags her nerd!
April 25th, 2013 under Weddings. [ Comments:

none

]

Melissa Gilbert and Timothy Busfield got married yesterday after only being engaged for a few months. According to People they said I do at the San Ysidro Ranch in Santa Barbara and as you can see the Bride was red hot.
This is the third marriage for both of them and hopefully it will be their charm.
---
Christina Applegate is Married…with Child
February 25th, 2013 under Weddings. [ Comments:

none

]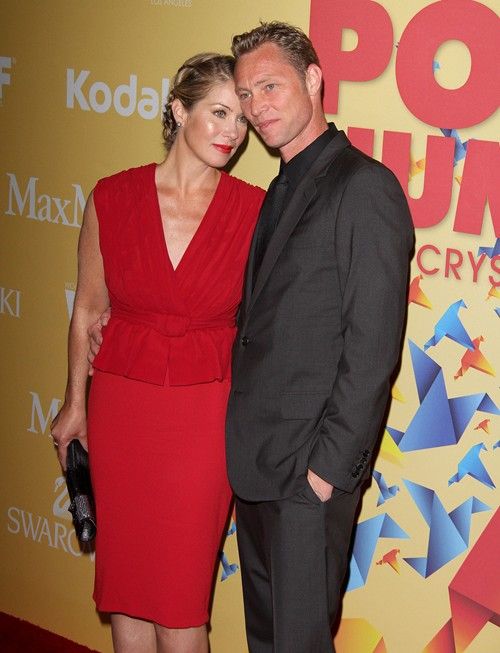 (photo from Fame Flynet)


Ever wonder what is the perfect weekend for a celebrity to get married unnoticed? Christina Applegate figured out it is Oscar weekend because that is when she said I do to her fiance' of two years. According to Eonline Martyn LeNoble and her tied the knot on Saturday at their house in a private ceremony attended by their families. No word what role her 2 year old daughter Sadie played, but I am sure it was big one since she stayed Up All Night for it.
---
Jim Nabors is alive and married to his partner of 38 years!
January 30th, 2013 under Weddings. [ Comments:

none

]

Jim Nabors announced yesterday to Hawaii News Now that he married his partner, Stan Cadwallader, on January 15th in Seattle. The two have been together for 38 years and the 82 year old figured "at my age, it's probably the best thing to do." Hopefully they will have many years of wedded bliss together. Because to me the biggest take from this story is that he is still alive. Hopefully he will stay that way for a very long time.
---
Cheers to the recently married John Ratzenberger!
November 18th, 2012 under Weddings. [ Comments:

none

]

John Ratzenberger Tweeted the above picture and said "Got married last week. Life is good." No other info was given; like her name, how old she is, how long they dated, when and where exactly they got married and so on. But the one thing that is obvious is that Cliff Clavin is as happy as Hamm the Piggy Bank when someone drops a $20 bill into him.
This is the second marriage for the Cheers' star. He was previously married to Georgia Stiny from 1985-2004 and they have two children together.
---
If she doesn't marry him, I will
June 14th, 2012 under Flash Mobs, Weddings. [ Comments:

none

]

via Huffington Post
Danny decided to propose to his girlfriend and did it in such a way that if Tina didn't say yes, I would have. He got a bunch of young girls to take part in a flash mob at a local San Jose mall to assist with the proposal and it was just so sweet to watch. No wonder Tina couldn't stop crying once she realized it was for her. And I couldn't stop the tears of joy flowing for her too.
It was so loving to see a muscular guy with half a sleeve to orchestrate such a romantic proposal.
---