Mariah Carey and Nick Cannon spent their 5th anniversary renewing their vows!
May 1st, 2013 under Mariah Carey. [ Comments: none ]

Five years ago the world was shocked when Mariah Carey and Nick Cannon got married after such short courtship, and no one thought it would last including me. Well now 5 years and 2 kids later, they are still going strong. So strong that they renewed their vows yesterday to celebrate their 5th wedding anniversary. The nuptials at Disneyland were fit for a Princess and her Prince and they looked the parts.
Hopefully the four of them will live happily ever after just like a fairytale. Which is basically what their marriage is.
---
The Carey-Cannons dress alike at night!
April 24th, 2013 under Mariah Carey. [ Comments: 1 ]

Mariah Carey Tweeted these pictures of her family having a pajama party and I realized that they all wear the same nightclothes. Well Mimi and Roe wear pink stripped PJs while Nick and Roc's are blue.
Seriously how sweet is the family that dresses alike at night! I wish more moms and dads dressed like their offspring in the bedroom. Mostly because I would love to see pictures of my male friend in a Disney Princess nightgown.
---
A roller coaster can't harnass Mariah Carey's boobs
March 29th, 2013 under Mariah Carey. [ Comments: 1 ]

Nick Cannon and Mariah Carey have a pretty smooth marriage, so I guess it makes sense that he took her on a roller coaster ride for her birthday and their fifth anniversary together. Although by her face, it doesn't look like she really likes it. That is if you can stop looking at her cleavage long enough to focus on her face.
BTW who ever would've thought that they would've lasted 5 years and counting? I certainly didn't at the time, but now I think they will be one of the rare celebrity couples that will make it until death do they part.
---
Nick Cannon gets a job where he's rollin' in the money!
March 19th, 2013 under Mariah Carey. [ Comments: 1 ]

Nick Cannon has worked as a signer, an actor, a television host, a DJ, and now he got job where he is surrounded by nothing but money. What is his rollin' in the dough new career? Mr Mariah Carey Tweeted a picture of himself in his new work attire for Walmart as a cashier. When your ball and chain is his wife, you need as many as jobs as you can get to support her needs.
BTW the royal blue jacket is a good look for him!
---
Calgon take me away from this vision of Mariah Carey!
February 15th, 2013 under Mariah Carey. [ Comments: none ]

Thanks to Twitter we have seen celebrities on the toilet, sleeping, doing many other private things and their private parts. Well now we can say we saw Mariah Carey in the bathtub with her dog Jill E. Bean. I don't know about you, but I could've gone without having seen that fantasy.
---
Roc Cannon is getting potty trained!
January 10th, 2013 under Mariah Carey. [ Comments: 1 ]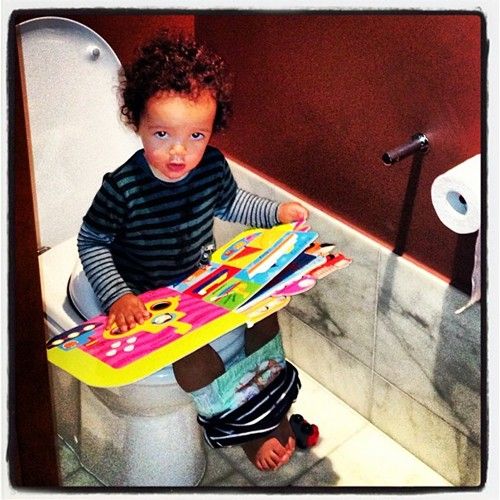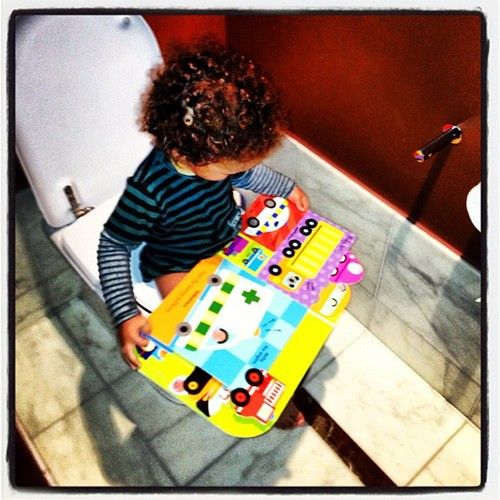 It took us many many months to meet Dem Babies and now we are seeing one of Mariah Carey and Nick Cannon's twins in a way Roc is going to hate his dad when he realizes he Tweeted pictures of him on the toilet when he was under two. Even though their son won't approve, I think it is so cute! But let's see how he feels about it when he grows and Nick shows it to his girlfriends because you know he will.
---
Dem Babies make Deir debut Down Under!
January 2nd, 2013 under Mariah Carey. [ Comments: 1 ]

Mariah Carey flew her family to Australia to play a New Year's show and Dem Babies made their big stage debut Down Under. The proud mom called out Roc and Roe to join her on the stage and Nick Cannon brought the cuties out to oblige her request. Although the little boy got shy when his mom handed him the mic, his sister was just as big of a Diva as her mother!
Seriously how precious are Dem Babies? You can tell that Nick and Mariah love being parents to those two little sweethearts as much as they love being in love with each other.
---
Did Nick Cannon and Mariah Carey buy Roc a car for Christmas?
December 26th, 2012 under Mariah Carey. [ Comments: none ]

Mariah Carey and Nick Cannon's Dem Babies are a year and a half years old now, so it looks that means they are old enough to own their first car. At least according to this picture that the proud parents posted of Roc behind the wheel!
I am sure it is a just an awwwdorable picture and they really didn't buy him his first wheels, but for some reason I wouldn't put it past them? Would you?
---
No wonder Nick Cannon and Mariah Carey got married so fast!
December 11th, 2012 under Howard Stern, Mariah Carey. [ Comments: none ]

Nick Cannon was a guest on Howard Stern today and he admitted that Mariah Carey and him did not have sex until they got married. The America's Got Talent host even admitted the most did before they tied the knot on April 30, 2008 was go to second base over her top. So for all of us who wondered why they got married after only dating for just 6 weeks, I think we now have our answer! And 4 and half years later they are still going strong with awwwwdorable twins to boot!
---
Mariah Carey schools us with All I Want for Christmas!
December 5th, 2012 under Jimmy Fallon, Mariah Carey. [ Comments: none ]

Mariah Carey was on Late Night yesterday and she sang All I Want for Christmas with Jimmy Fallon and the Roots, who played with instruments you would see at school, and all I have to say is wow! Mimi is one of the few artists who can sing the phonebook and make it sound beautiful, so to her do her hit pretty much a cappella just blew me away.
---