Harrison Ford leaves his mark on Jimmy Fallon!
November 2nd, 2013 under Indiana Jones 4, Jimmy Fallon. [ Comments:

none

]

Harrison Ford was a guest on Late Night yesterday and he used the force to pierce Jimmy Fallon's ear! Maybe it is because I am a sadist, but I enjoyed watching how nervous the NBC late host was as he waited for Indiana Jones to stick a little needle through his ear. As someone who has piercings, they don't hurt to get but the first time you get one the anticipation is beyond painful! It also didn't help Fallon that Ford was enjoying torturing him. Thanks Han Solo for that. If this acting thing doens't pan out, he can so get a job as a piercer!
---
Harrison Ford says that Anchorman 2 is 'clearly unreleasable'
August 9th, 2013 under Indiana Jones 4, Jimmy Kimmel. [ Comments:

none

]

Harrison Ford was a guest on Jimmy Kimmel Live yesterday and the ABC host asked him about being in an upcoming sequel for a very popular movie franchise. No, not Star Wars or Indiana Jones, but Hans Solo thought he was asking about being in Anchorman 2. So he told him he flew "all the way to Atlanta for a day and no money." So Kimmel asked him if he did it because he loved the original movie and Ford admitted he never saw it. Then he added, "I got down there and I had no idea who those guy were." And after a pause, he said "I still don't know who they are or what they think they are doing." Before concluding with, "It's clearly unreleasable." Am I the only person who thinks he is not bullsh!tting us?
Then Kimmel asked him about being in The Expendables 3. He wanted to know if Ford saw the first two films and he was like no. So Kimmel said that he would sum them up for and Ford didn't really care to find out.
I don't know if he is being honest about it all or it is just his very dry sense of humor. I like to think it is the first one, what do you think?
---
BTWF roles: Harrison Ford in Ironside
April 18th, 2013 under Before They Were Famous, Indiana Jones 4. [ Comments:

none

]

Before he was a college professor in the Indiana Jones movies, he just graduated from university on Ironside. How cute was the 25 year old in that 1967 episode.
---
Is Calista Flockhart's son old enough to drive?
November 26th, 2012 under Indiana Jones 4. [ Comments:

none

]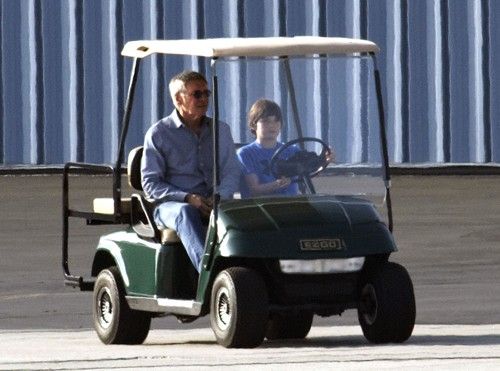 Fame Flynet
Calista Flockhart's son Liam was seen driving his dad Harrison Ford around in a golf cart at the airport and I wonder if the 11 year old is enough to drive? Granted it is a golf cart, but still.
Alright I admit it, it is a slow day that is the best I can come up with.
---
Harrison Ford is that lightsaber in your jeans?
May 14th, 2012 under Indiana Jones 4. [ Comments:

none

]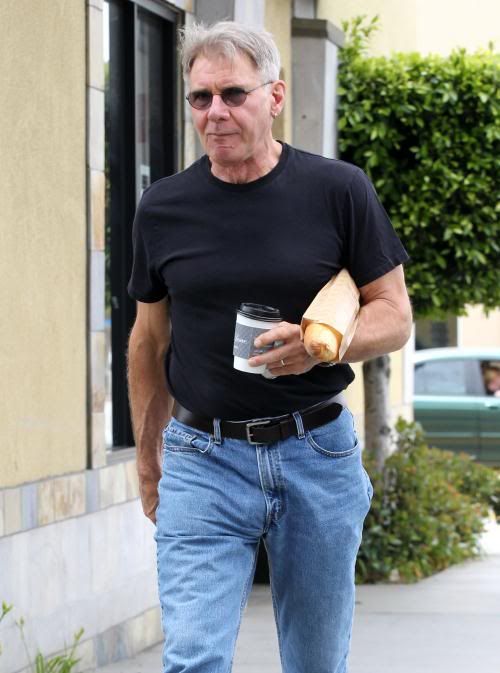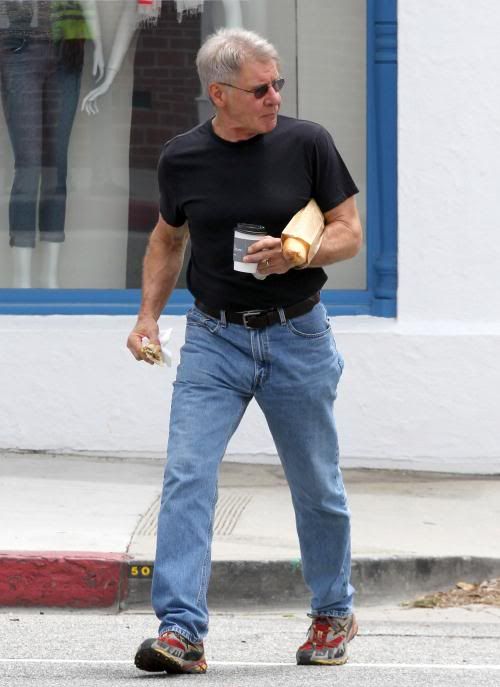 Fame Flynet Online
Harrison Ford was out and about and I never realized that he had such a big Hans Solo before. Seriously is that a light saber or a crystal skull in his jeans?
Why was he always wearing looser pants in all of those movies and not tight ones? Maybe if he did, Star Wars and Indiana Jones would've done better in the box office…
---
Harrison Ford in the new Hitler's Reaction
January 6th, 2012 under Indiana Jones 4. [ Comments:

none

]

via Daily Mail
Back in October Harrison Ford recorded his reaction to playing Uncharted and now Dog Food Films has mashed up that video with scenes from the first three Indiana Jones movies. They pretended like Indy never saw the movies and had him reacting to seeing the trilogy for the first time. They couldn't show the fourth one because there was not shock and horror reactions from him in the original video as seen below.
So now that we seen it can be done, how long until other people start editing it with other movies and such? Hopefully not that long because I would like him to be the new Hitler's Reaction guy.
---
Harrison Ford's bad hair day
August 9th, 2011 under Indiana Jones 4. [ Comments:

none

]

WireImage
Harrison Ford is promoting Cowboys & Aliens all over the world, so I guess Hans Solo doesn't have time to make sure his hair looks good. The action star's new haircut revealed that his full head of salt and pepper hair is starting to thin. Not only was that revealed, but it looks like his hair is darker on top and lighter on the side. I guess all those years of wearing Indiana Jones' hat messed with his gorgeous mane of hair.
Hopefully once he gets back to The States, his spiky do will be back and leave the bald spots a mystery again.
---
Harrison Ford shows Papa Smurf who's boss
August 2nd, 2011 under Indiana Jones 4, Smurfs. [ Comments:

none

]

Yesterday Harrison Ford was on Conan O'Brien and he told the TBS host that his wife Calista Flockhart cheated on him over the weekend and took their son to see The Smurfs. Hans Solo stayed home alone because his movie Cowboys and Aliens was in box office battle with the little blue guys and his film barely beat the little white pants off of them. So obviously Indiana Jones was not happy that his wife paid to see the movie with their son and they got into his movie for free, and contributed their weekend totals. So Conan let him take his rage out Papa Smurf and he Smurfed the competition. Morale of the story, don't Smurf with Harrison Ford!
---
Calista Flockhart legally has Harrison Ford whipped!
June 16th, 2010 under Indiana Jones 4. [ Comments:

2

]

(photo from WireImage)


Calista Flockhart and Harrison Ford secretly got married after dating for over 8 years. According to K-Earth's Lisa Stanley Indiana Jones and Ally McBeal were married by Gov Bill Richardson at the Governor's Mansion in Santa Fe, NM yesterday where Ford is filming Cowboys & Aliens. How secret was their June wedding, even his kids were not there according to Extra. No reason was given for the hush hush nuptials? Maybe she is expecting a little Hans Solo??? Or maybe it was just a spontaneous decision, you know like Gov Richardson is like "When are you two going to get married already?" and they were like someday and he said, "What about today? I will marry you?"
---
Harrison Ford passes the Indiana Jones' hat to Shia LaBeouf
May 17th, 2009 under Indiana Jones 4. [ Comments:

none

]
While it has been strongly denied that Harrison Ford will passing of his Indiana Jones title to Shia LaBeouf, there was something he passed off to him and that was…the hat according to
IOL
.
He said: "It has his sweat stains from the whole movie in it. We were way out somewhere at an airplane hangar on the last day of shooting, and he took the hat off his head, signed it and handed it to me.
"When I looked at the hat I saw he had written something with a silver Sharpie (pen). It said, 'It's all yours now, kid – Harrison.'"

But LaBeouf is quick to point out that he won't be taking over from Ford any time soon: "It's easy to perceive that as his handing the reins over to me on a franchise or whatever… that's not it.
"It was his way of saying 'Life is going to get crazy now, so strap on tight, kid.'"
I am so glad that he wasn't handing over the franchise to him because I don't get why he is Speilberg's go to boy. He just doesn't do it for me, does he do it for you?
BTW I so want that hat! How awesome would that be to own?
---