Keshia Knight Pulliam and her husband split after 6 months of marriage
July 26th, 2016 under Divorce. [ Comments:

none

]

Last week, Keshia Knight Pulliam announced that she is pregnant with her first child, so you think this would be a happy time for her. Sadly it is not because her husband Ed Hartwell filed for divorce yesterday and reportedly didn't tell her that he did. According to YBF, not only did he ask for an end to their marriage, he also wants a paternity test to prove that the girl she is carrying is his. The site also claims that they have been bickering for a while before the surprise filing.
The ex-NFL player and the actress dated for four months before saying I do on New Year's Eve. The baby is due in January.
This is yet another story we would not have seen on The Cosby Show about the real lives of the stars from the show. I think we all know a lot of the other plots they could never do on the family friendly sitcom.
---
Kaley Cuoco and Ryan Sweeting's marriage turned sour
September 25th, 2015 under Divorce, Kaley Cuoco. [ Comments:

none

]

Kaley Cuoco and Ryan Sweeting's one night stand has ended almost three years after it started. The couple told People that they have decided to divorce after 21 months of marriage. No word was given for the split, but I am assuming they fell out of luv.
They are third couple to have their divorce announced today, according to TMZ Anthony Anderson's wife filed for divorce after 20 years of marriage and also per TMZ Casper Van Dein and Catherine Oxenberg are ending their royal affair after 16 years.
You have to wonder on a day like this, who is next?
---
The nightmare before Christmas
December 23rd, 2014 under Divorce. [ Comments:

none

]

Helena Bonham Carter and Tim Burton announced today, two days before Christmas, that they have split after 13 years, 5 movies and 2 kids together. Her rep told People, the couple who never married "separated amicably earlier this year and have continued to be friends and co-parent their children."
Now I have to wonder, who will Johnny Depp choose because you always have to pick one person in the couple to continue doing movies with after they split. Please say he chooses the actress because I hate his over-the-top movies.
Who do you think should get custody of Edward Scissorhands?
---
Richard Gere is an American Gigolo again!
September 25th, 2013 under Divorce. [ Comments:

1

]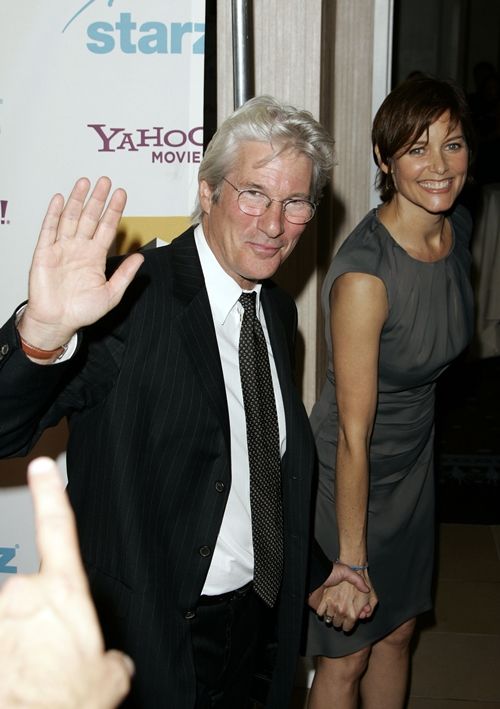 (photo from Fame Flynet)


Richard Gere and his wife, Carey Lowell, have called it quits after 11 years of marriage. According to Page Six the two grew apart because of their different lifestyles. He likes the quiet life and she likes the party scene.
The two have a 13 year old son, Homer James Jigme, together.
BTW am I the only one who has found him extremely attractive after he starred in And the Band Played On?
---
Catherine Zeta-Jones and Michael Douglas are taking a break up
August 28th, 2013 under Divorce. [ Comments:

none

]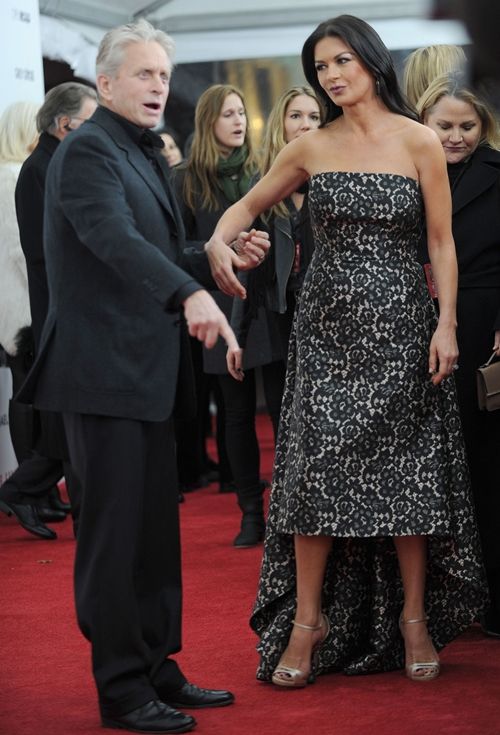 (photo from Fame Flynet)


Michael Douglas and Catherine Zeta-Jones's marriage has survived nearly 13 years, exactly a 25 year age difference, his cancer, her 2 rehab visits for bi-polar and career ups and downs for both of them; but sadly now they are taking a break. According to People, they have been spending some time apart since May.
The couple who share the same birthday have 2 sons, Dylan, 13, and Carys, 10.
I really thought they were going to make it, but I guess now.
---
Mayim Bialik's marriage goes bang
November 21st, 2012 under Divorce, Mayim Bialik. [ Comments:

none

]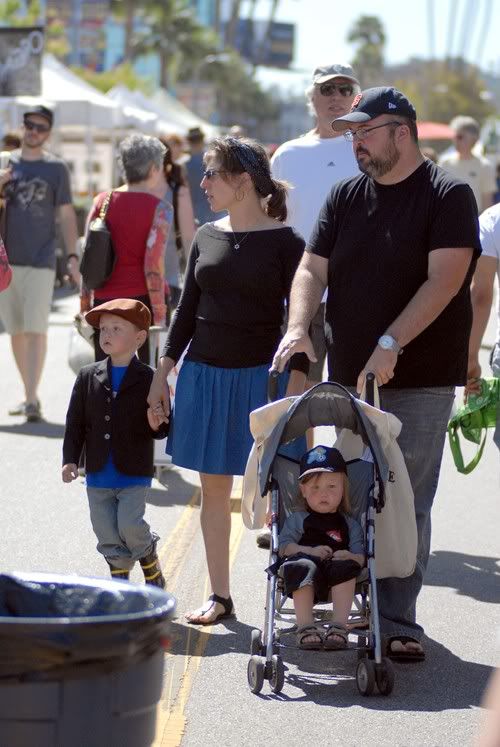 (photo from PCN)


Mayim Bialik announced on her blog today that her husband Michael Stone, who converted to Judaism for her, and her are getting a divorce after 9 years of marriage. The Big Bang Theory actress released the below statement before the press had their take on it:
After much consideration and soul-searching, Michael and I have arrived at the decision to divorce due to "Irreconcilable Differences."
Divorce is terribly sad, painful and incomprehensible for children. It is not something we have decided lightly.
The hands-on style of parenting we practice played no role in the changes that led to this decision; relationships are complicated no matter what style of parenting you choose.
The main priority for us now is to make the transition to two loving homes as smooth and painless as possible. Our sons deserve parents committed to their growth and health and that's what we are focusing on. Our privacy has always been important and is even more so now, and we thank you in advance for respecting it as we negotiate this new terrain.
We will be ok.
The couple have two sons together Miles Roosevelt, 7, and Frederick Heschel, 4.
I am sad that their marriage didn't work out because they really seemed like they were going to beat the odds.
---
Alexa Vega repos her marriage
June 19th, 2012 under Divorce. [ Comments:

none

]

Alexa Vega has reportedly split from her husband of less than two years according to Life & Style. A source told the magazine that Sean Covel and her are no longer living together. The source added, "They got married young, and things just weren't working out between them. Alexa has moved back into her family's home in Hollywood."
The two met nine years ago but didn't start dating until three years after that when they were working on a movie together in Australia according to Black Hills Bride. They were engaged for year before marrying on 10/10/10.
---
Todd Bridges announces on Twitter he's getting a divorce
May 26th, 2012 under Divorce. [ Comments:

none

]

(photo from WENN.com)


Todd Bridges took to Twitter to announce that Dori Smith and him are getting a divorce after 14 years.
Here is what the Different Strokes star Tweeted:
Im going to beat the media to this me and my wife our divorcing our lives are going different directions with we remain good friends. We have a child and we both have his best interests at heart and know this is best for him and us thank you all for understanding. May God help us get passed this situation.
It was best to tell you guys here before you heard it else where not from people who dont know are lives. She's a great mother im glad to have had the years to know her and have a great kid with her as we know,people grow apart and we did.
The two have a 13 year old son together.
It is amazing how much of a voice Twitter has given celebrities. They get to tell their side of the story before the press misconstrues it
---
Sinead O'Connor's marriage lasts less than a 1/4th of Kim Kardashian's
December 27th, 2011 under Divorce. [ Comments:

none

]

Sinead O'Connor announced on her website today that she ended her marriage on Christmas Eve, just 16 short days after she walked down a Las Vegas aisle. She wrote a long note saying that people around her husband were not happy with him marrying her and it was too much for him so she "set him free". She wrote, "From the moment myself and my husband got together not long ago, there was intense pressure placed upon him by certain people in his life, not to be involved with me. These were people who had never met me but had formed opinions of me based on what they read about 'Sinead 'O'Connor' in the media etc. Entitled as they are to their opinions about me many perhaps well deserved, there was no righteousness on anyone's part to put my husband through what he was put through as a result of his desire to be with me and to marry me and as a result of his actually marrying me."
She declared throughout the letter over and over again that she loves him, but she couldn't let him to continue to go through what he was going through. She wrote towards the end of her statement, "Please pray for my lovely husband to be ok and do not worry about me as I have had plenty of practice in these matters. I am in a good place in life. And happy. I believe in and am committed wholeheartedly to happiness. Nothing knocks that. My only concern is that my husband be happy."
She then concluded her long message with, "so now u can all go ahead and have a great laugh, media wise, and be horrid if u desire to. But that's my record set straight."
Since she was so honest about what went wrong and why she decided to end her marriage, I will not give her too much grief about it. So instead I will say "Take that Kim Kardashian." That's how you end a marriage so shortly after you began it.
---
Zooey Deschanel's marriage takes a Death Cab
November 1st, 2011 under Divorce. [ Comments:

none

]

(photo from WireImage)


A lot dorky boys are happy today because Zooey Deschanel's rep told Us Weekly that her two year marriage to Death Cab for Cutie's Ben Gibbard is over. The rep gave this statement to the magazine "It was mutual and amicable. There was no third party involved."
So I guess you can say the New Girls star is looking for a New Guy.
---