Richard Gere is an American Gigolo again!
September 25th, 2013 under Divorce. [ Comments:

1

]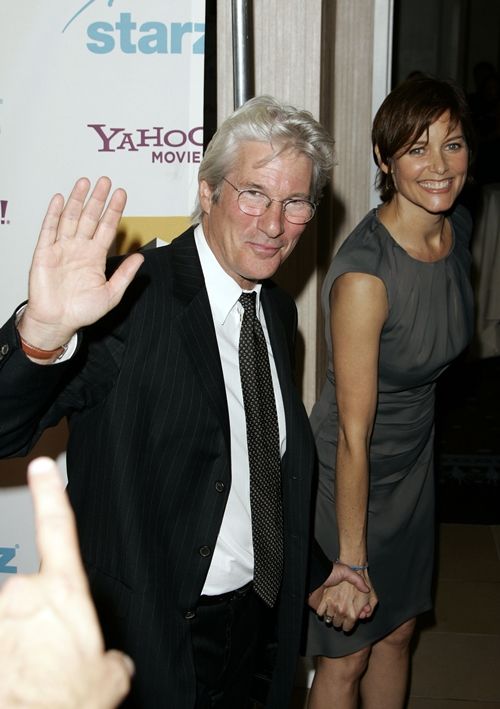 (photo from Fame Flynet)


Richard Gere and his wife, Carey Lowell, have called it quits after 11 years of marriage. According to Page Six the two grew apart because of their different lifestyles. He likes the quiet life and she likes the party scene.
The two have a 13 year old son, Homer James Jigme, together.
BTW am I the only one who has found him extremely attractive after he starred in And the Band Played On?
---
Catherine Zeta-Jones and Michael Douglas are taking a break up
August 28th, 2013 under Divorce. [ Comments:

none

]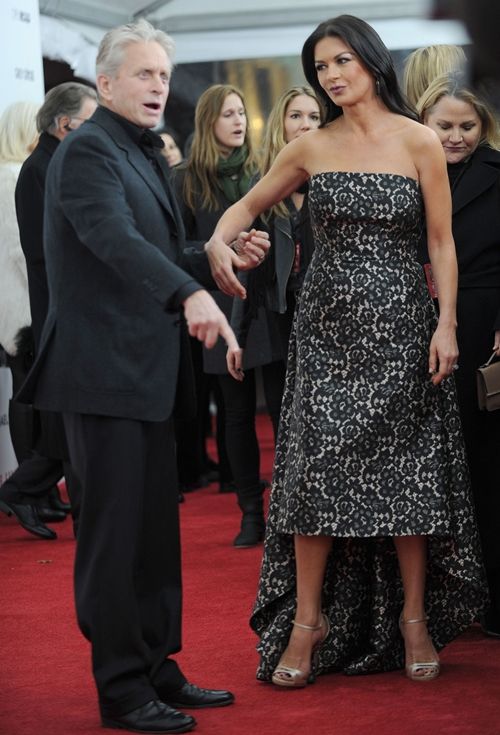 (photo from Fame Flynet)


Michael Douglas and Catherine Zeta-Jones's marriage has survived nearly 13 years, exactly a 25 year age difference, his cancer, her 2 rehab visits for bi-polar and career ups and downs for both of them; but sadly now they are taking a break. According to People, they have been spending some time apart since May.
The couple who share the same birthday have 2 sons, Dylan, 13, and Carys, 10.
I really thought they were going to make it, but I guess now.
---
Mayim Bialik's marriage goes bang
November 21st, 2012 under Divorce. [ Comments:

none

]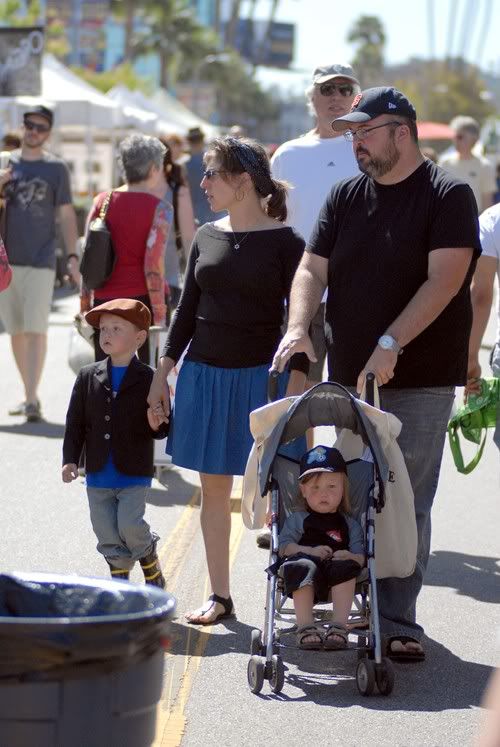 (photo from PCN)


Mayim Bialik announced on her blog today that her husband Michael Stone, who converted to Judaism for her, and her are getting a divorce after 9 years of marriage. The Big Bang Theory actress released the below statement before the press had their take on it:
After much consideration and soul-searching, Michael and I have arrived at the decision to divorce due to "Irreconcilable Differences."
Divorce is terribly sad, painful and incomprehensible for children. It is not something we have decided lightly.
The hands-on style of parenting we practice played no role in the changes that led to this decision; relationships are complicated no matter what style of parenting you choose.
The main priority for us now is to make the transition to two loving homes as smooth and painless as possible. Our sons deserve parents committed to their growth and health and that's what we are focusing on. Our privacy has always been important and is even more so now, and we thank you in advance for respecting it as we negotiate this new terrain.
We will be ok.
The couple have two sons together Miles Roosevelt, 7, and Frederick Heschel, 4.
I am sad that their marriage didn't work out because they really seemed like they were going to beat the odds.
---
Alexa Vega repos her marriage
June 19th, 2012 under Divorce. [ Comments:

none

]

Alexa Vega has reportedly split from her husband of less than two years according to Life & Style. A source told the magazine that Sean Covel and her are no longer living together. The source added, "They got married young, and things just weren't working out between them. Alexa has moved back into her family's home in Hollywood."
The two met nine years ago but didn't start dating until three years after that when they were working on a movie together in Australia according to Black Hills Bride. They were engaged for year before marrying on 10/10/10.
---
Todd Bridges announces on Twitter he's getting a divorce
May 26th, 2012 under Divorce. [ Comments:

none

]

(photo from WENN.com)


Todd Bridges took to Twitter to announce that Dori Smith and him are getting a divorce after 14 years.
Here is what the Different Strokes star Tweeted:
Im going to beat the media to this me and my wife our divorcing our lives are going different directions with we remain good friends. We have a child and we both have his best interests at heart and know this is best for him and us thank you all for understanding. May God help us get passed this situation.
It was best to tell you guys here before you heard it else where not from people who dont know are lives. She's a great mother im glad to have had the years to know her and have a great kid with her as we know,people grow apart and we did.
The two have a 13 year old son together.
It is amazing how much of a voice Twitter has given celebrities. They get to tell their side of the story before the press misconstrues it
---
Sinead O'Connor's marriage lasts less than a 1/4th of Kim Kardashian's
December 27th, 2011 under Divorce. [ Comments:

none

]

Sinead O'Connor announced on her website today that she ended her marriage on Christmas Eve, just 16 short days after she walked down a Las Vegas aisle. She wrote a long note saying that people around her husband were not happy with him marrying her and it was too much for him so she "set him free". She wrote, "From the moment myself and my husband got together not long ago, there was intense pressure placed upon him by certain people in his life, not to be involved with me. These were people who had never met me but had formed opinions of me based on what they read about 'Sinead 'O'Connor' in the media etc. Entitled as they are to their opinions about me many perhaps well deserved, there was no righteousness on anyone's part to put my husband through what he was put through as a result of his desire to be with me and to marry me and as a result of his actually marrying me."
She declared throughout the letter over and over again that she loves him, but she couldn't let him to continue to go through what he was going through. She wrote towards the end of her statement, "Please pray for my lovely husband to be ok and do not worry about me as I have had plenty of practice in these matters. I am in a good place in life. And happy. I believe in and am committed wholeheartedly to happiness. Nothing knocks that. My only concern is that my husband be happy."
She then concluded her long message with, "so now u can all go ahead and have a great laugh, media wise, and be horrid if u desire to. But that's my record set straight."
Since she was so honest about what went wrong and why she decided to end her marriage, I will not give her too much grief about it. So instead I will say "Take that Kim Kardashian." That's how you end a marriage so shortly after you began it.
---
Zooey Deschanel's marriage takes a Death Cab
November 1st, 2011 under Divorce. [ Comments:

none

]

(photo from WireImage)


A lot dorky boys are happy today because Zooey Deschanel's rep told Us Weekly that her two year marriage to Death Cab for Cutie's Ben Gibbard is over. The rep gave this statement to the magazine "It was mutual and amicable. There was no third party involved."
So I guess you can say the New Girls star is looking for a New Guy.
---
Derek Jeter strikes out with his Charlie's Angel
August 26th, 2011 under Divorce. [ Comments:

none

]

(Photo from WireImage)


After 3 years of dating the Friday Night Lights have gone dim on Minka Kelly and Derek Jeter's relationship. A source told Just Jared, "The split was amicable," and they added "But they remain friends. They still really care for each other."
I wonder if her filming Charlie's Angels and being away from him while he is playing for The Yankees had something to do with their split. Whatever the reason, I am sure they will be linked with new people as early as next week. They are both very desired and there are plenty of people who want to run the bases with them.
---
Chloe Lattanzi calls off wedding because he's already married
August 23rd, 2011 under Divorce. [ Comments:

none

]

(photo from WireImage)


Chloe Lattanzi was weeks away from getting married, but she called off the wedding because her fiance' James Driskill reportedly has a wife. The couple that started dating about a year and a half ago and got engaged around November, but Olivia Newton John's daughter just found out he is married when a mutual friend dropped the bombshell. According to New Idea Driskill has been married to a woman named Nina since 2005.
I can't believe that he got away with still having a wife for all of this time, and how did his wife Nina not know because their engagement got media attention.
I feel bad for Chloe because that totally sucks to be living a real life movie that you would see on Lifetime Movie Network.
---
Andrianne Curry & Christopher Knight spend their 5th anniversary splitting up
May 30th, 2011 under Divorce. [ Comments:

none

]

Adrianne Curry and Christopher Knight met on VH1's The Surreal Life, fell in love and got my married on VH1's My Fair Brady and split up on their 5th anniversary. The Brady Bunch middle son and America's Next Top Model first winner released a joint statement to Hollyscoop announcing their separation.
Actor Christopher Knight and his wife, model and television star Adrianne Curry have announced today on their five-year wedding anniversary that they are separating," Viardo confirmed to Hollyscoop.
After starting a relationship with what seemed to be irreconcilable differences, the couple has reached a period where those differences are no longer appreciated. The decision was mutually reached after it became clear to both that some perspective was needed in order to assess their unique union. Not unlike all marriages, work must be put in.
Obvious to both Knight and Curry was that their marriage would require more effort then a garden-variety relationship. They are taking time to see if they want to continue to put in that extraordinary effort. The couple has mutually determined that they are at a place where moving forward will require a step back. They still love one another but need some distance to consider their future.
Both Knight and Curry decided to release this joint announcement today in order to preempt any potential rumors and gossip and ask that their fans and the media respect their privacy during this delicate period."
I really thought they were going to beat the reality show odds and make it work, but I guess they are joining a lot of the other reality show couples that ended their marriages before them.
Although their split is kind of shocking, it is not a surprise because Adrianne, who has been an open book, had Tweeted several times that marriage is hard work.
Although Adrianne's last Tweet makes it seem like her marital pause was a sudden thing, "May 29th, 2006 I married Christopher Anton Knight. Enjoy your weekend! I certainly am!!!" Sad, maybe they will get back together.
Better yet, maybe VH1 will give them a show called How I Will Win My Brady Back?
---