All the new shows on The CW get to Reign for a full season!
November 11th, 2013 under The CW. [ Comments:

none

]

The CW picked up all of their new shows today for a full season. So that means that Reign, Tomorrow People and The Originals will all be around until May. Now what that means for the midseason shows Star-Crossed and The 100, we don't know yet. I am assuming that one of them will replace Nikita when it ends it run on the network, but where the other one will go I don't know. I am assuming that either Beauty and the Beast or The Carrie Diaries will have their episode order cut to make room for one of them. Personally, I am hoping they leave the Sex and the City prequel alone because I love that show even more this season. I wish it was on Mondays after Hart of Dixie because it is a much better fit. Actuallymy dream lineup would pair up The Carrie Diaries and Reign because they great shows about timeless love!
---
Queen Mary picks her Prince on Reign and Guinness World Records Unleashed is back!
November 7th, 2013 under The CW, TNT/TBS/TCM. [ Comments:

none

]

Tonight at 9p on The CW's Reign Queen Mary of Scots (Adelaide Kane) has two Princes chasing after her and by the end of the episode she will wind up with only one of them. Will it be Prince Francis (Toby Regbo) who wasn't able to help Scotland out in the war against England? Or will it be Prince Tomas (Manolo Cardona) from Portugal who was able to successfully send her the troops she desperately needed? Both men will fight for the Queen, and she will fight her true feelings within herself. Tomas will reveal his true self to her and he is not the wonderful Prince we met last week. While Francis reveals his true feelings to Mary and they are what we want them to be; but is that enough for Mary, who has so much on her plate when it comes to picking her King, to stay?
Besides all of that, France realizes that there is a spy in their court, who revealed to England that France was sending men to help Scotland. That spy will be revealed and sentenced to death, but is he the spy? Queen Mary will get the evidence she needs to prove his innocence and name the guilty. But will she do it in time?
Meanwhile her ladies in waiting are prepping for their movie from France to Portugal and they are not happy about it. Causing one of them to make a decision, she has been avoiding.
To get all the answers to these questions, I order you to watch this beautifully shot and told show on The CW at 9p.


Over at TruTV at 9p Guinness World Records Unleashed is back and people are doing really stupid things to get in the book. Some will be successful and others will fail, and all of them are fun to watch. OK, not the guy who has to pull the most pieces of uncut spaghetti through his nose and out his mouth, but you boys will enjoy watching a woman jump rope on one leg while her other one is behind her head. Like I said people doing really stupid things to break the Guinness World Record for whatever they are doing. Tune in for a really strange and yet enjoyable of hour television.
---
It's a nice day to burn a witch on AHS: Coven and Sara flies into Arrow!
November 6th, 2013 under American Horror Story, The CW. [ Comments:

none

]

American Horror Story: Coven has put a spell on all of us and tonight's episode on FX at 10p is just as bewitching. The episode starts off back in the past and we see what an evil psychopath Delphine LaLaurie (Kathy Bates) was in back in her original life. Then we fast forward to today and the Zombies are attacking Miss Robichaux's Academy. One witch will have the power to make them stop, but only after we get some really cool walking dead action going on. We also find out what happened to Cordelia (Sarah Paulson) after she was attacked by acid in the bathroom. Finally the Counsel has made their decision and one of the witches will be sentenced to be burned at the stake. Think you know will get the Salem treatment, then you have to tune in for another shocking episode that has you on the edge of your seat from the beginning until the end.
FX announced today that Coven's season finale will be on January 29th and that there will be a fourth season for American Horror Story coming next year. Can't wait!


At 8p on The CW Oliver (Stephen Amell) and Sara (Caity Lotz) are reunited on Arrow and he has a lot of questions for her since she disappeared that day on the boat. How much will she tell him about it? Not much, but we get to see the flashbacks of where she has been and who she has been with. When Sara's father's life is danger, she opts to reveal herself to Quentin Lance and Paul Blackthorne gives a very emotional performance. Lots of interesting reveals on tonight's episode and you don't want to miss any of them.
---
Stephen Amell and the little gal who shot an Arrow to his heart!
October 19th, 2013 under The CW. [ Comments:

none

]

Stephen Amell is a brand new father and he was proud to show his little girl what her daddy does for a living, a day after she was born. According to Just Jared the Arrow star and his wife, Cassandra Jean, named their daughter, Mavi Alexandra Jean Amell.
And yes Mavi is already a huge fan of her dad and uncle's shows on The CW's Amell Wednesdays.
---
Reign is the Queen of The CW!
October 17th, 2013 under The CW. [ Comments:

none

]

Tonight at 9p Reign makes its grand entrance on The CW and you don't want to miss this beautiful Royal tale.
Mary (Adelaide Kane), Queen of Scots, was just a baby girl when her father died and ever since her life has always been in danger. Something she didn't realize until one of the nuns, who was testing her food at the convent, was poisoned. So now that she is no longer safe there, she is sent to France to marry her Prince earlier than expected.
Back when she was a little girl, she was betrothed to Prince Francis II (Toby Regbo). Now the teens are suddenly set to be married whether they want it or not. They agree to do it for their countries, but is it what they really want? The choice isn't up to them and there are people who will want to stop their wedding. Especially after Nostradamus (Rossif Sutherland) tells Francis' Mom, Catherine de' Medici (Megan Follows), that the future Queen of France will lead to her son's death. She will do everything in power to make sure the nuptials do not happen, so will she succeed?
There is something about this time that is so romantic to me and this show delivers. In fact I will go on the record and say this is the sexiest new show on television. It reminds me of the first season of The Tudors. Both shows are beautifully shot and their sex scenes are completely erotic. Although sadly you won't be seeing what I saw because of a group of uptight schmucks, but there is still enough to make you not want to watch this show without a lover.
Now I know some people are complaining that the show is not historically correct. Let's be real, how do we know what we learned is accurate in the first place. If you want accuracy, then watch the History Channel. If you want good TV that doesn't put you to sleep, then watch The CW's Reign.
So tune in tonight and every Thursday at 9p for a show that will awaken your knowledge of the past in a way that makes you want to know more.
---
Jamie King celebrate Hart of Dixie's return by having her baby!
October 7th, 2013 under The CW. [ Comments:

none

]

Just as Hart of Dixie was ending its second season, Jamie King announced that she was pregnant with her first child in real life. Well today the sweet drama is back on The CW at 8p and she started off the third season by having her baby boy yesterday. Her happy husband, Kyle Newman,Tweeted the above photo and said, "Nice to meet you! #FATHER #IMADAD #BABYTIME jaime_king is doing amazing! The most incredible feeling". No other details were given, so until we find out you might as well watch Hart of Dixie to see if they wrote her pregnancy into the show.

And make sure to keep your dials on The CW at 9p for the return of Beauty and the Beast. The season premiere picks up 3 months after the season premiere and Cat (Kristin Kreuk) is different because of everyone that happened during the finale. She has buried herself in work to avoid the losses of Vincent and her dad. Vincent (Jay Ryan) is not dead, but missing and no one knows where he is. And that could be because he doesn't want to be found or maybe he doesn't remember who he is? She will not give up until she finds him, but maybe finding him is not a good thing. To see what that means you will just have to tune into thrilling episode to find out.
---
The Millers make a big bang entrance and The Originals details it origins!
October 3rd, 2013 under CBS, The CW. [ Comments:

none

]

Tonight at 8:30p The Millers makes its debut and it's the perfect show for CBS's Thursday lineup. When I first watched the sitcom, I didn't like it. Then I watched it again today and found myself laughing out loud several times. In fact, I will openly admit that the show has officially won me over.
Jack (Will Arnett) gets a call that his parents are coming to visit his sister and him because his dad, Tom (Beau Bridges), flooded the basement. He is really not looking forward to their visit, not only because they are the way that they are, but because he hasn't told him he got a divorce. When he finally tells them the truth, his dad tells him mom, Carol (Margo Martindale), he wants a divorce from her so he can be happy. Now Tom is going to live with his daughter, Debbie (Jayma Mays) and Jack gets his mom. Needless to say both kids are miserable with one of their parents living with them.
Carol is very controlling and has killer gas and Tom is nicknamed Forrest Gump for a reason. So how will the kids handle having their parent live with them? We will have to tune in to find out every Thursday at 8:30p before The Crazy Ones to find out.

Then at 9p change the dial over to The CW for the series premiere of The Originals. Elijah (Daniel Gillies) has gone to New Orleans to see his brother, Klaus (Joseph Morgan). He comes across the witches and finds out that Marcel (Charles Michael Davis) is now ruling the town and won't let them perform magic. Elijah also finds out that his brother got a werewolf pregnant and now he will do what he can to protect Hayley (Phoebe Tonkin) so that she will be able to deliver his niece or nephew safely. How will Klaus handle being a father? Can the Originals and the Witches take down Marcel and his Vampires? Will Hayley carry this baby to term and what will her pregnancy be like? We will tune in every Tuesday at 8p after tonight to find out.
I might be in the minority when I say this, but I sincerely enjoy The Originals so much more than the show it spun off of, The Vampire Diaries. There is just something so much better about it and I hope that it keeps the feel it has during the season premiere.
---
Need a reason to watch Arrow, here are 4!
September 16th, 2013 under The CW. [ Comments:

2

]

Arrow's new season won't be back until October 9th, so The CW is now giving us 4 reasons, or should I say 6 as in 6-pack abs, to watch the show.
The network released 4 posters of the show's stars without shirts on and I know I can't wait for the show to come back already.
If us ladies could raise our Arrows to Stephen Amell, Colton Haynes, David Ramsey and Manu Bennett we would, but since we can't we will just raise our remotes to Arrow!
Hopefully The CW will release similar pictures of the actresses to get the men to watch the show too. As if they need to be bribed to watch the comic book adventure come to life every week,
---
Hey Stephen Amell is that an Arrow in your pocket?
August 8th, 2013 under In Your Pocket?, The CW. [ Comments:

2

]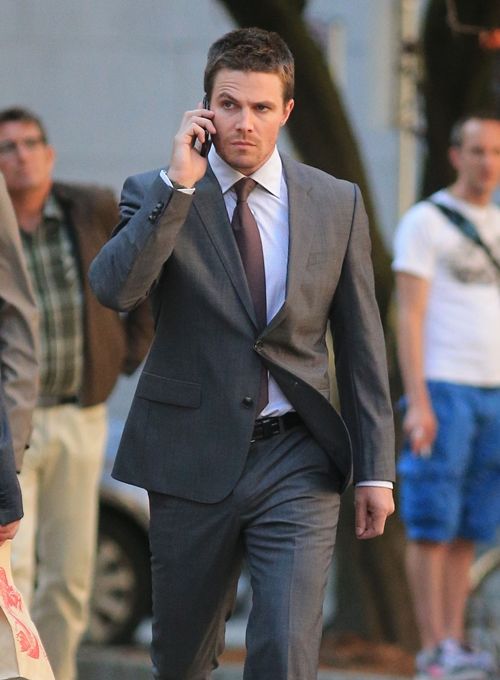 Fame Flynet
Stephen Amell is back filming his huge hit Arrow and looks like that isn't the only huge hit he has. His Arrow looks like it can hit my bullseye anytime.
OK I am going to stop now before this gets to be worse than already is.
---
Paul Wesley's marriage gets a stake through the heart
July 30th, 2013 under The CW. [ Comments:

2

]

(photo from Fame Flynet)


Paul Wesley and Torrey DeVitto have decided to end their marriage after just 2 years. Their rep told People, they "have decided to amicably split. They will continue to remain good friends."
So I guess now that both of the Salvatore brothers are single, Atlanta better watch out for the Vampire Diaries hunks.
---