Vanessa Hudgens gives a grown up performance in Gimme Shelter!
November 25th, 2013 under High School Musical. [ Comments:

none

]

The first trailer is out for Gimme Shelter and Vanessa Hudgens wowed me with her performance. Gone is the cutsie girl we knew in High School Musical, and here comes the powerful actress.
Some actresses (Anne Hathaway as an example) cut off their hair to win an Oscar and don't deserve the award. Hudgens is one of the actresses who did and deserves it.
I will be there on January 24th to see it, although I will be bringing the tissues and lots of them.
---
Vanessa Hudgens shakes her a$$ for Jay Leno!
March 21st, 2013 under High School Musical, Jay Leno. [ Comments:

none

]

Vanessa Hudgens was a guest on The Tonight Show yesterday and she told Jay Leno how she won a dance off at Madonna's Oscar Party. The NBC host was not happy just hearing about her booty popping, so he asked her to show off her winning move. So the Spring Breaker got up and moved her money maker for him, and I think she is going to be very wealthy with that move.
---
Vanessa Hudgens strips off her High School Musical image!
August 21st, 2012 under High School Musical, Hilary Duff. [ Comments:

none

]

Vanessa Hudgens is doing an Eve Plumb and taking on an adult role in order to shed herself of her squeaky clean image. The High School Musical star is playing a stripper in The Frozen Ground and this role seems better suited for her. Or unsuited as the case may be!
Now when it comes to John Cusack, why is it the Disney Darlings, like Hudgens and Hilary Duff in War Inc., like to dance seductively for him in movies? I mean I can understand why, but why is it always him???
---
Ashley Tisdale's bikini shyness
July 17th, 2012 under High School Musical. [ Comments:

none

]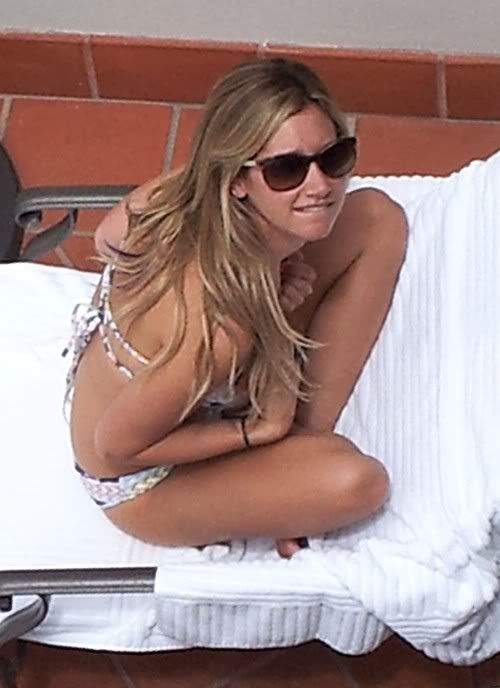 Fame Flynet
Ashley Tisdale spent some time relaxing in Santa Barbara and she was caught laying out. Once the Hellcat realized someone was photographing her stretched out in a bikini, she curled up like a sleeping kitten so they couldn't see anything. I don't know why she covered up because the High School Musical star has a sharp body.
---
What's up with Ashley Tisdale's hair
June 11th, 2012 under High School Musical. [ Comments:

none

]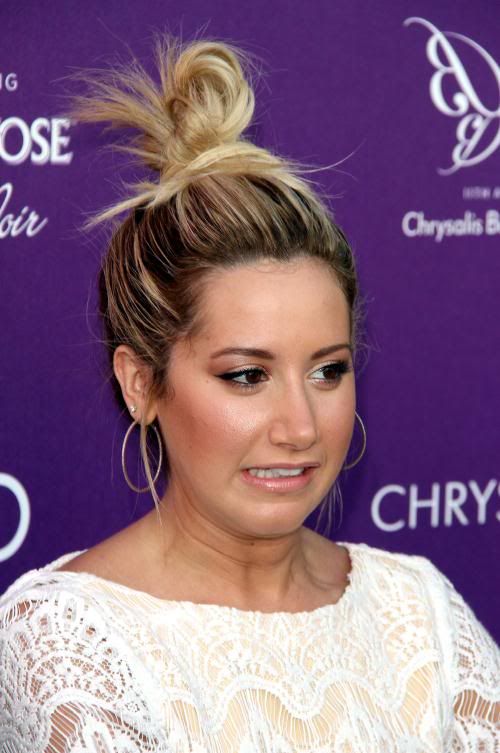 Fame Flynet Online
Ashley Tisdale attended the 11th Annual Chrysalis Butterfly Ball with a hairstyle that stands on its own. I mean it literally is standing on its own. What is up with that look? I mean did she do her ponytail upside down without a brush? With the amount of time she spends on getting her hair straightened and lightened you would think she would spend the time to make it look fantastic when walks a red carpet. Not like how it does in that above picture. Seriously her face says what we all are feeling.
---
Ashley Tisdale gets Scary
June 5th, 2012 under High School Musical. [ Comments:

none

]

Anna Faris is passing on her Scary Movie crown and Ashley Tisdale is the recipient of it. Dimension Films announced that the High School Musical star is set to take over the reign when production starts on the fifth installment for the franchise this summer. After watching her on Raising Hope, I actually think she can do it. If you have never seen that episode, you have to find it online because it is amazing and the Hellcat is hysterical in it.
---
Ashley Tisdale tries to be sexy like a Hellcat
January 19th, 2012 under High School Musical. [ Comments:

none

]

Ashley Tisdale Tweeted the above pictures and said, "#whenthemusicsloud". Seeing her trying to do all those sexy poses makes me thinks that she has learned a lot from her BFF Vanessa Hudgens.
So do you think she passes as a Hellcat or she will always be Sharpay from High school Musical?
---
How much is that girl in the shopping cart?
December 20th, 2011 under High School Musical. [ Comments:

none

]

Newly single Ashley Tisdale joined her friend Vanessa Hutchens and her boyfriend Austin Butler on a food shopping spree and looks like the Hellcat got her BFF's new man to push her around. Sharpay Evans Tweeted the picture and said, "This Is how we food shop- with Austin and Nessa" Now that she is 26 years old and no longer in High School (Musical), she is a little too old ride around in a shopping cart. Although I would do the same if given a chance.
---
Another day, another wig for Vanessa Hudgens!
September 10th, 2011 under High School Musical. [ Comments:

1

]

WireImage
It looks like the way for Vanessa Hudgens to deal with her short hair is to try on different wigs. At first she was trying on wigs the same length of old hair, but yesterday she tried one that was was shoulder length. You know what I think it is her best one yet and she should grow her hair to be that long. What do you think?
---
Vanessa Hudgens wigs out…again!
September 6th, 2011 under High School Musical. [ Comments:

none

]

WireImage
One day Vanessa Hudgens is styling with her new short hair and the next day she is wearing a wig that resembles her old do. I just wish she would make up her mind because it is getting confusing if we should be looking at her as a maturing actress who is old enough to drink Moet or the girl that is stuck in a High School Musical.
Personally even though she has gorgeous long hair, I think she looks better with the shorter do. Which way do you think she looks better?
---