Susan Sarandon and Tim Robbins call it quits
December 23rd, 2009 under Break-ups, Susan Sarandon. [ Comments:

1

]

(photo from WireImage)


Susan Sarandon and Tim Robbins have split after dating for 23 years. Her people told People, "Actress Susan Sarandon and her partner of 23 years, actor Tim Robbins have announced that they separated over the summer. No further comments will be made." Boy it goes to show you how much their A-List status has dropped because they broke up over the summer and we are first learning about it now. I wonder what caused them to split? Wouldn't it be funny if it had something to do with politics since that is what this couple was most know for…their political statements.
Theyhave two sons, Jack, 20, and Miles, 17.
BTW I never realized until today, she is 12 years older than him. I always thought they were the same age. I wonder if that is saying he is ageing badly or she is ageing beautifully?
---
Rachel Hunter's cub dumps her weeks before their wedding
June 24th, 2009 under Break-ups, Nick Lachey/Jessica/Ashlee Simpson. [ Comments:

1

]

Rachel Hunter, 39 was suppose to get married to hockey player Jarret Stoll, 27 on August 14, but he sent an e-mail to all their guests telling them wedding is off. No reason was given, in fact according to the Daily Mail even Rachel doesn't know why. Could it be the huge age difference between the two? The two were dating for 3 year before the split or since before he was old enough to rent a car.

In other couple dunzo news, Nick Lachey and Vanessa Minnillo have ended their relationship after 3 years of dating according to Us Weekly. Their split isn't even worth its own post because they were such yawners.

(photo from WireImage)
---
Christina Ricci and her giant call off their engagement
June 3rd, 2009 under Break-ups. [ Comments:

none

]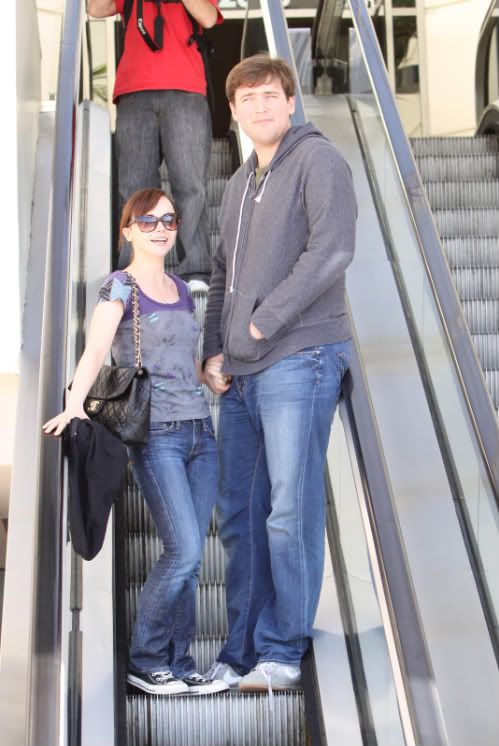 (photo from Splash News Online)


Christina Ricci and her giant, Owen Benjamin have called off their engagement according to People.
"Owen had a birthday party this past Sunday, and everything seemed fine. Sometime after, they got into a fight and decided to reevaluate things. [Then] the engagement was off," says a source close to the couple.
Another source close to the actress says the pair called off the engagement before last week. "They really are still close," adds the source. "They talk almost every day. It was a very mature decision and they both felt good about it. They're definitely still friends."
So sad, I thought they were going to make it. And I wanted to see just how tall their kids were going to get because their is such a height difference between the two.
---
Jeffrey Dean Morgan and Mary-Louise Parker split again
April 8th, 2008 under Break-ups. [ Comments:

6

]
Jeffrey Dean Morgan and actress Mary-Louise Parker are going their different ways again according to what a source told the
AP
. The Weeds' actors started dating in 2006, but they split for a while last June and then they got back together and announced their engagement earlier this year.
The person, who requested anonymity because of the sensitive nature of the relationship, said the couple had differing lifestyles, but that Parker holds Morgan in the highest regard and hopes they remain friends.
Every since he played Denny Duquette on Grey's Anatomy lots of women have wanted to climb in that hospital bed with him…now they will get their chance!
---
Break-up Mountain
September 2nd, 2007 under Break-ups, Dawsons Creek, Heath Ledger/ Michelle Williams. [ Comments:

none

]
Us Weekly
is reporting that Michelle Williams and Heath Ledger have ended their 3 year relationship.
A source close to the couple tells Us that Heath and Michelle "quietly and amicably split a few weeks ago."

"The relationship had been rocky recently. They tried very hard to make it work but finally decided to separate. They just grew apart."

"They have a beautiful daughter and they are both committed to being great parents."
Well if they file divorce papers we will finally find out if the two had married at one point because that was never confirmed. Neither one of their sources have confirmed or denied the split.
---
Travis Barker and Shanna Moakler break up again
July 12th, 2007 under Break-ups, Travis Barker/Shanna Moakler. [ Comments:

none

]
Travis Braker and Shanna Moakler break up again and this time they are keeping it out of MySpace…so far. A source told
People
in an interview this time it looks like it is for real.
"About a month ago, they separated again," the source close to Moakler tells PEOPLE. "She moved out. As far as she's concerned, it's over. She loves him, but it's one of those relationships where they keep trying to make it work but it doesn't."

Moakler, the source says, is taking the split hard: "She's very upset. She gave this marriage her all. She really loves him."
No reason was given for why their relationship is over, but hopefully they will not get back together again anytime soon. But when she needs the publicity, I am sure they will hook up again or she will post something on MySpace.
---
Kate Hudson and Owen Wilson dunzo?
June 5th, 2007 under Break-ups, Frat Pack, Kate Hudson. [ Comments:

1

]
Page Six
is reporting that Kate Hudson and Owen Wilson have deep sixed their relationship. A source says, "She said that if he didn't step up and make time for her, then she was over it. A few days after that, she broke up with him over the phone." Another source said, "They've broken up and gotten back together a million times. She's complaining to everyone that she made all these sacrifices and he can't be in a committed relationship." I hope they get back together because they are such a cute couple and their kids will be adorable unless they get his nose.
---
John Mayer over Jessica Simpson
May 18th, 2007 under Break-ups, Jessica Simpson, John Mayer. [ Comments:

none

]
John Mayer and Jessica Simpson have broken up and her friends are hoping they will get back together. A source told People "They have broken up. But they have broken up and gotten back together at least ten times before." They added, "They talk to each other at least six times a day. I don't know if this breakup is permanent, but for right now they are broken up." A friend of hers also confirms they have "been emailing and talking to each other. I'm sure they'll get back together." But his friend tells a different story, "John did say that he broke up [with Jessica]. He said that it was because he was just over it." They added, "He's fine about it, he's not upset – but he's definitely not looking for someone right now."
Kind of interesting they break up as soon as Joe Simpson gave John Mayer his approval. And I want to know what he means that he is "over it." Does that mean he was sick of faking it? Sick of the publicity? Sick of the paparazzi following his every move? Sick of what Ken Paves was doing to her hair? I am sure it will come out soon, at least I hope it does.
---
Denise Richards and Richie Sambora over
May 15th, 2007 under Bon Jovi, Break-ups, Denise Richards. [ Comments:

none

]
Denise Richards and Richie Sambora are officially over according to In Touch Weekly. The magazine got a statement from her people that says, "Denise and Richie broke up two months ago." A friend of hers said that "they didn't want to make it public because they lived through public divorces and it was very painful." Although the two broke up, Denise went to visit him in New Jersey when his father past away. "She took the next flight – a red eye – to be with him," says Denise's pal. "She stayed with him in New Jersey for two weeks for the wake and the funeral."
What is interesting is she just did an interview with OK! Magazine and she said that she was still dating him. Oh well let the rumors start on who they are dating now. You know Denise will be linked with everyone.
Somewhere Heather Locklear is buying up all the In Touch Weeklys announcing their split and hanging it up all over her house!
---
Reichen Lehmkuhl confirms split with Lance Bass
February 19th, 2007 under Break-ups. [ Comments:

none

]
The Break Up
Everyone,
Thanks for your many letters of concern about the recent changes in my life as well as your understanding of my need for privacy over the next few weeks.
Although it would usually be more of a challenge to find some peace during this time, your positive wishes have helped.
Our parting of ways is amicable and we remain friends who care about and love each other.
I sincerely appreciate all those who have supported me and Lance as a couple over the past year. I would appreciate, just as well, your wishing us each, as individuals, the very best going forward.
With respect,
Now let the rumors begin who they are dating now! Who do you think that Lance Bass will be linked with first?
---