Cory Monteith is in rehab
March 31st, 2013 under Glee, Rehab. [ Comments:

none

]

(photo from Cory Monteith's Twitter)


Cory Monteith has entered rehab. His rep told People, that he "has voluntarily admitted himself to a treatment facility for substance addiction. He graciously asks for your respect and privacy as he takes the necessary steps towards recovery." This is second time he has been in rehab for substance abuse, he also did a stay there when he was just 19 years old.
Hopefully he will get the help he needs and be back on Glee soon. But only when he is well enough to do so.
---
Octomom is in rehab and not for addiction to have kids
October 30th, 2012 under Rehab. [ Comments:

none

]

(photo from WENN.com)


The Octomom has entered rehab for an addiction to Xanax according to TMZ. Her rep released a statement saying, "Nadya wanted to get off the Xanax she was prescribed by her doctor and learn to deal with her stress, exhaustion and anxiety with professional help with a team of doctors. Nadya wanted to deal with her issues and make sure she is the best mother she can be."
And when it comes to who is taking care of her 14 children, TMZ says she left her nannies and not her own parents in charge of them for the 30 days that she away is from them. Which is something I could never understand.
Personally I think she should've entered rehab after having her 5th kid via in vitro because that was an addiction that she really needed help with.
---
Nick Stahl is alive and in rehab
May 20th, 2012 under Rehab. [ Comments:

none

]

(photo from WENN.com)


Eleven days after Nick Stahl's wife said he went missing, she tells Eonline that he is alive and has checked into rehab. Yesterday it was revealed the actor had reached out to his friends via email to say he was going to get the help he needed and now he has made good on his word.
I have to say this is a much better outcome than I thought it was going to be, I really didn't thunk they were going to find him alive. I am glad my gut instinct was wrong and that he is getting himself clean.
---
Jesse James enters rehab
March 30th, 2010 under Rehab. [ Comments:

none

]

(photo from WireImage)


Over the last few years, celebrities who have done bad have sought repentance in rehab and now Jesse James joins the likes of Tiger Woods and Charlie Sheen by entering a treatment facility. His rep told People, "Jesse checked himself into a treatment facility to deal with personal issues. He realized that this time was crucial to help himself, help his family and help save his marriage." It is unknown what type of help he is seeking, but hopefully he can get it.
It will be interesting to see if Sandra Bullock and the public will take him back when he gets out of the treatment facility. I could maybe understand a one night affair, but he is rumored to have had up to 4 longer termed ones. I personally would dump his a$$ after that and not look back but I am not Sandra Bullock.
---
Charlie Sheen is in rehab
February 23rd, 2010 under Chuck Lorre, Rehab. [ Comments:

none

]

(photo from WireImage)


Charlie Sheen is in rehab and is taking a break from Two and a Half Men to do so according to press release from his publicist Stan Rosenfield, "As a preventative measure, Charlie Sheen has entered a rehabilitation facility. He will take some time off his series Two And A Half Men. He has asked that his privacy be honored. No further statements are planned."
According to TMZ even though Charlie's wife Brooke is also in rehab, the two are not at the same one. TMZ says that their twins boys are with Brooke in rehab and her staff of nannies is helping her out. Now how a mother, who is trying to get better, has her kids with her is beyond me. To me rehab is not a place for children especially for babies as young as Max and Bob.
Now when it comes to Two and a Half Men, TMZ says that Charlie did not notify them he was entering rehab and it wasn't until they checked to find out why he didn't show up to work that they found out. So obviously the #1 comedy on TV is in flux. According to Nikki Finke, 18 of the 23 episodes for the season have been shot which is the same amount that another CBS sitcom, Accidentally on Purpose had ordered for their season. Too bad Jenna Elfman is about to give birth otherwise they could've extended that order to fill the slot vacated by Sheen's show. Although 2.5 does well in repeats so maybe they will air repeats until May sweeps.
When it comes to 2.5, I wouldn't mind a few episodes that are Charlieless and to fill the void they have more scenes with Charlie and Alan's mom Evelyn Harper and Berta. They do not use Holland Taylor and Conchata Ferrell enough on the show. I am also not liking this season's storyline with Charlie and his fiancee', the actress doesn't do anything for me and Charlie needs to be a playboy and not tied down.

UPDATE: TMZ says that Charlie will be in rehab for two weeks and production will restart on the show when he is out. They added he did let people involved with the show that he was voluntarily checking himself into rehab, so they were aware that he would be taking the time off.
Also TMZ now says that their twins, Max and Bob are staying at the family home and the couple's moms will be checking in on them while Charlie and Brooke are in rehab.
---
Steven Tyler is back in rehab
December 23rd, 2009 under Rehab. [ Comments:

1

]

(photo from WireImage)


Steven Tyler is back in rehab for his addiction to prescription painkiller drugs. According to Rolling Stone he issued this statement, "With the help of my family and team of medical professionals I am taking responsibility for the management of my pain and am eager to be back on the stage and in the recording studio with my bandmates Joe Perry, Joey Kramer, Tom Hamilton and Brad Whitford," The singer hasn't been on stage with Aerosmith since he fell off one back in August, which is probably what lead to him once again being addicted to painkiller drugs. Tyler was in rehab back in May of 2008 for the same addiction, but that time it was due to surgery he had on his foot.
Hopefully he will get over his addiction soon and be back with Aerosmith, something he told the mag he vows to do.
---
Burt Reynolds in rehab
September 16th, 2009 under Rehab. [ Comments:

1

]

(photo from WireImage)


Burt Reynolds is in rehab for an addiction to pain killers according to what his manager told Us Weekly.
"After a recent back surgery, Mr. Reynolds felt like he was going through hell and after a while, realized he was a prisoner of prescription pain pills," his manager said in a statement Wednesday. "He checked himself into rehab in order to regain control of his life."
His manager added: "Mr. Reynolds hopes his story will help others in a similar situation. He hopes they will not try to solve the problem by themselves, but realize that sometimes it is too tough to do on their own and they should seek help, as he did."
Good for the 73 year old actor to admitting he had a problem before it got too bad. His stint proves you are never to old to go to rehab.
---
David Duchovny in rehab for being a sex addict
August 28th, 2008 under Rehab. [ Comments:

2

]
(photo © Showtime)
David Duchovny, who plays a man that gets a lot of sex on Showtime's
Califronication
, has in real life checked in to rehab for being a sex addict according to what his lawyer told
People
.
"I have voluntarily entered a facility for the treatment of sex addiction," the actor says in an exclusive statement. "I ask for respect and privacy for my wife and children as we deal with this situation as a family."
Hopefully he is getting the help he needs. I just feel bad when he gets out when all the press asks him about it. What a thing to have to talk about.
I know it is weird to plug that Califronication is going to be back on Showtime on September 28th, but it really is a good show and he is great in it. Even if now we know why he was so able to get in to character.
---
Heather Locklear is in treatment for anxiety and depression
June 24th, 2008 under Heather Locklear, Rehab. [ Comments:

2

]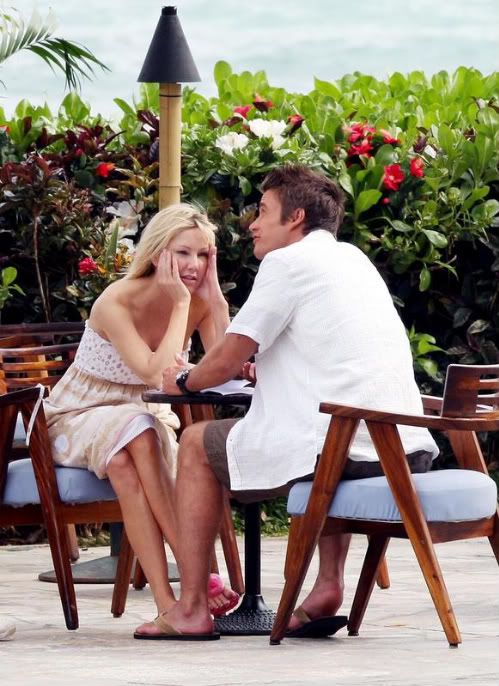 Heather Locklear has entered a treatment facility in Arizona for anxiety and depression according to
People
.
"Heather has been dealing with anxiety and depression. She requested an in-depth evaluation of her medication and entered into a medical facility for proper diagnosis and treatment," says Locklear's rep, Cece Yorke. "This is a confidential medical matter and no further statement will be released."
Hopefully she will get the help she needs.
---
Sean Young the Heckler
January 30th, 2008 under Rehab. [ Comments:

none

]

via The Hollywood Reporter
Did Sean Young think she was at a Comedy Club and not at the DGA Awards. I guess that is why she is in rehab now, it is wrong to heckle at the DGA Awards. But in her defense he did need to "Get On With It!" Hopefully he will be more prepared if wins the Oscar. And has anyone heard of or seen that movie?
---