Mischa Barton looks good
May 4th, 2012 under Mischa Barton. [ Comments:

2

]

WENN.com
To say that Mischa Barton has had her share of fashion faux pas would be an understatement, but yesterday she actually looked gorgeous at the Women for Women Gala in London. Whomever is styling her now deserves a fashion award because they worked a miracle on her. Don't you think?
---
Mischa Barton actually looks good in a bikini!
December 27th, 2011 under Mischa Barton. [ Comments:

none

]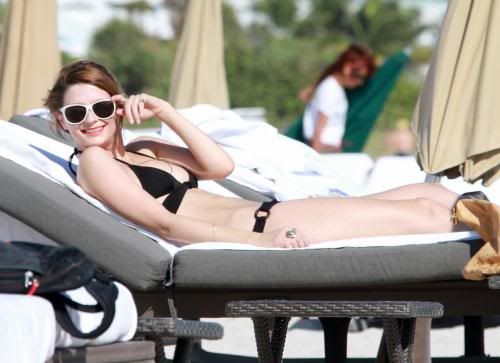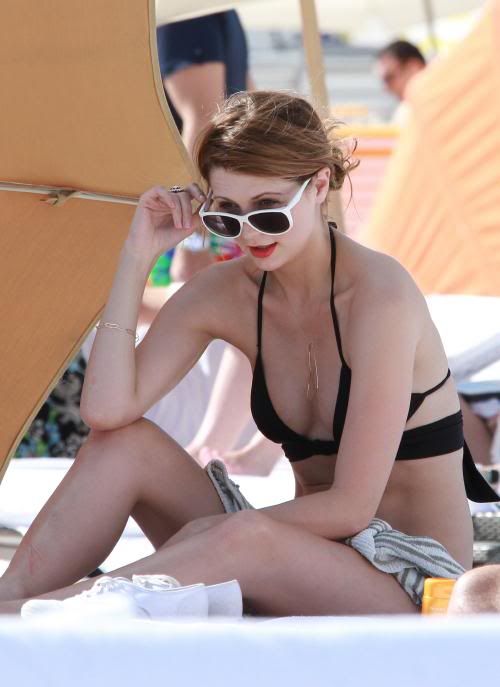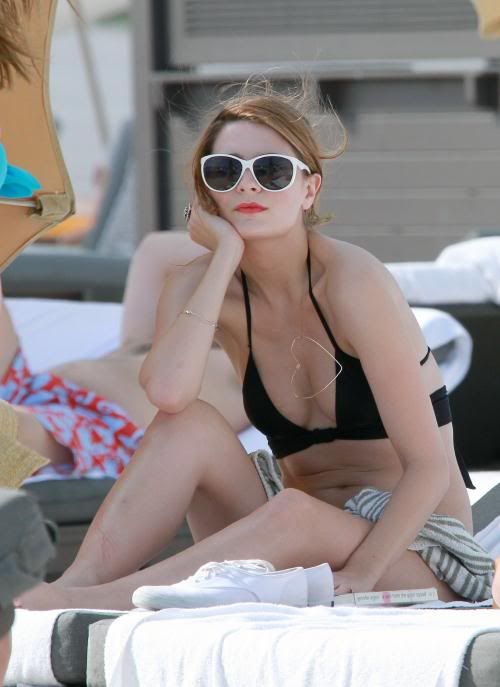 Fame Pictures
Mischa Barton is soaking up the sun in Miami and dare I say it she actually looks good in a bikini! The OC actress has had her issues in bikinis, but it looks like she over them and now she is having fun showing off her body in a little black 2-piece.
Now that she has worked out her bathing suit kinks, hopefully her fashion sense will improve too.
---
What crawled on Mischa Barton's head and died there?
October 11th, 2010 under Mischa Barton. [ Comments:

none

]

WireImage
Was it a skunk? Was it a bird? I don't know what crawled on Mischa Barton's head and died there, but the one thing I do know is ugly. Seriously what was The OC star thinking when she put that thing on her head? There is not one angle that makes that thing look even halfway decent. But then again it is Mischa and she is known for wearing bad hairpieces.
---
The many faces of Mischa Barton!
July 7th, 2010 under Mischa Barton, The Many Faces of. [ Comments:

none

]

WireImage
Mischa Barton was photographed pumping her own gas yesterday and I have not the actress show that emotion since…well I can't remember when. Seriously what is up with all those faces. If all it took to get her to show that much expression in her movies was to fill her own tank, then maybe they should have her do that before every scene.
BTW those pants so need to go. Those red jeans are so unflattering on her figure or basically anyone's figure.
On a positive note as least she brushed her hair.
---
Mischa Barton comes cleans about her hospital stay
December 2nd, 2009 under Mischa Barton. [ Comments:

1

]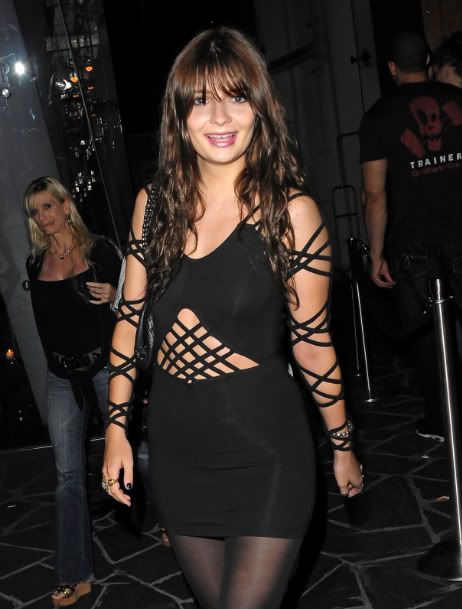 (photo from Splash News Online)


Mischa Barton finally comes clean about her hospital stay over the summer to Heat Magazine according to Bang Showbiz.
She said: "I went to the hospital because of pain with my wisdom teeth and I ended up getting 'put in', but that's because I was so overwhelmingly stressed out and upset.
"I think it was my teeth and the stress of having a new job and travelling. I was miserable. Actresses aren't given the time to recover after stuff like that – you're expected to bounce back from surgery and work right away again.
"I was shocked it went that far but I think it was necessary for me to take that time out. I'm so much more settled and calm now.
"Ultimately, it was a positive thing."
She added to Heat magazine: "It's something that could've happened to anyone – going into hospital and having a bad experience then being held on an involuntary psychiatric hold. It happens to more people than you'd know. It's a common thing."
It took her a while to come clean about why she was hospitalized, but at least she finally did. Although it isn't only actresses who are not given time to heal, it really is everyone. And she had more time off than the average person when they have oral surgery, but she wouldn't know what that is like because she has never really been anything but an actress.
---
Mischa Barton goes from the hospital to The Beautiful Life
July 27th, 2009 under Mischa Barton. [ Comments:

none

]
A week after Mischa Barton mysteriously entered a hospital, her publicist told
MTV
she was released from the hospital. He said, "She was released early last week and has been improving since with the intention of resuming production with the rest of the cast." Lucky for Mischa production was delayed from last week to this Friday because the sets weren't ready, so she will be able to be on The CW's The Beautiful Life from day one. Now I wonder how many more days after that she will still be on the show?
---
The Beautiful Life prepping to go on without Mischa Barton?
July 20th, 2009 under Mischa Barton. [ Comments:

6

]

Mischa Barton is reportedly hospitalized under a 5150 and The CW show The Beautiful Life that she is starring on is due to start production next week. So the question is, will the show wait for her to get better or look for the next model? According to EW's Michael Aussielo the show is moving to plan B in case she isn't ready to return to work next week.
Said plan involves the addition of a new female character to fill the void left by Barton. While not a direct recast, the new recurring character — tentatively named Jane — would bear a striking resemblance to Barton's experienced supermodel, Sonja Stone. Casting is underway.
While I would not wish her situation on anyone, I wouldn't miss her on the show and the show wouldn't miss anything by not having her. The show is more about the younger models and in ways her character just doesn't fit in and could easily be replaced or removed from the runway.
I really hope her situation doesn't effect the popularity of the show because I am really looking forward to watching this show after seeing the pilot!
---
Mischa Barton's The Beautiful Life production delayed a week
July 18th, 2009 under Mischa Barton, The CW. [ Comments:

none

]

Mischa Barton, who is reportedly being held on a 5150 in LA, was due to start filming her new show The CW's The Beautiful Life in NY on Wednesday, but according to The Hollywood Reporter she has another week to get better because production was delayed 9 days until July 31st. They added that the reason for the delay has nothing to do with her, it is just that the sets are not ready yet.
I saw the pilot for the show and I really like it! But also after seeing the show, I can see her character easily being written out if need be and that was before all this stuff went down.
---
Mischa Barton hospitalized under a 5150?
July 16th, 2009 under Mischa Barton. [ Comments:

1

]

(photo from WireImage)


Access Hollywood is reporting that Mischa Barton is hospitalized under a 5150 aka involuntary psychiatric hold. Yesterday it was reported that she was taken from her LA house at around 3p because of a unknown medical issue. Today it is alleged that the reason is a 5150 and according to that reason she could be held for a minimum of 72 hours if that is why she is there.
Mischa was suppose to be at the NY premiere of her movie Homecoming on Thursday, but has since pulled out of the appearance according to what her rep told AH. That is all the rep commented on. She is also starring The CW show The Beautiful Life and there is no word if her reported hospitalization will effect production of the show.
Hopefully she will get better soon.
---
I guess The CW really doesn't want Melrose Place 2.0!
March 9th, 2009 under Beverly Hills 90210 / Melrose Place, Fall Out Boy/ Ashlee Simpson, Mischa Barton. [ Comments:

none

]
When the rumors started that The CW was considering doing an updated version of Melrose Place, I thought it was too soon after bringing back 90210. Then came word that they cast Mischa Barton for the pilot, and I could deal with one annoying paparazzi darling on the show. That was until
Michael Ausiello
reported that they also cast new mom Ashlee Simpson to the show.
The onetime 7th Heaven star will play small-town girl Violet, a character whose disarming naiveté masks the calculating, shrewd sex kitten within.
With the casting of both Mischa and Ashlee, I wonder if The CW really wants to pick up the show? Which I wouldn't mind if that meant Privileged would get a second season because I would rather see that on the tube in the fall.
I wonder who else they are considering? Lindsay Lohan? Kim Kardashian? Brody Jenner? Jesse Metcalfe?
---