Dick Van Dyke sings Chitty Chitty Bang Bang with his A Capella group!
December 23rd, 2015 under Conan O'Brien, Dick Van Dyke. [ Comments:

none

]

Dick Van Dyke was on Conan last week and he brought his A Capella group with him. Together the 4 of them plus the TBS late nigh host sang Chitty Chitty Bang Bang and I can't wipe the smile off of my face after watching that.
If you need to put a smile on your face, this will definitely do it. This is just pure joy!
---
Dick Van Dyke and Conan O'Brien dancing together is pure happiness!
December 17th, 2014 under Conan O'Brien, Dick Van Dyke. [ Comments:

none

]

Dick Van Dyke was on Conan yesterday and Conan O'Brien told the legend that they way he danced in movies like Mary Poppins and Chitty Chitty Bang Bang was an inspiration to him. So Rob Petrie asked if he would like to dance with him and of course the TBS late night host said yes. Then the two of did a soft show routine that will make even the biggest Scrooge in your life smile.
Can you believe that DVD is 89 years old because he still moves like the man we grew up watching in all those Disney musicals. I guess it helps when you wife is more than half your age!!!
---
BTWF roles: Dick Van Dyke in Alfred Hitchcock Presents
May 21st, 2013 under Before They Were Famous, Dick Van Dyke. [ Comments:

none

]

via Antenna TV
Before Dick Van Dyke was solving murders on Diagnosis Murder, he would've needed to look into himself on Alfred Hitchcock Presents. He looks the same now as he did when he was 35 in that 1960 episode.
---
Dick Van Dyke sings Chitty Chitty Bang Bang a cappella!!!
February 5th, 2013 under Dick Van Dyke. [ Comments:

none

]

The legendary and loveable Dick Van Dyke leads the a cappella group The Vantastix and today he Tweeted they were looking suggestions of what songs we wanted to hear them do while they rehearsed. Well someone suggested that they do Chitty Chitty Bang Bang and they obliged.
I never thought there was a way to make Chitty Chitty Bang Bang an even happier song than it already is, but that is exactly what The Vantastix have done. I can't stop smiling as I listen to it over and over and over again! So no matter what type of day you are having, it will instantly get better when you listen to them harmonize one of the happiest songs on Earth!
BTW can you believe that he is 87 years old because he has more pep in his step then men half his age. I hope we are all that spry when we are his age.
---
What is Dick Van Dyke doing to the SAG Awards statue's, well you know, his first name?
January 28th, 2013 under Dick Van Dyke. [ Comments:

1

]

WENN.com
Dick Van Dyke was rightfully honored with the Lifetime Achievement Award yesterday at the SAG Awards. When he went back into the press room after he accepted it, he was photographed in a compromising position with the larger than life-sized version of the SAG Awards statue. Either that or he was just trying to cover up the anatomically correct statue that makes Jon Hamm and James Woods look small.
BTW I am know I am going to heck because of this post. I also know that my friend's toddler, who is obsessed with Mary Poppins, is so going to kick me in the shin for writing anything negative about her idol. I hope that the legendary Dick Van Dyke can forgive me because I love him just as much as that little girl and did not mean to insult him in anyway, but the picture just made it so easy.
Finally I wish the young actors of today would look up to him, so that they can create a persona as lovable as his. I can't think of anyone younger than Henry Winkler that is adored like he is, can you?
---
Imagine Johnny Carson as Rob Petrie on The Dick Van Dyke Show
November 30th, 2012 under Conan O'Brien, Dick Van Dyke. [ Comments:

none

]

Legendary actor Dick Van Dyke was on Conan yesterday and the TBS late night host asked him if it was true that before Johnny Carson hosted The Tonight Show, he was up for the role of Rob Petrie on The Dick Van Dyke Show (obviously the show would've had a different name had it happened). He said yes it was true that Carson was considered for the role, but for whatever reason it didn't work out. Then the Mary Poppins actor said, "Thank G-d it turned out the way it did because I would've been rotten on The Tonight Show." Without hesitation Conan O'Brien said, "Oh, that job's easy!" And everyone rightfully got big laugh!
BTW as a huge fan of The Dick Van Dyke Show, I am so happy things turned out the way it did. I seriously can't and don't want to picture the classic sitcom any other way.
---
Seriously is Dick Van Dyke really 86 years old?
April 30th, 2012 under Dick Van Dyke. [ Comments:

1

]




Dick Van Dyke is 86 years young and I really do mean young. The legendary actor is on The Doctors this Thursday and they asked him how he remains so youthful. He told them having younger friends helps, and I am assuming having a beautiful wife who is more than half his age is even more helpful. So much so he showed off his dancing moves and they are just as nimble as when starred in Mary Poppins almost 50 years ago. He also demonstrated his Rebounder skills and he was better at it than The Doctors. Crap if the mini-trampoline is keeping him so active, I will start using mine because I want to be that lively as him when I am his age.
Can I tell you guys a little secret? Out of all of the celebrities in Hollywood, he is one of the very very few left I would really love to meet and would be extremely delighted and grateful to interview.
He truly is a legend who I thinks needs to back on television. TV Land please take me up on that.
---
A Mary Poppins reunion!!!
March 19th, 2012 under Dick Van Dyke. [ Comments:

none

]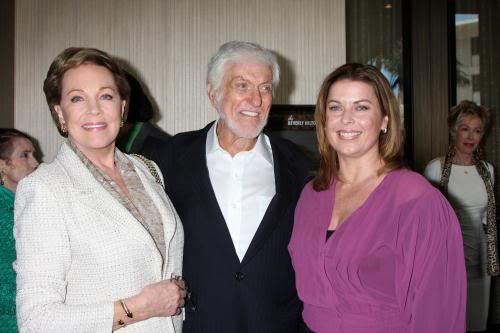 WENN.com
Almost 50 years after Dick Van Dyke and Julie Andrews made Mary Poppins the two were reunited at the The Professional Dancer's Society Gypsy Awards; and they look just close as they did when the classic musical came out in 1964. How cool is to see Bert and Mary Poppins together again? I know for me seeing them reunited has me as excited a spoon full of sugar.
BTW the other woman in the picture is Rob Petrie's brand new wife Arlene Silver, who wasn't even born when the movie came out.
---
A mini-Dick Van Dyke Show reunion
May 11th, 2011 under Dick Van Dyke. [ Comments:

none

]

WireImage
Dick Van Dyke was promoting his book My Lucky Life In and Out of Show Business in LA yesterday and two of his co-stars from The Dick Van Dyke Show came out to support him. Rose Marie aka Sally Rogers and Larry Matthews aka Richie Petrie showed they are all still close 45 years after their timeless show ended. I had to share these pictures with you because the 87 year old actress and 55 year old actor look so awwdorable together as they honor the 85 year old Rob Petrie.
Here is a little factoid, Van Dyke's TV co-worker and his TV son share the same birthday.
---
A mini Chitty Chtty Bang Bang reunion!!!
November 1st, 2010 under Dick Van Dyke. [ Comments:

none

]

WireImage
Dick Van Dyke and actress Sally Ann Howes aka Chitty Chitty Bang Bang's Caractacus Potts and Truly Scrumptious were reunited for the premiere of the DVD release that is out tomorrow and they look just like they did when the movie came out 42 years. Can you believe he is 84 and she is 80 because they look like they can get right back into that car and sing Chitty Chitty Bang Bang like they did all those years ago!
Is just me or is Dick Van Dyke's smile as addictive as singing the theme song from the movie. If you somehow forgot how it went, you can listen to it below and get stuck in your head all over again. I promise it will brighten your day!!!
---