This isn't what Uncle Sam meant when he said I Want You
November 6th, 2012 under E!. [ Comments: none ]

Joan Rivers Tweeted the above photo and at first I thought she was spending too much time with her boy dogs. And then I remembered what Uncle Sam says and I am sure that is not what he meant when he said "I Want You". But then again I can see why she is so attracted to him because she finally met a man that is as made of as much plastic as she is.
BTW I am surprised she isn't grabbing his crotch because that is what I would expect her to do!
---
Who looks better in a hospital gown?
June 1st, 2012 under E!, Pink. [ Comments: none ]

Pink and Chelsea Handler Tweeted pictures of themselves in hospital yesterday and I want to know who looks better in the mandatory attire for the place? I think the singer wins the beauty competition hands down.
So why were the two blonds in the hospital yesterday? Pink Tweeted this along with the picture, "Maybe it's cause my mom was an ER nurse all my life- but throw me in a gown and a hook me up to an IV- and I'm a happy girl. Stomach flu sucks but morphine doesn't." Then a few hours later she updated us on her condition by saying, "Thanks for all the get well wishes. And no-they don't give morphine for flu. I might have ulcers again. Because I care too much. It's a gift" And we care too much about her, so hopefully she will be better soon.
Now when it comes to the talk show host, she was in there for knee surgery. I guess if you spend as much time one them as she does then you are going to have to eventually get surgery on them. Sorry she made it too easy for me.
---
Do Joan Rivers and Kelly Osbourne have something to tell us?
May 1st, 2012 under Do they have something to tell us?, E!. [ Comments: none ]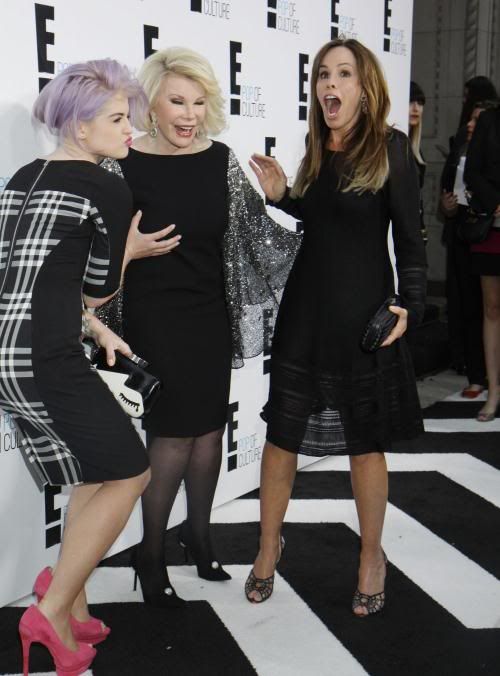 Fame Flynet Pictures
Kelly Osbourne was seen feeling up Joan Rivers at the E! Upfronts and I wonder if the Fashion Police hosts have something to tell us? I don't want to know, especially since Kelly looks as old as Joan with that purple hairdo. I know the new aunt likes it, but I think it aged her like 50 years.
---
Why does E! hate us so much?
April 30th, 2012 under E!. [ Comments: none ]

E! is the network that brought us four shows dedicated the Kardashians, gave Joan Rivers another show where she critiques celebrities clothes, let Ryan Seacrest have even more airtime than he already had and thought that Chelsea Handler was funny enough to have a daily talk show and now they are bringing us more shows with people who need more time off our TVs instead of on.
Today the network announced three more shows that are coming to their airwaves. Whitney Cummings, Chelsea Handler's protegee who is equally as unfunny, is getting a weekly talk show called Love You, Mean It with Whitney Cummings. Nigel Lythgoe is getting another reality show called Opening Act. I don't really understand what it is about, but I don't really care because I won't be watching. His arrogance bothers me so much that anything his name is attached to is immediately a turn off for me. The last new show coming to their lineup is following the married life of the Jonas Brother we don't care about. Kevin Jonas and wife Danielle are starring in their own reality show called Married to Jonas. I expect the this show will be as exciting as their biggest problem, Kevin's snoring.
So once again I ask, why does E! hate us so much and give these people more airtime.
---