Michael J Fox's Parkinson's diagnosis is a Fun Fact to E!?
January 13th, 2014 under E!. [ Comments:

none

]

We all know that E!'s red carpet coverage is always a red hot mess and yesterday they made a big mess with some information they put up in a graphic. They had a Fun Fact chyron that read, "Michael J. Fox was diagnosis with Parkinson's Disease in 1991." That is a fact, yes. But it is far from being a fun fact and people were pissed by their mistake. Including me.
Viewers were so upset that E! issued this statement, "We regret the insensitive classification of Michael J Fox's Parkinson's diagnosis during our Eonline live stream. We understand the serious nature of the disease and sincerely apologize." Too little, too late.
If they want to make amends, then they can cancel Keeping Up with the Kardashians. Then maybe I will start to forgive them.
---
Chelsea Handler wants you to look at her bare butt
December 30th, 2013 under E!. [ Comments:

none

]

Chelsea Handler went skiing during her break from the show and got a break she wasn't expecting, The Chelsea Lately host broke her leg. She didn't say how she did it, but I am sure there is a good story behind it and I bet you a penny some Vodka was involved. How do you think she did it?
BTW I love how she found a way to show off her a$$ as she showed off her cast.

UPDATE: Chelsea Handler Tweeted this update about her leg, she said "I didn't "break" my leg. I only tore a muscle." Wonder if that muscle was the gluteus maximus?
---
Lindsay Lohan's first TV gig post-rehab is…
July 29th, 2013 under E!, Lindsay Lohan. [ Comments:

3

]

Everyone is wondering who will get the first interview with Lindsay Lohan when she gets out rehab and now we know at least one of her first, if not first, appearances. She will be taking over as the host for Chelsea Lately on August 5th at 11p on E!.
I wonder if Chelsea Handler bribed her with Vodka to get her to do the job? Too soon?
BTW how did Oprah Winfrey let this happen? I thought Oprah bought her soul?
---
Kevin and Dani Jonas overcome his snoring to make a baby!
July 9th, 2013 under E!. [ Comments:

none

]

The Jonas family is getting a little bigger because Kevin and Dani Jonas are expecting their first child together after 3 and a half years of marriage.
The oldest Jonas brother confirmed the news to E!, the network that airs their reality show Married to Jonas. No word when Baby Jonas is due, something I am sure we will have to wait until the third season of their show to find out. Which I assume the little addition just guaranteed for the happy couple.
---
Maggie Gyllenhaal has created the international sign for breastfeeding!
June 21st, 2013 under E!, Jake Gyllenhaal. [ Comments:

none

]

Maggie Gyllenhaal was on Chelsea Lately yesterday and she was talking about breastfeeding her daughter on the set of White House Down. When they were filming and it was time to feed her kid, she would ask the AD if she could go ahead and do so. Sometimes he would be willing, but other times he wouldn't be. So when it was one of those times, she would get his attention by squeezing her boob twice. Once he saw that, he let her do what she needed to do.
So I think by sharing this story, she has inadvertently come up with the new international sign for breastfeeding!
---
Melissa Joan Hart made out with Ryan Reynolds
June 14th, 2013 under E!, Melissa Joan Hart, Ryan Reynolds. [ Comments:

none

]

Melissa Joan Hart was on Chelsea Lately yesterday and she told Ross Matthews about one of the stories in her book Melissa Tells All. Back when she was 19 and Ryan Reynolds was 17, they did a movie together called Sabrina the Teenage Witch. When they were done filming, he bought her a little present. When she opened the box, it was a Bulova watch. Since he already left the room, she ran after him to thank him. And she thanked him by making out with him.
I have been looking for a reason to dump him off of my To Do list and that was it. I could handle the bad movies, I tolerated his marriages; but that was the final nail in his coffin to my heart. That bubble butt could only carry him so far and this was it.
In case you forgot what the two of them were like in that movie, here is a scene from it.
---
This isn't what Uncle Sam meant when he said I Want You
November 6th, 2012 under E!. [ Comments:

none

]

Joan Rivers Tweeted the above photo and at first I thought she was spending too much time with her boy dogs. And then I remembered what Uncle Sam says and I am sure that is not what he meant when he said "I Want You". But then again I can see why she is so attracted to him because she finally met a man that is as made of as much plastic as she is.
BTW I am surprised she isn't grabbing his crotch because that is what I would expect her to do!
---
Who looks better in a hospital gown?
June 1st, 2012 under E!, Pink. [ Comments:

none

]

Pink and Chelsea Handler Tweeted pictures of themselves in hospital yesterday and I want to know who looks better in the mandatory attire for the place? I think the singer wins the beauty competition hands down.
So why were the two blonds in the hospital yesterday? Pink Tweeted this along with the picture, "Maybe it's cause my mom was an ER nurse all my life- but throw me in a gown and a hook me up to an IV- and I'm a happy girl. Stomach flu sucks but morphine doesn't." Then a few hours later she updated us on her condition by saying, "Thanks for all the get well wishes. And no-they don't give morphine for flu. I might have ulcers again. Because I care too much. It's a gift" And we care too much about her, so hopefully she will be better soon.
Now when it comes to the talk show host, she was in there for knee surgery. I guess if you spend as much time one them as she does then you are going to have to eventually get surgery on them. Sorry she made it too easy for me.
---
Do Joan Rivers and Kelly Osbourne have something to tell us?
May 1st, 2012 under Do they have something to tell us?, E!. [ Comments:

none

]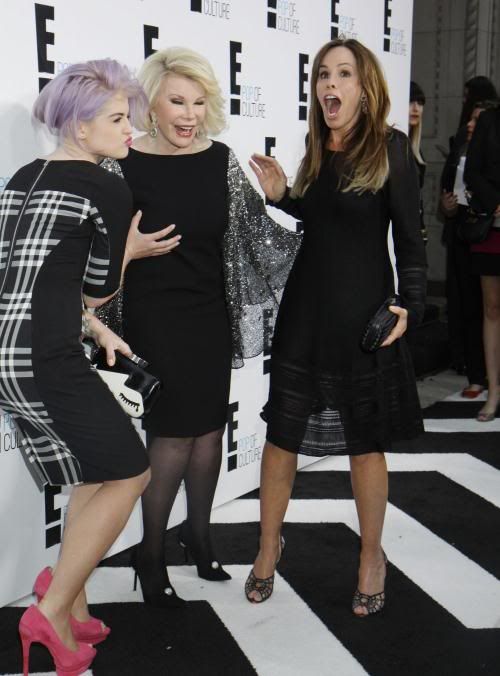 Fame Flynet Pictures
Kelly Osbourne was seen feeling up Joan Rivers at the E! Upfronts and I wonder if the Fashion Police hosts have something to tell us? I don't want to know, especially since Kelly looks as old as Joan with that purple hairdo. I know the new aunt likes it, but I think it aged her like 50 years.
---
Why does E! hate us so much?
April 30th, 2012 under E!. [ Comments:

none

]

E! is the network that brought us four shows dedicated the Kardashians, gave Joan Rivers another show where she critiques celebrities clothes, let Ryan Seacrest have even more airtime than he already had and thought that Chelsea Handler was funny enough to have a daily talk show and now they are bringing us more shows with people who need more time off our TVs instead of on.
Today the network announced three more shows that are coming to their airwaves. Whitney Cummings, Chelsea Handler's protegee who is equally as unfunny, is getting a weekly talk show called Love You, Mean It with Whitney Cummings. Nigel Lythgoe is getting another reality show called Opening Act. I don't really understand what it is about, but I don't really care because I won't be watching. His arrogance bothers me so much that anything his name is attached to is immediately a turn off for me. The last new show coming to their lineup is following the married life of the Jonas Brother we don't care about. Kevin Jonas and wife Danielle are starring in their own reality show called Married to Jonas. I expect the this show will be as exciting as their biggest problem, Kevin's snoring.
So once again I ask, why does E! hate us so much and give these people more airtime.
---