I never realized how small Zach Braff's hands are!
November 16th, 2015 under Zach Braff. [ Comments:

none

]

Maybe it is me, but one of the last things I check out when I look at man is his hands. Maybe that is why I never realized until now how tiny Zach Braff's hands really are. You know what they say about hand size, it is related to the most important thing they hold. They do say that, right?
---
Do Ed Sheeran, Zach Braff & Kitt Harrington have something to tell us?
June 2nd, 2015 under Do they have something to tell us?, Ed Sheeran, Zach Braff. [ Comments:

none

]

Zach Braff and Ed Sheeran met during Undateable's Live show last month and they have been seen a lot together since then. Today, the Scrubs star shared a photo with the singer licking his face and I have to wonder if they have something to tell us? Since Kitt Harrington is mixed up in it, I wonder if he is also joining in their Game of Thrones.
Normally, I would say nothing is happening between them, but here's what Braff said, "While Ed Sheeran tries to seduce me, Jon Snow worries about the Wildlings." So I don't know what to think? What do you think?
---
Is Sesame Street trying to give Zach Braff a heart attack?
January 27th, 2015 under Sesame Street/Muppets, Zach Braff. [ Comments:

none

]

You'd think being on Sesame Street would be a relaxing job, but for Zach Braff it made him very anxious. That is because it was his word to teach the viewers about. A word that wasn't given to Telly and him, so that made them anxious. What made them even more anxious was when they were given a Jack in the Box to reveal their word. The anxiety of waiting to find out what was in that kids' toy was almost too much for these anxious guys. So much so, I thought it was going to be too much for their hearts to handle. And that made me anxious.
---
Who knew Zach Braff had all that under his scrubs?
January 26th, 2015 under Zach Braff. [ Comments:

1

]

Zach Braff is the latest celebrity to join the Free the Nipple campaign and who knew he was hiding that body under his clothes. I don't know why, but I was expecting him to be kind of doughy and not as toned as he is. What did you think he looked without his shirt?
---
Zach Braff and Dax Shepard aren't the same person and Undateable!
May 23rd, 2014 under Bill Lawrence, Zach Braff. [ Comments:

none

]

This Thursday, Undateable is going to premiere on NBC at 9p and you don't want to miss this very funny sitcom that will have you laughing nonstop. Since it is the summer it is kind of hard to get the word out there about the premiere of the show; so the creator, Bill Lawrence, and the star, Chris D'Elia, found an interesting way to promote it. Lawrence called up his former star Zach Braff and the Scrubs' doppelganger Dax Shepard and asked them to record a little something to promote the show. What they say will have you laughing as hard as you will when the you check out Undateable on Thursday. So make sure to watch both!
---
Do you Wish I Was Here after watching the teaser trailer?
April 9th, 2014 under Zach Braff. [ Comments:

none

]

The first teaser trailer is out for Zach Braff's movie Wish I Was Here that was funded by Kickstarter and do you think he did a good job with your money? I didn't kick in any money to make it happen and I don't think I will be kicking in any money to it when it comes out on July 18th. It just seems too depressing for me.
---
Is Zach Braff trying to be Anastasia Steele?
December 10th, 2013 under Zach Braff. [ Comments:

none

]

Zach Braff Tweeted the above photo and said, "Practicing my lip bite for Gone Wild." But I am wondering if he is really trying to land the already casted role of Anastasia Steele in Fifty Shades of Grey since that is the thing that really drove Christian Grey crazy. You know what, he is turning me on, so maybe he should replace Dakota Johnson? Actually his eyes more than his lip biting is what's making me want to scrub up my red room for him!
---
BTWF pilots: Zach Braff in High
March 11th, 2013 under Before They Were Famous, Craig Ferguson, Zach Braff. [ Comments:

none

]

Before Zach Braff was being interviewed by Craig Ferguson on The Late Late Show, the two men starred in High together. How cute was the 14 year old in that 1989 unaired pilot.
---
Zach Braff needs to scrub his mouth out with soap!!!
June 14th, 2012 under Zach Braff. [ Comments:

none

]

NSFW


I always thought that Zach Braff came off squeaky clean because he reminds me of a Sesame Street character for some reason. But today the Garden State native Tweeted a video that is making me see him in a different light and I love him for that. He basically strung a bunch of curse words together to make the dirtiest sentence you will ever hear. So why did he do it? He Tweeted this along with the video, "NSFW. I was once asked by a British TV crew what my favorite curse was. I did not imagine it was gonna be on Youtube…" Well it is on YouTube now and for the first time I really want to play doctor with him and I will be his patient. I likey when Braff talks dirty to me and I guess you guys too.
---
What is Zach Braff doing in the water?
January 2nd, 2012 under Zach Braff. [ Comments:

none

]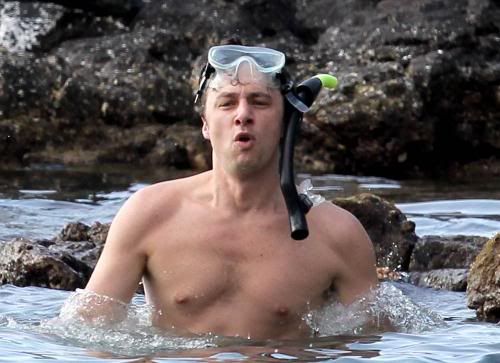 Fame Pictures
Is it just me or is anyone else wondering what exactly is Zach Braff doing with his hands underneath in the water? I mean with that face and the arm movement it looks like he scrubbing something in the water that he should be scrubbing in public!
---