Jon Bon Jovi is Living on a Prayer with Prince WIlliam!
November 27th, 2013 under Bon Jovi, Taylor Swift, The Princes. [ Comments:

none

]

via Express
Jon Bon Jovi took the stage at a charity event for Centrepoint held at Kensington Palace yesterday and Prince William joined him when the rocker sang his song Living on a Prayer. Unfortunately Taylor Swift also rocked (if you can call it that) out with them. She can't dance and she can't sing rock, so even though the new pop asked her to join in she should've said no because that was all types of awful. I love how Jon put the guitar between himself and her, probably as his way of saying don't write a song about me and don't you dare date my sons.
No if you take her out of the mix, that performance was all kinds of awesome. Not only does it showcase Jon's voice, the Prince's isn't that bad either!
---
Ed Sheeran clowning around
September 22nd, 2013 under Taylor Swift. [ Comments:

none

]

Ed Sheeran dressed up as a clown yesterday during his concert with Taylor Swift. His look was so scary that that fear of clowns I never has, I am now have. It appears that Taylor agrees with me by her expression in that picture.
---
Taylor Swift finally shows some emotion and it's the one we are all having!
May 20th, 2013 under Taylor Swift. [ Comments:

none

]

via Us Weekly
Taylor Swift was backstage at The Billboard Music Awards, and she came upon Justin Bieber and Selena Gomez. As soon as she saw the reunited lovebirds kiss, she did what we all did and stuck out her tongue. Now was she grossed by their Romeo & Juliet affair. Or could it be because he is the one man she hasn't been able to date and write a song about? I am thinking the latter because she hasn't written a song about any guy for a while now. Well it would be normal for most people, but for her it is like an eternity.
BTW I love that true colors were revealed. She is like that Britney Spears song, I'm Not That Innocent! She looks sweet, but as we can see looks can be deceiving.
---
Is this Taylor Swift's fake O face?
November 7th, 2012 under Taylor Swift. [ Comments:

none

]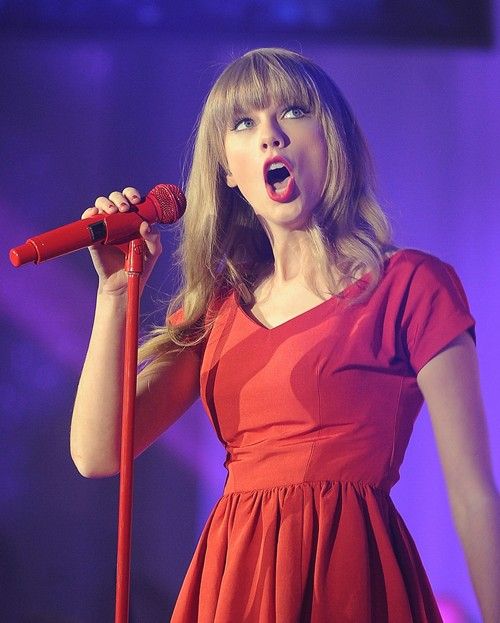 Fame Flynet
Taylor Swift was performing at Westfield London and she hit a note that made me wonder if that is her fake O face. Seriously doesn't it look like it could be?
---
Taylor Swift shows emotions like someone who had Botox
October 25th, 2012 under Ellen DeGeneres, Taylor Swift. [ Comments:

none

]




Taylor Swift is a guest on Ellen today and Ellen DeGeneres not only scared on the show, but she also scared her before the show too.
Before the show started Ellen made her walk through the Haunted Hallway and even though the singer was terrified her face didn't show it. If it wasn't for the jumping up and down, I seriously would've thought she was OK with it.
Then while she was interviewing Taylor, she tried to cure the country star of her fear of earwigs. So while Ellen was explaining to her that they don't eat your brains like a Zombie, she had someone dressed in a earwig costume frighten her from behind. Again she was so blah about it, it is hard to tell how she really felt about.
Seriously she is so boring, even people who have had Botox show more emotion than her.
---
It's like Taylor Swift and Justin Bieber singing Baby!
August 24th, 2011 under Justin Bieber, Taylor Swift. [ Comments:

none

]

Yesterday during Taylor Swift's concert here in LA, Justin Bieber came out and surprised everyone by singing a duet of his biggest hit Baby with her. And you know what it totally worked! They should totally record a duet together and even better yet maybe do a tour together. They would sell out every arena they played and reading their Tweets to each other it might just happen. Taylor had this to say to her Romeo, "You think you've heard LOUD screaming in your life.. Then @justinbieber comes out and does a surprise song during your show. Woah. Unreal." And he Tweeted this back to his baby, "@taylorswift13 we should do that more often.

great show! #muchlove"
BTW I think she sounded better singing his song, here is her doing it all by herself!
---
Taylor Swift shows off her granny panties
August 15th, 2011 under Taylor Swift. [ Comments:

none

]

Taylor Swift was singing her hit song You Belong to Me in St Louis on Saturday when she made the mistake of walking by a big fan. She quickly learned the errors of her way when the wind blew up the back of her dress to reveal that she was wearing either Spanx or granny undies underneath. Instead of getting frazzled and walking off the stage, she used her left hand to hold her dress down, stepped away from the fan and kept performing.
When it comes to her underwear, gotta give her credit for wearing her a pair of panties that wouldn't show of too much to her fans unlike other stars.
---
Taylor Swift is wise beyond her years
May 11th, 2011 under Ellen DeGeneres, Taylor Swift. [ Comments:

none

]

Taylor Swift is on The Ellen DeGeneres Show today and what the 21 year old singer told Ellen showed me that she is so wise beyond her years. The host asked her how she handles the pressures of being a celeb and handling having the paps follow her around. Well the Fearless singer responded to her question by saying, "I think it's just obnoxious if I complain about anything…I hear people talk about like, oh, the intrusions on my privacy. It's like there are a million other jobs you could have had." She is so right. While it is not fun to have your privacy invaded, it is also what they signed up for when they decided to become a star. Good for her for being so mature about it! Hard to believe she is only 21 with an outlook like that.
---
Taylor Swift is thankful for Speak Now!
November 25th, 2010 under Taylor Swift. [ Comments:

none

]

Tonight on NBC at 8p you can see how thankful Taylor Swift is for her latest album Speak Now by getting an upclose look at her promoting it. You will get a behind-the-scenes look at her finishing it up, going to NY and LA to promote it and greeting her fans at different places. It is an inside look at Taylor Swift as you have never seen her before and you really get to know her. Oh and did I mention, you get to hear her sing the songs from it and learn what they mean to her? So don't be a Kanye and watch Taylor Swift Speak Now on NBC tonight at 8p!
---
Taylor Swift is that you?
November 22nd, 2010 under Taylor Swift. [ Comments:

2

]

WireImage
Taylor Swift debuted her new look at the AMAs and I could barely recognize her. It is not as much the straight hair with the thicker bangs as much as we can actually see her eyes. Last year's Justin Bieber always seems to be squinting, but for some reason with her new hairdo it really opens up her eyes. Keep it up Taylor because looking like Renee Zellweger's secret daughter wasn't working for you.
---