CeeLo Green left The Voice for this!
February 24th, 2014 under The Voice. [ Comments:

none

]

Last week, CeeLo Green announced that he was leaving The Voice to get back into creating his own music; and today he released his first new music video on FunnyOrDie. Amy, is not just a song, it is lesson for people about accepting interracial relationships. The singer reunited with Goodie Mob and used puppet versions of themselves to teach kids and us about the first white girl he fell in love with when he was younger.
While the messaging is great, I just don't know what to make of the trippy video. It's like '80s afterschool special on drugs and I'm not sure that is a bad thing.
---
CeeLo Green loses his Voice
February 19th, 2014 under The Voice. [ Comments:

none

]

CeeLo Green is a guest on The Ellen DeGeneres Show today and the Daytime talkshow host told him she is going to miss him on The Voice this season. It was then that he dropped a bomb by telling her that he was not only taking this season off, but he is never returning to the show as a Coach. He instead will be working on other projects for NBC and his first album in four years.
We will miss his cooler than coolness on the show, but I have faith they will find someone who is just as entertaining to sit in his red chair. If I can throw my hat into the ring, I hope that they replace him with Pharrell Williams. Mostly because I want to see how many different hats he can wear on the singing competition.
---
Did Edward Scissorhands cut Adam Levine's hair?
February 1st, 2014 under The Voice. [ Comments:

none

]

Adam Levine Tweeted a picture of his new hairdo and it looks like Edward Scissorhands did it. Either that or this year's Sexiest Man Alive asked for the Sideshow Bob. What do you think of his new do?
---
BTWF bands: Adam Levine in Kara's Flowers
November 26th, 2013 under Before They Were Famous, The Voice. [ Comments:

none

]

Before Adam Levine was the People's Sexiest Man Alive, he was the lead of singer of Kara'a Flowers. How cute, not yet sexy, was the 17 year old in that 1997 music video for Soap Disco?
---
Jay Leno asked Blake Shelton if he gets aroused by Adam Levine!
November 21st, 2013 under Jay Leno, Jimmy Kimmel, The Voice. [ Comments:

none

]

Blake Shelton was a guest on The Tonight Show yesterday and Jay Leno asked him about his Voice co-coach, Adam Levine, getting the People's Sexiest Man Alive title. Blake hinted he should've been the one to get it, and the NBC late night host didn't want to respond to that hint.
Then Leno asked if the Maroon 5 singer arouses him and the country star responded by saying, "He's got some feminine qualities." But that is just his Bromance talking.
Personally, I think if NBC and/or The Voice was going to buy anyone that title, it should've been Blake. I think his deep dimples make him so sexy!
BTW here is Adam Levine accepting his honor on Jimmy Kimmel Live yesterday.
---
Adam Levine's special talent!
November 19th, 2013 under Live with Kelly and Michael, The Voice. [ Comments:

none

]

Adam Levine was on Live with Kelly and Michael and he revealed an extraordinary talent he has. Back when The Voice coach was a kid, his aunt used to work as a writer on a show that taped every week. So of course, he would go to the tapings as much as he could. At the beginning of the season, the warm up guy said he would give anyone $20, who could balance a baseball cap on their nose. Well the Maroon 5 singer took that as a challenge and at the last taping, he took the guy up on his offer.
So watch as the now grown up kid attempts to that same trick. It is actually pretty cool, especially the way he ends it! I wonder what else he can do with his schnoz?
---
Do Blake Shelton and Greg Grunberg have something to tell us?
October 29th, 2013 under Do they have something to tell us?, Heroes, The Voice. [ Comments:

none

]

Greg Grunberg Tweeted this photo of him in a sweet embrace with Blake Shelton and I have to wonder if they have something to tell us? Probably not because both of them are happily married, well depends who you read. Anyways, I am sure it is just that Blake is Greg's voice and Greg is Blake's hero!
No matter what is happening in the photo, it was too cute not to share!
---
CeeLo Green adds some soul to a few great TV theme songs
September 26th, 2013 under Jay Leno, The Voice. [ Comments:

1

]

CeeLo Green was on The Tonight Show yesterday and Jay Leno asked the F*ck You singer about his talent for singing TV Theme Songs. Seems the coach from The Voice has a knack for singing the songs that open television shows. So the NBC late night host asked him to sing a few. First up was The Golden Girls, followed by The Jeffersons, Family Ties and finally The Brady Bunch. All four of those songs were made a little bit better with his voice, that is when he knew the words to them.
Seriously his excitement as he belted out those songs, just brought a big old smile to my face and I am hoping it does the same for you!
BTW it really makes me sad that shows have stopped using theme songs because they really helped to make shows better and more memorable. Think how excited you get whenever you hear the opening to Friends, Cheers or The Greatest American Hero to name a few. It's a happiness the networks are depriving us from these days and I want them back. Do you agree?
---
I just died in Sean Hayes' arms during his Voice audition!
August 28th, 2013 under Hazy Mills, The Voice. [ Comments:

none

]

Sean Hayes has three shows airing on NBC: Grimm, Hollywood Game Night and Sean Saves the World. Well I guess that isn't enough for him because he also auditioned to be on The Voice. The peacock network released his audition video and you will totally want to die in his arms after you hear it.
Although it looks like we might have a new name for the coaches, Blake Shelton, Adam Levine, Cee Lo Green and Christina Aguilera, because I think they should now be known as the Cutting Crew. I don't know why they didn't see what I saw in him. Oh yeah it was during the blind auditions.
The Voice returns to NBC on September 23rd and Sean Saves the World makes it debuts on October 3rd. Both are shows you don't want to miss.
---
The Voice didn't have time for Jennifer Lopez!
July 30th, 2013 under J-Lo, The Voice. [ Comments:

none

]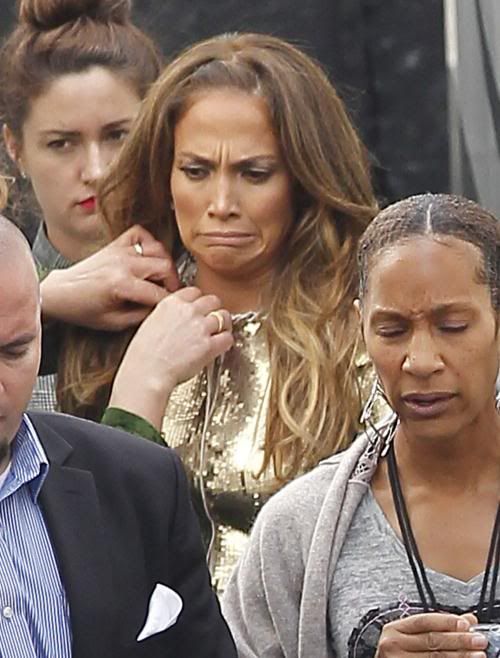 (photo from Fame Flynet)


Remember how Jennifer Lopez didn't have time for American Idol this season, well The Voice did have time for her during their season finale.
One source told Page Six, "It was simply a matter of timing. The producers love Jennifer Lopez and tried to make it work, but due to the show's format it just didn't allow for another solo performance." Then another one added, "Cher was booked months in advance. There was only room left for someone to do duets [with the finalists]. But the genres were country and EDM [electronic dance music] — which did not seem like a natural pairing." Or maybe she just wasn't a natural pairing for the show since she did the other singing competition?
---