Seinfeld's Jason Alexander is not that Jason Alexander or that one!
July 30th, 2015 under Seinfeld. [ Comments:

1

]

You wouldn't think that Jason Alexander is that common of a name, but turns out it is in Hollyweird. We all know that Jason Alexander played George Costanza on Seinfeld, but there are thing he wants his mom and you to know someone else with his name did.
The Jason Alexander we know has starred in Broadway musicals, but he has never been married to singer Britney Spears for a few hours. The Jason Alexander we know has never been on any Law & Orders, so he doesn't know the director who was arrested for alleged child porn and he also, more importantly, did not commit that crime.
What the Jason Alexander we know has done, has made us laugh for many years and will continue to do so by not marrying child singers or be involved with child porn. His mom can continue to be proud of her son. That is unless he does a sequel to Dunston Checks In.
---
Jimmy Fallon plays the worst game of Pictionary!
December 2nd, 2014 under Jimmy Fallon, Seinfeld. [ Comments:

none

]

Yesterday on The Tonight Show, Jimmy Fallon played Pictionary with Martin Short (who was on his team), Jerry Seinfeld and Miranda Sings. The game was so bad that it ended in a tie. As in both teams didn't score any of points.
So watch one of the worst games of Pictionary ever played because it is always fun to watch two teams compete for suckiest team of them all.
---
BTWF roles: Bryan Cranston on Seinfeld
August 25th, 2014 under Before They Were Famous, Seinfeld. [ Comments:

none

]

(the kiss is at 4:38 in)


Before Bryan Cranston and Julia Louis-Dreyfus kissed at the Emmys, they kissed on Seinfeld. He looks the same now as he did when he was 38 in that 1995 episode.
---
BTWF roles: Julia Louis-Dreyfus in Troll
March 12th, 2014 under Before They Were Famous, Seinfeld. [ Comments:

1

]

Before Julia Louis-Dreyfus was friends with Jerry, George and Kramer on Seinfeld, she was friends with more than one Troll. She looks the same now as she did when she was 24 in that 1986 movie.
---
When bad photos happen to good people: Julia Louis-Dreyfus
March 12th, 2014 under Bad Photos Good People, Seinfeld. [ Comments:

none

]

via Getty Images
Julia Louis-Dreyfus attended the The Television Academy's 23rd Hall Of Fame Induction Gala yesterday and she was photographed looking like she was checking out her boobs to make sure they were even. It wouldn't be so bad if her face didn't look like she sucked on a lemon. Now having said all of that, I still think she looks great.
---
Did Jerry Seinfeld and George Costanza have the big salad at Tom's?
January 13th, 2014 under Seinfeld. [ Comments:

none

]

So Club AliP was walking on Broadway by the infamous Tom's Restaurant and to his amazement he saw Jerry Seinfeld and George Costanza aka Jason Alexander walking into that diner. What were they doing there? We really don't know. We do know they were filming something, but that is all. We are assuming that something is Seinfeld's webseries, Comedians In Cars Getting Coffee. Personally, I wish it was a reunion show because I still feel jipped by the series finale and want one more episode to make up for it. Yada, yada.
---
Jason Alexander is back to bald
September 26th, 2013 under Seinfeld. [ Comments:

none

]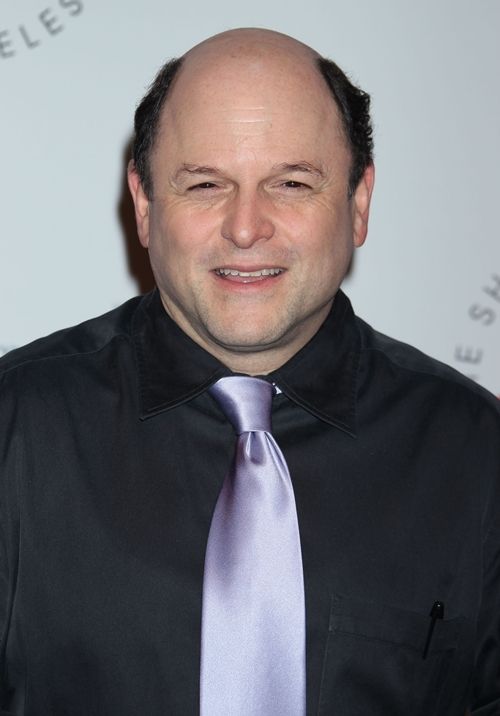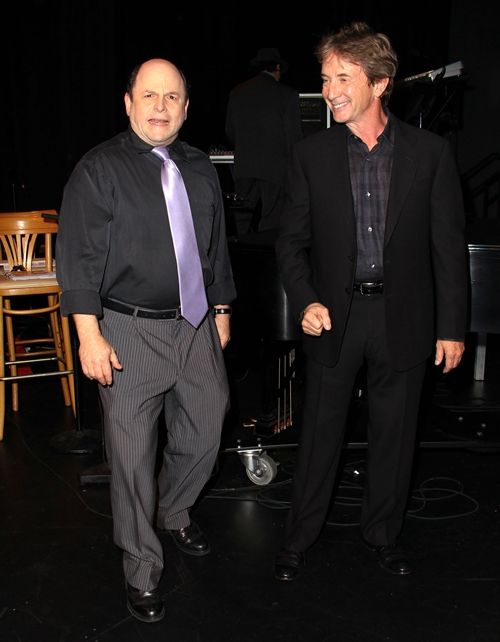 Fame Flynet
Just over a year ago Jason Alexander debuted his full head of hair, something we hadn't seen since the '80s, and now those locks on the top of his head are gone. I don't know what happened to them, but I think he looks gorgeous with or without them. How do you like George Costanza better bald or hairy?
---
Emmy award winning Julia Louis-Dreyfus loses it at a coffee shop!
September 24th, 2013 under Jimmy Kimmel, Seinfeld. [ Comments:

4

]

On Sunday night Julia Louis-Dreyfus was all happy when she won the Emmy for Veep, but that was then. Jimmy Kimmel Live got their hands on a video of the Seinfeld star losing her sh!t at a coffee shop when they f*cked up her order. It was so crazy that even George Costanza seems calm as compared to her.
Who knew she has that side to her? I totally didn't, did you?

UPDATE: Julia Louis-Dreyfus Tweeted about the experience, "Wow. This is a bummer. Full disclosure, I was really tired."
---
Did someone just tell Jerry Seinfeld some of his recent jokes?
September 17th, 2013 under Seinfeld. [ Comments:

none

]

Fame Flynet
Jerry Seinfeld attended the premiere of Enough Said yesterday and the paparazzi caught him making the stink face. You know like someone who just went into the bathroom right after the person before them took a big old smelly sh!t or like someone who has sat through his act recently. Seriously what is up with that face? I hope no one hit him the back because it will stay that way and that is not a way we want it to stay.
---
Late Night hits it out of the park with this updated version of Who's on First?
December 21st, 2012 under Billy Crystal, Jimmy Fallon, Seinfeld. [ Comments:

none

]

One of Abbott and Costello's most famous routines was "Who's on First?" Well yesterday on Late Night, Jimmy Fallon recreated the bit playing Bud Abbott and Steve Higgins as Lou Costello. But unlike the original bit they added Who, What and IDontKnow to the NBC show's take on it and I think it might've actually made it even funnier. Granted it could be because Billy Crystal was Who and Jerry Seinfeld was IDontKnow, but I think it was more than that. It just added a whole new level of mayhem to the gag having the basemen join in, don't you agree?
The only problem I had with it, is Fallon is the man of many voices and yet he kinda sucked as Bud Abbott. That and I wish that Robin Williams played What or IDontKnow!
If you say I don't know who Abbott and Costello are and what Who's on First? is, then you can watch them do it below from the 1945 movie The Naughty Nineties!
---