Did Jerry Seinfeld and George Costanza have the big salad at Tom's?
January 13th, 2014 under Seinfeld. [ Comments:

none

]

So Club AliP was walking on Broadway by the infamous Tom's Restaurant and to his amazement he saw Jerry Seinfeld and George Costanza aka Jason Alexander walking into that diner. What were they doing there? We really don't know. We do know they were filming something, but that is all. We are assuming that something is Seinfeld's webseries, Comedians In Cars Getting Coffee. Personally, I wish it was a reunion show because I still feel jipped by the series finale and want one more episode to make up for it. Yada, yada.
---
Jason Alexander is back to bald
September 26th, 2013 under Seinfeld. [ Comments:

none

]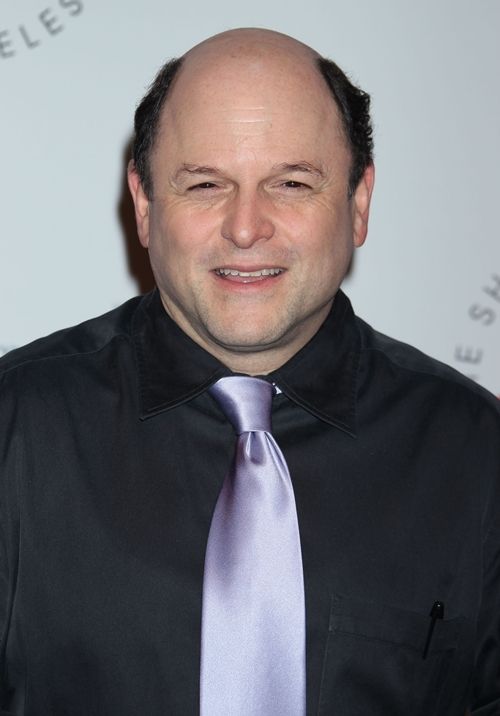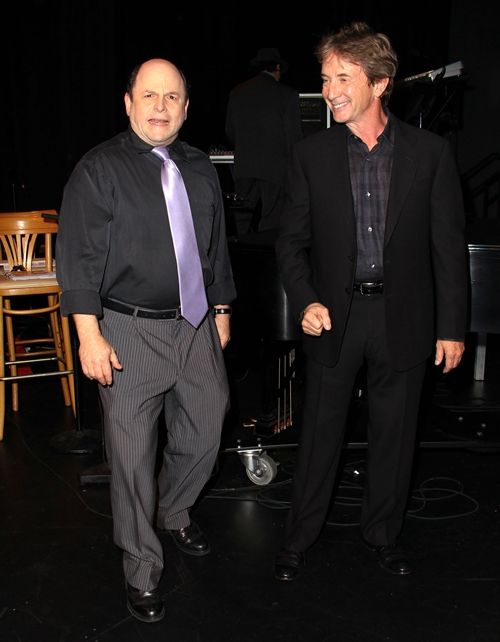 Fame Flynet
Just over a year ago Jason Alexander debuted his full head of hair, something we hadn't seen since the '80s, and now those locks on the top of his head are gone. I don't know what happened to them, but I think he looks gorgeous with or without them. How do you like George Costanza better bald or hairy?
---
Emmy award winning Julia Louis-Dreyfus loses it at a coffee shop!
September 24th, 2013 under Jimmy Kimmel, Seinfeld. [ Comments:

4

]

On Sunday night Julia Louis-Dreyfus was all happy when she won the Emmy for Veep, but that was then. Jimmy Kimmel Live got their hands on a video of the Seinfeld star losing her sh!t at a coffee shop when they f*cked up her order. It was so crazy that even George Costanza seems calm as compared to her.
Who knew she has that side to her? I totally didn't, did you?

UPDATE: Julia Louis-Dreyfus Tweeted about the experience, "Wow. This is a bummer. Full disclosure, I was really tired."
---
Did someone just tell Jerry Seinfeld some of his recent jokes?
September 17th, 2013 under Seinfeld. [ Comments:

none

]

Fame Flynet
Jerry Seinfeld attended the premiere of Enough Said yesterday and the paparazzi caught him making the stink face. You know like someone who just went into the bathroom right after the person before them took a big old smelly sh!t or like someone who has sat through his act recently. Seriously what is up with that face? I hope no one hit him the back because it will stay that way and that is not a way we want it to stay.
---
Late Night hits it out of the park with this updated version of Who's on First?
December 21st, 2012 under Jimmy Fallon, Seinfeld. [ Comments:

none

]

One of Abbott and Costello's most famous routines was "Who's on First?" Well yesterday on Late Night, Jimmy Fallon recreated the bit playing Bud Abbott and Steve Higgins as Lou Costello. But unlike the original bit they added Who, What and IDontKnow to the NBC show's take on it and I think it might've actually made it even funnier. Granted it could be because Billy Crystal was Who and Jerry Seinfeld was IDontKnow, but I think it was more than that. It just added a whole new level of mayhem to the gag having the basemen join in, don't you agree?
The only problem I had with it, is Fallon is the man of many voices and yet he kinda sucked as Bud Abbott. That and I wish that Robin Williams played What or IDontKnow!
If you say I don't know who Abbott and Costello are and what Who's on First? is, then you can watch them do it below from the 1945 movie The Naughty Nineties!
---
Jerry Seinfeld's unfunny lesson on how to write a joke
December 20th, 2012 under Seinfeld. [ Comments:

none

]

Seinfeld is considered by some the greatest sitcom to ever air on US television. Well after listening to Jerry Seinfeld explain to The New York Times how he comes up with a joke, I am beginning to wonder how and why that show deserves such a honor. I mean it is so unfunny, I found myself heckling him and then I realized I wasn't drunk at a comedy club.
Seriously that was so bad, I am beginning to ponder if he actually wrote any of the jokes on the show or if Larry David did all the work. I have seen the Curb Your Enthusiasm star at a press event and he was funny. His partner before the HBO show, not even close.
Granted maybe I am just not in on joke and him not being funny during that lesson was the joke. But I highly doubt it.
---
Seinfeld and Kramer together again!
September 27th, 2012 under Seinfeld. [ Comments:

none

]
>


Jerry Seinfeld has a hot new webseries on Crackle called Comedians in Cars Getting Coffeeand his latest trip is with someone he rode with for a long time. The comedian is reunited with Michael Richards aka Kramer and they don't seem to have that same relationship they had on that NBC show they did together in the '90s. Even though things are different I still can't wait to see the whole webisode because I think that is the first time we have seen Richards do something since that infamous rant he had a comedy club. It will be interesting to see how he has changed.
---
Julia Louis-Dreyfus' interesting way to celebrate her Emmy nom
July 19th, 2012 under Seinfeld. [ Comments:

none

]

Maybe because Julia Louis-Dreyfus has been nominated for an Emmy as many as times Lucille Ball, I guess she thought it was OK to celebrate her 13th nom in a clean way. As in getting her teeth cleaned. At least we know she will have a great smile on Emmy night, you know when she is in that box and they announce another person's name. Not that I want to her to lose, I just don't think she as a chance against the other actresses. But then again I never thought that Melissa McCarthy was going to win for Bridesmaids because let's be real she is a one note wonder on Mike & Molly.
Now back to Elaine not only did she get an Emmy now, she was also told she's cavity free. Not a bad way for the Veep to spend a Thursday.
---
BTWF talk shows: Jerry Seinfeld on The Tonight Show
May 7th, 2012 under Before They Were Famous, Seinfeld. [ Comments:

none

]

Before Jerry Seinfeld had one of the biggest shows on television, he made his national television debut on The Tonight Show. How funny was the 26 year old getting his TV cherry popped in 1981.
BTW Jerry Seinfeld Tweeted this information over the weekend and said, "Today May6 is the 31st Anniversary of my first National TV appearance with Johnny Carson. 1981.I was 26. #whentvmattered" I love that he hasn't forgotten how it all began for him.
---
Jimmy Kimmel is a big teddy bear!!!
March 19th, 2012 under Jimmy Kimmel, Seinfeld. [ Comments:

1

]

Julia Louis Dreyfus just joined Twitter and one of her first Tweets was a picture of Jimmy Kimmel dressed as a big old teddy bear. The Seinfeld actress explained the photo and said, "This is @jimmykimmel doing a bear thing for my kid's school, which makes him the nicest man in all the land." I always thought that the ABC late night host was a big old teddy bear and now we get to see that he actually is one.
BTW is it wrong that this picture aroused my furry fetish???
---