Better Late Than Never could be the better than everything!
June 9th, 2015 under Henry Winkler, William Shatner. [ Comments:

none

]

NBC announced their newest reality show today and it has the potential to be the best thing ever. Better Late Than Never is going to send Henry Winkler, William Shatner, George Foreman, Terry Bradshaw and Jeff Dye to Asia and make them survive on their own without any help from everyone. Basically The Fonz can fish, The Shat can use Priceline, the Boxer can bring his grill, the football colorist can be that funny looking American they want to take pictures with for money and I am sure they're things that Jeff Dye learned on I Can Do That that will come in useful somehow.
Still confused by the show? Here's the description from the press release:
Henry Winkler, William Shatner, Terry Bradshaw, George Foreman and Jeff Dye will embark on the ultimate international excursion with no assistants, no limousines and no lattes, in search of an intimate, life-changing experience. The one-hour series will begin production in August, traveling to Tokyo, Kyoto, Seoul, Hong Kong, Bangkok and Chang Mai before heading home.
The five will navigate their way through each city — communicating with the local population, immersing themselves in local traditions and enjoying exotic food — all the while dealing with the unexpected twists and turns that any trip presents. As they check off items on their own personal "bucket list," the five will rely on each other for support and encouragement and, in the process, demonstrate that friendship is the ultimate gift.
Doesn't that sound like it will be happy day whenever it airs? Hopefully, it won't jump the shark like one of Winkler's other shows!
---
Ayyy Fonzie, Ralph Malph and Potsie, that's not Richie Cunnigham!
April 13th, 2015 under Full House, Henry Winkler. [ Comments:

none

]

John Stamos was playing with the Beach Boys the other night and he was joined on the stage by three familiar faces. They are The Fonz, Ralph Malph and Potsie aka Henry Winkler, Donny Most and Anson Williams. Looks like it was happy days for all of them and it was also a full house as the four of them tried to fit in the photo.
I guess Richie Cunningham aka Ron Howard wasn't there because Uncle Jesse told him to "sit on it."
In all seriousness, how awesome is it to see Arnold's biggest customers together again like that. They haven't aged since the show went off the air almost 31 years ago. Can you believe it has been that long because that show has been airing somewhere every day since then.
---
Someone actually asked Henry Winkler if he's done the Winkler?
July 3rd, 2014 under Henry Winkler. [ Comments:

none

]

Henry Winkler is the nicest guy in Hollywood, so I was shocked that a TMZ photographer actually asked him if he has ever done the Urban Dictionary version of the Winkler. What is the Winkler? It is, "A non-verbal form of communication used by men and women to initiate a hook-up and/or long-term relationship. The winkler consists of unzipping one's pants and waving one's penis at women until one of the women winks at the man doing the winkler thus confirming the hook-up." As if he ever would. He's too nice to do that and too nice to be asked about it.
So what happened is, at first the chat started off normally and the guy asked him if he knew what his surname, Winkler, means. The Fonz did not, but the photog did. Then after he explained what his last name means in an Ancestory book, the guy then told him what it means on UrbanDiction.com. Winkler was horrified, and yet remained polite as they crossed the street together. Then when the photog continued on with the questioning, Arthur Fonzarelli politely told him "I'm going now." Finally ending their conversation in a way that proves why he's the nicest guy in Hollywood by saying, "And I'm very happy to chat with you." Seriously, how can you not love him? Most celebrities would've ended their conversation with I'm going now, but he ended it by telling the guy he was happy to talk to him. What a genuinely nice person he is. So much so, I just want to hug him through the computer. Don't you want to do the same?
Not only because he is so nice, but you just want to comfort him after that line of questioning. Plus, it's not like the Winkler is referring to him as the Tony Danza is referring to the Who's the Boss star? Has anyone asked the Taxi star about that?
---
Ayyyyy! Henry Winkler's groovy new look!
June 18th, 2014 under Henry Winkler. [ Comments:

none

]

Henry Winkler\ went from a '50s cool guy to a far out '60s dude. So why is papa a rolling stone? It is for an upcoming episode of Children's Hospital. Even though I am used to seeing the nicest guy in Hollywood as The Fonz, I like him just as much looking like Keith Richards!
What do you think of his new style? Do you think it deserves a thumbs up or a sit on it?
---
Even Clue-Boom couldn't cause The Fonz to lose his cool!!!
January 27th, 2014 under Henry Winkler, NBC. [ Comments:

none

]

Henry Winkler is going to be on Hollywood Game Night on NBC tonight starting at 8p and he plays Clue-Boom against his TV son from Royal Pains, Mark Feuerstein. The game is a fast paced one, where the person up front has to get their teammates to guess the word they are describing. Once their teammates guess the word, they pass the bowl of clues to their opponent who passes back to them when they are done and so on. The reason why it is so fast paced is because there is timer counting down and whoever has the bowl of clues when the clock hits zero, gets Clue-Boomed. Which is basically that bowl of confetti blowing up in your face. Doesn't sound that bad, right? Well as someone who has been Clue-Boomed, it seriously scares the crap out of you. So did the coolest guy in the '70s keep his cool tonight? You will just have the watch the best game show on television starting at 8p to find out.
---
BTWF roles: Henry Winkler in Rhoda
June 12th, 2013 under Before They Were Famous, Henry Winkler. [ Comments:

none

]

(starts at 3:22)


Before Henry Winkler had a way with the ladies on Happy Days, he didn't with Rhoda. How cute was the 82 year old in that 1974 episode.
---
Henry Winkler likes to say the word f*ck!!!
October 10th, 2012 under Henry Winkler. [ Comments:

none

]

Henry Winkler was a guest on Howard Stern's Sirius XM show today and the shock jock asked The Fonz if he ever curses in his personal life. The nicest guy in Hollywood without any hesitation said, "I love to say the word f*ck!" Ayyyy! Consider my mind blown. I can't imagine him using that word because he is just so gosh darn swell. But now that I know he cusses, I find him even more attractive. I just love that he is so naughty and so nice!
BTW I am extremely upset that the f*ck was bleeped out because I would love to hear him say the word as is. I would just have to Sit On It. Yeah, I don't know what that means either.
---
Henry Winkler spits on it
March 2nd, 2012 under Craig Ferguson, Henry Winkler. [ Comments:

none

]

Yesterday Henry Winkler was on The Late Late Show and Craig Ferguson asked him if he spits when he talks. The nicest man in Hollywood says that he does. So then the CBS late night host asked if he ever laughs and a booger comes out. Then The Fonz said something that got the Scot to do just that. He said, "I blow before every conversation." Out of all the people to say that too, Ferguson is not the one you want to say blow and spit in front of because what Ferguson will do next is something that might be hard to swallow.
---
Henry Winkler's smile brings one to my face!!!
October 20th, 2011 under Henry Winkler. [ Comments:

none

]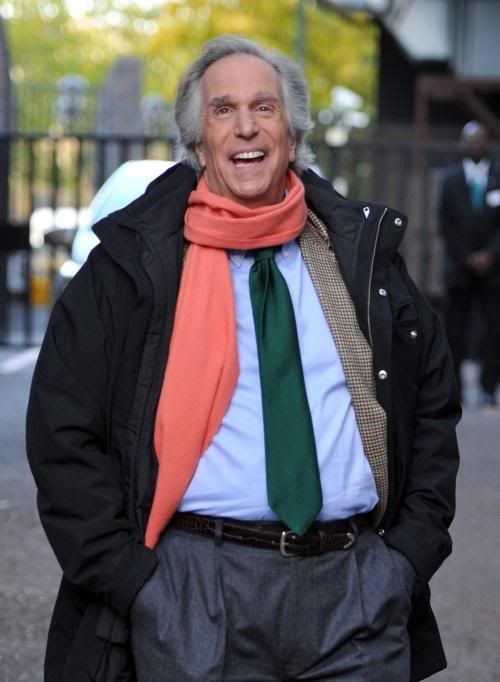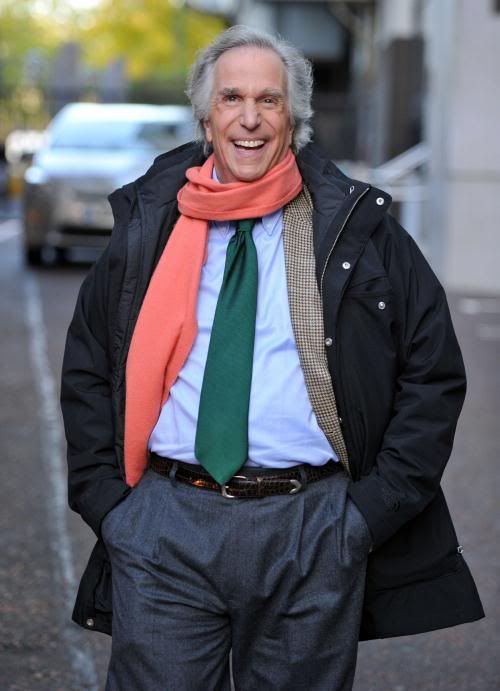 Fame Pictures
Just like saying Shiny Happy People three times, seeing Henry Winkler smile brings a huge grin to my face! It is a slow entertainment news days, but when I was going through the pictures and I saw The Fonz's happy face the day suddenly got better!
So if you need to smile, just look at the picture of the nicest guy in Hollywood and you will have Happy Days that will go into your Night Shift!!!
---
Sir Fonzie!
September 15th, 2011 under Henry Winkler. [ Comments:

none

]

(photo from WireImage)


Henry Winler was honored by the Queen of England yesterday with the Honorary Officer of the Most Excellent Order of the British Empire (OBE) title at the US British Embassy! The Happy Days actor had to say this about his new title, "Receiving this honour is a very humbling experience. My goal when I started working with children was never to bring accolades on myself, but instead to change how people think about those around them for whom learning is a struggle. I am flattered to have had my work recognised in this manner, and hope to continue showing kids that their learning difficulty isn't a disability." If any American deserved this honor, it is Hollywood's Nicest Actor! Ayyyyy!
---