How tall is Jake Gyllenhaal?
October 1st, 2015 under Conan O'Brien, Jake Gyllenhaal. [ Comments:

none

]

Did you know that there is a huge debate on the website CelebHeights.com on how tall is Jake Gyllenhaal. Starlee King, host of the Mystery Show Podcast, wanted to solve the mystery, so she asked him. The actor told her he is 5'11.5″ and the posters still believe it even though it came from him.
Tonight at 11p on TBS, when Kine was on Conan, O'Brien brought out Gyllenhaal to measure him so that they can end this debate once and for all. Off went the shows, up went the measuring tape and now we know his true height. I think?
I like a world where we debate the height of an actor. Can we be frivolous like this more often? We need to be!
---
BTWF roles: Jake Gyllenhaal in City Slickers
July 23rd, 2015 under Before They Were Famous, Jake Gyllenhaal. [ Comments:

none

]

Before Jake Gyllenhaal was a paleoclimatologist, studying the climate, in The Day After Tomorrow, he was in elementary school studying simpler things in City Slickers. How awwwdorable was 10 year old in that 1991 movie?
---
Is Jake Gyllenhaal secretly bald?
July 23rd, 2015 under Jake Gyllenhaal, Seth Meyers. [ Comments:

none

]

Jake Gyllenhaal is a guest on Late Night tonight and Seth Meyers shared a photo of the Southpaw star in hair and makeup. Or should I just say makeup because it appears he doesn't have any hair. So does he secretly wear a wig? It looks like that is the case, but looks can be deceiving. I am sure it is just a bit for the NBC show, but you never know.
Now back to Gyllenhaal, would you still love with no hair?

UPDATE: To see the answer, then click here!
---
Can people on the street spell Jake Gyllenhaal's last name?
July 22nd, 2015 under Howard Stern, Jake Gyllenhaal. [ Comments:

4

]

I have been working in entertainment news for more years than I would like to admit. Because of that I can spell a lot of celebrities names that the average person cannot. One of the harder names is Jake Gyllenhaal. You would think it is spelled Jillinhall, but as we know it isn't. We know the proper spelling because I have spelled it out to you.
What would happen if someone took a camera and asked people if they know how to spell the South Paw star's last name. Well The Howard Stern Show found out and the answer is surprising. The only person who got it correct was a man. You would think that it would've been a woman, who obsessed with him, but all they care about is how hot he is and not how to spell his name. Guess they weren't writing his last name in their notebooks after their first. I remember writing Johnny Deep in mine, until I found out it was with 2 Ps and 1 E. Personally, I like my way better.
---
I can't believe Jake Gyllehaal did that to David Letterman!
November 27th, 2014 under David Letterman, Jake Gyllenhaal. [ Comments:

none

]

Jake Gyllenhall was on The Late Show yesterday and David Letterman asked him to demonstrate the "Salmon" on him. What is it? Basically, you go up to someone who is standing with their legs apart, scream "Salmon!" as you quickly move your hand back and forth between their legs several times. Even though it doesn't look like it would be fun to have it happen to you, the CBS late night seemed to really enjoy it. And I enjoyed watching it!
---
Jake Gyllenhaal and Jimmy Fallon play a mean game of Water War!
October 30th, 2014 under Jake Gyllenhaal, Jimmy Fallon. [ Comments:

none

]

Jake Gyllenhaal was on The Tonight Show yesterday and Jimmy Fallon challenged him to a game of Water Water. The NBC late night host has played this game with Jon Hamm and Hugh Jackman, but neither of them got into as much as the Nightcrawler. With each win, each man found a new way to dump the water on his competitor, and by the end of the game they were both dripping wet.
Watch the whole game to see how they got that way because you will be laughing so hard that parts of you will be wet.
---
Maggie Gyllenhaal has created the international sign for breastfeeding!
June 21st, 2013 under E!, Jake Gyllenhaal. [ Comments:

none

]

Maggie Gyllenhaal was on Chelsea Lately yesterday and she was talking about breastfeeding her daughter on the set of White House Down. When they were filming and it was time to feed her kid, she would ask the AD if she could go ahead and do so. Sometimes he would be willing, but other times he wouldn't be. So when it was one of those times, she would get his attention by squeezing her boob twice. Once he saw that, he let her do what she needed to do.
So I think by sharing this story, she has inadvertently come up with the new international sign for breastfeeding!
---
We've totally be saying Jake Gyllenhaal's name wrong
September 28th, 2012 under Jake Gyllenhaal. [ Comments:

none

]

For years I have been proud of myself thinking that Jake Gyllenhaal's name was pronounce Jill-in-hall, but I have been completely wrong. Yesterday he told Conan O'Brien on his TBS late night show the correct way to say and I am sticking with my pronunciation. I mean can anyone who hasn't worked in Ikea say it correctly? You try and let me know!
---
Is End of Watch a movie or a videogame?
August 13th, 2012 under Jake Gyllenhaal. [ Comments:

none

]

The red band trailer is out for End of Watch and it looks more like one of those first-person shooter videogames than a movie. I am sure it will find an audience when it comes out on September 22nd, but I definitely won't be one of them.
---
Jake Gyllenhaal shows off his bubble boys
May 30th, 2011 under Jake Gyllenhaal. [ Comments:

none

]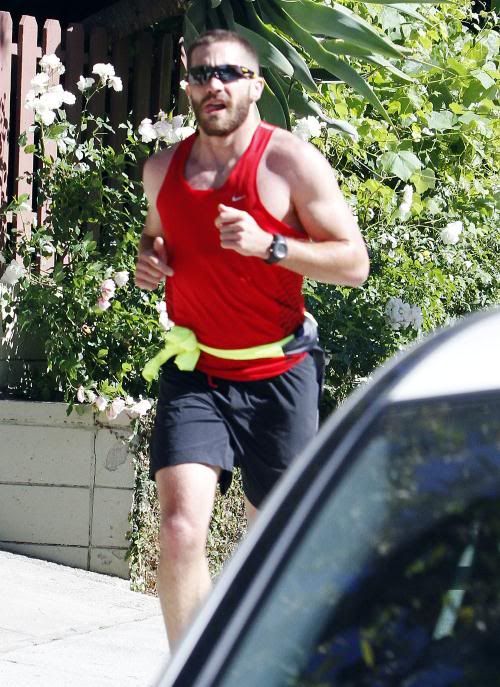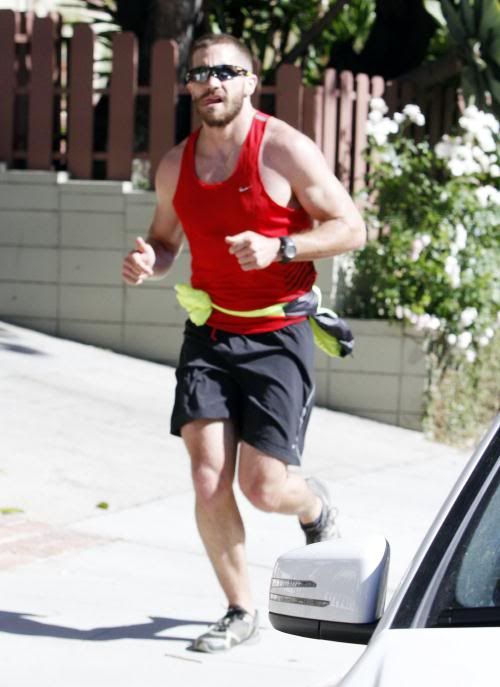 Fame Pictures
Jake Gyllenhaal is single and looks like he is getting in shape for the next girl. Either that or his next movie role.
It is a slow day and he looks good jogging, so I said why not post it.
---