John Cusack's hand can say anything
July 23rd, 2012 under John Cusack. [ Comments:

none

]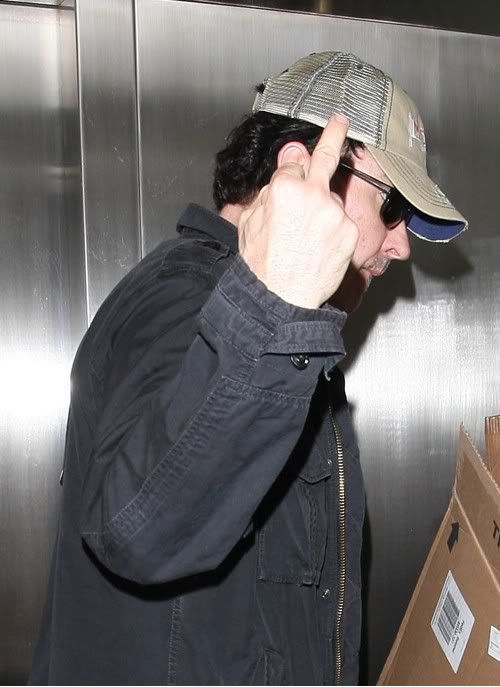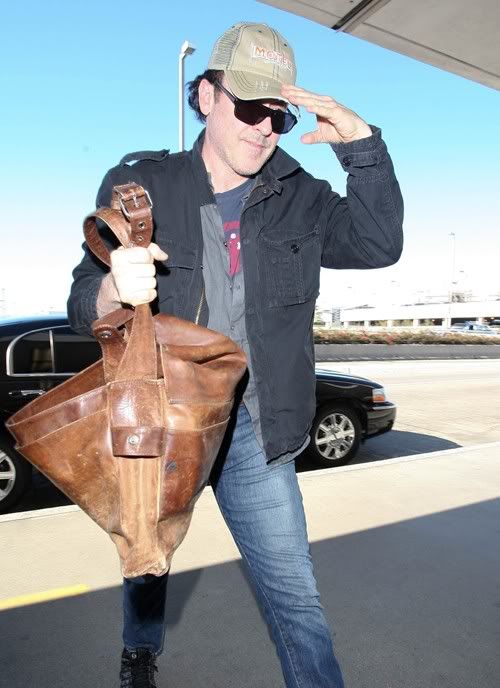 Fame Flynet
John Cusack was caught by the paps at LAX and it looks like he wasn't happy about it. I don't know why he went all 2012 on them because I'd love to have a One Crazy Summer with him in a Hot Tub Time Machine. Seriously don't you still wish he would hold a boom box outside your window. I know I wouldn't tell him to turn off the music, well that is until he came inside.
---
John Cusack and Jimmy Kimmel down shots of hand sanitizer
April 25th, 2012 under Jimmy Kimmel, John Cusack. [ Comments:

none

]




John Cusack was on Jimmy KImmel Live yesterday and to celebrate getting a star on The Hollywood Walk of Fame the Say Anything star was willing to do anything. That includes taking part in the latest trend of downing shots of hand sanitizer. So Jimmy Kimmel and him did it and they were wishing they were Better Off Dead as they pumped Purell into their mouths. I think their faces say it all, just how stupid of an idea it is to drink hand sanitizer to get drunk. Their expressions are saying it is Grosse Pointe Blank.
And in case you were wondering if they learned their lesson, the answer is no because after the commercial break they did a second squirt, to which they agreed was worst than the first. But hey if they keep doing it they will have One Crazy Summer in a Hot Tub Time Machine, and I want to hear all about it.
Maybe next time they think about doing it, the two of them will follow the fake PSA that ran earlier in the show? Although even after watching the PSA and seeing the two men down some Purell, is it wrong I want to see what it is like to drink it? Aren't you curious too?
---
John Cusack is Ravenshing
April 24th, 2012 under John Cusack, Uncategorized. [ Comments:

none

]

WENN.com
Last night there was a special screening of The Raven and John Cusack met up with a bird that the movie was named after. For some reason seeing him holding the death bird like that makes the former-RomCom hottie look even more Ravenshing. Seriously isn't he just Ravenous? So much so I can't wait to see The Raven when it comes out on Friday.
---
Poor John Cusack
December 29th, 2011 under John Cusack, Zac Efron. [ Comments:

none

]

The one sheet is out for the movie The Paperboy that stars Matthew McConaughey, Zac Efron, John Cusack and Nicole Kidman and that is how the billing reads on the poster. Poor John Cusack is billed after someone who is half his age who hasn't even done a 1/4th of the movies that he has done. That has to hurt.
On a less painful note, the High School Musical star is very easy on the eyes in the poster. Seriously when did he become a man?
---
White Collar bloopers!!!
July 20th, 2010 under John Cusack. [ Comments:

none

]

via Jeff Eastin's Twitter
The first season of White Collar is out on DVD and that means we are getting the blooper reel from the hit USA show! It is so cool to see that they have just as much fun on the set as we have watching the show. Seriously doesn't it look like Tim DeKay and Matt Bomer are totally enjoying working together. I almost wish WC was a sitcom because you know they would be hysterical together! Plus the best part of the gag reel hearing Matt Bomer curse, especially when we get a close up of his eyes as he does it!
BTW tune in for a new episode of White Collar on USA tonight at 9p to find out why Neal will spend the day in bed with one of the female agents and why Peter and Mozzie have to work together in a major pinch!
---
I didn't think it was possible to love John Cusack more than I already did, but I do!
March 23rd, 2010 under Craig Ferguson, John Cusack. [ Comments:

none

]

Yesterday the John Cusack was on The Late Late Show with Craig Ferguson and I saw a whole new side to him I never saw before. Cusack was naturally funny and played along with everything the late night host did. One of Ferguson's big things is to do an awkward pause at the end of the interview, well the Hot Tub Time Machine star decided he wanted to do it mid-way through instead. While the two sat there not talking to each other and doing some not for TV stuff with some Purell, Cusack one upped Ferguson. But don't worry Craig got him him back. You have to watch that interview not only to see how, but to have a whole new love for John Cusack like I do!!!
John Cusack can say anything, but as you can see what he (ShockZulu) Tweeted about his appearance on the show he can't spell everything!
for the record the bleeped launguage was me asking if you could say shit eating whore on tv.. love craig ferguson– kost insane man on tv
wildly inelligent funny as hell and completly nuts– there was no pre interview– he just goes… love him.. massivly talented guy.
i want craig skeleton army here!… ow do i send craig a message?
Even though he can't spell worth a crap, I still love him!!!
BTW he also went a Tweeting rampage trying to get women to see Hot Tub Machine when it comes out this Friday, and I can tell you this is one lady who will be there and I know I am not the only one of the female persuasion to watch the man who had us when he had a boombox over his head!!!
Finally here is part two of that interview that wasn't as genius as the first!
---
Another trailer for Hot Tub Time Machine!!!
February 10th, 2010 under John Cusack. [ Comments:

1

]

With every new trailer MGM releases for Hot Tub Time Machine, the more excited I get to see this totally awesome movie! HTTM looks like The Hangover for 2010 as in the movie that will have you laughing from beginning to the end and leave you talking about it for years to come! Just watch the trailer and tell me I am not the only who can't wait until March 26th to see Hot Tub Time Machine!
---
Hot Tub Time Machine goes Red Band
January 21st, 2010 under John Cusack. [ Comments:

none

]

All I have to say is March 19th yet because I can't wait to see Hot Tub Time Machine! Seriously how awesomely bad does this movie look?
---
I want to take a dip in Hot Tub Time Machine
December 16th, 2009 under John Cusack. [ Comments:

1

]

OMFG I just found the movie I am most excited for for 2010 and that movie is Hot Tub Time Machine. That film looks like all kinds of awesome!!! I just love when they go back in time and Nick asks the woman, "What color is Michael Jackson?" to find out what year they are in and she responds, "Black?" and then he runs away screaming. This movie looks like it is going to be such a classic that you are going to want to see it over and over again!!! I can't wait for the DVD with all the deleted scenes and outtakes!
BTW you gotta love John Cusack he can do any type of movie, whether it is chick flicks (Say Anything), horror (1408), action (2012), drama (Grace is Gone) and now he is going to back to the movies he was making back in 1986…stupid (Better Off Dead, One Crazy Summer) but fun comedies!!!
---
The trailer for 2012 blew me away
October 8th, 2009 under John Cusack. [ Comments:

1

]

Maybe because I have a thing for disaster movies, but the trailer for 2012 blew me away. I sat there in awe as I watched the trailer and when it was done I was like holy f*cking sh!t I can't wait until November 13th to see that film. Seriously how awesome does 2012 look? It has the feel of Independence Day and that was great a disaster movie. Plus John Cusack is in it. The King of chick flicks doing a dick flick, how cool it that?
The only negative is now I know about the Mayan prophecy for 12/21/2012.
---