Tom Hanks plays the perfect note in this Big recreation!
October 14th, 2013 under Sandra Bullock, Tom Hanks. [ Comments:

1

]

Tom Hanks was on The Jonathon Ross Show and the talk show host showed off a piano keyboard like the one that was used in that memorable scene from the classic movie Big. The two started out with Chopsticks and then they went for a song with a much faster tune. Once that was done, Sandra Bullock came out and Forrest Gump and her did Chopsticks together. Yet there was note they couldn't hit.
If this video doesn't brighten your Monday morning, I don't know what will. No matter how old Hanks get, he still makes us feel like he did when he that kid trapped in a man's body in Big. In ways the Oscar winner never grew up and that is a good thing.
---
It was all about the little white dress at the Gravity premiere!
October 2nd, 2013 under Harry Potter, Sandra Bullock. [ Comments:

none

]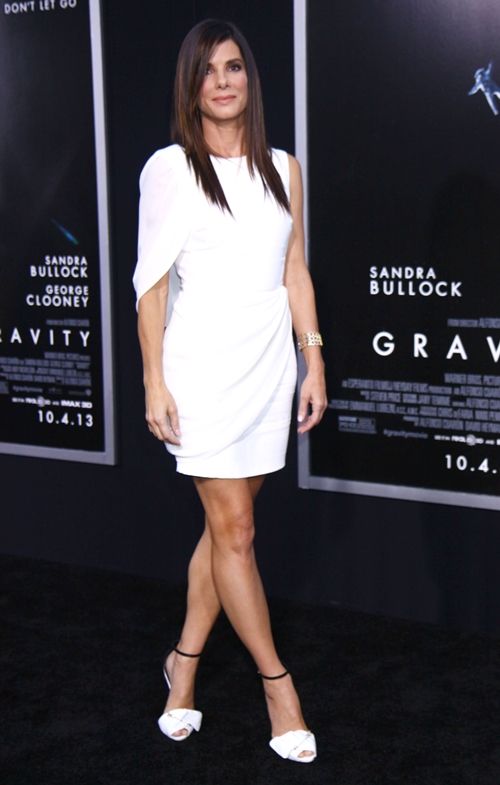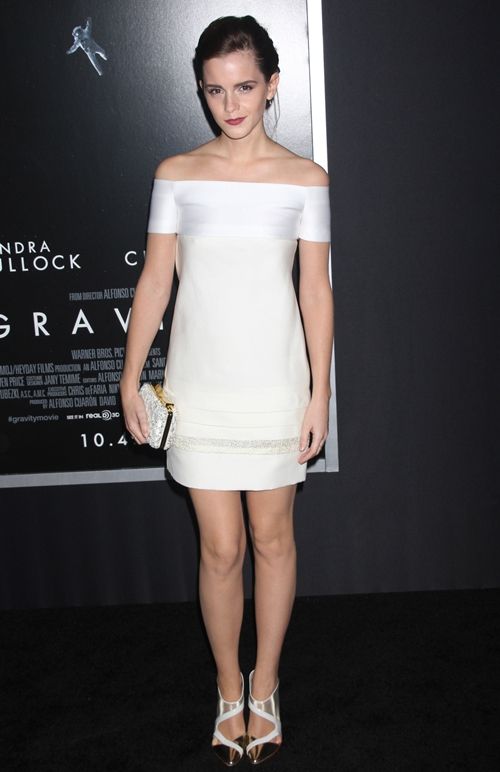 Fame Flynet
Whoever said you can't white after Labor Day, might be changing their tune after yesterday premiere for the much-buzzed movie Gravity. The movie's star Sandra Bullock and Harry Potter's Emma Watson wowed on the red carpet in little white dresses. Proving you can wear white all year round. The only time you can't do that is when you are a guest at a wedding.
---
I'm kind of wishing for Sandra Bullock to die in the Gravity trailer
September 5th, 2013 under George Clooney, Sandra Bullock. [ Comments:

none

]

Remember the end of that movie The Perfect Storm, and Mark Wahlberg's head kept bobbing up and down in water and he just wouldn't die. So then you found yourself screaming at the screen "Die already!" and after several minutes he finally did? Well that is the feeling I got when I watched the trailer for Gravity that is out on October 4th. It seems like it could be a good movie, but at a certain point I think I would find myself bored with it. Like enough torture and let's get this resolved already. I mean how much sh!t can you see someone go through in about three hours before you like, c'mon just end it already? But that could just be my way of looking at movies with George Clooney in them, to me all of them suck since he did One Fine Day.
Now back to Sandra Bullock, I really like her, but it's like enough already with the heavy breathing. And that is why it reminded me of that other movie George Clooney did. I rooted for his death in that movie when he was steering the boat over that huge wave, you so know the scene I am talking about.
---
The Heat leaves me cold
November 16th, 2012 under Sandra Bullock. [ Comments:

none

]

The first trailer is out for The Heat and there is no way you could get me to see the cop film with Sandra Bullock and Melissa McCarthy when it comes out on April 5th. Did anything in that trailer look remotely funny to you? Didn't it feel like you have seen it all before? I mean, how many times can McCarthy play the fat angry bitch with no makeup that everyone is afraid of? Seriously has she ever played anything any different since Samantha Who? She needs to branch out and play different type of roles because to me she is just like Jennifer Aniston and Katherine Heigl, you know playing the same part but in a different movie.
---
Do Sandra Bullock and Halle Berry have something to tell us?
February 27th, 2011 under Do they have something to tell us?, Halle Berry, Sandra Bullock. [ Comments:

none

]

WireImage
Sandra Bullock and Halle Berry both won the Oscar for Best Actress and both of them lost their husbands shortly afterwards. Now both women are unmarried mothers and they shared a special moment at this year's Academy Awards and I have to wonder if they have something to tell us? Are they hoping to break the Oscar curse by hooking up? Is Sandra trying to be her Adrien Brody? Or is just the two ladies happy to see each other?
---
Jesse James blames Sandra Bullock for cheating?
August 18th, 2010 under Sandra Bullock. [ Comments:

none

]

(photo from WireImage)


As if we needed another reason to not like Jesse James, Life & Style has a story that will make us like him even less…if it is a true. A source claims that Sandra Bullock's filming schedule is what lead him to cheat.
"He said he doesn't want to be alone anymore — and that he was alone with Sandra," the insider tells Life & Style. "He says she was always away filming movies. That's why he strayed — he was horny and needed someone."
He's claiming Sandra, Forbes' highest-paid actress, drove him away. "Jesse says Sandra was never around," the insider says. "He was lonely, and that's why he turned to another woman. She was gone for months filming The Blind Side. He's not proud of what he did, but he insists the fault doesn't rest entirely with him."
Maybe instead of finding women to have sex with, he should have gotten on a plane and scratched his itch with his now ex-wife?
---
The MTV movie awards were all about Tom Cruise, Betty White and Sandra Bullock!
June 7th, 2010 under Sandra Bullock, Tom Cruise/Katie Holmes/Suri, VH1/MTV/CMT. [ Comments:

none

]






Are you like me and didn't watch the MTV Movie awards? Well according to what I read, these were the best segments from the show. So instead of wasting 2 hours on it we only had to waste less than 15 minutes of our time. I was shocked how well Tom Cruise could move, not only in that fat suit but in general. Although I don't get why MTV was so hot on having Tom Cruise do Les Grossman because Tropic Thunder is so two years ago. I thought they wanted to be relevant, why else would they have New Moon sweep the awards show otherwise?
Well at least they were relevant by giving Sandra Bullock the MTV Generation Award because last year was her movie year and having her BFF Betty White give it to her was also smart because this is her year! I loved how Betty described all of Sandra's movies, she is just so witty! I also loved Sandra's classy speech. You have to hand it to her for having such grace under such tough circumstances. As she said let's move on!
But before we do, you got to love since she kissed Scarlett Johansson's husband Ryan Reynolds in The Proposal, that it was only fair she got to kiss Scarlett too. Even though Ryan wasn't able to be there, you know that he enjoyed seeing his wife kissing his co-star and is totally dreaming of a three-way between them. The one person who probably didn't enjoy that smooch was Jesse James who kissed that opportunity goodbye. I hope that kiss gave him nightmares because he so deserves it for what he did to her. At least now she has Louis in her life, he is more of man than Jesse is.
---
Sandra Bullock is the Troops and Guys Choice!!!
June 6th, 2010 under Sandra Bullock, Spike TV. [ Comments:

none

]

Sandra Bullock is back and she looks f*cking fabulous!!! The Proposal star got a proposal she couldn't refuse, because Spike honored her with the Troops Choice award at their annual Guys Choice Awards. This is her first appearance since we found out her soon-to-be ex-husband cheated on her and Sandra being Sandra joked about it. She said, "Let's be honest here, just for a moment. We're all going to be honest, right? Did I win this for being entertainer of the year, or did I win this because of the spectacular I.E.D. [improvised explosive device] explosion that became my personal life?" The audience chimed in and let her know it is because of her talent! Except for her cheating ex, this is her year and she so deserved that award! And Jesse James deserves to see her in that body hugging leather dress because he needs to know what he is missing out on. And we know how much he likes women in leather. Take that!
And for you Guys (and gals), you can see her rocking that oh-so-tight leather dress on June 20th at 10p when the Guys Choice Awards air on Spike TV.
---
Sandra Bullock has a baby and files for divorce
April 28th, 2010 under Sandra Bullock. [ Comments:

none

]

What an interesting year 2010 has been for Sandra Bullock. Since the new year started she has won several awards for her acting including the Oscar, the Golden Globe and the Razzie. But then days after awards season was over we found out that Sandra wasn't enough of a trophy for her husband Jesse James because we learned he has been cheating on her. Over a month later Sandra Bullock is breaking her silence and she has been keeping a secret from all of us since January…she has a new man in her life. The Blind Side actress is no longer keeping us in the dark and she told People magazine that she adopted a little boy from New Orleans in January and the cutie's name is Louis. She told the mag about her 3 and a half old month son, "He's just perfect, I can't even describe him any other way…It's like he's always been a part of our lives."
She then dropped another bombshell. Even though Louis has always felt like he has been part of her life, Jesse James is no longer part of her's. She told People that is out now that she filed for divorce.
It is amazing that while all the world was watching Sandra at all of these awards' shows, she was able to keep Louis a secret to everyone. Good for her. And I am sure Louis is an amazing gift to her at a time when she needs a man in her life that won't screw her over by screwing everything he can.
On that note Jesse James released a statement to People:
"The decision to let my wife end our marriage, and continue the adoption of Louis on her own, has been the hardest. The love I have for Louis cannot be put to words. Not having him around to love and to hold has left a huge hole in my heart.
Sandy is the love of my life, but considering the pain and devastation I have caused her, it would be selfish to not let her go. Right now it is time for me to beat this addiction that has taken two of the things I love the most in life.
I have always taken great pride in proving people wrong. That time has come once again to show that I am not what everyone says I am. I know in my heart that I can be the best father possible to my four children, and the mate Sandy deserves, and realize that this is an incredible mountain to climb. But I believe that the steps I have taken in the last 30 days are the foundation for making this happen. The lifelong commitment I am making is what being a real husband and father is all about.
I ask that you please do not judge Sandy for the things I have done. She has done no wrong. She played no part in any of this. She has been an amazing wife, mother, and best friend, for the over 6 years we have been together."
You can read the rest of his statement at People.
I love that he asks us not to judge Sandy for the fact that he couldn't keep his d!ck in his pants. Why would we judge her for that? She loved him as we saw at the SAG awards and he betrayed that love. I judge him but never her.
---
The new edited trailer for The Blinside because of Jesse James!
March 26th, 2010 under Jimmy Kimmel, Sandra Bullock. [ Comments:

none

]

Yesterday on Jimmy Kimmel Live, the show debuted the new trailer for Sandra Bullock' Oscar winning movie The Blindside that was re-edited because of Jesse James' rumored affairs. That new trailer is so perfect, although I think it could've been more violent…don't you?
---