Is Steven Tyler trying to say he's endangered?
April 22nd, 2014 under Aerosmith. [ Comments:

none

]

Steven Tyler Instagrammed the above picture and said, "300 LB MONK SEAL… NOT THE ONLY THING ENDANGERED IN THAT PICTURE". Since only the seal and him are photographed, and I don't want to miss a thing, I have to wonder if he is talking about himself? I have to say he is far from it. Now, that show he used to be a judge on on Fox, now that is something that is endangered and almost extinct. Janie's got a gun pointed on American Idol and she's telling Tyler to dream on if he thinks he's more endangered that that show.
Now, back to the Aerosmith singer, he is showing way too much skin in this photo. But you know what for 66, he looks good in it!
---
Give him an inch, and Steven Tyler becomes a dude who looks like the Grinch!
December 16th, 2013 under Aerosmith. [ Comments:

none

]

We all know Steven Tyler as the dude who looks like a lady and loves the ladies, and now we can say we know him as the grandfather who looks like the Grinch who loves Dr Seuss. The singer spent the afternoon with his grandson watching the Christmas classic movie, The Grinch, and when it was done the two boys had some fun. A little bit of a makeover, and he's transformed from his rockin' world to Whoville looking like one of them. Who would've thought the man who told us to walk this way, could look this way!
---
Hey Steven Tyler, is that a rocket in your pocket?
July 5th, 2013 under Aerosmith, In Your Pocket?. [ Comments:

none

]

Steven Tyler Tweeted the above picture and said "GETTING READY TO RIDE A ROCKET! HAPPY 4th EVERYONE! #supportourtroops"
When I saw that photo all I could do is look at his rocket because that outfit shows the rumors seem to be true about his Janie's Gun!
---
The many faces of Steven Tyler!
June 13th, 2013 under Aerosmith, The Many Faces of. [ Comments:

none

]

Fame Flynet
Steven Tyler stopped and signed autographs for some fans and looks like was enjoying doing it. Unlike most people his age in Hollywood, he was able to show a different expression in each picture. And each one was more rockin' than the other.
---
Steven Tyler looks like a lady!
February 1st, 2013 under Aerosmith, American Idol 9+. [ Comments:

none

]

Steven Tyler came out and auditioned for American Idol yesterday. He did not audition as himself, but as a Dude who really Looks Like a Lady. In fact the former-AI Judge was so beautiful with all of the makeup, I think he should consider really becoming a lady! Don't you agree?
BTW I wonder if Steven Tyler gave himself a creepy leer (hit on himself) after he saw himself in drag?
---
Is Steven Tyler going through some rough times?
November 23rd, 2012 under Aerosmith. [ Comments:

none

]

While almost everyone in America had the day off of work yesterday, Steven Tyler was seen working at Dunkin' Donuts. So does that mean he made a mistake leaving American Idol and Aerosmith isn't doing well with their new album and the tour? Nope here's what the Dude Look a Lady Tweeted, "HAPPY THXGIVING!… JUST ME GIVIN BACK AT DUNKIN DONUTS ON THE WAY TO SEE THE FAMILY… WHAT R U THANKFUL 4??" Bummer because I would love to see him working at a place that is full of donuts and coffee because could you imagine him on a sugar and caffeine high 5 days a week. It would like be him now, but even more hyper and that would be a very fun thing to watch!
---
Steven Tyler f*cks up on The Today Show!
November 2nd, 2012 under Aerosmith. [ Comments:

none

]

Aerosmith was on The Today Show show and when they were doing a little teaser the whole band said, "Good Morning America"! Which as we all know is on another network.
But it didn't stop there, when Al Roker was doing weather the show mistakenly left Steven Tyler's mic on and he said "Thanks for coming out you crazy f*cks. I love you!" And Steven that is why we love you!
---
Janie better not have gun around Steven Tyler anymore!
October 22nd, 2012 under Aerosmith. [ Comments:

none

]

Now that Steven Tyler has quit American Idol, I guess he had to find a second job. But this time he is not moonlighting in the music industry, he has taken a job working security at an airport. I am not sure how much safer the skies will be, but with him working as a TSA Agent I expect strip searches and mandatory frisks of women to sky rocket around him. If you think about it, it is the perfect job for him. I bet it would be the happiest he has been since he could have any woman he wanted back in the day.
Just imagine any time a woman walks by, he will be more than willing to say that she needs to be frisked by him because she might be a risk. He will say she made his alarm go off, translation he got an erection!
---
Imagine an Aerosmith with Sammy Hagar doing vocals?
September 4th, 2012 under Aerosmith. [ Comments:

none

]

We all know that Sammy Hagar replaced David Lee Roth in Van Halen, but imagine him doing the same for Aerosmith. Well according to what Brad Whitford told The Metal Show that was almost the case. When Steven Tyler took a break from the band to do American Idol, they were thinking of going on tour with a new name and new singer. The person on top of their list was the man who can't drive 55, so they called him and asked if he was interested. The man who makes a lethal Tequilla thought it would be "so cool", but sadly or luckily that never happened.
I don't know how I feel about this because I have seen Hagar with Van Halen and I wasn't that impressed. I like him when he does his own stuff, but I am not a fan of him doing someone elses. Plus no one could replace Steven Tyler, he is a one of a kind who can't be replicated.
---
Steven Tyler is so dainty
August 27th, 2012 under Aerosmith. [ Comments:

none

]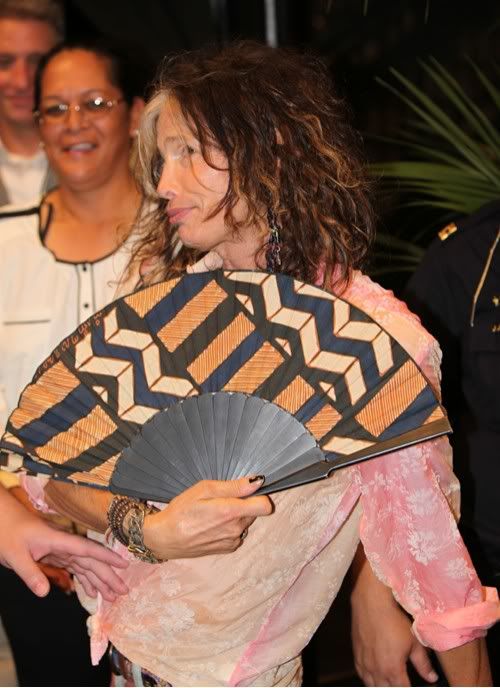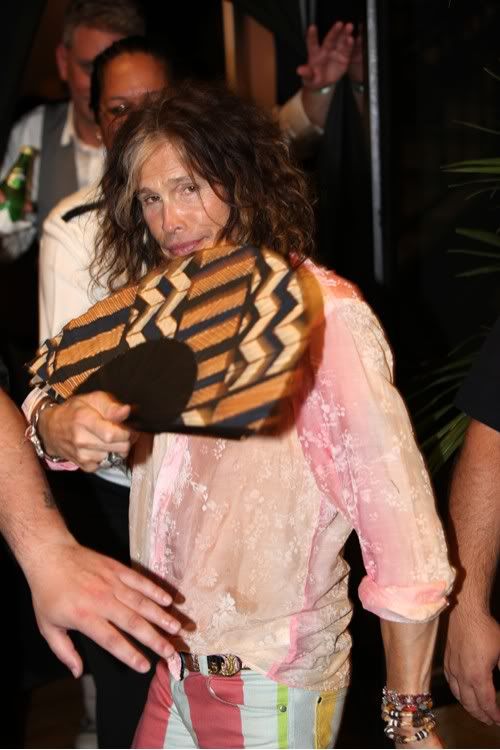 Fame Flynet
Steven Tyler came out for the opening of Fleetwood on Front Street in Hawaii and he posed with hand fan. Seeing the Aerosmith singer fanning himself like that makes me think dude looks like Southern lady on a hot August day. Give him a Mint Julep and the look will be complete.
---