Beyonce wants you to look at her eyes
July 28th, 2014 under Beyonce. [ Comments:

none

]

Beyonce Instagrammed a photo of herself lying down on a boat in a low cut loose fitting dress and her boobs barely stayed in it. I guess being part of the Fifty Shades of Grey soundtrack has had a stronger influence on her than I thought. Like she's letting her inner Anastasia Steele out for her own Christian Grey.
---
Solange's elevator scuffle with Jay Z was good for her career!
May 26th, 2014 under Beyonce. [ Comments:

none

]

Solange Knowles doesn't sell nearly the same amount of records as her big sister Beyonce, but after she attacked Beyonce's husband she came close. According to InTouch Weekly, her sales were up 233% since she was seen not loving in an elevator. So I guess the next time Solange has an album to promote, instead of doing press for it she should press her fist on her sister's face. Not that I am advocating violence, they can stage it and we will be none the wiser.
---
Solange Knowles seems to have attacked Jay Z
May 12th, 2014 under Beyonce. [ Comments:

none

]

Last week after the Met Ball, Solange Knowles seems to have gotten into a physical fight with her brother-in-law, Jay Z, in an elevator, as Bey watched on. TMZ says it is unknown what caused the disagreement, but it definitely appears to have been a major one. One that must've made Mother's Day awkward for the two the sisters.
It will be interesting to see if they will reveal what they were arguing about, but since Jay Z and Beyonce are very private people I doubt we will find out. So we are left to imagine what it was about? I know I have a few thoughts.
---
Is sexy Beyonce the girl you like?
February 27th, 2014 under Beyonce. [ Comments:

none

]

Beyonce has an explicit version out of her video for her song, Partition, and she is trying to be the girl you like. Translation she's trying to be like Rihanna and Miley Cyrus all rolled into one and you know what I don't think it is working. To me this is the oldest I have seen her look and she is only 32.
BTW did she really just sing, he just Monica Lewinskied all over my gown? Seriously?
---
Beyonce earned a halo for this!
September 16th, 2013 under Beyonce. [ Comments:

none

]

So a shirtless fan in Sao Paulo, Brazil tried to grab Beyonce off the stage when she bent down towards them, but two huge security guards came to her rescue before he succeeded. Once she was back on her feet, she kept on singing as though nothing happened. But she did instruct the two bouncers not to bounce the fan out of the show. In fact when she was done, she bent down and talked to fan and told him it was "alright".
Don't try this at your concert with her because the same thing might not happen.
You have to respect her for handling the incident so well. Most other singers would've let her handlers him in a way he wouldn't have like to have been handled.
---
When bad pictures happen to good people: Beyonce
August 19th, 2013 under Bad Photos Good People, Beyonce. [ Comments:

none

]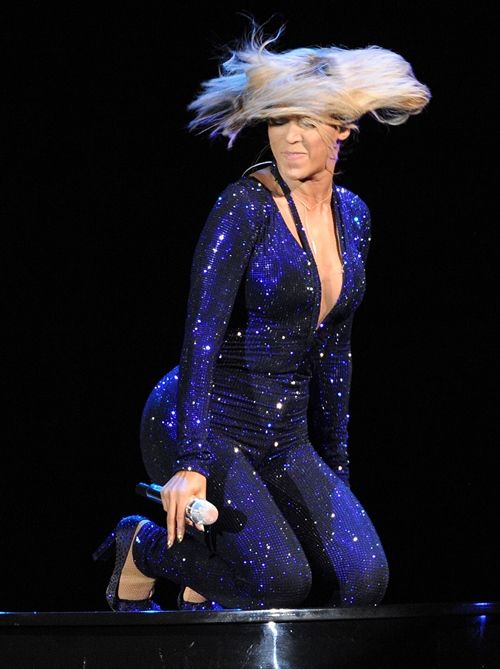 Fame Flynet
Beyonce brought her new hairstyle to the V Festival in Chelmsford, England and I have no idea from this picture how she feels about it. Her face is saying no, but by her doing a Willow Smith is saying yes. What do you think her face saying in this photo?
---
Oh, oh, oh, oh, oh, oh, Beyonce cuts off her Halo!
August 8th, 2013 under Beyonce. [ Comments:

1

]

For as long as we have known Beyonce, she has had long hair as witnessed in that Pepsi ad. But that is no longer the case because the singer debuted her new chopped cropped do.
Why she did it, we don't know because she posted the pictures on Instagram without comment.
Now when it comes to my comment, I think her freeing look makes her look older and to me she already looks older than age. What do you think of it? How long do you think she will keep it before she puts a weave on it.
---
This fan got a hold of Beyonce and they weren't letting go!
July 23rd, 2013 under Beyonce. [ Comments:

none

]




Beyonce has had some really strange encounters with fans during her recent tour, but last night's was the most interesting one of them all. That's because an electronic fan got hold of her long locks and refused to let go. She couldn't free herself and neither could several stage hands, but eventually her halo was set free.
Seriously hadn't anyone on that stage seen 16 Candles? Because if they had, the situation could've ended a whole lot quicker.
I have to admit I am not really a fan of hers, but she gained my respect by continuing to sing even though her weave was stuck in an fan.
Finally below was Beyonce's reaction to the fan that just wouldn't let go!
---
If Beyonce hated those pictures, then she is going to despise this!!!
February 7th, 2013 under Beyonce. [ Comments:

none

]

So the other day Beyonce (we assume it was her) didn't like some pictures that were posted of her on Buzzfeed from her Super Bowl performance, so her publicist asked the site to take then down. She said, "there are some unflattering photos on your current feed that we are respectfully asking you to change. I am certain that you will be able to find some better photos."
Well Next Media Animation is telling the story in their Taiwanese Animation way and I have a feeling Beyonce's publicist will be sending them an email to take it down because it is very unflattering of the singer. I find it very funny, but I doubt she will.
When it comes to her publicist, I feel so bad for her because I am guessing she didn't want to send that letter. All celebrities have had bad pictures taken of them. If they can't handle that, then maybe they shouldn't be the public eye. Heck even non-celebs take sh!tty pictures and we have to deal with our soon-to-be-ex friends posting them on Facebook. Oh wait we ask those bastards to take them down, so I guess I see her point. Dang it!
---
What is Beyonce trying to tell us with this shirt?
January 27th, 2013 under Beyonce. [ Comments:

none

]

Beyonce posted the above photo on Instagram with a shirt that reads "Can I live?" But does it mean can she live her life or is she honoring her husband's song Can I live? or does it mean can she sing live? Something many of us have been questioning since we found out she lipsynced the national anthem at the Presidential Inauguration earlier this week? I think most of us would like to think it is referring to singing, but I am sure she would say it does not. Although she hasn't said anything since the scandal broke. What's the big deal? We know singers sometimes lipsync at live events like that because there is too much that can interfere with their voice and the performance. So why doesn't she just admit that she just wanted to give the best performance possible and didn't want to leave anything to chance. I think we could all understand her if that is her excuse. But by remaining silent, I think it makes her look like maybe she can't sing live. At least that is just my take on it.
---