Diana Kruger couldn't stop crying when she met Don Johnson
July 10th, 2013 under Inglourious Basterds, Jimmy Kimmel. [ Comments:

2

]

(starts at 1:50 in)


Diane Kruger was a guest on Jimmy Kimmel Live yesterday and she told him about meeting her celebrity crush. Back when she was just an early teen, she became obsessed Don Johnson. Not for his acting on Miami Vice, but for his song Heartbeat. In fact when she was 13 years old, she made out to his song.
Well she told Quentin Tarantino that she was infatuated him, so when he worked him on Django Unchained the director invited her to come down and meet him. She said it would be too much if she did, so she didn't take him up on his offer.
Fast forward a few months later, she was at an Oscar party with her boyfriend Joshua Jackson and QT, and who should show up? Yep, Crockett himself. As soon as she saw she became extremely emotional. So much so that Jackson had to tell her to calm down and Johnson had to tell her he was walking away. Now even though their first meeting didn't go over too well, we all still got a beautiful picture out of it.
I don't know why he didn't stay because most men would be flattered to have her obsessed with them. Especially someone that is a little older like he is now. Don't you agree?
BTW if you didn't know he had an album out once upon a time, here is the video to the song that made Kruger's heart beat a lot faster when she heard it. You know, I wonder if Jackson and her have had sex to it? I am sure they have!!!
---
Diane Kruger wants you to look at her four eyes!
March 25th, 2013 under Inglourious Basterds. [ Comments:

none

]

Fame Flyent
Diane Kruger was out shopping and she found a way for you not look at her face. The actress wore a T-Shirt with a pair of eyeglasses over her boobs and I think it is a smart distraction. But I could think that because everything looks smarter with a pair of spectacles on it.
---
Mark Wahlberg challenges Michael Fassbender to a big d!ck contest!
February 9th, 2013 under Inglourious Basterds, Marky Mark. [ Comments:

none

]

via Daily Mail
Mark Wahlberg and Michael Fassbender were guests on The Graham Norton Show and the host asked Marky Mark about his ability to do voices. It was then that the Ted star said that the Inglourious Basterd was also good at voices, so Wahlberg had a challenge for him. He challenged him to a big d!ck contest, but then Wahlberg said he would lose because he left his at home. So I guess he kept that prop from Boogie Nights which I am sure his wife is very happy about.
And on that note Mark Wahlberg also talked about how his youngest son like to punch as hard as he can in the balls. In fact when Brendan met Dwayne Johnson that is exactly how the 4 year greeted him. I like his kid!
---
Does Django Unchained look off the chain to you?
June 7th, 2012 under Inglourious Basterds. [ Comments:

1

]

Quentin Tarantino is back with Django Unchained this Christmas and I don't think I will be in line to see it. It looks like it will be another one of his Spaghetti Western/Grondhouse movies, so it is the same thing another film. Plus except for Christoph Waltz, I don't like anyone in the cast. Are you going to run out and see this dick flick when it comes out?
---
Joshua Jackson still appreciates the Fringe benefits of dating Diane Kruger
May 18th, 2012 under Inglourious Basterds. [ Comments:

none

]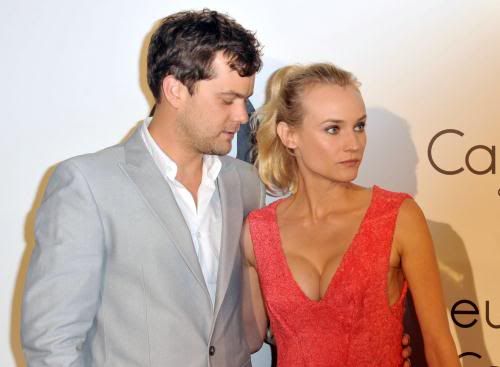 Fame Flynet Online
Joshua Jackson attended the Calvin Klein Celebrate Women In Film event at Cannes with his girlfriend Diane Kruger and he showed us he still appreciates her Inglourious Basterds. Even though he has been dating her for around six years, he couldn't keep his eyes off of her cleavage. How sweet is it that he still loves the Fringe benefits of dating her and doesn't take it for granted.
---
Michael Fassbender has a laugh as big as his Inglorious Basterd
February 1st, 2012 under Inglourious Basterds. [ Comments:

none

]

WENN.com
Michael Fassbender was photographed laughing and I all could think of when I saw that picture is that his laugh is as big as his pen!s. Seriously isn't as huge as the reason why he didn't get the Oscar nom for Shame? Those male voters are just jealous of it and they have every reason to be.
---
Christoph Waltz is killing it as a judge on American Idol!
April 22nd, 2011 under Inglourious Basterds, Jimmy Kimmel. [ Comments:

1

]

Yesterday Christoph Waltz was on Jimmy Kimmel Live and he shared with the host unaired video of his appearance on American Idol when he judge this season. After you see it, you will understand why the Fox show killed the idea of the fourth judge. Sadly I disagree with their decision because I think he murdered it while he was on the show. Don't you agree!
BTW if you are a man and you're going to wear hot pink pants, you better have the package to fill them out like the Oscar winner! He definitely has a gold statue in his pants!!!
Finally who can forget the Inglourious Basterd's other brilliant performance that was revealed on JKL after the Oscars. If you missed it, here is him doing Der Humpink!!!
---
BTWF roles: Christoph Waltz in Der Humpink
March 8th, 2010 under Before They Were Famous, Inglourious Basterds. [ Comments:

none

]

Before Christoph Waltz waltzed his way to an Oscar for Best Supporting Actor for Inglourious Basterds, he was dancing to a much different beat in Der Humpink! How much fun was it to see his comedic side on Jimmy Kimmel Live's After the Academy Awards?
I know this is not a real Before They Were Famous, but who said they had to be!
---
The Lost Art from Inglourious Basterds is a find for Haiti
February 18th, 2010 under Inglourious Basterds. [ Comments:

none

]

Starting tonight at 6p The Weinstein Company has teamed up with The Upper Playground Art Gallery in Downtown Los Angeles to display and sell the Lost Art from Inglourious Basterds for the next 4 weeks. Not only will they be showing off the artwork by several accomplished artists, but they will be selling 6 prints of each poster art interpretation that will be personally signed by Quentin Tarantino for $300 and all proceeds will be donated to The American Red Cross to help the victims of the Haiti Earthquake. Not a bad price for a good cause!
Don't forget to watch the Academy Awards on March 7th to see how many Oscars Inglourious Basterds brings home that night.
---
The best speeches from the SAG Awards
January 24th, 2010 under Awards, Eli Roth, Golden Girls, Inglourious Basterds, Sandra Bullock. [ Comments:

none

]








If you are like me and find all these Awards shows extremely boring, here are the best speeches from last night's SAG Awards!
If it weren't for the fact they were honoring Betty White, I would not have DVRed the SAG Awards, but as they said who doesn't love Betty White! And what an introduction Sandra Bullock gave to Betty as she received the much deserved Life Achievement Award and what an acceptance speech Ms Betty White gave when she got the naked little man statuette! I especially loved the clip reel because I never saw Betty's early work before so it was such a joy to see she is really a brunette. Who knew she wasn't a natural blonde? I also love that the Golden Girl is 88 years young and she still has all of her wit…her dirty little wit!!! Now when it comes to Sandra accepting her award for Best Actress in a Leading Role for a Motion Picture, how much did you adore her speech where she praises her husband! I so want a marriage like theirs because you can tell that they really love each other, afterall he is wearing a monkey suit for her. Next time she forces him to dress up is the Oscars!!!
Next up is Drew Barrymore, who is finally winning awards for her acting! I love her speeches and I admire that she tries to do them off the cuff. Next up for her is the Emmys, hopefully by then she will have this award accepting thing down!
Finally it is time for the Inglourious Basterds and we have Christoph Waltz who is just so humbled by all of his awards for Best Actor in a Supporting Role in a Motion Picture and if anyone deserves the award for best actor this year it is him. Plus his speeches are so original and sincere, how can you not love him. Lastly we have Eli Roth accepting Best Ensemble in a Motion Picture for the cast and he is the only actor who actually named all of the cast that was up there on the stage with him when they won that honor and I respect him for that. Next up fro Christoph is the Oscars!
Here are all of the winners:
Movies:
Cast: "Inglourious Basterds."
Actor in a leading role: Jeff Bridges, "Crazy Heart."
Actress in a leading role: Sandra Bullock, "The Blind Side."
Supporting actor: Christoph Waltz, "Inglorious Basterds"
Supporting actress: Mo'Nique, "Precious: Based on the Novel 'Push' by Sapphire"
Stunt ensemble: "Star Trek."

Television:
Drama series cast: "Mad Men."
Actor in a drama series: Michael C. Hall, "Dexter."
Actress in a drama series: Julianna Margulies, "The Good Wife."
Comedy series cast: "Glee."
Actor in a comedy series: Alec Baldwin, "30 Rock."
Actress in a comedy series: Tina Fey, "30 Rock."
Actor in a movie or miniseries: Kevin Bacon, "Taking Chance."
Actress in a movie or miniseries: Drew Barrymore, "Grey Gardens."
Stunt ensemble: "24."
Life Achievement: Betty White.
---