What do you get Ryan Seacrst for his birthday? An infatable love doll of himself!
December 12th, 2013 under American Idol 9+, Jimmy Kimmel. [ Comments:

none

]

Ryan Seacrest's birthday is Christmas Eve, but what do you get him because thanks to The Kardashians he has everything he needs and wants? You can't buy him the one thing he really needs, which is time. So if you are Jimmy Kimmel, then you are determined to find him that perfect gift. That present is a Ryan's Secret Inflatable Love Doll. We know that American Idol host really loves himself, and now he can REALLY love himself. That is because the blowup doll has a hole in the back and the front for him to use as he would like. Although considering how he threw the box when he found out it is real, I don't think he will be using it any time soon.
Which is shame because the Love Doll actually looks more like Simon Cowell (from the chest up) than it does Seacrest. And we know how much those two secretly love each other with their Bromance and all!
---
Simon Cowell tries on his son's clothes
December 10th, 2013 under American Idol 9+, Jay Leno. [ Comments:

none

]

Simon Cowell was on The Tonight Show yesterday and Jay Leno bought a present for his guest's future son. That gift was a mini-version of what the King of Mean wears almost all the time. You know, faded jeans, a white T-shirt and sunglasses. As soon as The X Factor coach saw the items, he said the baby Tee was in his size and then tried on the baby sunglasses. Believe it or not the shades were able to fit over his huge ego, I mean on his huge head.
I feel bad for Simon Jr because you know his pops is going to try to wear all of his clothes. And that includes the diapers because he is getting up there in age. Just joking, Simon. Or am I?
---
Demi Lovato doesn't know how The Thompson Twins are
November 26th, 2013 under American Idol 9+, Jimmy Kimmel. [ Comments:

none

]

Demi Lovato was on Jimmy Kimmel Live yesterday and he told her that she had a Thompson Twins look going on and she looked at the ABC late night host dumbfounded. So he asked her if she knew who the groundbreaking band was? She admitted that she didn't. So he listed two of their songs and she still had no idea who one of the biggest bands in the '80s are.
That is why I have always had a problem with her being a coach on The X Factor. She's too young and inexperienced to know enough about music to tell people how they can be professional musicians. She should've schooled herself in music before she took the job. I could understand if they were one-hit wonders, but they weren't as you can tell in the megamix of their greatest hits below. That mix is missing one of their biggest tunes and that is If You Were Here. If she doesn't know that song, then that is sad on so many levels because that would mean that she's never seen one of the best coming of age movies, Sixteen Candles. That would also mean she missed out on experiencing what almost every teenage girl enjoys. Because what 16 year old girl didn't wake up on her Sweet 16, look in the mirror and be disappointed that she looked the same, just like Molly Ringwald did in the movie. Seriously?
Here's my biggest problem, I am so sick of these kids not knowing who the people are that came before them. I agree with Tyra Banks when she tells the contestants on America's Next Top Model that they should know who the models and designers are in the business. It drives me crazy when I talk to wannabe actors and they don't know who some of the biggest producers, directors and actors are out there. Sure they know the Brad Pitts, but you would be surprised by who they don't know and don't care to know. What happens if they go on an audition and the casting director asks what they think of that producer's other work. Or what about when they make it and they are doing press. This happened to me when I first moved her. I had to ask an actor what he thought of legendary actor with a slightly feminine name who just died. I am not lying, but he said that she, yes she, was a great actress, yes actress. The actor who died is one of the biggest TV actors ever. That is why I believe these kids needs to know their craft. It is respect. When I worked in news, I knew who the big names in news were and that is why I worked with some of them. When you go on an interview, you learn about the company you are interviewing for, right?
So why does this "actress" and "singer" who coaches a reality competition show on a major network, not know who The Thompson Twins are. The only thing that makes me feel better about this, is just like she doesn't know their music, I don't know hers. Although I think I am the one who is better off in this scenario.
To calm myself down, I am going to listen to my Thompson Twins Greatest Hits CD because yes I do own it! And it is a remixed version of their many many hits! How many does she have? The highest she ever charted on Billboard 100 is 9. Just saying…
I think I might have to get some hypnotherapy from Joe Leeway of The Thompson Twins to get over her not knowing who they are.

UPDATE: My day was completely made when The Thompson Twins' Alannah Currie, whose working name is now Miss Pokeno, Tweeted me the below response to my post. Could it be any more perfect?



---
Ryan Seacrest busts a move
November 25th, 2013 under American Idol 9+. [ Comments:

none

]

Ryan Seacrest interviewed One Direction for Yahoo! Screen and the best moment came from him and not the band. The American Idol host did something the contestants normally do and that is sing, well rap to be exact. And he surprised us when he made like Young MC and Bust a Move. A song that came before any of the 1Ds were born.
Now when it comes to how he did; Simon Cowell would not approve, Randy Jackson would be like it's a'right dawg and I am like Dude, can sing, who knew?
---
Is this Ryan Seacrest's reaction to what Mariah Carey said about American Idol?
November 14th, 2013 under American Idol 9+. [ Comments:

none

]

We all know that Ryan Seacrest loves to talk and finally someone decided they wanted to silence him. Well, maybe not someone, but something. While he was doing his radio show this morning, he accidentally busted his lip on his golden microphone. I know I shouldn't laugh, but it is hard not to chuckle. That is what he gets for giving us the Kardashians. I will never forgive him for that. Will you?
---
Mariah Carey hated American Idol and says it was like hell!
November 13th, 2013 under American Idol 9+, Mariah Carey. [ Comments:

none

]

Hot 97 asked Mariah Carey if she liked being on American Idol and she said "No, I hated it." Then she went on to explain that when she signed on, she was told it would be a three person panel. As we know they added a fourth person, Nicki Minaj, and the two Divas famously did not get along. At one point in the interview Mimi said, "It was like hell, like going to work every day in hell with Satan." You have to wonder if she is referring to Minaj with the last part of that statement. I am going to say, yes.
Not only did she admit that they lied to her about how many people would be on the panel, but she also admitted they dangled some nice money in front of her. While the money was good, it doesn't sound like it was worth it to her.
And there was one more revelation in the interview, she said she liked the contestants but was not happy about which ones moved on. She revealed, "It was disappointing when they would, for political reasons, not put people through." What that means? I think it is up to all of us to read into it, as we would like. And if we are reading what she said correctly, then I think that Fox is going to have to make some more changes to the show when it returns in January. Even more than they already have because the ones they have made are like putting a Band-Aid on a failing dam.
---
Simon Cowell models one of his T-Shirts before he puts it on!
September 3rd, 2013 under American Idol 9+. [ Comments:

3

]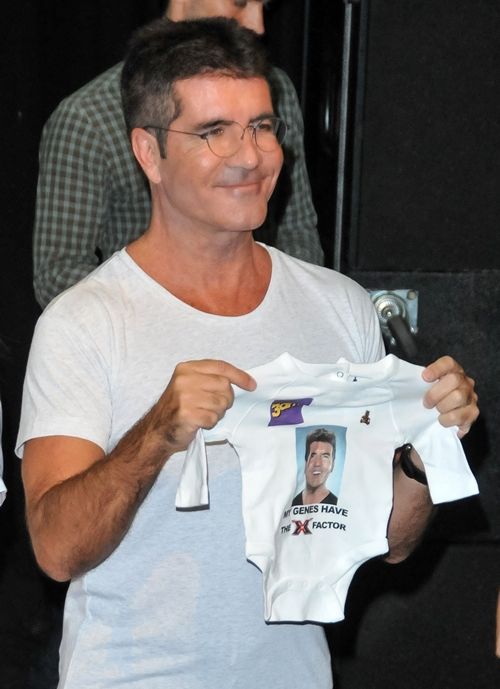 Fame Flynet
As we all know Simon Cowell's T-Shirts are always at least one size too small on him and now we are seeing exactly how tiny they are before he puts them on for the first time. No wonder they never fit him, that shirt is made for baby and not for an adult like him.
---
American Idol's 'Dream Team' put me to sleep
September 3rd, 2013 under American Idol 9+. [ Comments:

none

]

Fox finally announced who will be judging the new season of the American Idol, and their "Dream Team" is Jennifer Lopez, Keith Urban and Harry Connick Jr. If this was 2000 those names would be a dream, but in 2014 it's a snoozefest. I mean do the people who are auditioning for the show even know who Harry is and can they even name any of his songs? The only thing they probably know about him is that he was on a Friends episode that they saw in syndication, other than that they are clueless to who is.
Not only are the judges all in their mid-40s (J-Lo is 44 and the two men are 45), the ageing singing competition is showing its age by switching to Roman Numerals. So this year American Idol 13 will be known as American Idol XIII. Are kids today even taught Roman Numerals anymore? If Fox thinks that they are going to get Super Bowl numbers just by switching their numbers to letters than they are greatly mistaken because those musicians are as old as the Romans themselves.
If Fox sincerely thinks that this will be Idol's great renascence then they are stuck in the times of Roman Empire.

UPDATE: Even Keith Urban doesn't know who is co-judge is as witnessed in this Tweet.



---
Is J-Lo going to give her Boy Toy a spanking for this?
August 17th, 2013 under American Idol 9+. [ Comments:

none

]

Jennifer Lopez's boyfriend, Casper Smart, was doing an interview with E! and he told them that she is returning to American Idol this season. Only problem is neither Fox nor the singer confirmed that she would be back. So I am wondering when J-Lo found out what her little Boy Toy said, if she washed his mouth out with soap for spilling the beans early.
If anyone deserves to be punished it is Fox. If they really wanted to change up the declining singing competition, then they wouldn't be bringing back two of the judges from the past unless that judge's name is Simon Cowell.
---
Simon Cowell's close friend's wife is carrying his baby?
July 31st, 2013 under American Idol 9+. [ Comments:

1

]

(photo from Fame Flynet)


Simon Cowell is going to be a dad and his close friend's wife, Lauren Silverman, is the one who's pregnant with his future idol. But the story has even more of an X Factor because Us Weekly says that the married woman, who is about 10 weeks along, is leaving her husband to have his love child. The source said, "Lauren and Andrew have been unhappy in their marriage for some time, and their divorce has been in the works for a while. As their marriage deteriorated, she and Simon became close." With friends like that, who needs enemies?
BTW no word who will be breastfeeding the baby because we know he has bigger moobs than most women. At least it looks that way in the tight shirts he always wears.
---