Megan Fox's unborn child talks to her
June 1st, 2016 under Jimmy Kimmel, Megan Fox. [ Comments:

none

]

Megan Fox was on Jimmy Kimmel Live and she revealed that she was in her second trimester when she was on the show back in mid-February. So that means she is probably further along than we all thought. Meaning she is at least over 7 and a half months pregnant.
What has she done since the last time she was on the ABC talk show? She moved because her unborn child told her to since they don't want to be raised where they were living. Which gives a whole new meaning to following your gut.
How does her husband Brian Austin Green feel about moving? He's OK with it because she has made plenty of good calls in the past.
Not only does she listen to baby #3, she also listens to her sons Noah Shannon and Bodhi Ransom Green.
If it has proven to work well for her, great. I wouldn't move because my child told me to, especially because they had a really nice house.
---
Megan Fox reveals who is not the father
April 12th, 2016 under Megan Fox. [ Comments:

none

]

Yesterday, Megan Fox surprised all when she walked the red carpet with a new accessory. That accessory is a baby bump, and now everyone wants to know who's the daddy? You see, Brian Austin Green and her filed for divorce back in August, and she really hasn't been linked to anyone since their amicable split. The two of them have been spotted together several times since they parted ways, but does that mean he is the daddy?
The only thing we do know, is who isn't the daddy. Today, she took to Instagram to declare that her co-stars Shia LaBeouf, Will Arnett and Jake Johnson are #notthefather.
So now we are back to square one until she tells who did it. Either that or until Maury Povich steps in to save the day. Where's Maury when you really need him?
UPDATE: On a Jake Johnson note, he got some good news today. Besides not being the father of Megan Fox's baby, their Fox show New Girl was picked up for a 6th season. No word if Megan will be back for it, but she will be in some more episodes this season.
UPDATE 2: Brian Austin Green is the father according to People.
---
Can the Teenage Mutant Ninja Turtles save Megan Fox's marriage?
August 19th, 2015 under Megan Fox. [ Comments:

none

]

Megan Fox and Brian Austin Green have decided to separate according to Us Weekly. The magazine says that they have been having problems in the marriage recently and decided to split about 6 months ago.
The two have been married for 5 years, dated for 11 and have two boys together who are 2 years and 18 months old. They started dating when she was just 18 and split shortly before they got engaged. So maybe, they will get back together. I thought if they lasted this long, the would go all the way. Til then, she will be linked with all of Hollywood's single A-list men.
---
Megan Fox's real face
July 3rd, 2014 under Megan Fox. [ Comments:

none

]

Megan Fox Instagrammed a photo of herself without makeup. Even though she has two boys under 2, she still looks absolutely gorgeous. There is only thing I can say about that, b!tch!
---
Megan Fox compares fame to being bullied in high school
January 15th, 2013 under Megan Fox. [ Comments:

none

]

Megan Fox sat down with Esquire magazine and she talked about being famous. She said, "I don't think people understand. They all think we should shut the fuck up and stop complaining because you live in a big house or you drive a Bentley. So your life must be so great." Then she explained, "What people don't realize is that fame, whatever your worst experience in high school, when you were being bullied by those ten kids in high school, fame is that, but on a global scale, where you're being bullied by millions of people constantly." I never thought of it like that and I can see what she is saying.
So what would she do if she wasn't an actress? She would want to be an archaeologist. She told the mag, "I feel like there's stuff literally buried there and buried where the Maya were." She added, "I would like to uncover the secrets of the universe. In my fantasy." Secrets like ancient aliens are responsible for ancient civilization.
When I look at the new mom, that is not what I picture her life goal to be. And when it comes to be a mom, she explained her son's name. He is named after Noah because in the Bible his family and him are the only ones who survived the then corrupt world.
---
Megan Fox thought she was having a Vampire baby!
December 18th, 2012 under Jay Leno, Megan Fox. [ Comments:

none

]

Megan Fox was on The Tonight Show and Jay Leno asked her about being pregnant. She told the NBC late night host that she had such bad morning sickness that she thought she was having a Vampire Baby like the one in Twilight.
I don't know about you, but I am thinking that she has spent so much time acting that she can no longer separate reality from fiction. I mean the average person knows you can't have a Vampire baby with having sex with a Dracula first. And I don't think that Brian Austin Green is a blood sucker, or is he???
---
Is this Megan Fox's O face?
December 14th, 2012 under Megan Fox. [ Comments:

none

]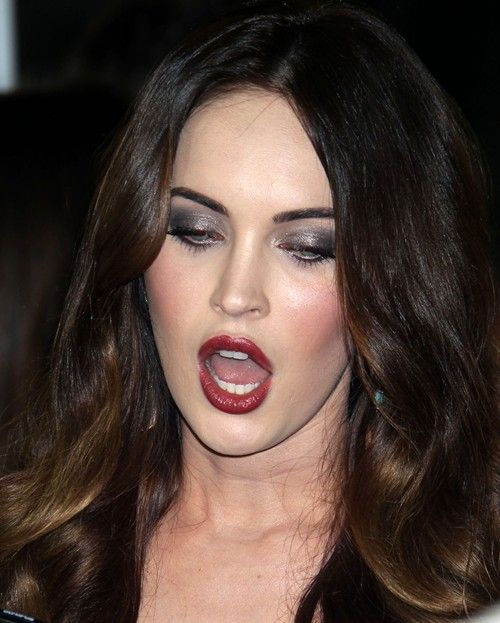 Fame Flynet
Megan Fox was at the premiere of her new movie This Is 40 and I think she showed us this is her O face. Either that or her sex doll face?
---
Megan Fox heats up the Wedding Band tonight!
November 17th, 2012 under Megan Fox, TNT/TBS/TCM. [ Comments:

none

]

Tonight at 10p Megan Fox joins her baby daddy Brian Austin Green on TBS's Wedding Band and we get an episode that everyone can enjoy!
When Mother of the Bride play a wedding at Comic-Con, the most popular actress at the convention falls for Tommy (Green). Where ever Alexa Jordan (Megan Fox) goes, Sci-Fi geeks are sure to follow. Two of those geeks aka teenage boys make Tommy an offer he can't refuse. They ask him to play their party, so that the band can make them popular. Tommy refuses, but the band insists he does the gig and we get an episode that every high school nerd dreams of. This one hour episode is the best teen geek movie since Weird Science, so take that '90s wannabes.
A big reason why this episode is so brilliant is because of Fox and recently on a conference call her husband explained how she got the job. The Transformers beauty was not the first or second or third choice for the role. When the other actresses who were up for it were not able to do it, desperate measures were take. Green explained, "I had already spoken to my wife about the episode and kind of what was going on and she graciously said that, you know, if nothing else worked out that she would step in and kind of rescue us and she did. And I thought she was great. I thought she kicked ass." That she totally does. The best part is you get to see the two of them bed together, so in a way you get a glimpse of how their son was made!
---
Megan Fox sneaked out a baby!
October 17th, 2012 under Megan Fox. [ Comments:

none

]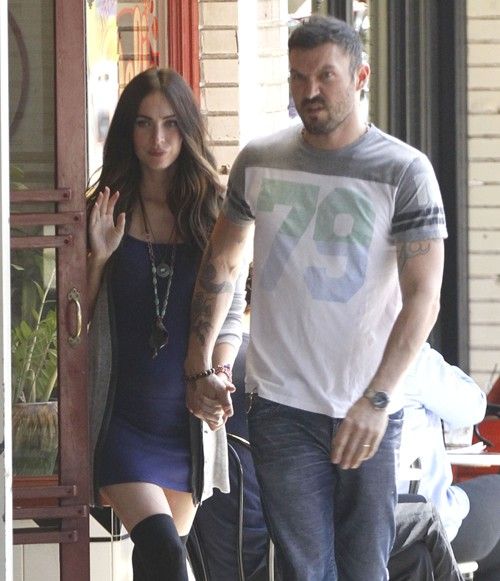 (photo from Fame Flynet)


Megan Fox and Brian Austin Green transformed into parents of a boy late last month according to E!. No other information was given like when exactly he was born, what his name is and how the hell they were able to keep it secret for almost three weeks. Since they were silent about her pregnancy, who knows if and when we will find out that info.
Although Green will be doing press for his new funny TBS show Wedding Band that debuts on November 10th, so maybe then we will get some details. Seriously you want to add this show to your viewing schedule!

UPDATE: Megan Fox confirmed the news on her Facebook:
We have been very lucky to have had a peaceful few weeks at home, but I would like to release this myself before others do. I gave birth to our son Noah Shannon Green on September 27th. He is healthy, happy, and perfect.
We are humbled to have the opportunity to call ourselves the parents of this beautiful soul and I am forever grateful to God for allowing me to know this kind of boundless, immaculate love.
Thanks to those of you who wish to send your positive energy and well wishes. May God bless you and your families abundantly.
---
Megan Fox before she Transformer into who she is today
July 6th, 2012 under Megan Fox. [ Comments:

5

]

Megan Fox posted some pictures of herself on Facebook when she was just 12 years old and even as a pre-teen with braces and Sun-In highlighted hair she was still pretty as she is today. I was hoping she would've had an awkward phase, but I guess I don't get everything I want.
BTW is it just me or does she look like Secret Life's Shailene Woodley in the first picture?
---