You will flip for Taylor Lautner!
December 1st, 2015 under Jimmy Kimmel, Twilight. [ Comments:

1

]

The cast of Netflix's The Ridiculous 6 was on Jimmy Kimmel Live yesterday and they told the ABC late night host they would ask Taylor Lautner to do a flip every day on the set. So Adam Sandler asked if it would be OK if his co-star did one, right then and there. With some coaching from Luke Wilson, Terry Crews, Jorge Garcia and Rob Schneider, the Twilight wolf got up to do it. He walked over to the other side of the stage and then he did a standing somersault into a flip like it was nothing. It was so special that The Ridiculous 6 cast and the JKL audience all chanted MVP over and over again. Which you can't blame them because that was a truly amazing flip.
And to think he was considered too wimpy for the Twilight sequel. I am pretty sure that of the people they were considering to replace him, barely any of them can do what he just did.
BTW if that photo isn't captivating enough for you, then to watch the video of him doing the flip click here!
---
Kristen Stewart claims she smiles a lot
August 12th, 2015 under Jimmy Fallon, Twilight. [ Comments:

none

]

Kristen Stewart was on The Tonight Show yesterday and Jimmy Fallon asked her if she really goes out of her way not to smile. She told the NBC host that she smiles all the time, but magazines tell her not to. In fact, she realizes that putting on a smile is like a good mask for her and the paparazzi ignore her when she has one on.
Even though she was all smiley during this interview, I still don't believe the Twilight star smiles all the time. Do you?
---
Kristen Stewart disses Justin Bieber!
April 8th, 2015 under Conan O'Brien, Justin Bieber, Twilight. [ Comments:

none

]

Kristen Stewart was on Conan tonight and the TBS late night host wanted to know if she was channeling Justin Bieber in Jenny Lewis' music video Just One of the Guys. She told Conan O'Brien, "In his dreams!" Then she quickly tried to backtrack, but the damage was already done. Somewhere the Beebs is crying like a baby baby over her diss.
---
Cookie Monster takes a bite out of Twilight!
September 29th, 2014 under Sesame Street/Muppets, Twilight. [ Comments:

none

]

Sesame Street takes on Twilight: Breaking Dawn and I just want to eat it up. As cute as it is, the best part is that the Muppet who plays Belly plays it with just as much emotion as Kristen Stewart. As in she doesn't have any. It's like she was dead long before she was a Yumpire, just like Bella. Isn't it uncanny how perfectly she nailed it?
---
Kristen Stewart goes short
July 8th, 2014 under Twilight. [ Comments:

none

]

Getty Images
Kristen Stewart was the talk of Paris Fashion Week and it wasn't because of what she was wearing. The Twilight star debuted her short new do, and it really looks good on her. Once she goes back to her natural color, it will be perfect. But until then she is making this softer look work for her as best as she can.
What do you think of her new hairstyle?
---
Kristen Stewart's hair has seen better twilights
April 6th, 2014 under Twilight. [ Comments:

none

]

via Maison de Cheveux
Kristen Stewart is doing a new movie and that means she has to have a new hair color. Gone is the dark black hair we know her for and now her locks are a strawberry blonde. One picture won't answer the question if she thinks that blondes have more fun, but with her any sign of a smile will show she has lightened up like her hair color.
---
Do Robert Pattinson and Mia Wasikowska have something to tell us?
August 22nd, 2013 under Do they have something to tell us?, Twilight. [ Comments:

none

]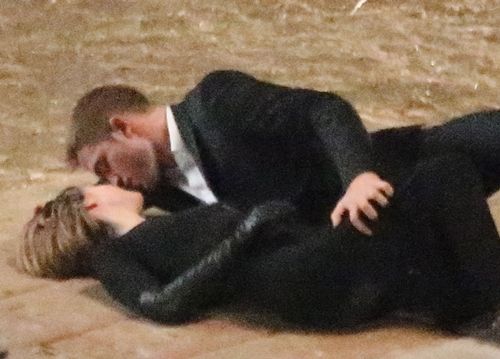 Fame Flynet
Robert Pattinson and Mia Wasikowska were photographed passionately kissing and I have to wonder if the two of them have something to tell us that will majorly upset Kristen Stewart. Nope, it was just the two actors filming a scene for their upcoming movie Map to the Stars. Although it looks like his hand is mapping her body instead of the stars!
---
BTWF roles: Ashley Greene on Crossing Jordan
August 13th, 2013 under Before They Were Famous, Twilight. [ Comments:

none

]

(starts at 2:34 in)


Before Ashley Greene was immortal in Twilight, she was mortal on Crossing Jordan. She looks the same now as she did when she was 18 in that 2006 episode.
---
A twilight of an Ashley Greene camel toe
August 13th, 2013 under Twilight. [ Comments:

none

]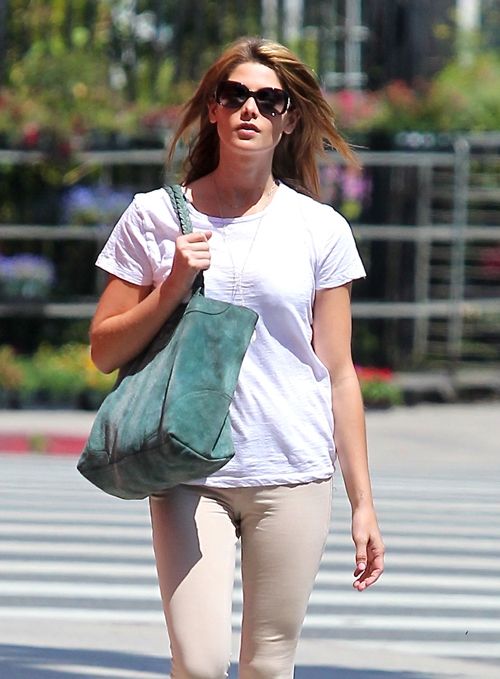 Fame Flynet
Ashley Greene went out yesterday in a pair of tight pants that revealed a little more than she would've liked. The Twilight star's camel toe was able to make a little appearance in them, just enough for you boys to enjoy. So I hope you liked it because it is a slow news day and hopefully that perked you up.
---
Kellan Lutz teaches Cookie Monster about things that vibrate!
April 23rd, 2013 under Sesame Street/Muppets, Twilight. [ Comments:

none

]




Kellan Lutz will someday get to make his future kids happy because he can tell them he appeared on one of their favorite shows Sesame Street. Only problem is the PBS show asked the Twilighter to teach other children about the word "vibrate."
Why is this problem? Well what vibrates in most homes? Let's be real Sesame Street got really lucky when they asked that question to the little tykes and none of them that stick in mommy's secret draw. That's what I would've said!
Personally I would love to see those moms' faces when their sons and/or daughters tell them about the special word they learned about Sesame Street that day. They'll be like, "Mom, guess what? Sesame Street taught me about things that vibrate today?" And then that little kid will be watching Dora the Explorer from then on!
---