Black Simon and Garfunkle take on Rihanna!
January 10th, 2013 under Jimmy Fallon, Rihanna. [ Comments: none ]

Black Simon and Garfunkle returned to Late Night yesterday and this time they performed Rihanna's Diamonds. For some reason the song has so much more meaning now that it was done folksy! La la la la la!
---
Rihanna got waxed twice!
November 13th, 2012 under Rihanna. [ Comments: 1 ]

Rihanna not only got a wax statue from Madame Tussauds in Hollywood today, but she also got one in Las Vegas too. Although I am not sure the Vegas one really looks like her to be honest. And when it comes to the LA human sized candle; not only does it look more like the singer, I think it also appears to be less plastic than Robin Antin is looking these days. Or it could just be that picture?
---
Oprah and Rihanna in Barbados
August 5th, 2012 under Oprah Winfrey, Rihanna. [ Comments: none ]

Oprah Winfrey flew to Barbados (tough job but someone has to do it) to interview Rihanna and I think that Gayle King should watch out. Seriously doesn't it look they have started a friendship for the ages?
---
Rihanna says something smart
May 1st, 2012 under Rihanna. [ Comments: 13 ]

Celebrities love to Tweet pictures that they have taken of themselves and they don't always look good in them which is good for us bloggers. Well yesterday Rihanna Tweeted the above photos and said, "Just realized how dumb u look takin self pix on iPhone." I would be worried that that trend might be coming to an end, but then the singer Tweeted some more self-pictures and now I know it will live on. Long live bad self taken photos by celebrities.
---
BTWF Talent Shows: Rhinna at Combermere High School
January 26th, 2012 under Before They Were Famous, Rihanna. [ Comments: 11 ]

Before Rihanna was singing for sold out arenas, she was singing at her school's talent show. How cute was the 15 year old back in 2003?
---
This is how the Cougar Town writers do it
January 26th, 2012 under ABC, Rihanna. [ Comments: 1 ]

Cougar Town is one of the funniest shows on TV that the network made the mistake of ignoring. But that is a whole other story that will be resolved on Valentine's Day at 8:30p on ABC.
So how does this show get to be such a laugh out loud riot? Well it looks like they take pictures of each other at the urinal and post it on Twitter. For example here is EP Kevin Biegel snapping a picture of Sam Laybourne relieving himself that they are done writing the third season of the sitcom. So if this what they do when they are not working on the scripts, imagine the crap they come up with when they actually work it? Please tune in to ABC on February 14th to see what they geniuses do with the paper they don't use to wipe their butts.
---
We can see that Rihanna has no tattoos on her boobs in that shirt
January 26th, 2012 under Rihanna. [ Comments: none ]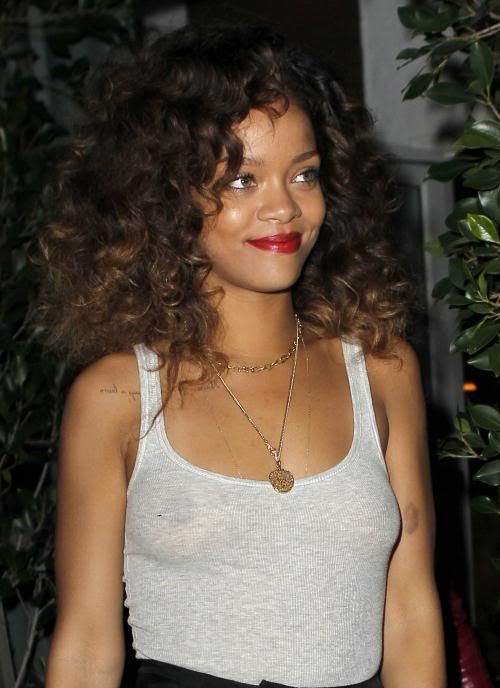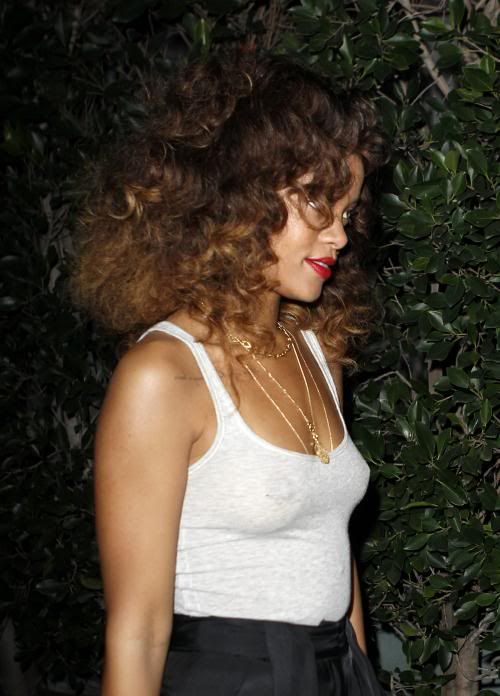 Fame Pictures
Rihanna loves to show off her tattoos, and now thanks to her wearing a grey tank top with no bra we can see a place where she doesn't have any…yet. I say yet because doesn't it seem like at this rate she will wind up being one of those tattoo ladies you see on exhibition at the carnival. gor
Seriously thing I don't get about her is that she is such a beautiful woman, but it appears to me that she does whatever she can to make herself ugly. Why doesn't she appreciate how beautiful she is?
---
Rihanna gets a blonde bob!
December 2nd, 2011 under Rihanna. [ Comments: 1 ]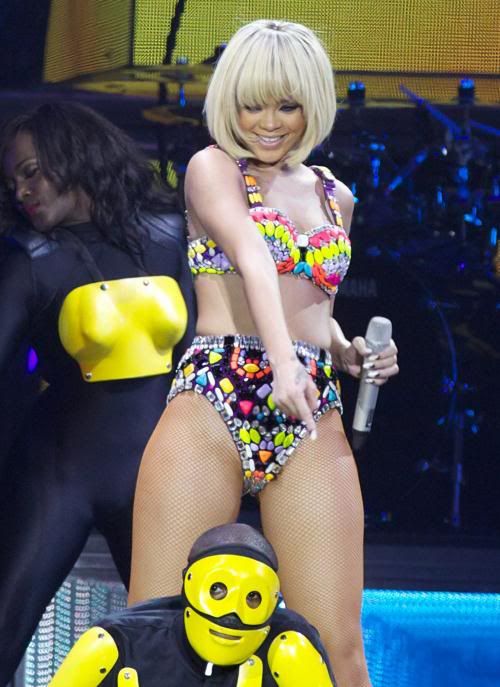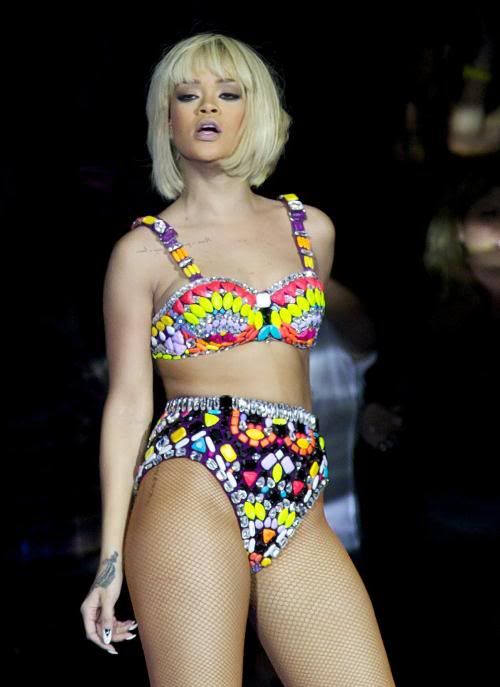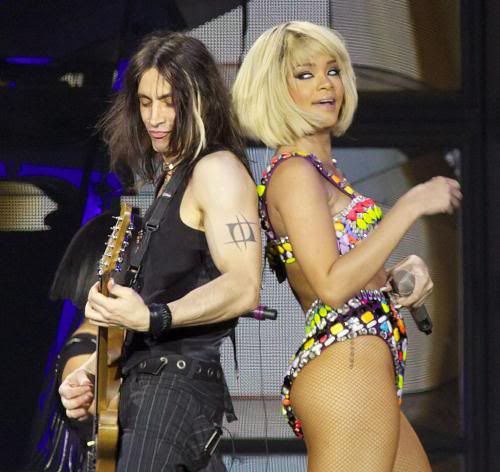 Fame Pictures
Rihanna was performing in London yesterday and she debuted a new look. The Umbrella singer who has some crazy hairstyles is now a sporting blond banged bob. I am not sure if it is a wig or if it is real, but I think she needs to keep this style because it is her best one yet. For once her hair matches her face, beautiful!
---
Rihanna looks normal…for 1988
September 12th, 2011 under Rihanna. [ Comments: 1 ]

WireImage
Rihanna is as known for her crazy hairstyles and outfits as she for her music, but yesterday she wore something normal from head to toe that I was almost Disturbia. Granted that hairdo, the over-sized grey sweater and black leather pants were normal look for 1988, but it is start for her. So do you have a Tainted Love for her makeover or do you wish she would go back to the Ronald McDonald wig?
---
Rihanna's Daisy Duke's reveal a little too much
August 22nd, 2011 under Celeb Oops, Rihanna. [ Comments: 1 ]

Want to see how Rihanna bends over backwards to show off too much then click here!
---