Celine Dion really gets into impersonating Rhianna!
July 22nd, 2016 under Celine Dion, Jimmy Fallon, Rihanna. [ Comments:

none

]

Celine Dion was on The Tonight Show yesterday and Jimmy Fallon challenged her to a game of Wheel of Impressions. Basically they each are given an artist and they had to sing a song in that singer's style.
The NBC host got Michael Jackson and Johnny Cash, both of which were impressive. But he could not compete to songstress. She started out with a tame Cher, but then she really let herself go when she got Rihanna. So much so, I never knew that the prim and proper musician can be a lot more than just that. She really embodied the Umbrella singer so much, it was anything but disturbia. Then it was time for one last impression and she got Sia. Sia would take off her wig to Dion because she sounded like the original but better.
Celine should add this schtick to her Vegas residency. Not only would I love to hear her sing her hits, I'd also love to hear her sing other people's as them. I'd pay a lot of money to see that!
---
The Ragtime Gals make Bitch Better Have My Money sound classy!
September 25th, 2015 under Jimmy Fallon, Rihanna. [ Comments:

1

]

If you listen to the song Bitch Better Have My Money, you don't think it sounds like it is worth a lot of dinero. That all changed last night when the Ragtime Gals performed the Rihanna hit in their own special way on The Tonight Show starring Jimmy Fallon. Now it sounds like a million bucks, so those bitches better have my money because I want my $1 million bucks!
---
This is what Rihanna looks like shaving her armpits!
March 20th, 2015 under Rihanna. [ Comments:

1

]

Rihanna has no shame when it comes to her Selfies, and she will share anything and everything in them. In the latest one, she showed us what she looks like shaving her armpits. That is one of the least sexiest things a man can see a woman do. Even though it is, I am sure there is not one single gyt who is turned off by seeing her do it. Now, if she was putting on a pair of a stockings, they might have changed their mind.
---
This is what Rihanna looks like when she wakes up!
January 6th, 2015 under Rihanna. [ Comments:

none

]

Rihanna shared this photo of herself before she got out of bed, and you know what, I think, she looks so much more beautiful. The singer is so gorgeous, but for some reason, I think, she likes to make herself look less attractive. I don't get it. But in this photo I do. Don't you think she is so much prettier like this? There is just an innocence about her here that I prefer.
---
Rihanna Giblers the Full House men!
January 29th, 2014 under Full House, Rihanna. [ Comments:

1

]

John Stamos, Dave Coulier and Bob Saget were all on Good Morning America today to promote their upcoming Super Bowl commercial. While waiting to go on they posed for some pictures and Rihanna, who was also a guest, photobomed some of them. Looks like Uncle Jesse, Joey and Danny didn't mind her having some fun with them because they were already having some fun in their own little Full House.
BTW if I were one of the network executives, I would look at the Bromance between these three guys and give them a sitcom for the fall. I am sure I am not the only who would watch it every week.
---
Rihanna looks beautiful from the neck up
August 5th, 2013 under Rihanna. [ Comments:

none

]

Today was the annual Crop Over Festival in Barbados and Rihanna dressed up to the nines for it. Well at least she looked beautiful from necklace up. Below that is a different story; and if you want to see it, then click here!
---
Did Rihanna's dog inspire her new hairdo?
August 1st, 2013 under Rihanna. [ Comments:

none

]

Rihanna Instagrammed some pictures of her new look and her dog yesterday, and I have to wonder if the poodle inspired her new short curly do. Don't her curls look like her pooches?
She might have a problem adjusting to her new hair, but personally I love it on her!
---
Rihanna's nipple ring is showing
July 22nd, 2013 under Celeb Oops, Rihanna. [ Comments:

none

]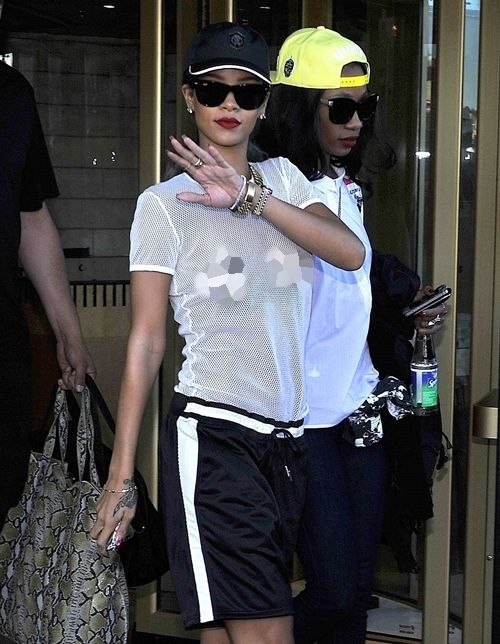 Fame Flynet
Oh Rihanna. The singer went out in a shirt that left nothing, and I do mean nothing, to the imagination in Sweden today. You would think she would've looked in the mirror before she went out and realized that her white shirt was see-thru. But then again maybe she did and she just didn't care. I am thinking the latter.
To see the NSFW picture, then click here!
---
Rihanna's outfit doesn't mesh well me
July 19th, 2013 under Rihanna. [ Comments:

none

]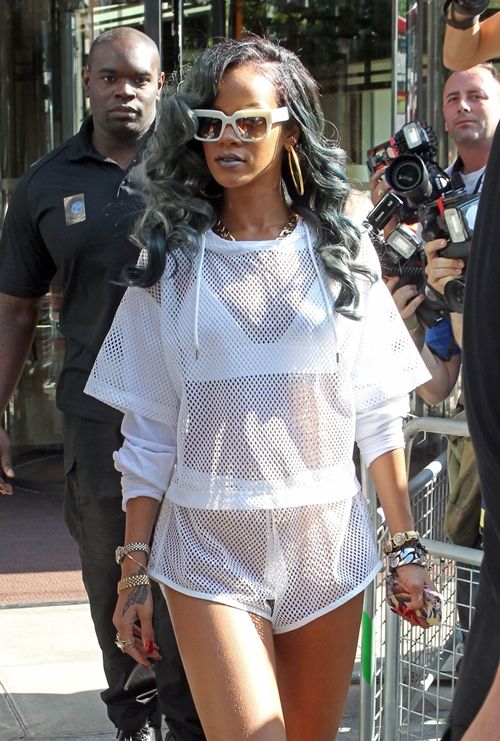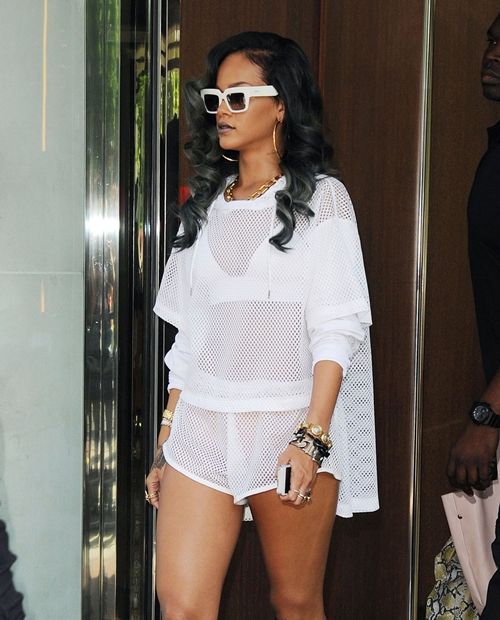 Fame Flynet
Rihanna went out in a white mesh short set that left very little to the imagination. It wasn't as much that it was see-thru, it's that it evident she isn't wearing any underwear. One strong gush of wind and we will see more of her than we really need to. I get it she has a great body, but there is a time and place to show it off. Walking the streets of London is not that neither that time nor place.
---
Do pearls class up Rihanna's outift?
July 2nd, 2013 under Rihanna. [ Comments:

none

]

Fame Flynet
Rihanna attended the Chanel show at Paris Fashion Week dressed like that. I guess she thought those pearls classed up the outfit, and she was wrong. Nothing can make her look elegant with that underboob tattoo or in a dress (if you can call it one) like that.
---