Will CeeLo Green KISS and tell?
May 23rd, 2016 under KISS, Spike TV, The Voice. [ Comments:

none

]

CeeLo Green is going to compete on this Thursday's Lip Sync Battle and it looks like one of his performances on the Spike TV show will leave us speechless. That's because the F*ck You singer is going to mouth KISS's Rock & Roll All Nite while being styled in their makeup and leather.
I don't know about you, but I feel like all hell's breakin' loose after watching this. If I feeling like this, I wonder how KISS feels about it?
---
Gene Simmons is not too old to pick his nose!
February 15th, 2016 under Avril Lavigne, KISS. [ Comments:

none

]

Avril Lavigne sat at the same table as Gene Simmons and Paul Stanley at Clive Davis' Grammy party, and she wanted to take a photo to with the two men from KISS. The singer with the tongue decided to have some fun and stick his finger up his nose. At least, I am hoping he was having some fun and the 66 year old wasn't really picking nose. But then again he is a Rock Star's Rock Star, so you never know. If he was serious, then it gives new meaning to the song Lick It Up.
---
Gene Simmons licks up Adam Sandler's ear!
December 8th, 2015 under Adam Sandler, KISS. [ Comments:

1

]

We know that Gene Simmons' long tongue has seen a lot action throughout his career, and now we can add one more place where it has been. That place is Adam Sandler's ear. The KISS singer didn't only whisper sweet things into his Little Nicky's ear, he made like their song and Lick It Up.
Is it wrong that I want to know what that feels like? I mean we have heard he can do incredible things with his tongue, aren't you interested to see if it is true?
---
Gene Simmons is missing half his face
July 17th, 2014 under KISS. [ Comments:

none

]

We have seen Gene Simmons with full KISS makeup on and we've seen him without it. But I don't think we ever seen the rocker with only a partial face. You know what, I think that's the best he's ever looked. I don't know why, but there is just something about it. What do you think of this look? Does it make you want to rock and roll all nite with him?
---
Is this the scariest picture of Gene Simmons yet?
May 14th, 2014 under KISS. [ Comments:

none

]

KISS is one of the scariest bands out there (according to parents of the late '70s) but I think this photo Gene Simmons Tweeted today of him getting his teach bleached is more horrifying than anything the band has ever done. With his eyes rolled back like that and that device holding his mouth open, it looks like he's the King of the Knights In Satan's Service. Which he is, but you know what I mean.
Seriously, am I the only one who is going to have nightmares tonight about him after this picture?
---
How I never ever needed to see Gene Simmons
June 24th, 2013 under KISS. [ Comments:

none

]

Gene Simmons Tweeted the above picture and said "Remember kids, read a book a week." While the message is good, the image is far from that. I mean did we really need to see him on the sh!tter? Is that his way of describing his book? It's sh!t?
I think I am going to read a Stephen King book just to get that image out of my head, at least the King of Horror has prettier images in his book.
---
Gene Simmon licks David Letterman with his legendary tongue
October 11th, 2012 under David Letterman, KISS. [ Comments:

none

]

KISS was on The Late Show yesterday and "@GeneSimmons gets a taste of Dave when @KISSonline returns to blow the roof off the @Late_Show." By the looks of the picture, it appears that the CBS late night host really enjoyed that. Can't say I blame him because that 12″ tongue has been experience by many many many women and not one of them complained how satisfying it is!
---
Gene Simmons KISSes fire!!!
September 5th, 2012 under KISS. [ Comments:

none

]

Shannon Tweed Tweeted a picture of Gene Simmons and said "My husband's on fire!!" I thought that picture was so rockin' that I just had to share it with you. Seriously if that shot doesn't capture what rock'n'roll, I don't know what does!
---
Did Gene Simmons just see his reflection?
August 23rd, 2012 under KISS. [ Comments:

1

]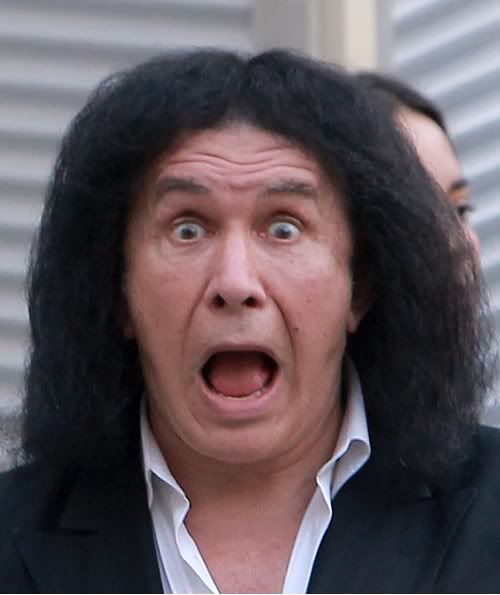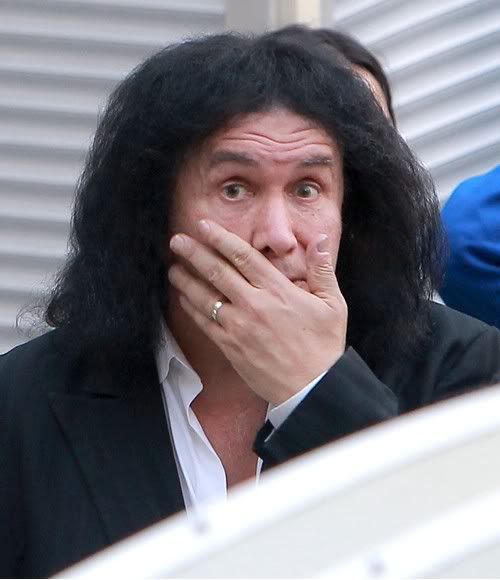 Fame Flynet
Gene Simmons was caught by the paps before he walked the red carpet for the Lawless premiere and I wonder if one them was holding up a mirror. I mean why else would have those expressions? That is how I look whenever I see him closeup without his Kiss makeup, so naturally I would expect him to do the same.
---
A&E KISSes Gene Simmons Family Jewels goodbye
August 14th, 2012 under A&E, KISS. [ Comments:

none

]

After 7 seasons A&E has decided they no longer want to rock with Gene Simmons Family Jewels. Shannon Tweed Tweeted the sad news today by saying, "I just got word that our show Gene Simmons Family Jewels will not be picked up." I guess after Gene and her finally tied the knot, there was not much for the network to do with them.
I will miss Gene, Shannon, Sophie and Nick on our TVs all the time, but Mrs Simmons promises this won't be the last of them! For some reason I don't think it will be.
---