Gene Simmons is missing half his face
July 17th, 2014 under KISS. [ Comments:

none

]

We have seen Gene Simmons with full KISS makeup on and we've seen him without it. But I don't think we ever seen the rocker with only a partial face. You know what, I think that's the best he's ever looked. I don't know why, but there is just something about it. What do you think of this look? Does it make you want to rock and roll all nite with him?
---
Is this the scariest picture of Gene Simmons yet?
May 14th, 2014 under KISS. [ Comments:

none

]

KISS is one of the scariest bands out there (according to parents of the late '70s) but I think this photo Gene Simmons Tweeted today of him getting his teach bleached is more horrifying than anything the band has ever done. With his eyes rolled back like that and that device holding his mouth open, it looks like he's the King of the Knights In Satan's Service. Which he is, but you know what I mean.
Seriously, am I the only one who is going to have nightmares tonight about him after this picture?
---
How I never ever needed to see Gene Simmons
June 24th, 2013 under KISS. [ Comments:

none

]

Gene Simmons Tweeted the above picture and said "Remember kids, read a book a week." While the message is good, the image is far from that. I mean did we really need to see him on the sh!tter? Is that his way of describing his book? It's sh!t?
I think I am going to read a Stephen King book just to get that image out of my head, at least the King of Horror has prettier images in his book.
---
Gene Simmon licks David Letterman with his legendary tongue
October 11th, 2012 under David Letterman, KISS. [ Comments:

none

]

KISS was on The Late Show yesterday and "@GeneSimmons gets a taste of Dave when @KISSonline returns to blow the roof off the @Late_Show." By the looks of the picture, it appears that the CBS late night host really enjoyed that. Can't say I blame him because that 12″ tongue has been experience by many many many women and not one of them complained how satisfying it is!
---
Gene Simmons KISSes fire!!!
September 5th, 2012 under KISS. [ Comments:

none

]

Shannon Tweed Tweeted a picture of Gene Simmons and said "My husband's on fire!!" I thought that picture was so rockin' that I just had to share it with you. Seriously if that shot doesn't capture what rock'n'roll, I don't know what does!
---
Did Gene Simmons just see his reflection?
August 23rd, 2012 under KISS. [ Comments:

1

]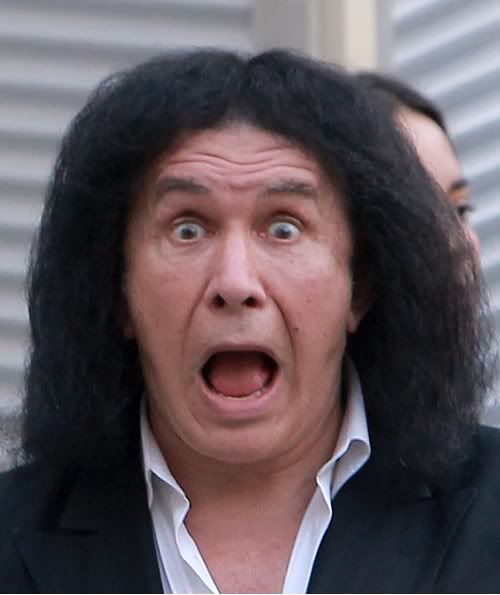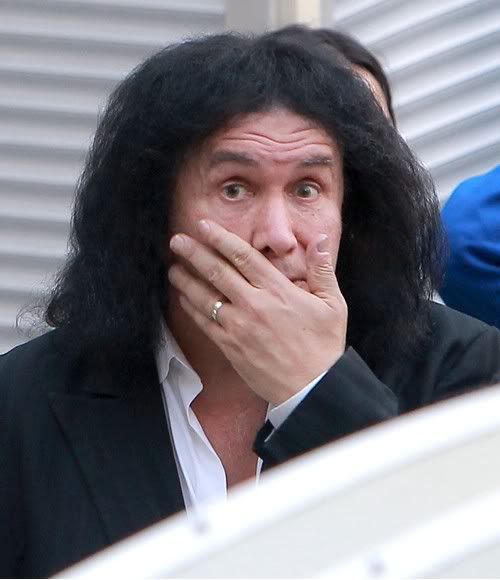 Fame Flynet
Gene Simmons was caught by the paps before he walked the red carpet for the Lawless premiere and I wonder if one them was holding up a mirror. I mean why else would have those expressions? That is how I look whenever I see him closeup without his Kiss makeup, so naturally I would expect him to do the same.
---
A&E KISSes Gene Simmons Family Jewels goodbye
August 14th, 2012 under A&E, KISS. [ Comments:

none

]

After 7 seasons A&E has decided they no longer want to rock with Gene Simmons Family Jewels. Shannon Tweed Tweeted the sad news today by saying, "I just got word that our show Gene Simmons Family Jewels will not be picked up." I guess after Gene and her finally tied the knot, there was not much for the network to do with them.
I will miss Gene, Shannon, Sophie and Nick on our TVs all the time, but Mrs Simmons promises this won't be the last of them! For some reason I don't think it will be.
---
Mike Tyson is the meat in a Gene Simmons sandwich
June 21st, 2012 under KISS, Mike Tyson, Strange Encounters. [ Comments:

none

]

WENN.com
Mike Tyson was photographed with the real and a fake Gene Simmons at the KISS Mini Golf event and it's such a weird photo-op that I just had to share it with you. It's just so strange, I don't know what to make out of it. Maybe you will have better luck with than I did.
---
I thought Gene Simmons and Shannon Tweed's relationship was striking out?
July 6th, 2011 under KISS. [ Comments:

2

]

WireImage
The basis for this season of Family Jewels is that Shannon Tweed was ready to give her lover of almost 30 years the KISS off, but seeing the way she is holding on to Gene Simmons it looks like they were faking it for the cameras and the press. Now which is staged the A&E show or this appearance at the Dodgers game, I am not sure but I am leaning towards the first.
Do you think she still wants to Rock and Roll All Nite with him or All Hell's Breakin' Loose when the cameras are off of them?
---
Is Shannon Tweed ready to give Gene Simmons the KISS off?
June 15th, 2011 under A&E, KISS. [ Comments:

2

]

via The NY Daily News
Shannon Tweed will be on The Joy Behar Show tonight with her long time love and looks like she is ready the give father of her two children the KISS off. When the singer made a joke about his Family Jewels, she walked off the set. Joy Behar being the b!tch, that she seems to be, kept pushing him leading to Tweed being even ore frustrated.
I have to admit that is one of the most uncomfortable interviews I have ever seen. You can tell that Shannon Tweed just wants to be done with him and move on, but can't because of the show obligations. I don't know why A&E is letting (making) them do press together for their reality show because you can feel tension through the TV screen and makes you want to turn away. I seriously felt the chill between them and I am sure I am not alone. Brrrrrr.
It is sad that a couple that has been together for almost 30 are falling victim to reality show curse.
BTW I wonder how much of that HNL will actually air on the show tonight? Because there is a lot that needs to be edited out.
---