Hugh Jackman diagnosed with Basal Cell Carcinoma
November 21st, 2013 under Hugh Jackman. [ Comments:

none

]

Hugh Jackman Instagrammed the above photo and said, "Deb said to get the mark on my nose checked. Boy, was she right! I had a basal cell carcinoma. Please don't be foolish like me. Get yourself checked. And USE sunscreen!!!" This form skin cancer is very curable; so if you have a questionable mole like he did, go to see your dermatologist as soon as you can. My father, grandmother and friend were all diagnosed with the same thing and they all beat it just like Hugh did. It is a simple procedure and again very curable, so there is nothing to be afraid of if you are, Gd forbid, diagnosed with it.
---
Does this picture of Hugh Jackman look X-Rated?
October 1st, 2013 under Hugh Jackman. [ Comments:

none

]

Fame Flynet
Hugh Jackman was riding his scooter in Manhattan holding something in his hand. Well that thingy kind of looks like something that only a man has, you know a pen!s. To make matters worse for the X-Man, in this photo he is holding it in a place where that thingy is. So it kind of looks like he is doing something inappropriate on the streets of NYC. Or maybe it is my wishful thinking?
---
Nothing is too skanky for Hugh Jackman's wanky!
September 20th, 2013 under Hugh Jackman, Jimmy Fallon. [ Comments:

none

]

Hugh Jackman was a guest on Late Night yesterday and Jimmy Fallon challenged him to an arm wrestling match. Well you already know who is going to win because I don't think anyone but The Rock or the guys from The Expendables franchise could actually beat the Wolverine without his claws.
But before Jackman took the NBC late night host's arm as his prisoner, the two men said what they would do when the won. While most are pretty lame, the last one from the X-Men made watching the inevitable loss well worth it. Seriously who doesn't love hearing Jackman (which gives his last name new meaning), "There's nothing too swanky for my wanky!"
---
Hugh Jackman is like butter!
September 3rd, 2013 under Hugh Jackman. [ Comments:

none

]

Someone made a bust of Hugh Jackman's Wolverine image out of butter and it looks more like his co-star Liev Schreiber than it does the X-Man.
I wonder if the person who sculpted this image, saw that movie he did with Jennifer Garner and Ty Burrell. What was the name of it again? Oh yeah, Butter and it was about butter carving! If you haven't seen it, you should rent it now because it's like butter!
---
Here's what the X-Men gang looks like seeing The Butler!
August 19th, 2013 under Hugh Jackman. [ Comments:

2

]

Hugh Jackman took the X-Men gang to see The Butler and that is their reaction to seeing it. Wolverine said that they loved it, but it is hard to tell in that picture. I am sure they did because it seems like anyone who has seen the movie has loved it.
BTW I would pay Oprah Winfrey a $1 if she took The Butler gang to see Wolverine and then took a photo of their reaction. Now that would be a picture that is worth a 1,000 words!
---
Hugh Jackman's nickname is V!
December 18th, 2012 under Hugh Jackman, Jimmy Kimmel. [ Comments:

none

]

Hugh Jackman is one of the most good looking men in the world, but back when he was 14 he had zits. Not your normal zits, but a group of them that made up a V on his forehead. So what's so bad about that? Well as he let us know on Jimmy Kimmel Live yesterday, there was a show on TV back then called V and that was how the aliens were identified. So when he went to school the kids would be like "Yo V, welcome to school, man." and "What up, alien?" And to this day, that is still his nickname.
So if anyone ever tries to remake the miniseries/show again, I don't think you will get him to star in it. Although if he did, it might negate his nickname because it won't be as fun calling him that.
BTW I think they got a different V in Australia than we did here in The States because I don't remember the aliens having Vs on their foreheads, do you?
---
Hugh Jackman tries to teach Jay Leno how to do Gangnam Style
December 14th, 2012 under Hugh Jackman, Jay Leno. [ Comments:

none

]

Hugh Jackman was on The Tonight Show yesterday and Jay Leno asked him about meeting Psy. Then Jackman told him that the Korean rapper taught him how to do a few of the Gangnam Style steps and the X-Man asked the NBC host if he wanted to learn them too. So Leno said yes and Jackman tried to get him to move his hips the right way and it just didn't work. But it totally worked for Jackman whose hips put me in a major trance as he they rotated them around and around!
---
Les Miserables doesn't look as misrable
November 9th, 2012 under Anne Hathaway, Hugh Jackman, Russell Crowe. [ Comments:

none

]

The second trailer is out for the much buzzed (and I am not referring to Anne Hathaway's haircut) Les Misrables. It looks better than the first one, but not enough for me to go see it on Christmas Day. I saw the Broadway play and I wasn't impressed by it so why would the film be any better. Are you planning on doing a Jewish Christmas when it comes out or are you planning on waiting til it is on cable?
---
Hugh Jackman is the same size he was in High School
August 17th, 2012 under Hugh Jackman. [ Comments:

none

]

Hugh Jackman Tweeted that photo and said, "26 years later and my high school jacket still fits… almost." I wonder if the almost means he was a little chubby back then or he is was just as muscular as he is now when he was teen? I hoping it's the latter.
BTW I think he would look so hot in that jacket if he didn't look like Wolverine from the neck up.
---
Does Hugh Jackman look better before or after?
August 3rd, 2012 under Hugh Jackman. [ Comments:

none

]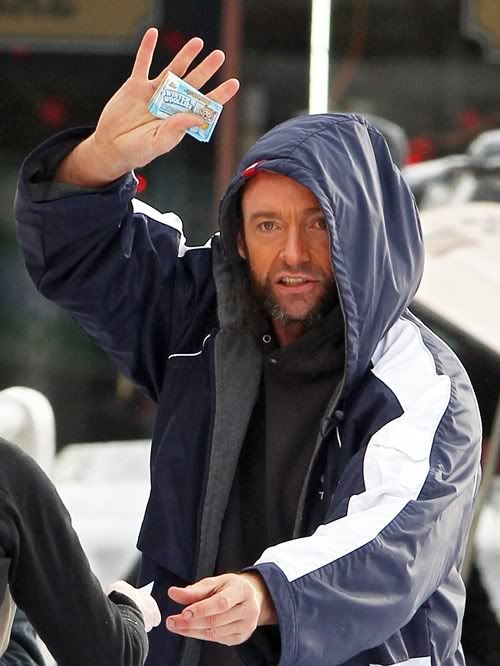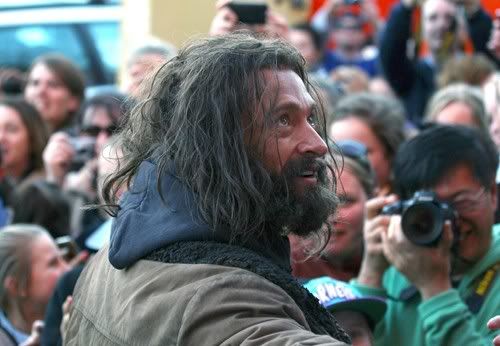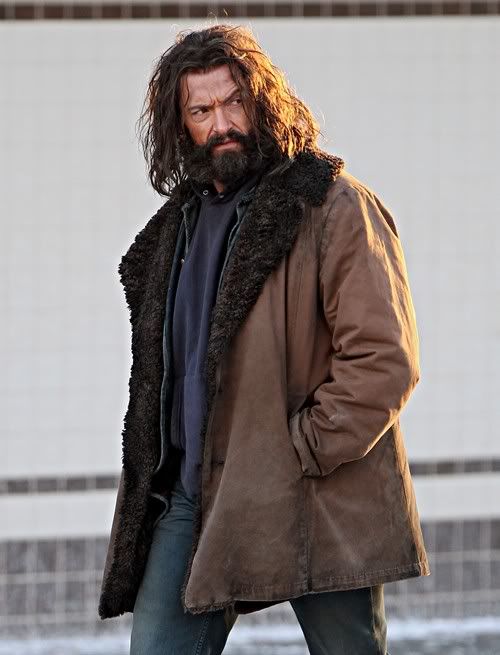 Fame Flynet
Hugh Jackman is filming The Wolverine and just like Les Misérables, he is looking like sh!t in it. Thankfully as you can see before he went it too makeup, his bum look is thankfully only temporary. I don't get why all these movies want to make him look awful because to me it is a turn off and not a turn on to see the movie.
---