How do you measure this Seasons of Love performance by the If/Then cast!
April 14th, 2014 under RENT. [ Comments:

none

]

On Saturday night, the cast of If/Then, that includes two castmembers from Rent's original Broadway lineup, sang the song Seasons of Love to benefit Broadway Cares/Equity Fights AIDS. Idina Menzel and Anthony Rapp raised $8,000 for the charity and along with their new castmates recaptured our hearts with the defining song.
Even though it has been 18 years since we first heard that tune, it is still just as timeless and it will never age. Even if it keeps counting the seconds in the year.
---
Idina Menzel let's John Travolta's snafu go!
March 21st, 2014 under John Travolta, RENT. [ Comments:

none

]

Ever since the Oscars, everyone has wanted to know what Idina Menzel thought of John Travolta introducing her as Adele Dazeem. Well, Billboard finally asked her about it and she told them she Let It Go. Actually what she said was that leading up to her performance she was very Zen and focused, that is until he botched up her name. His screw up threw her for a loop, but then she remembered when she was and got back on track singing the track. So what happened after the Oscars? She said that, "He was really gracious and sent this gorgeous email, and we're buddies and it's all cool." Does she hold any resentment towards him? Nope, she also said, "Please. I mean, I've only benefited from it."
That is so true, ever since the Oscars everyone knows her name, Adele Dazeem, I mean, Idina Menzel!
---
John Travolta breaks the Frozen ice over Sunday's f*ck up!
March 4th, 2014 under John Travolta, RENT. [ Comments:

none

]

Idina Menzel has gotten more press in the last two days over John Travolta mispronouncing her name at the Oscars than anything she has done in her spectacular career that includes starring in two of Broadway's biggest hits of the last 25 years, Rent and Wicked, combined. The actress has handled everything with class and has yet to respond to being renamed, Adele Dazeem, by the Hairspray actor.
Now even though the women with such a loud and powerful voice has been quiet, Travolta finally broke his silence. The Grease star told ABC News, "I've been beating myself up all day. Then I thought … what would Idina Menzel say, She'd say, Let it go, let it go! Idina is incredibly talented and I am so happy Frozen took home two Oscars Sunday night!"
So are you ready to let it go or will his embarrassing moment remain frozen in time with you? I am ready to let it go, even though I am happy that Menzel is finally getting the recognition she deserves.
---
Idina Menzel let it go with classroom instruments on The Tonight Show
March 3rd, 2014 under Jimmy Fallon, RENT. [ Comments:

none

]

Hot off of singing Let It Go at the Oscars, Idina Menzel aka Adele Dazeem sang the Oscar winning song from Frozen on The Tonight Show tonight. She didn't have an orchestra to back her up, instead it was Jimmy Fallon and The Roots using instruments you could find in a classroom to help out her powerful voice. The Rent star really Let It Go in this beautiful performance.
BTW I am sure every elementary school teacher is going to hate Jimmy Fallon starting tomorrow. Why? Because millions of girls are going to look for instruments they can find in their classroom to sing their favorite song like Menzel did on The Tonight Show over and over and over again. And it is only going to get worse for parents and teachers because Frozen is coming out on Home Video next Tuesday. Just when they thought it was safe to come out from the cold, Frozen is theirs to own whenever their kid wants to see it.
---
Who, John Travolta?
March 2nd, 2014 under John Travolta, Oscars, RENT. [ Comments:

none

]

via Eric Stonestreet
All John Travolta had to do was introduce Idina Menzel at the Oscars, but I, like everyone, have no idea who the heck he introduced to sing Let It Go. How hard is it to say her name, Ee-Dee-Nah Men-Zell? Who is Adelle Dazeem?
I know I should follow the song and Let It Go, but I can't. I love you John, but really?
Here is a little tip for the producers next year, make sure all the presenters go to at least one rehearsal and they know how to say the name of the people they are announcing.
---
Idina Menzel and Taye DIggs are no longer sharing the rent
December 11th, 2013 under RENT. [ Comments:

none

]

(photo via AP)


The holidays got a little more depressing today because Idina Menzel and Taye Diggs told People that they have separated. The two 42 year olds met when they starred together in the original production of Rent. After several years of dating, they finally tied the knot in 2003 and had a son, Walker, in 2009.
No reason was given for the split, but it is a sad day for those of us who thought this couple would be one of the few who that would actually last.
---
Rosario Dawson barely keeps her boobs locked up
July 7th, 2011 under RENT. [ Comments:

none

]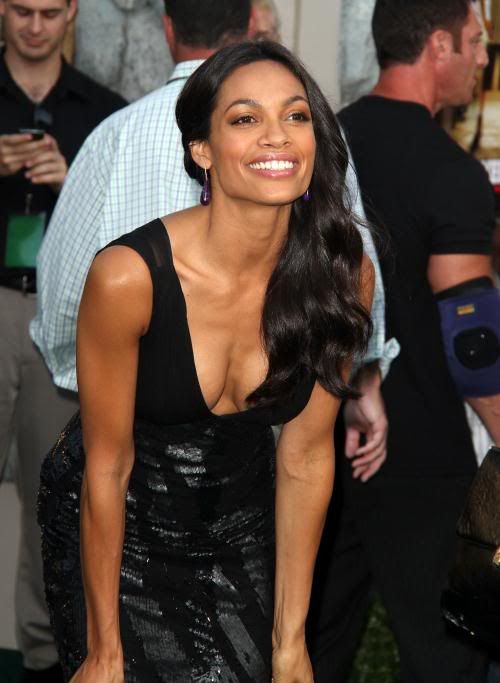 Fame Pictures
Rosario Dawson wore a low cut long black dress to the Zookeeper premiere and as she leaned forward in a laugh she was lucky to keep her boobs caged up. How she avoided a nip slip doing that is beyond me and I am sure there are a lot of people disappointed that she didn't have one.
---
Rosario Dawson always wanted to do Jimmy Kimmel on his desk!
June 24th, 2011 under Jimmy Kimmel, RENT. [ Comments:

none

]

Rosario Dawson was on Jimmy Kimmel Live and she told him she always wanted to do it with him on his desk leaving the talk show host flustered. But before we all think she meant "do it" as in sex, she was talking about her newest addiction planking. I don't know what exactly it is, but looking at the pictures she has posted on her Twitter it is basically her lying face down and flat wherever and whenever she wants. Hey she is excited about it and Kimmel was very excited to see her show him how it is done. I am sure he was willing to try planking on top of her on top of his desk if given a chance!!!
BTW planking is something I just don't see myself getting into because I am just not into lying down wherever and whenever because you don't know what or who has been on that surface before you. So ewwww.
---
Rosario Dawson and Paul Rudd both have a handfull
February 27th, 2011 under RENT. [ Comments:

1

]

WireImage
Rosario Dawson, Paul Rudd and Eva Mendes were all presenting together at the Independent Spirit Awards and for some reason they got all handsy with each other. Rosario grabbed Rudd's nuts and in turn he grabbed Mendes' boob. No reason was given for their actions, but you know they feel differently about each other after that. Those three really got into the spirit of the awards…and Rosario was having a ball!
---
Does Rosario Dawson have to go to the bathroom?
October 26th, 2010 under RENT. [ Comments:

1

]

WireImage
Rosario Dawson as promoting her movie Unstoppable and when I saw that picture all I could think of was is someone stopping her from going to the bathroom? Seriously doesn't it look like she has to pee like a racehorse?
---