BTWF roles: Keanu Reeves on Hangin' In
June 17th, 2014 under Before They Were Famous, Keanu Reeves. [ Comments:

1

]

Before Keanu Reeves was Sad Keanu, he was happy singing Yankee Doodle Dandy on Hangin' In. How cute was the 19 year old in that 1984 episode? And who knew he could sing and dance like that?
---
Keanu Reeves is that you?
July 29th, 2013 under Keanu Reeves. [ Comments:

4

]

Fame Flynet
Keanu Reeves was seen out and about over the weekend and he was barely recognizable. What made him so hard for me to identify? That big beautiful smile on his face, he normally doesn't wear.
That's why the orphans in Annie sang, "You're never fully dressed without smile!"
---
Keanu Reeves the Gentleman proves chivalry is not dead!!!
December 12th, 2011 under Admirable People, Keanu Reeves. [ Comments:

none

]

via INF Daily
Keanu Reeves was sitting on a NYC subway when passengers boarded at a stop. At first he moved over to the railing, so that another guy could sit. Then when he looked over to his right and saw a woman was standing because there were no more seats left, he offered her his and she graciously took it.
I never thought I could love more than I have since Bill & Ted's Excellent Adventure, but after seeing what a gentleman he is I love him ever more. Seriously you have to respect any man that proves chivalry is not dead, and one even more when he is a celebrity because so many of them think they are entitled to sit on their a$$es while the lay people stand.
Plus he is braver than me because he takes the NYC subway, I still get creeped out taking it since I saw a guy masturbating as he looked at my friends and me when we were barely teens. Yes those horror stories are true, but I hear not as much as many more. Crap next time I am in NY, I might take the subway just on the off chance that Keanu is on it and would let me on his seat…if you know what I mean!!!
---
BTWF ads: Keanu Reeves for Coca Cola
August 17th, 2011 under Before They Were Famous, Keanu Reeves. [ Comments:

none

]

Before Keanu Reeves was coaching kids in Hard Ball, his dad was his coach for Coca Cola. Even sweaty the 18 year old actor was still cute in that 1983 commercial.
---
Sad Keanu finally finds happiness!
June 20th, 2011 under Keanu Reeves. [ Comments:

1

]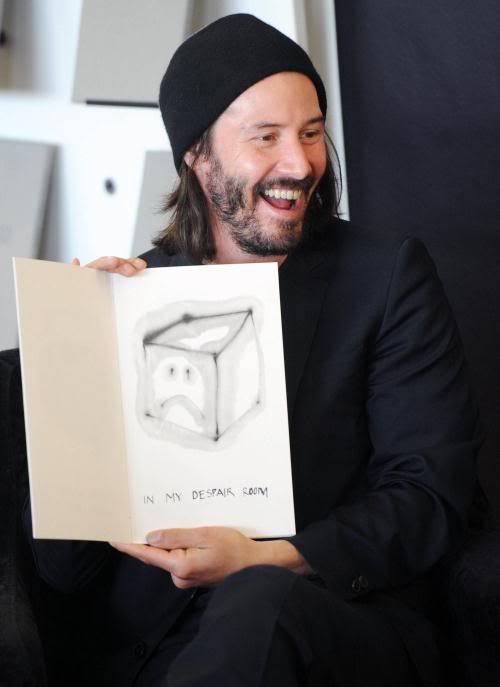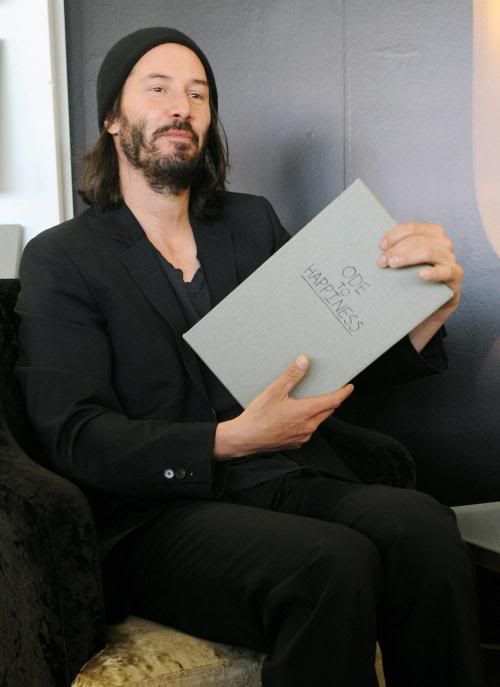 Fame Pictures
We have all seen those pictures of Sad Keanu Reeves, well guess what he has finally find happiness. The Matrix star has written a book called Ode to Happiness that is "both a meditation and a gentle tease about how we cope with life's sorrows."
It is nice that he has finally found happiness, too bad he hasn't found a brush and razor because then I will find happiness looking at Ted Theodore Logan again!
---
Bill & Ted's Inception Adventure!
July 27th, 2010 under Keanu Reeves. [ Comments:

none

]

via Katalyst Film's Twitter
I will openly admit that Bill & Ted's Excellent Adventure is my favorite movie of all-time, but after seeing it get the Inception treatment I don't think I will be able to watch it again for a while. That mashup totally scared the sh!t out of me because it was most excellent how well it worked…especially with the music. While you might think I will say that was totally Bogus, you would be wrong because I thought that it was most excellent. Seriously be prepared to be blown away because that was totally bodacious!!!
BTW who else was totally freaked out hearing Leonardo DiCaprio's voice come out of the late great George Carlin's mouth?
---
Bill & Ted's 3…Excellent or Bogus?
March 8th, 2010 under Keanu Reeves. [ Comments:

2

]

Yesterday was at the Oscars and MTV Movies Blog asked him if there was a chance we could get third Bill & Ted's movie and he told them he is trying! Although as he continued to answer the questions, he seemed wishy-washy about it? So do you Bill & Ted's 3 has an Excellent chance of happening or he was being Bogus about it? Since Bill & Ted's Excellent Adventure is my favorite movie, I am really hoping that Alex Winter and him get their jam on as Wyld Stallyns again. I just wish George Carlin was around to be part of it.
---
Keanu Reeves looking hot again
January 13th, 2010 under Keanu Reeves. [ Comments:

2

]

WireImage
The unshaven, scraggly haired Keanu Reeves is gone and the clean shaven, shorter haired Keanu Reeve is back and all I have to say is, "It is about freaking time!" I seriously forgot just how good looking he was when he was hiding under all of that hair and now that he isn't I am such a happy camper! I love seeing him look just like he did when he was Ted Theodore Logan!!!
BTW in case you are wondering why he clean up his look, he is filming his new movie Henry's Crime in Tarrytown, NY.
---
Who were it worse…Keanu Reeves or Tom Green?
August 13th, 2009 under Better than..., Keanu Reeves. [ Comments:

5

]
Both Keanu Reeves and Tom Green attended the same art show (and sadly no one photographed them together) in sports jacket, T-Shirt, faded jeans, beat up sneakers and in desperate need of a shave and a haircut. Looking at the two of them as they left the gallery makes me wonder who wore it worse…Keanu or Tom? You know what they both look like crap to me, so I can't jude. Who do you think wore it better or worse?
---
Caption Keanu Reeves!
June 2nd, 2009 under Caption the Celeb, Keanu Reeves. [ Comments:

12

]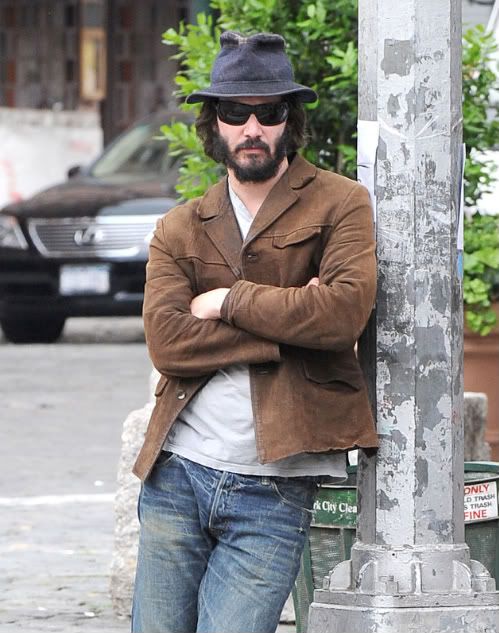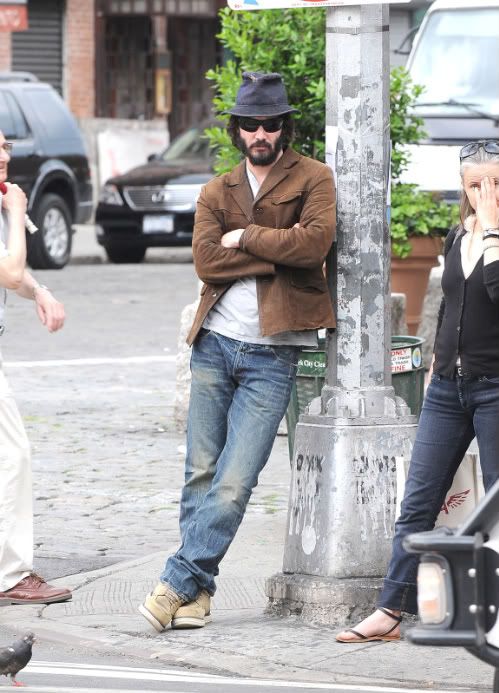 Those pictures of Keanu Reeves hanging out in NYC have Caption Me written all over it, so go ahead and do it!
---