A bunch of SNL greats and Justin Timberlake
March 10th, 2013 under Saturday Night Live. [ Comments: none ]

Justin Timberlake joined the Five Timers Club on Saturday Night Live yesterday and because of that the five-time host was able to go to the most elite club in NYC. So elite there are only a very few group of people that get to appreciate the benefits of the membership. Those that were there to welcome him were Paul Simon, Steve Martin, Chevy Chase, Candice Bergen, Alec Baldwin and Tom Hanks. Also there, but working the club because they are not members were Dan Aykroyd as a bartender and Martin Short as a server. How cool was it to see all those greats in one SNL bit? It just makes me sad to think how funny SNL used to be when they were on the show as compared to what it is now.
---
Where old comedians and singers go to retire?
March 9th, 2013 under Saturday Night Live. [ Comments: none ]

Steve Martin Tweeted this awesome picture of him with Chevy Chase, Paul Simon, Lorne Michaels, Dan Aykroyd, Martin Short and Tom Hanks, and said "Where are they now? Why, right here." Where is here? We just have to assume that it is a Retirement Home where all the greats go when it is there time. Not that any of them are close to being there.
And since they are not, how cool would it be if they all did a movie together. It's about time The Three Amigos got a sequel, right?
---
YOLO a song for Doomsday Preppers!
January 27th, 2013 under Saturday Night Live. [ Comments: none ]

The Lonely Island was back on Saturday Night Live yesterday and this time Adam Levine and Kendrick Lamar were there to help the band out. The new song is called YOLO and I think NatGeo needs to make it the new theme song for their hit show Doomsday Preppers. It is just as wild as the show and just as addictive.
---
Is this Chris Kattan's review of Movie 43?
January 24th, 2013 under Saturday Night Live. [ Comments: 1 ]

WENN.com
For some reason Chris Kattan came out of hiding and attended the premiere of Movie 43. The actor was photographed sticking his finger down his throat and I wonder if that is his way of pre-reviewing the movie or telling us where his career has been going/gone. Why do you think he did it?
Since it is National Compliment Day, I will try to say something nice about him. I guess I will say it is nice seeing him walk a red carpet again…especially for any other movie than Corky Romano. That movie was painfully bad and I can't remember why I actually sat down and watched the whole thing.
---
Saturday Night Live pays tribute to Sandy Hook Elementary
December 16th, 2012 under Saturday Night Live. [ Comments: none ]

Saturday Night Live made the tough decision to go on with the show after what happened in Sandy Hook, Ct on Friday. But that doesn't mean they weren't going to honor those who we lost on that horrific day. They started the show with the New York City Children's Chorus singing Silent Night and it brought tears my eyes and chills all over my body because it was a beautiful tribute to all those lost innocent souls.
Thank you to Saturday Night Live for doing the right thing in a perfect way for:

- Charlotte Bacon, 2/22/06, female
- Daniel Barden, 9/25/05, male
- Rachel Davino, 7/17/83, female.
- Olivia Engel, 7/18/06, female
- Josephine Gay, 12/11/05, female
- Ana M. Marquez-Greene, 04/04/06, female
- Dylan Hockley, 3/8/06, male
- Dawn Hochsprung, 06/28/65, female
- Madeleine F. Hsu, 7/10/06, female
- Catherine V. Hubbard, 6/08/06, female
- Chase Kowalski, 10/31/05, male
- Jesse Lewis, 6/30/06, male
- James Mattioli , 3/22/06, male
- Grace McDonnell, 12/04/05, female
- Anne Marie Murphy, 07/25/60, female
- Emilie Parker, 5/12/06, female
- Jack Pinto, 5/06/06, male
- Noah Pozner, 11/20/06, male
- Caroline Previdi, 9/07/06, female
- Jessica Rekos, 5/10/06, female
- Avielle Richman, 10/17/06, female
- Lauren Rousseau, 6/1982, female
- Mary Sherlach, 2/11/56, female
- Victoria Soto, 11/04/85, female
- Benjamin Wheeler, 9/12/06, male
- Allison N. Wyatt, 7/03/06, female
---
Samuel L Jackson is sick as f*ck of the bullsh!t jokes on SNL!!!
December 16th, 2012 under Saturday Night Live. [ Comments: none ]

Samuel L Jackson has done something that no one else has ever done on Saturday Night Live, he cursed not once but twice in 7 seconds. When Kenan Thompson was thanking the Snakes on a Plane star for being on his fake show, Nick Fury said "Man, F*ck!" Then when Kenan said, "C'mon man," Shaft responded with "That's some bullsh!t." Keenan ended that confrontation with, "C'mon now, that costs money."
So what happened? Well here is what Samuel L Jackson Tweeted about the incident, "I only said FUH not FUCK! K was sposed to cut off da BULLSHIT, blew it!!" Whether he did drop the F-bomb or not, who cares because he is Mother F*cking Samuel L Jackson and he can say whatever the f*ck he wants, when he wants!!!
---
Is it Dermot Mulroney or Dylan McDermott?
December 9th, 2012 under Saturday Night Live. [ Comments: 1 ]

Who hasn't confused Dermot Mulroney and Dylan McDermott in the past? I know I am guilty of it! Well yesterday on Saturday Night Live they asked that question and even one of them wasn't sure who he was? I would tell you which one he was, but even I couldn't tell who he is. Could you?
---
Magic Joseph Gordon Levitt
September 23rd, 2012 under Saturday Night Live. [ Comments: none ]

Joseph Gordon Levitt hosted Saturday Night Live yesterday and in the monologue he did a scene from his favorite super hero movie of the summer Magic Mike! That's right he gyrated his Third Rock from the Sun like it has never been gyrated before. And after finally seeing that movie, I have to say that nearly 2 minute video was better than nearly 2 hour film. Seriously even Matt Bomer stripping couldn't save that flick. It was the first time I almost fell asleep watching a stripper and I have seen a lot of strippers.
Now when it comes to JGL if this acting thing doesn't work out, he definitely has a career as a stripper!
---
Bill Murray has some wet fun
June 12th, 2012 under Saturday Night Live. [ Comments: none ]

Bill Murray is co-owner of the Charleston RiverDogs and today when his team had a rain delay he decided to entertain the crowd. The 61 year old ran around on top of the wet tarp before sliding into home and he looked just like a little kid having the time of their life. I mean could he be any more thrilled that he got to do that?
BTW the first time I watched this video, I was thinking he looked like Dr. Peter Venkman doing a victory dance over a deflated Stay Puft Marshmallow Man. You know it could happen if they ever made a Ghostbusters III?
---
Andy Samberg is totally stuffing?
May 30th, 2012 under Saturday Night Live. [ Comments: none ]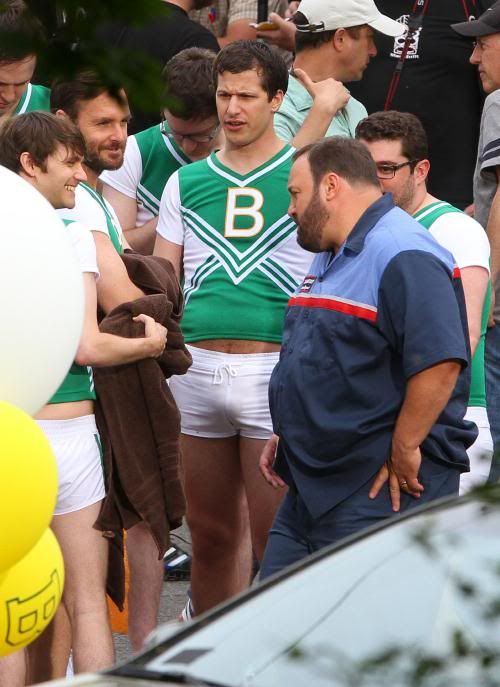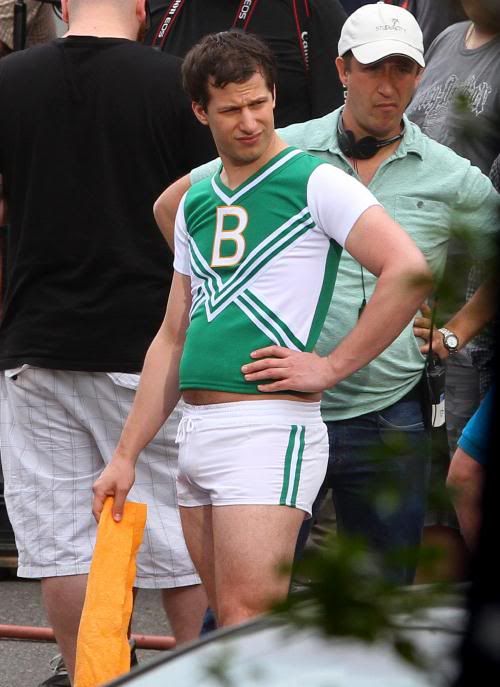 Fame Flynet Pictures
Andy Samberg was seen filming a car wash scene for Grown Ups 2 and all I could do was look at crotch in those tight white shorts. Not that I am trying to be mean, but he is totally stuffing, right? He can't be packing that much heat down there, can he?
BTW now I get why guys ogle the women when they wash cars. I mean his a$$ would cause me to get into a fender bender if I saw that tush while I was driving.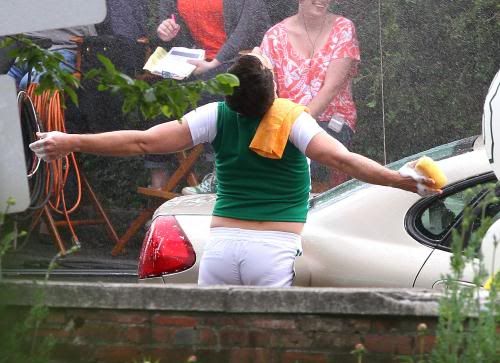 ---