Lady Gaga, that's one way to get you smelling fresh down there!
October 24th, 2013 under Katy Perry / Lady Gaga/ Ke$ha. [ Comments:

none

]

Lady Gaga Tweeted this photo and said "Happy as my Clam". Why her clam is so happy, we don't know. But what we do know is that it is coming up smelling like roses.
---
Ke$ha talks about the ghost in her vagina
October 15th, 2013 under Jimmy Kimmel, Katy Perry / Lady Gaga/ Ke$ha. [ Comments:

none

]




Ke$ha was on Jimmy Kimmel Live and the ABC late night host asked her about the premiere of her MTV show My Crazy Beautiful Life. In that episode she finds out she has a ghost in her vagina. Something she says makes sense because she was having a dry spell at the time. That is a different type of ghost, but still makes for a good story to tell on a late night talk show.
I have friends who are paranormal investigators and I am going to ask if that is possible. If it is, then I am going to ask them to conjure me up a spirit! Probably easier to get a guy that way than the traditional way of internet dating.
---
Does Katy Perry's music video make you Roar?
September 5th, 2013 under Katy Perry / Lady Gaga/ Ke$ha. [ Comments:

none

]

Katy Perry has finally released the music video for her chart topping song Roar and it's so bad that I decided to live Tweet how awful it is.
:15 She's in a plane crash and her dress is ripped, but there's no blood and her makeup is perfect.
:40 The tiger attacked the wrong person. If it had attacked her, our misery would now be over.
:43 Her acting here is why she only did voice over work in The Smurfs movies.
1:25 Is she trying to make love to the camera here? If so, the camera was left wanting more.
1:45 She's trapped on an island for a while, yet her makeup is perfect and so is her hair.
1:55 She's showering and yes her makeup is still perfect under all of that water.
2:40 Now she keeps saying how we are going to hear her roar, but all she does is go "oh, oh, oh, oh." Since when does roaring sound like that? So when are we going to hear her roar like she keeps saying?
3:10 Is her roaring scaring the tiger away or is it her bad breath? I am assuming by all of the blurriness it's her breath.
3:40 Did the monkey just fart in her face? Please say yes, please.
4:20 The End!!!
This video like her song is too over produced and that is why neither is working for me.
---
Does this Kia commercial deserve Applause?
August 23rd, 2013 under Ads, Katy Perry / Lady Gaga/ Ke$ha. [ Comments:

none

]

Kia released a new ad for one of their cars with some fat hamsters determined to lose weight all while Lady Gaga's Applause plays in the background.
After watching that ad in its entirety, I don't know what to make of it. But I think it is one of the worst advertisements I have ever seen. Seriously what were they thinking when they came up with this concept and then approved it to be made?
---
Lady Gaga is that you?
August 19th, 2013 under Katy Perry / Lady Gaga/ Ke$ha. [ Comments:

none

]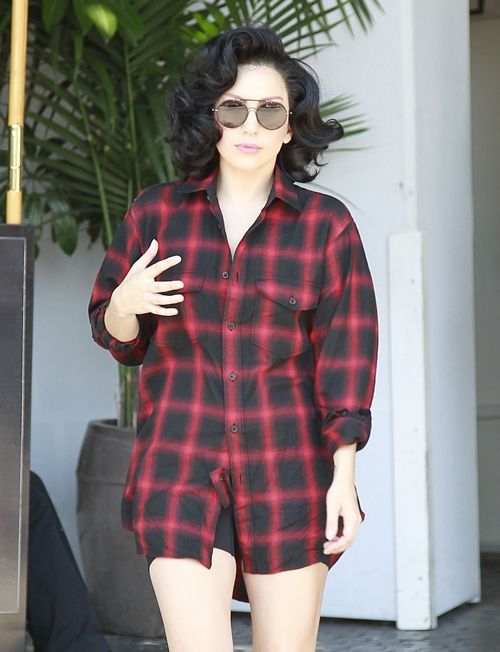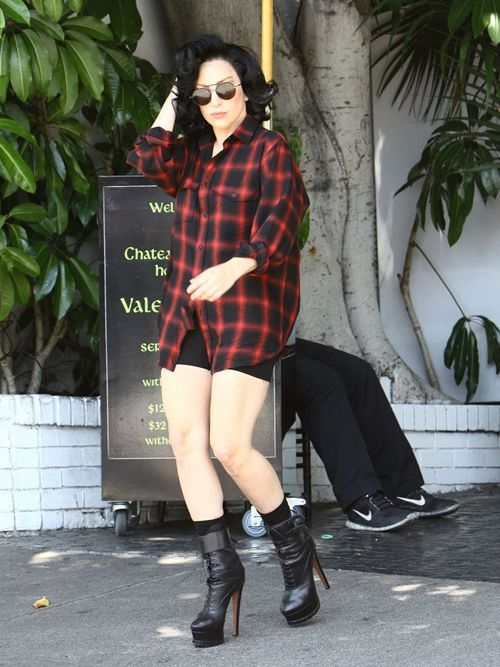 Fame Flynet
Lady Gaga went out yesterday looking, dare I say it, normal. If it wasn't for her shoes, I never would've guessed that she could dress this way. Personally I like her better this way, than with all those crazy costumes, hairdo's and makeup.
What do you think of her new look?
---
Ke$ha drinks her own pee
May 21st, 2013 under Katy Perry / Lady Gaga/ Ke$ha. [ Comments:

none

]

We know Ke$ha will try almost anything and tonight at 11p on her MTV show Ke$ha: My Crazy Beautiful Life she will drink her own piss. When her best friend tells her that her mom has a friend who drinks her own urine every day, the singer decides to try it out. So while her friends and her brother are in the van, she goes to the bathroom in a large water bottle. After a quick sniff, she gets ready to down the pee but before we get to see her do it in this sneak peek the video goes to black.
Now the question is do you really want to see her drink it? Yes some say it is actually healthy for you, but it still gross. Something I don't want to see, but yet like a car accident I won't be able to look away from it.
---
Ke$ha shows off her money maker!
May 20th, 2013 under Katy Perry / Lady Gaga/ Ke$ha. [ Comments:

none

]

Fame Flyent
A few weeks ago Gwyneth Paltrow walked the Iron Man 3 red carpet in dress that revealed so much she can't stop talking about her hairy private part. Well yesterday at the Billboard Music Awards Ke$ha wore a dress that is just as revealing and she showed Gwyneth how it is supposed to be done. Tik Tok Paltrow your 22 year old stripper butt's time is running out.
---
Guess who has Ke$ha on his head?
May 2nd, 2013 under Guess who?, Katy Perry / Lady Gaga/ Ke$ha. [ Comments:

none

]

Want to see who that Dinosaur is, then click here!
---
Ke$ha's boobs write her music!
May 1st, 2013 under Conan O'Brien, Katy Perry / Lady Gaga/ Ke$ha. [ Comments:

none

]

Ke$ha was on Conan O'Brien's show yesterday and the TBS host asked her what's her process on writing new songs. At first she said the boring things like they come to her in a dream or she'll just write them down on her phone or her hand. But then she shared with him that she has a new technique she came up with to write some of the music for her new album and it is something I am sure people will pay the big bucks to see done. She said, "It started as a joke, but then it has seriously produced some of my favorite songs on my new record." Then she explained it, "What I do is I turn off all of the lights, I walk over to the piano and I gently lower myself. My boobs!" Conan responds by saying, "Your breasts?" And she elaborates with, "Yeah my t!ties." Which he set himself him up for! But then she goes into detail how her girls touch the keys and make sweet sweet music bouncing back and forth, tickling the ivories.
Seriously are her breasts the only ones that can make boobiful music? Is that really all that special? I mean mine clap at comedians jokes, if I wear a low enough and tight enough shirt and they tell one that is funny enough for them to applaud for. Actually now they feel kind of ordinary after hearing what hers can do.
But back to her because she also kept us abreast of the meaning behind some her songs. Dinosaurs is about old men (like Conan's age) hitting on her, Grow a Pair is self explanatory and finally Gold TransAm is about her you know what!
So in short we now know her sexual organs write music or are called a Gold TransAm. Thanks Conan, that is more information than I needed to know about her.
Oh and one last thought about the musical boobs, listen to her new album and see if you figure out which songs they wrote. I'm going with Only Wanna Dance with You, Crazy Kids, Dirty Love and Die Young.
---
Good thing John Meyer and Katy Perry didn't have kids!
April 19th, 2013 under Conan O'Brien, John Mayer, Katy Perry / Lady Gaga/ Ke$ha. [ Comments:

none

]

Conan O'Brien has a segment called "If They Melded" where he merges two celebrities faces as one. In this version, he melded John Mayer and Katy Perry's faces together and it is good thing they are not breeding because they would so not make a good looking kid.
Also in last night's segment we got to see how much Miley Cyrus looks like her dad Billy Ray Cyrus when the two of them are melded together. She is so his mini-me.
---