Rick Springfield wants you to videotape yourself saying I Hate Myself!
April 25th, 2012 under Rick Springfield. [ Comments:

none

]

Rick Springfield wants you to be on his next album. All you have to do is videotape yourself singing "I Hate Myself" in the same melody as him and send the video to him on his website Rick Springfield.com/Rockstar by May 11th.
I know he says it is a positive song, but that is the happiest thing to be singing for your musical debut. But hey at least you can tell your grandkids you are a recording artist. Two lines is enough to warrant that, right?
OK off to sing I Hate Myself, and I hate myself for admitting that.
---
Rick Springfield shows your never too old to spend the day with your mom!
November 15th, 2011 under Rick Springfield. [ Comments:

23

]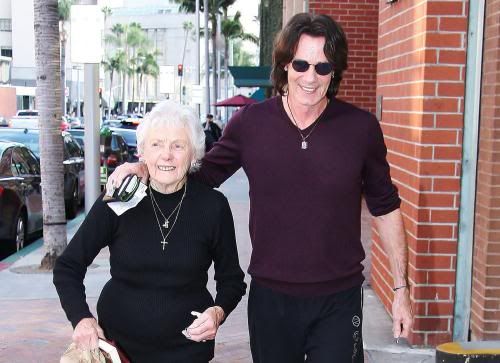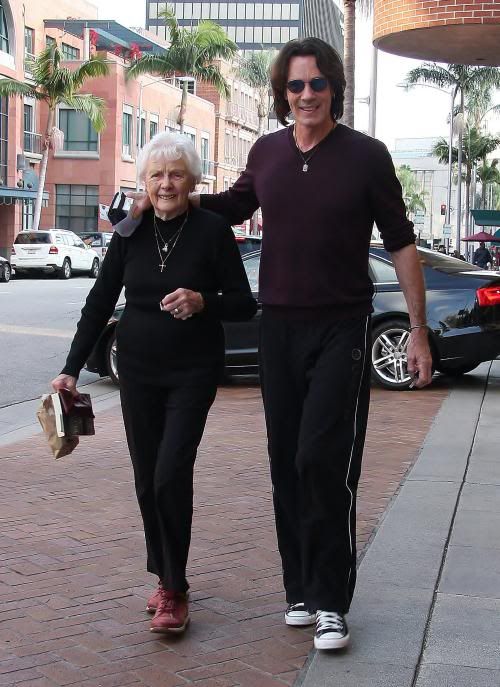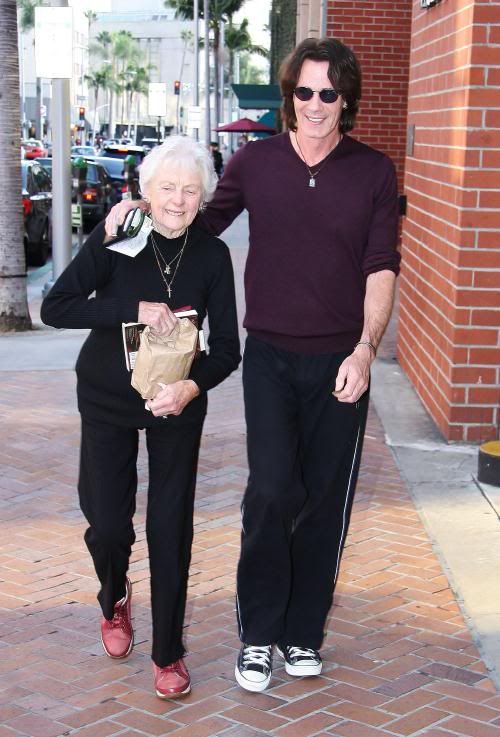 Fame Picture
Rick Springfield is 62 years old and yesterday he spent the day in LA with his spunky 93 year old mom Eileen. I am always a sucker for a man who spend time with his mom and these picture just made me love him a little bit more! Seriously aren't these photo just the sweetest?
BTW isn't it cute how she is rocking those red sneakers? They make her look younger than she already looks and I don't thinks looks anywhere near her actual age. She looks like someone at least 20 years younger than she is!
---
All I Need is the Human Touch!
November 4th, 2011 under Beverly Hills 90210 / Melrose Place, Rick Springfield. [ Comments:

none

]

WireImage
The same year (1983) that Rick Springfield left General Hospital, Jack Wagner joined and the ABC soap had two of the biggest rockers turned actors in the '80s star on the show. Now it is 2011 and the two are rocking the ocean together on Rick Springfield & Friends Cruise this weekend. Before they had love sick women getting sea sick they posed for pictures at Miami International Airport. Man I wish I knew about that cruise because I would so love to see Dr Noah Drake and Frisco Jones performing together!!! All I Need is Michael Damian aka Danny Romalotti to be on the boat and I would be sudsy rocker heaven!!!
---
I don't think this is what Rick Springfield meant when he sang Human Touch!
July 22nd, 2011 under Rick Springfield. [ Comments:

none

]

Back in 1983 Rick Springfield sang "We all need the Human Touch", and I don't think in 2011 he meant to get that Human Touch from a TSA Agent. But at least the agent was willing to propose to him before he touched an area I like to think is Hard to Hold!!!
Here is how Rick explained the moment where he was forced to talk to a stranger, "Here is a shot one of my band snapped as I was being frisked at an airport because I 'opted out' on the radiation scanning. He is about to check my penis for weapons of mass destruction but I'm not sure I like the kneeling position he is going in to. It looks like I'm about to get more than just a good frisking. Yes I blurred the guys face. How do you get on the 'trusted travellers' list? Probably by not posting embarrassing shots of TSA people, huh." Yeah probably not!
BTW if you are not familiar with his song Human Touch (that is my main ringtone), here is the video below! Amazing how prophetic it was 28 years ago to what is going on today.
---
Everything is coming up roses for Rick Springfield!
July 11th, 2011 under Rick Springfield. [ Comments:

none

]

Even since the first time (yes, I have seen him more than once) I saw Rick Springfield in concert, my favorite part of the show is when he uses a bouquet of roses to play his guitar. While the General Hospital doctor was playing in New Brunswick, WireImage photographed him thrashing some roses and we got some really cool picks! Seriously aren't those picture rockin'? It is almost better than watching it happen live and in person.
---