Rick Springfield admits his penis has been touched by more men than women!
August 29th, 2013 under Rick Springfield. [ Comments:

none

]




As we all know Rick Springfield is a touring musician, so that means he travels a lot. By doing so, he is forced to get the pat down when he goes through security because he doesn't like X-Ray machines. The singer, who never ages, says that he has been patted down so many times, that he has had his penis touched by more men than women.
I am sure there are plenty of ladies, including myself, who would be willing to get those female numbers up for him by giving him the human touch! We all need it, right?
BTW his Tweet reminds me that I need to fly more often!
---
Jesse Spencer thought Rick Springfield's Jessie's Girl was about him!
October 10th, 2012 under Lisa Edelstein/Hugh Laurie/House, Rick Springfield. [ Comments:

none

]

Jesse Spencer and Rick Springfield were both guests on The Today Show this morning and both Tweeted about meeting each other back stage. The singer posted a photo, but the House star went all fan like on him. Spencer Tweeted, "Just met Rick Springfield at the today show. I told him 'Jessie's Girl' was my first LP and I thought the song was written about me. Hehe 🎸"
Spencer is 33 years old and he was just about 2 when the song came out, so I have to wonder was he a Lothario back when he was just single digits or was he so into himself Carly Simon would've written a song about him. Chances are he paid no attention to lyrics and just heard there was a song about a guy named Jesse and just assumed he was that Jesse. Just like how I thought Meredith Brooks' song B!tch was about me! It is, isn't it?
You can see Jesse Spencer back on the small screen in Chicago Fire starting on NBC tonight at 10p.
---
BTWF roles: Rick Springfield on Nancy Drew Mysteries
April 25th, 2012 under Before They Were Famous, Rick Springfield. [ Comments:

none

]







Before Rick Springfield was working as a doctor at General Hospital, he worked for the DA's office on Nancy Drew Mysteries. He looks the same now as he did when he was 28 in that 1977 episode.
---
Rick Springfield wants you to videotape yourself saying I Hate Myself!
April 25th, 2012 under Rick Springfield. [ Comments:

none

]

Rick Springfield wants you to be on his next album. All you have to do is videotape yourself singing "I Hate Myself" in the same melody as him and send the video to him on his website Rick Springfield.com/Rockstar by May 11th.
I know he says it is a positive song, but that is the happiest thing to be singing for your musical debut. But hey at least you can tell your grandkids you are a recording artist. Two lines is enough to warrant that, right?
OK off to sing I Hate Myself, and I hate myself for admitting that.
---
Rick Springfield shows your never too old to spend the day with your mom!
November 15th, 2011 under Rick Springfield. [ Comments:

23

]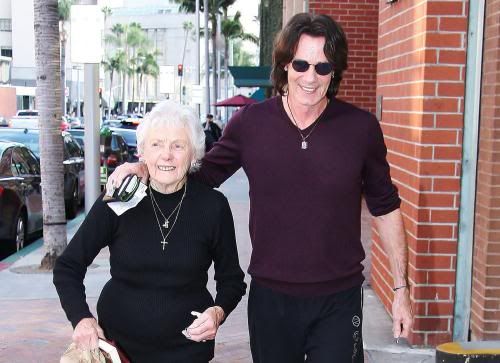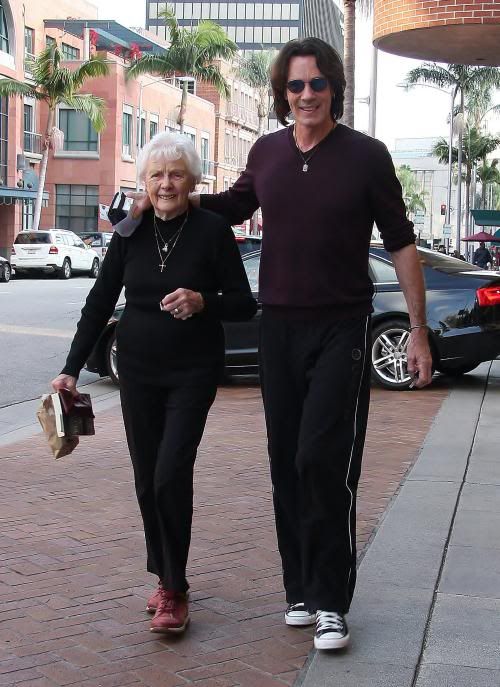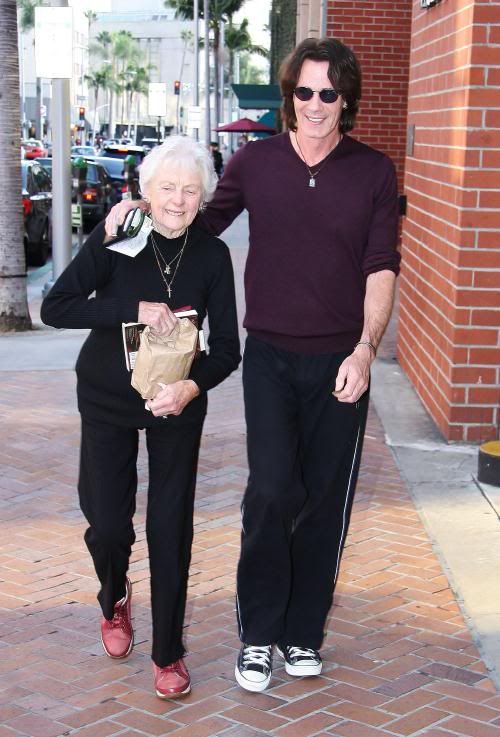 Fame Picture
Rick Springfield is 62 years old and yesterday he spent the day in LA with his spunky 93 year old mom Eileen. I am always a sucker for a man who spend time with his mom and these picture just made me love him a little bit more! Seriously aren't these photo just the sweetest?
BTW isn't it cute how she is rocking those red sneakers? They make her look younger than she already looks and I don't thinks looks anywhere near her actual age. She looks like someone at least 20 years younger than she is!
---
All I Need is the Human Touch!
November 4th, 2011 under Beverly Hills 90210 / Melrose Place, Rick Springfield. [ Comments:

none

]

WireImage
The same year (1983) that Rick Springfield left General Hospital, Jack Wagner joined and the ABC soap had two of the biggest rockers turned actors in the '80s star on the show. Now it is 2011 and the two are rocking the ocean together on Rick Springfield & Friends Cruise this weekend. Before they had love sick women getting sea sick they posed for pictures at Miami International Airport. Man I wish I knew about that cruise because I would so love to see Dr Noah Drake and Frisco Jones performing together!!! All I Need is Michael Damian aka Danny Romalotti to be on the boat and I would be sudsy rocker heaven!!!
---
I don't think this is what Rick Springfield meant when he sang Human Touch!
July 22nd, 2011 under Rick Springfield. [ Comments:

none

]

Back in 1983 Rick Springfield sang "We all need the Human Touch", and I don't think in 2011 he meant to get that Human Touch from a TSA Agent. But at least the agent was willing to propose to him before he touched an area I like to think is Hard to Hold!!!
Here is how Rick explained the moment where he was forced to talk to a stranger, "Here is a shot one of my band snapped as I was being frisked at an airport because I 'opted out' on the radiation scanning. He is about to check my penis for weapons of mass destruction but I'm not sure I like the kneeling position he is going in to. It looks like I'm about to get more than just a good frisking. Yes I blurred the guys face. How do you get on the 'trusted travellers' list? Probably by not posting embarrassing shots of TSA people, huh." Yeah probably not!
BTW if you are not familiar with his song Human Touch (that is my main ringtone), here is the video below! Amazing how prophetic it was 28 years ago to what is going on today.
---
Everything is coming up roses for Rick Springfield!
July 11th, 2011 under Rick Springfield. [ Comments:

none

]

Even since the first time (yes, I have seen him more than once) I saw Rick Springfield in concert, my favorite part of the show is when he uses a bouquet of roses to play his guitar. While the General Hospital doctor was playing in New Brunswick, WireImage photographed him thrashing some roses and we got some really cool picks! Seriously aren't those picture rockin'? It is almost better than watching it happen live and in person.
---
Rick Springfield is singing to himself What Kind of Fool Am I today
May 2nd, 2011 under Rick Springfield. [ Comments:

none

]

(photo from WireImage)


Rick Springfield was busted on suspicion of driving while intoxicated yesterday according to TMZ. The 61 year old singer/actor was reportedly pulled over for traffic violation when the officer thought they smelled alcohol so they gave him sobriety tests which he failed. The General Hospital star was taken to jail and later released on $5,000 bail.
You can see him tonight on CBS's Hawaii 5-0, but I doubt he will be watching after last night.
---
Rick Springfield is talking about Jessie's Girl and so many more…
December 15th, 2009 under Rick Springfield. [ Comments:

1

]

(photo from WireImage)


Rick Springfield is talking strangers about his life in a tell-all according to AP. The memoir that is due out in October will be "extremely candid" and in it he will be detailing his battle with depression. The book will be called Late, Late at Night, but I think he should've gone with Crushing Roses which is his signature move when he is given roses during his show. No other details were given about what will be in his autobiography, but you know it is going to be good. I so can't wait to read it.
---