Nymphomaniac gets worse and worse with each trailer
November 22nd, 2013 under Shia LaBeouf. [ Comments:

none

]

(NSFW)


The first full trailer is out for Nymphomaniac and I'd rather watch a bad p0rn0 than that movie. How can flick about sex addicts look so awful? Even the sex scenes suck and not in a good way.
---
Nympomaniac is the most boring sex-filled trailer
November 4th, 2013 under Shia LaBeouf. [ Comments:

none

]

The new very NSFW trailer is out for Nymphomanic and it looks more like the cheap porn clips you can watch on any adult website than an artsy film about sex. Because of that I will not be unwrapping this photo on Christmas Day.
---
Bad job, Shia LaBeouf
July 26th, 2013 under Shia LaBeouf. [ Comments:

2

]

Shia LaBeouf is starring in Nymphomaniac and he will be doing an English accent in it. All I have to say is what he says in all of his movies, "No, no, no, no, no, no, no, no, no, no, no." That and he is the worst Yank to do a Brit accent since Dick Van Dyke attempted one in Mary Poppins.
---
Shia LaBeouf broke his leg jumping rope
April 2nd, 2013 under David Letterman, Shia LaBeouf. [ Comments:

none

]

Shia LaBeouf was a guest on The Late Show yesterday and David Letterman asked him about the boot on the foot. The actor explained that he broke his foot while jumping rope? Did he do it trying to join a double dutch team? Nope he took up boxing after he got fired from Orphans. I wonder who he was picturing when he was punching the bag? Could it be his former-co-star that he talked about on the CBS talk show?
---
Shia LaBeouf is not shia in this full frontal music video
June 18th, 2012 under Shia LaBeouf. [ Comments:

none

]

(NSFW)


Shia LaBeouf took it all off for Sigur Rós' music video Fjögur píanó and I have to quote him to express how I feel about it, "No, no, no, no, no, no, no, no, no, no." I just don't know what to make of what I just saw. It is like one of those routines on So You Think You Can Dance that the judges say is absolutely brilliant and deep, but I have no idea WTF the dancers just did.
What did you think of it? Oh there is something I totally feel after seeing him completely naked, he really needs to manscape because it would make him look so much bigger. And you know what I think he needs all the help he can get.
---
Shia LaBeouf is movie's most profitable actor
August 31st, 2010 under Shia LaBeouf. [ Comments:

2

]

Out of all the stars in Hollywood, Shia LaBeouf is the best one for the buck according to Forbes for a second year in a row. As in "for every $1 studios spend on the 24-year-old actor his films return an average $81 of profit." In a distant second was Anne Hathaway who did a little better than Harry Potter. Coming is 4th and almost half as much as Anne is Sherlock Holmes' Iron Man Robert Downey Jr.
1. Shia LaBoeuf – $81 earned for every $1 paid
2. Anna Hathaway – $64
3. Daniel Radcliffe – $61
4. Robert Downey Jr. – $33
5. Cate Blanchett – $27
6. Meryl Streep – $21
7. Jennifer Aniston – $21
8. Johnny Depp – $18
9. Nicholas Cage – $17
10. Sarah Jessica Parker – $17
Not on the list are Angelina Jolie, Brad Pitt, any of the Frat Pack or any of the Twilight stars, I wonder if that will change their salaries when they negotiate deals for their next movies? I am also curious to see Wall Street will drop Shia down a notch and if Jennifer Aniston's The Switch will make her switch out with one of the Brangelina's?
---
What is Shia LaBeouf trying to tell us with this banana?
August 8th, 2010 under Shia LaBeouf. [ Comments:

none

]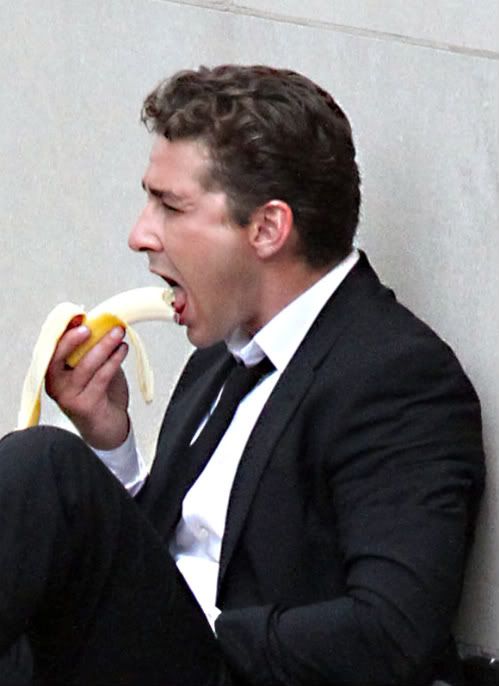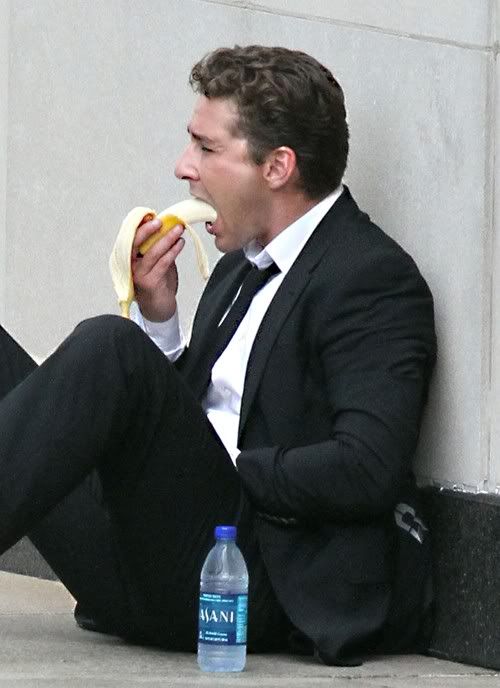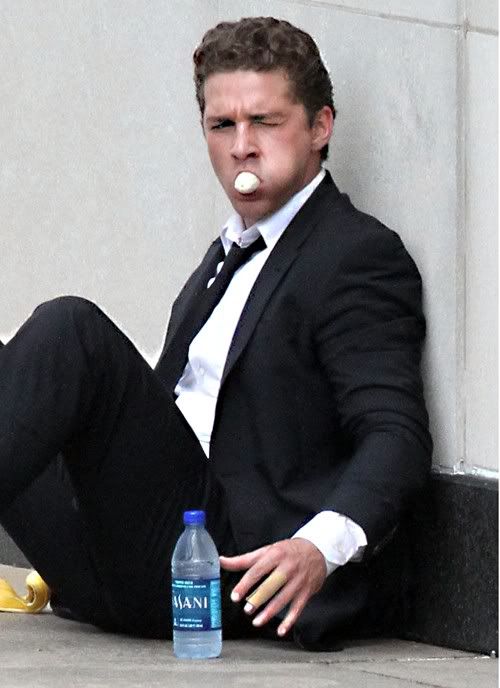 Fame Pictures
As we all know bananas are phallic looking and looking at the way Shia LaBeaouf is downing that long yellow fruit, I wonder what he is trying to tell us? Look at the way he is licking the tip of it and also he seems comfortable with it be a mouth full in the last picture. So I am sure I am not alone wondering what he is trying to say with the banana? Oh wait I just figured it out he is trying to tell us that bananas are good for us, they are low in calories and high in potassium!
---
The many moves of Shia LaBeouf
August 4th, 2010 under Shia LaBeouf, The Many Faces of. [ Comments:

none

]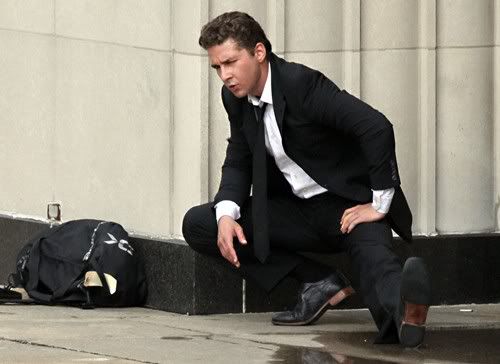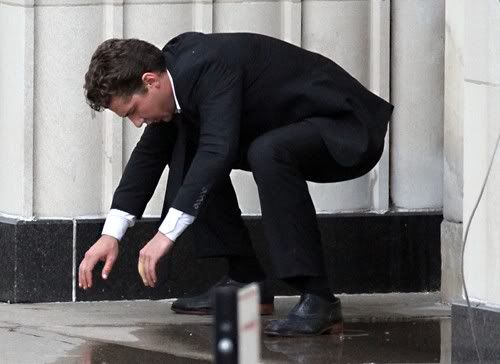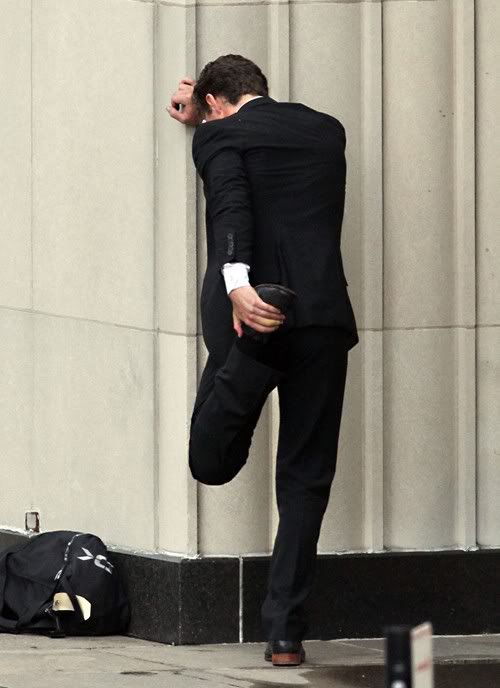 Fame Pictures
Shia LaBeouf was on a break during filming of Transformers 3 and he decided to show off how he gets into a shape for the action movie. Who knew he was so flexible? Or that he could jump that high? I guess that is why he is butt is so toned.
Maybe when he does with Transformers 3 and Indy 5, he can remake Perfect! Although he might have the moves of John Travolta, I think he will have to stuff down there to fill the shorts like he did.
---
The many faces of Shia LaBeouf
August 2nd, 2010 under Shia LaBeouf, The Many Faces of. [ Comments:

none

]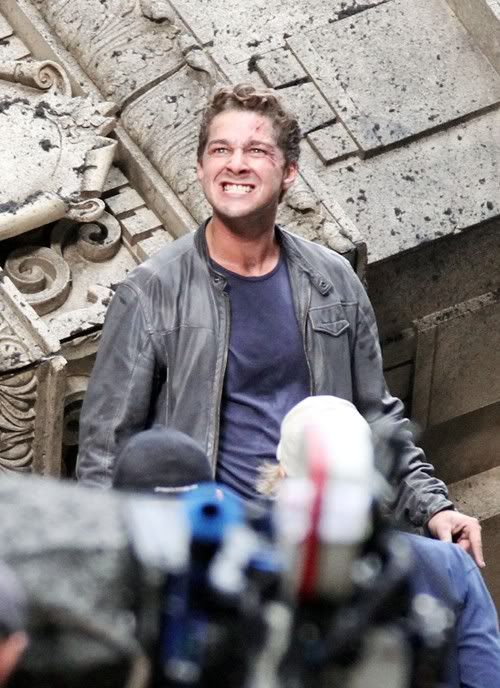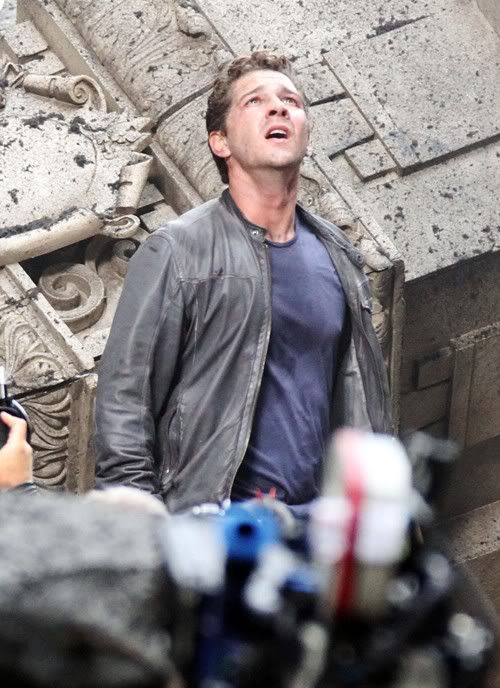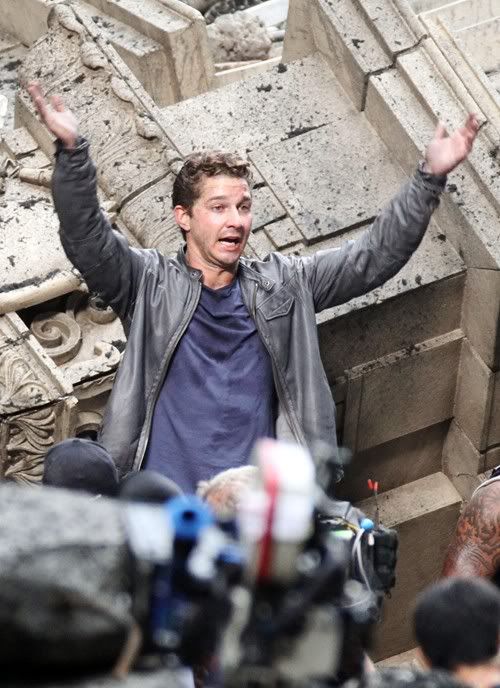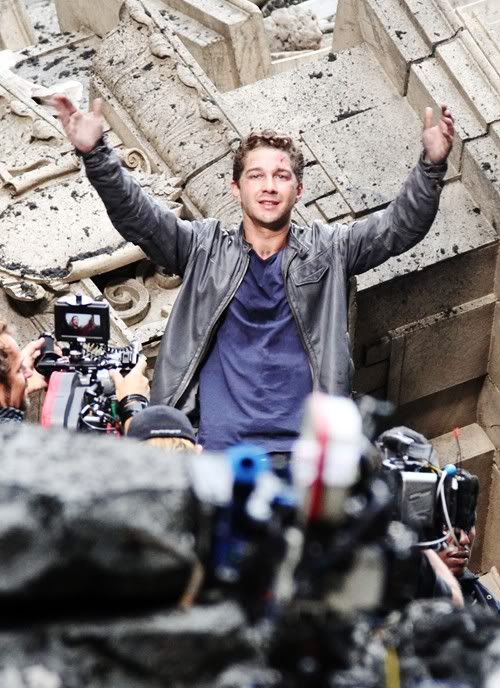 Fame Pictures
Shia LaBeouf was filming his new movie and his face was like the movie title…Transformers. I wonder if that was Shia joking around or those faces were the film, I hope it was the latter because those facial expressions will make the 3rd movie in the franchise even funnier than it wasn't intended to be.
---
Looks like I'll be saying no no no to Wall Street 2
January 28th, 2010 under Shia LaBeouf. [ Comments:

none

]

Fox just released this teaser trailer for Wall Street 2 aka Wall Street: Money Never Sleeps and it actually started to put me to sleep. With all the hype leading up to sequel I thought it would be better than that. If that teaser is any hint what the movie is going to be like, I am going to skip it. Actually to be honest I had no intention of seeing the movie to begin with, I thought the original movie was overrated. Actually I lied there is kind of reason why I'm tempted to see it because I want to see how many times Shia will go "No no no no no no no no no no" in the movie! If you don't get that reference, here is a YouTube video explaining it.
---