The Brothers Grimsby looks grim
December 10th, 2015 under Borat. [ Comments:

none

]

Sascha Baron Cohen is back doing comedies with The Brothers Grimsby and I think the movie, that is coming out on March 11th, looks like it should be going Straight-to-Netflix instead of to theaters. Or I should say Crackle since it is from Sony Pictures.
Either way, it looks like it will be another one of his film where all the funny parts were in the trailer and there weren't that many moments that made me laugh.
Are you excited for this movie or will you spy anything else that weekend?
---
Sacha Baron Cohen pulls a Andy Kaufman
November 11th, 2013 under Borat. [ Comments:

none

]

Back in 1979, Andy Kaufman was performing at Carnegie Hall and he brought out Eleanor Cody Gould, the last surviving member of the dancing cowgirls from the movie The Forest Rangers. Well the brilliant comedian had the elderly actress do the dance she did in the movie, faster and faster, until she died right there on the stage of a heart attack.
Fast forward to this weekend, a comedian that wishes he was as much of a genius as the Taxi star, tried a similar stunt. Sacha Baron Cohen received the Charlie Chaplin Award For Excellence In Comedy at BAFTA LA and they brought only the oldest surviving actress to have worked with the Tramp. While imitating the walk that Chaplin had with his cane, Borat knocked Grace Collington off the stage and appeared to have killed her.
Just like Kaufman, it was just a big hoax and both actresses survived the bit. But unlike Kauffman it wasn't as good.
So my advice to Cohen, stick to your own schtick.
In case you don't remember Kaufman's famous bit, you can watch it below:
---
Sacha Baron Cohen continues to make an arse of himself
May 16th, 2012 under Borat. [ Comments:

none

]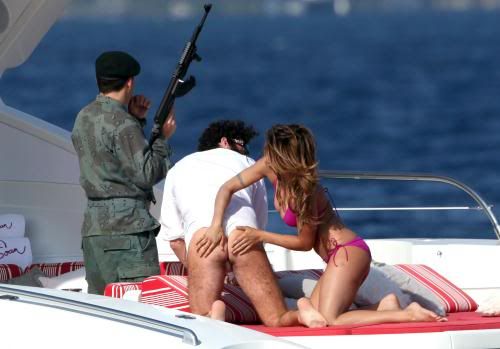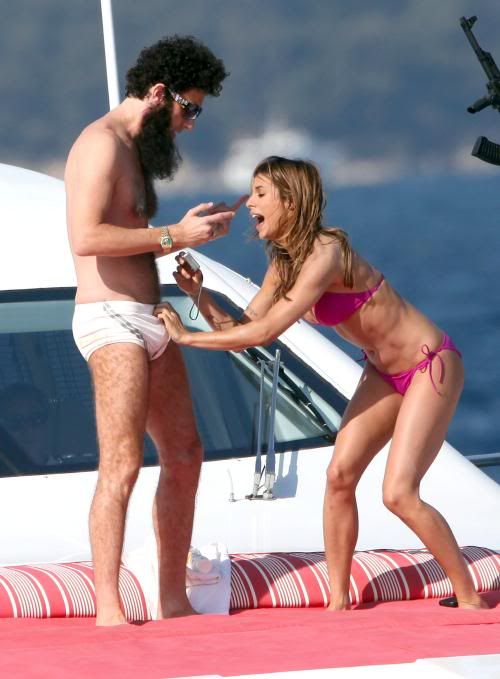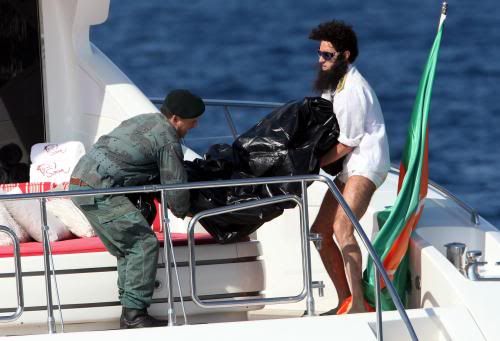 Fame Flynet Pictures
Sacha Baron Cohen is in Cannes to promote his latest unfunny movie The Dictator and it doesn't look like it will be smooth sailing for him. He took George Clooney's ex Elisabetta Canalis on a boat ride, and it ended it as good for her as it did when she broke up with the Oscar winner. Instead of leaving the way she came on the boat, the Dancing with the Stars "star" was thrown overboard in a black plastic bag after laughing at his tiny pen!s. I mean you can't blame her, it just seems that men with small dicks make up for it by being big ones. And after seeing Borat and Bruno, I think his little Dictator is the only funny thing about him.
---
BTWF game shows: Sacha Baron Cohen hosting Pump TV
February 28th, 2012 under Before They Were Famous, Borat. [ Comments:

none

]

Before Sacha Baron Cohen was torturing unsuspecting people in his movies like Borat, he was torturing people knowingly on Pump TV. I totally didn't recognize the 24 year old actor in that 1995 game show.
---
How does Sacha Baron Cohen continue to get money to make movies?
December 14th, 2011 under Borat. [ Comments:

none

]

The trailer for The Dictator is out, and I am hoping the film makes like Saddam Hussein, Kadafi and Osama bin Laden and dies a slow painful death. Maybe I am still not over that dick twirling scene in Bruno, but I seriously wish Sacha Baron Cohen would stop making unfunny and hate filled movies.
Dang what is happening to me, I used to like movies like that, but he destroyed that for me. Dang you Borat, Bruno and The DickHater.
---
Sacha Baron Cohen gets a job fitting of his movies?
July 13th, 2011 under Borat. [ Comments:

2

]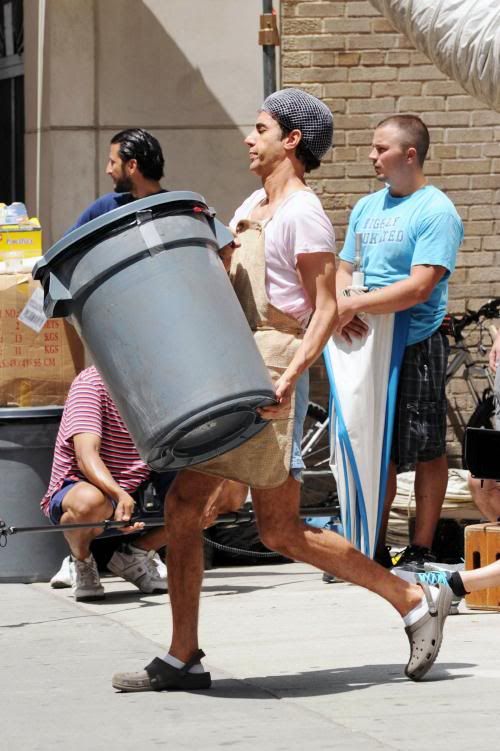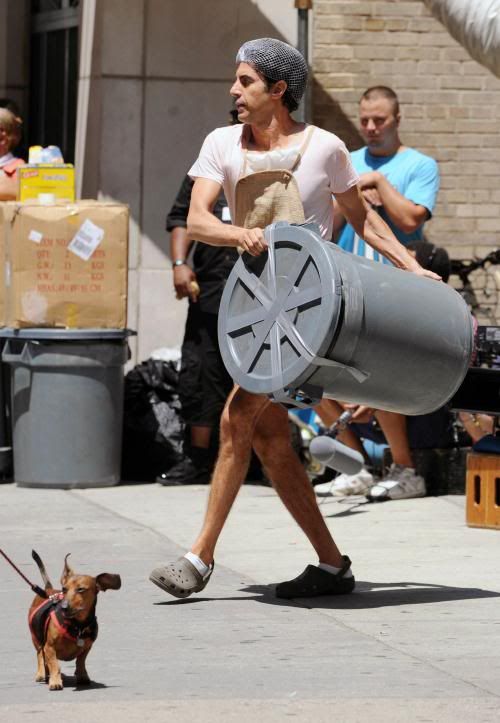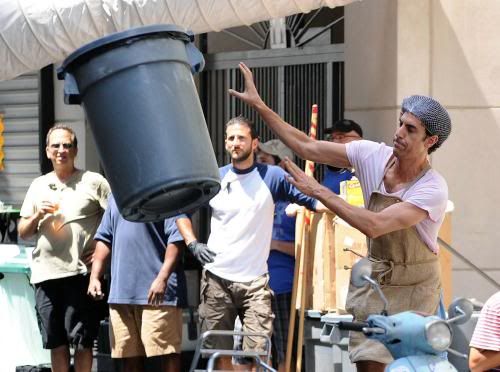 Fame Pictures
Did Sacha Baron Cohen finally get a job fitting of his movies like Bruno and Borat? You know working with trash. Sadly nope it is just him taking out the garbage for his latest trashy film The Dictator or as I like to call it The DicKtator.
Seriously am I the only who is still emotionally scarred from Bruno? I still have terrifying flashbacks from that scene where the d!ck goes around and around.
---
Sacha Baron Cohen is going down!
June 15th, 2011 under Borat. [ Comments:

none

]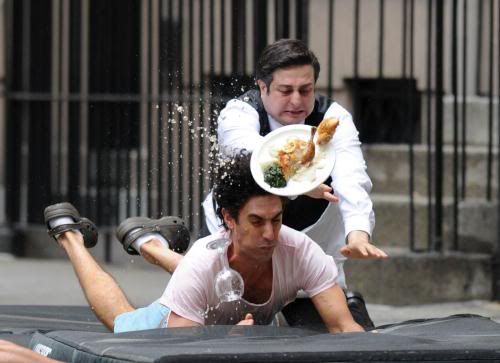 Fame Pictures
Many people have wanted to see Sacha Baron Cohen go down face first and eat some dirt and now thanks to his latest movie The Dictator we will. Sadly they put some padding down, so he didn't really get hurt.
Will I see his new movie? Nope because you know the expression "fool you once shame on you, fool you twice shame on me?" well that is I fell after seeing Borat and Bruno. Now images from Bruno that I thought I finally got out of my head are back. If you saw the movie, you know which one is really going around and around and around in my head.
---
Isla Fisher banished to the kids' VIP section at a Hollywood party!
March 10th, 2011 under Borat. [ Comments:

none

]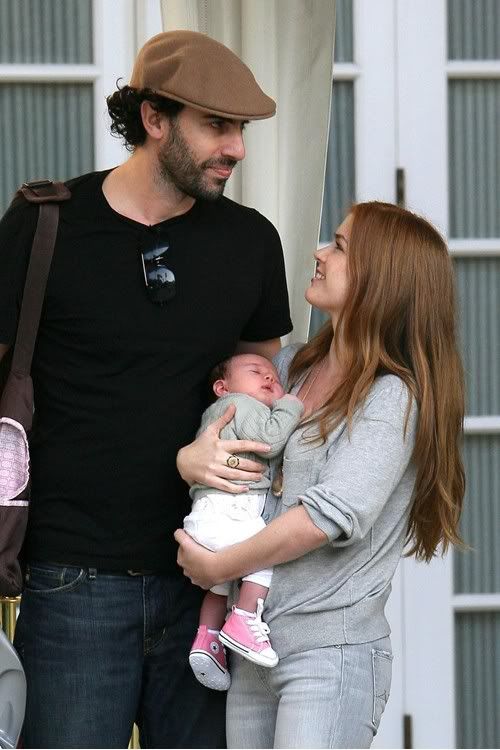 (photo from Pacific Coast News)


Back in 2002 when Isla Fisher first started dating Sasha Baron Cohen, she was mistake for his daughter according to Bang Showbiz.
"My first Hollywood party was awesome. It was for the director Sofia Coppola and was just walk-to-wall with shiny, fabulous people.
"I came to the front door with Sacha, and the hostess goes, 'Sacha, you go through to this room and you come with me.'
"And she grabs my hand and takes me to this room filled with 12 year olds – not even 15 year olds! – and goes, 'Sit here. Would you like a drink?' So I go, 'Can I have a glass of wine?' and she goes, 'No, you cannot.' She thought I was Sacha's daughter, basically."
It is a compliment to get proofed when you are over 21, but I don't know what it is when you get sent to the kids' VIP section.
---
BTWF roles: Isla Fisher in Paradise Beach
April 16th, 2010 under Before They Were Famous, Borat. [ Comments:

none

]

Before Isla Fisher was married to Sacha Baron Cohen aka Borat aka Bruno a man I think can be a pig, she thought her brother was a pig on Paradise Beach. She looks exactly the same now as she did when she was 17 on that 1993 episode!
---
A kiss from her mom makes it all better for Olive Cohen
April 16th, 2010 under Borat. [ Comments:

none

]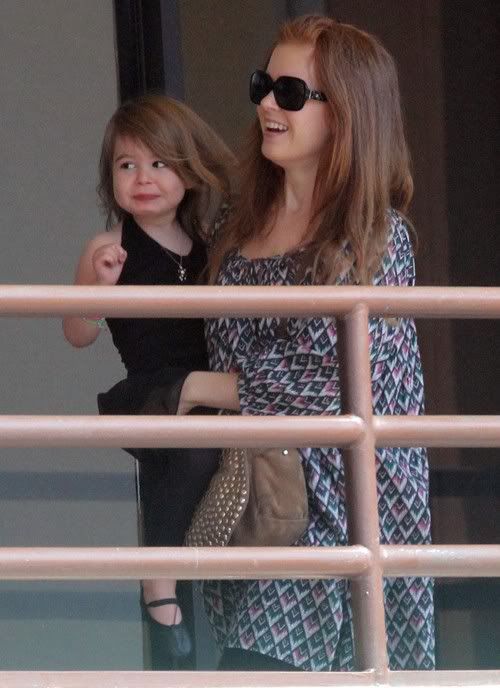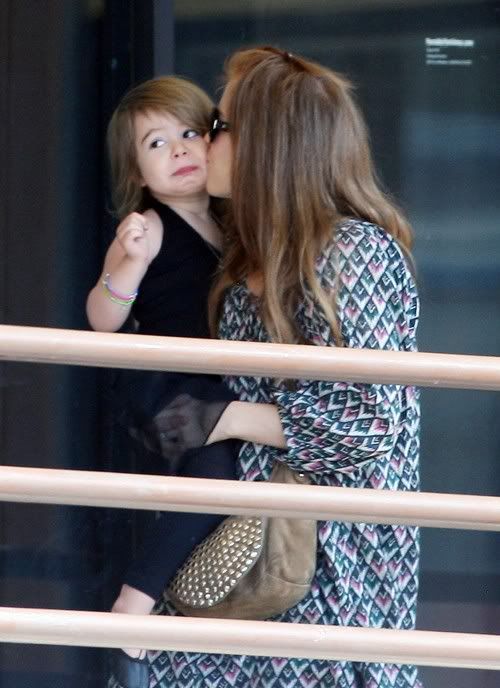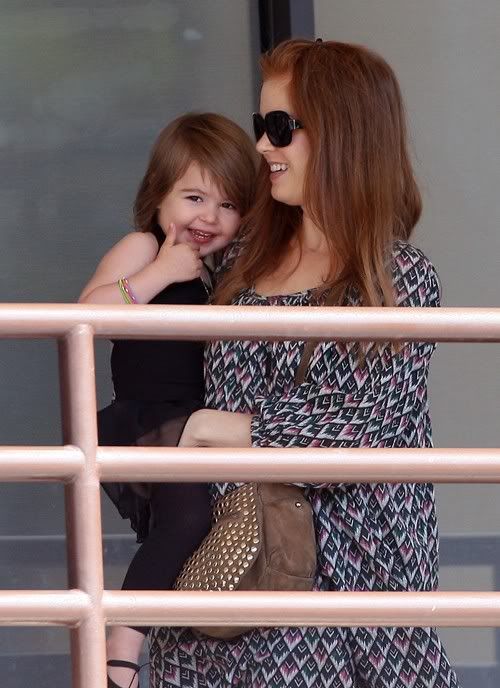 Fame Pictures
Isla Fisher took her awwwdorable daughter to dance lessons, but the 2 and a half year old wasn't too happy about it at first. That was until her mom gave her comforting kiss on her cheek and look how happy she got. Just like Olive gave the paps, I am giving her a thumbs up for absolute cuteness!!!
---